Spring is just around the corner and I think many of you can't wait to go out and enjoy the new season. Because of corona, our lifestyle has changed but still we can look for a new way to enjoy our life.
I usually travel with my good friend and we always prefer to go out from the very early morning because there are less traffic and less people, which is important for us to take good photos. I often have difficulty to find a place to have breakfast or branch because we leave too early! Lately, I have found a very nice place which opens at 7am!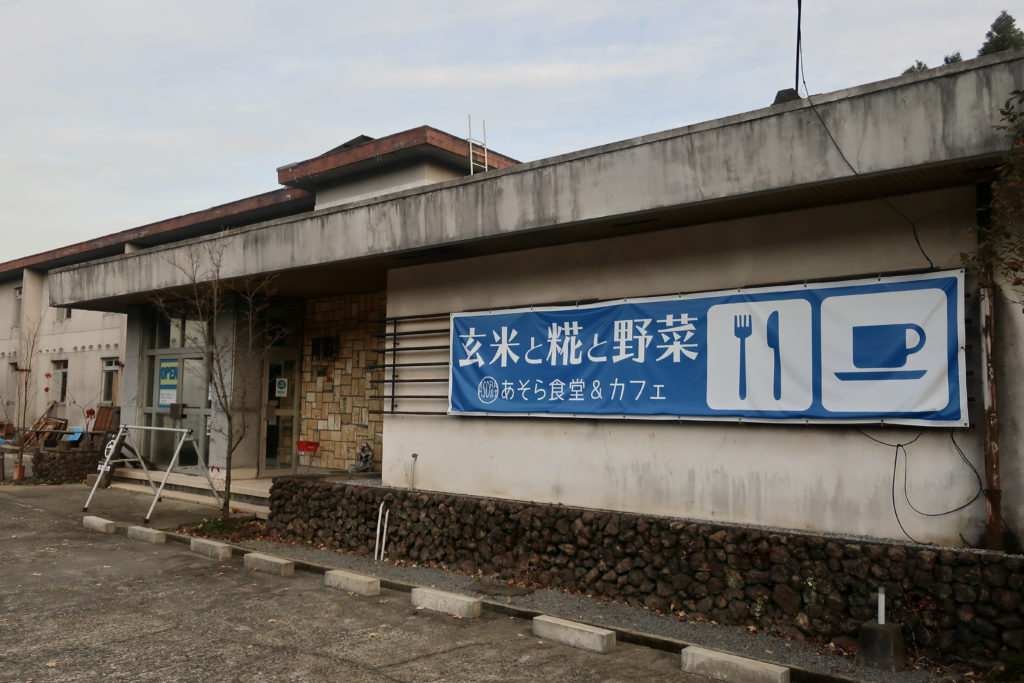 So, today, I'd like to share with you this lovely cafe, Asora restaurant and cafe in Aso. Another good thing is that they offer vegetarian menu. Let's see what they offer and hopefully you can arrange your trip to Aso more conveniently.


Asora restaurant and cafe (あそら食堂&カフェ) in Aso
Where is Asora restaurant and cafe (あそら食堂&カフェ)?
Asora cafe stands in Aso City and it takes about 20 minutes on foot from Aso Station. It opened March 2019. I heard that the owner of Asora is from Osaka. She originally started a guesthouse called Guesthouse Asora which also stands close to Aso Station.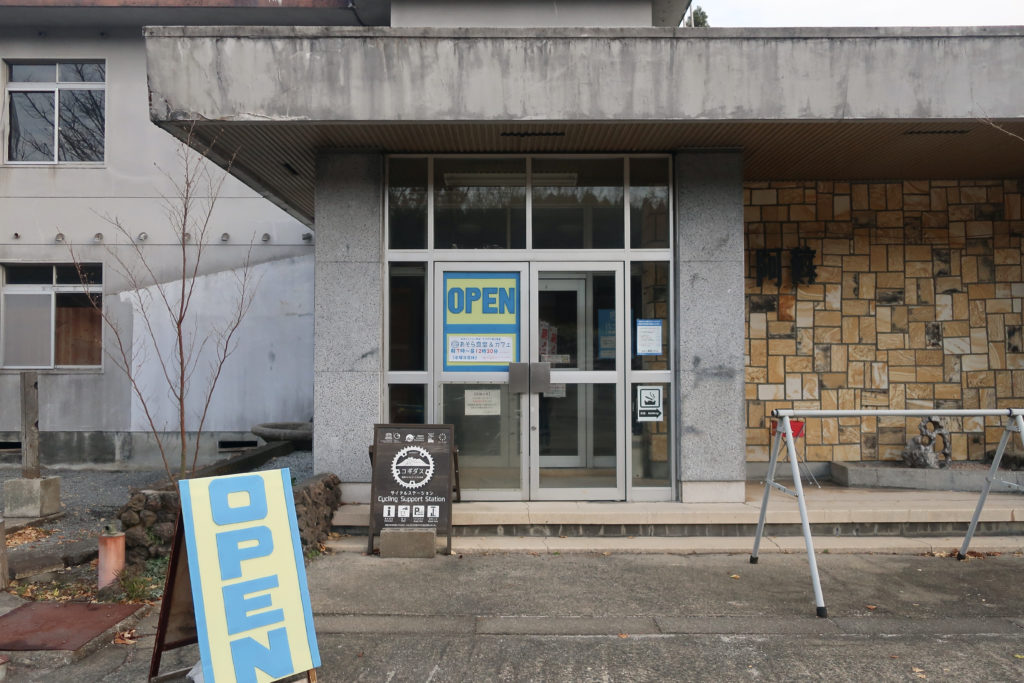 When my friend and I visited there, we joined the morning hot-air balloon experience from 7am on a very cold day in December. It was an ideal place for us to have a good healthy breakfast.


When Asora restaurant and cafe opens?
Asora cafe opens at 7am and closes at 12:30. It closes on Wednesdays.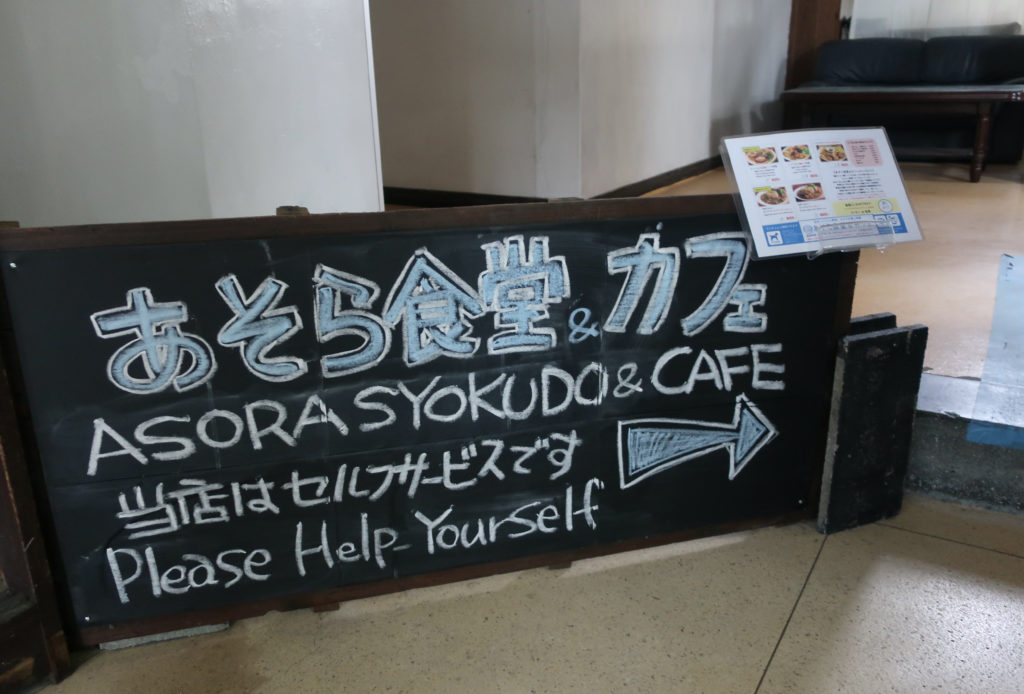 What can we have at Asora restaurant and cafe?
They are particular about local vegetable and crops. They use Aso brown rice, local vegetable, handmade miso, etc.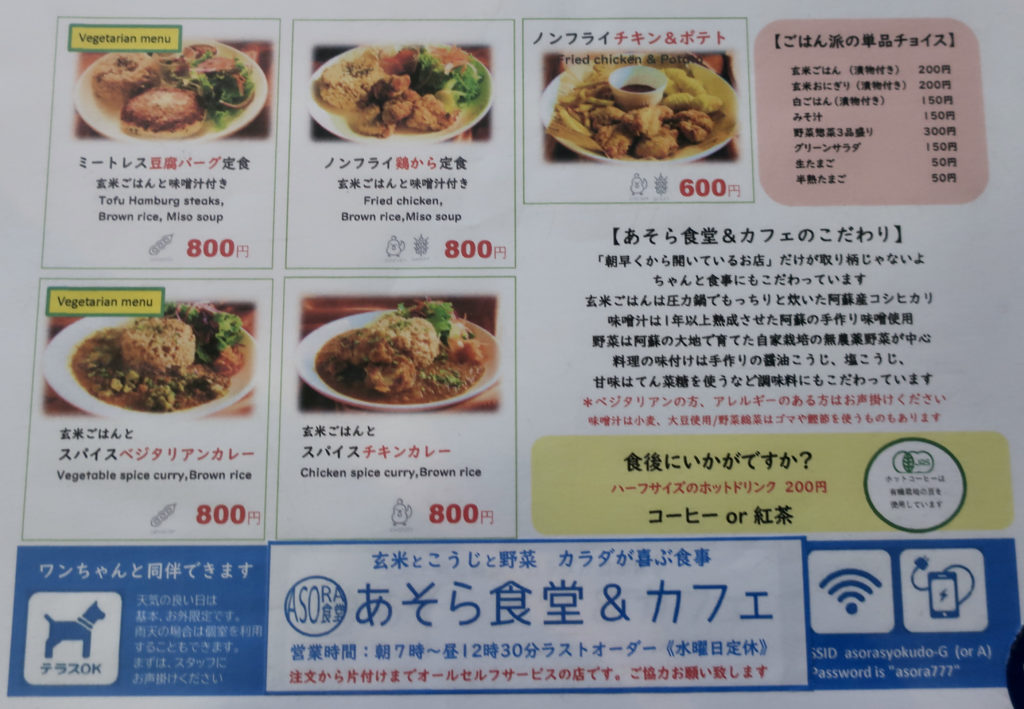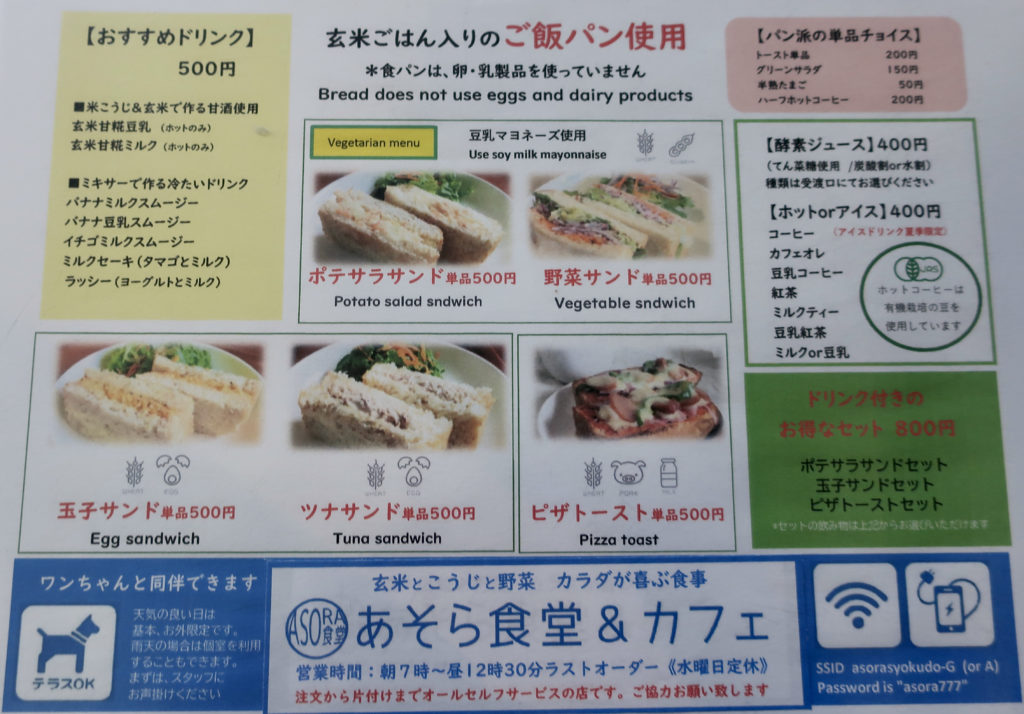 Also, they have vegetarian menus, such as tofu Hamburg, curry and vegetable sandwiches. This time, we ordered Chicken spice curry.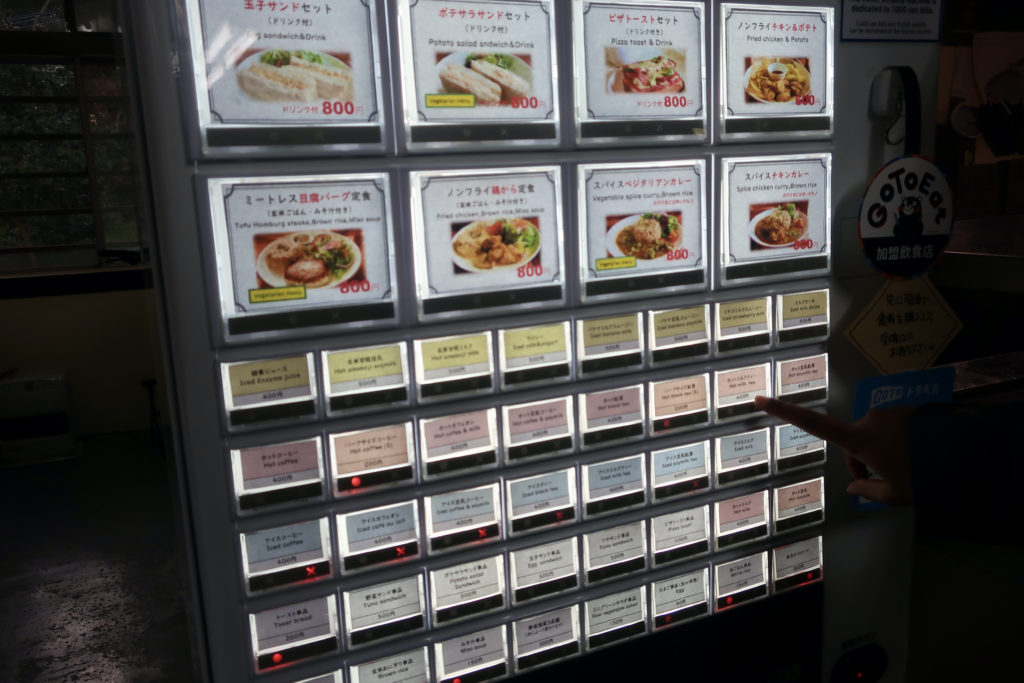 It is a self-service cafe so first you buy a ticket from this vending machine. Then, bring your ticket to the counter. When they are ready for your food, you will pick it up.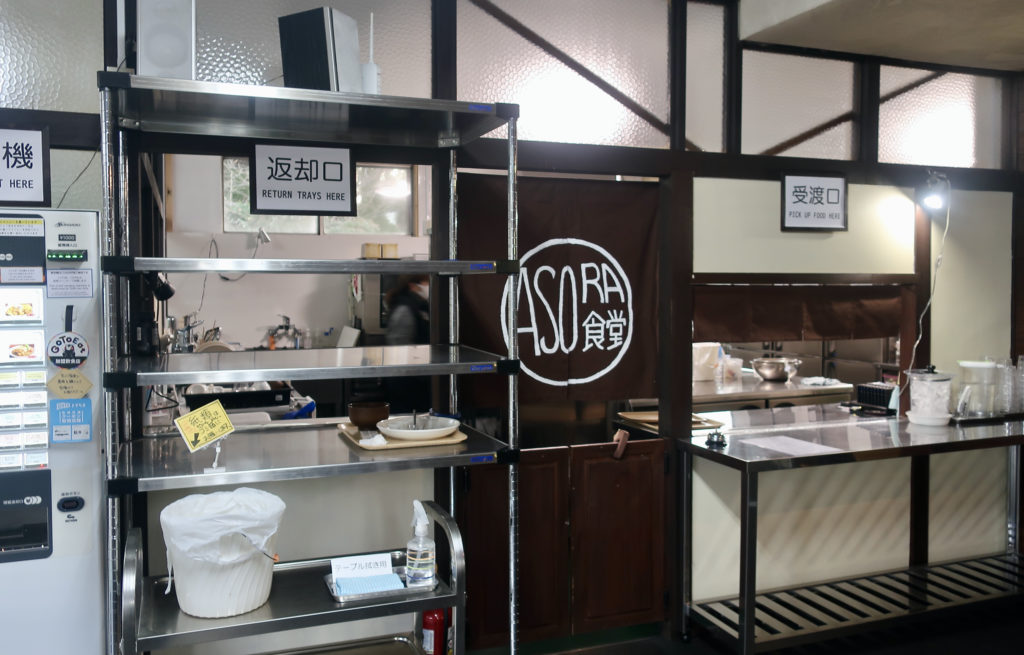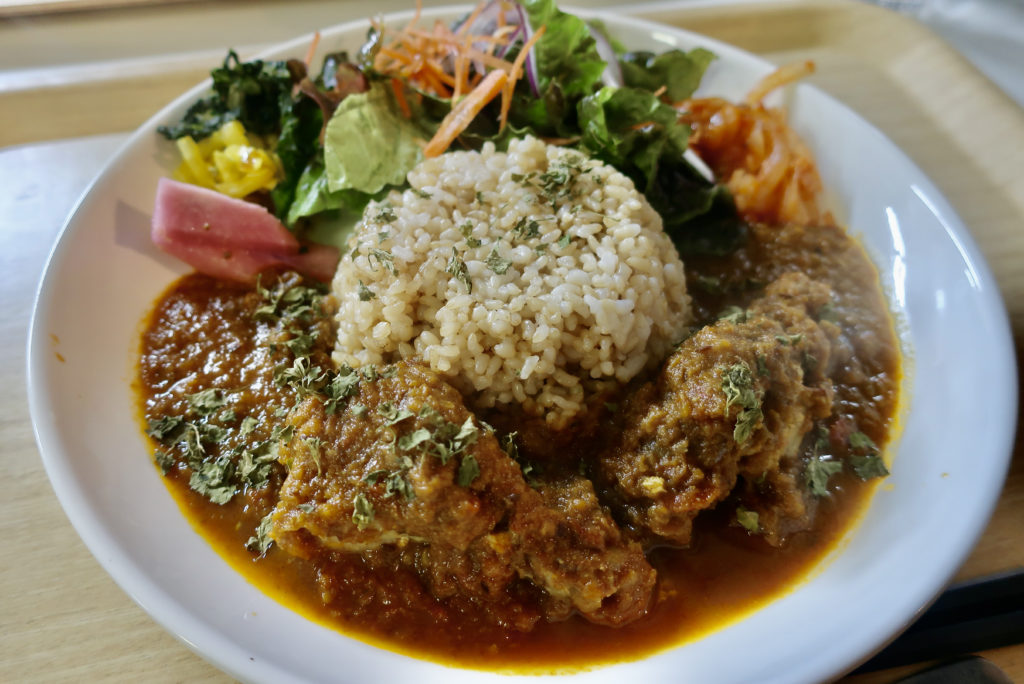 There is a table near the counter and you can use some dressing and serve Takana pickle (高菜) which is a speciality of Aso.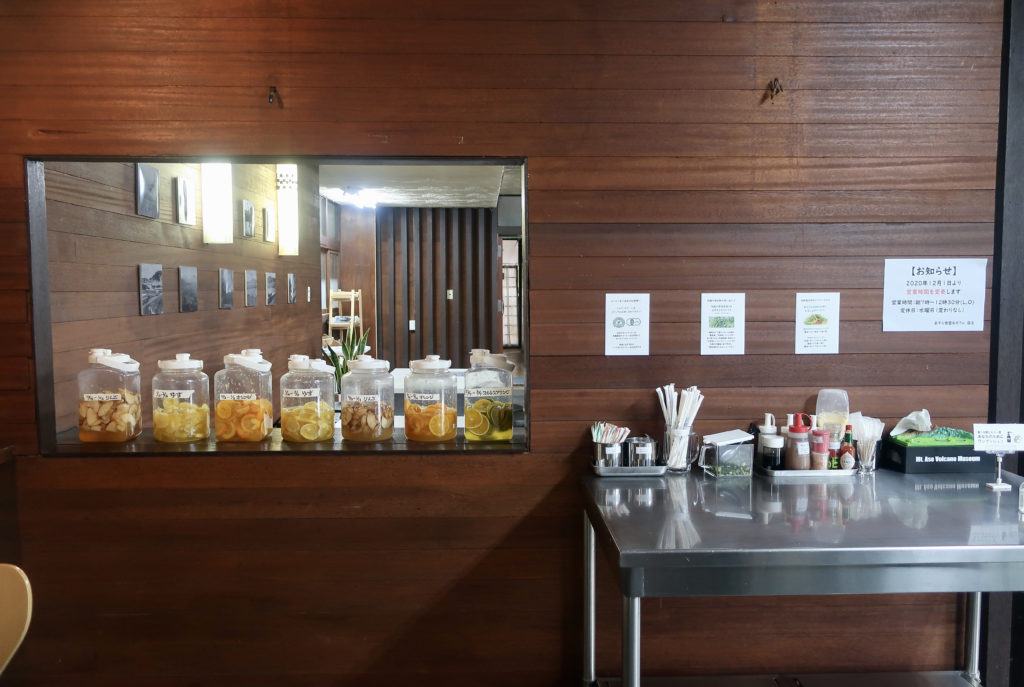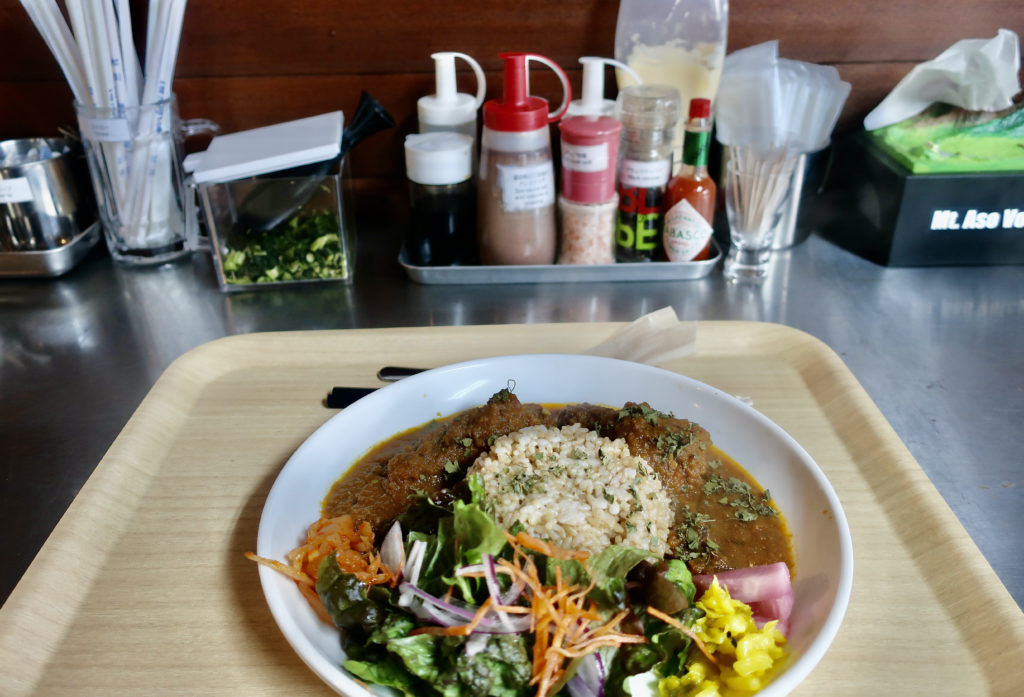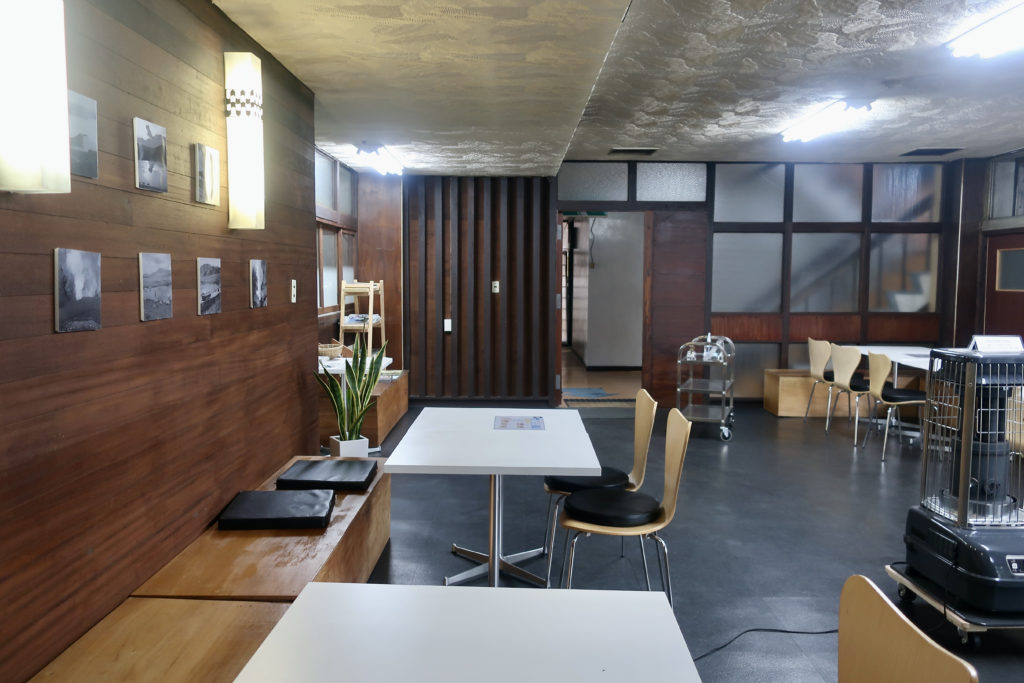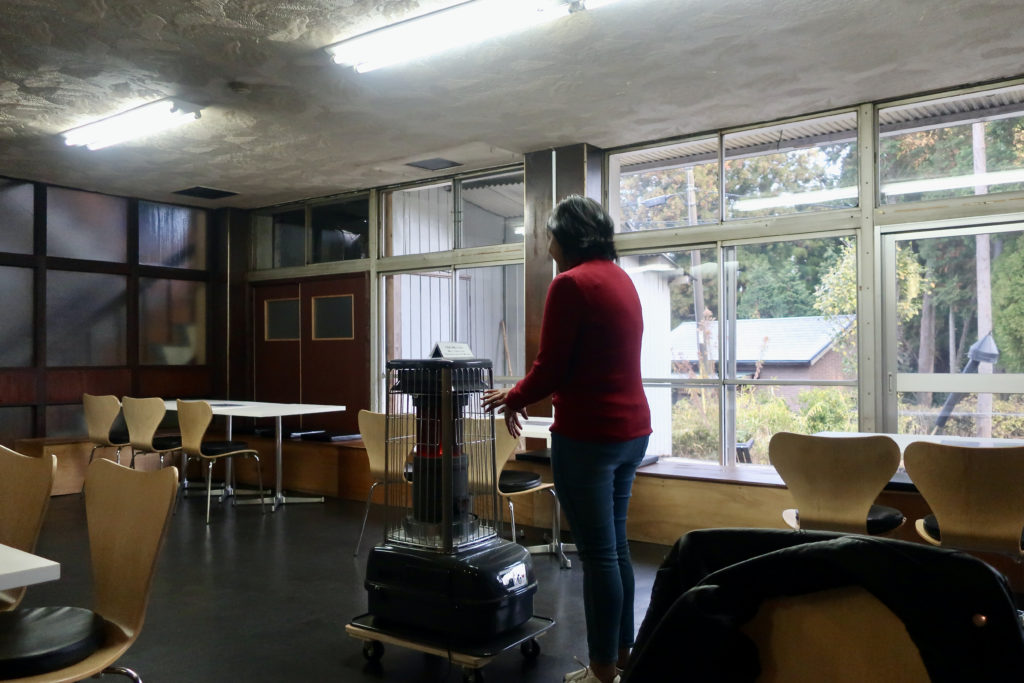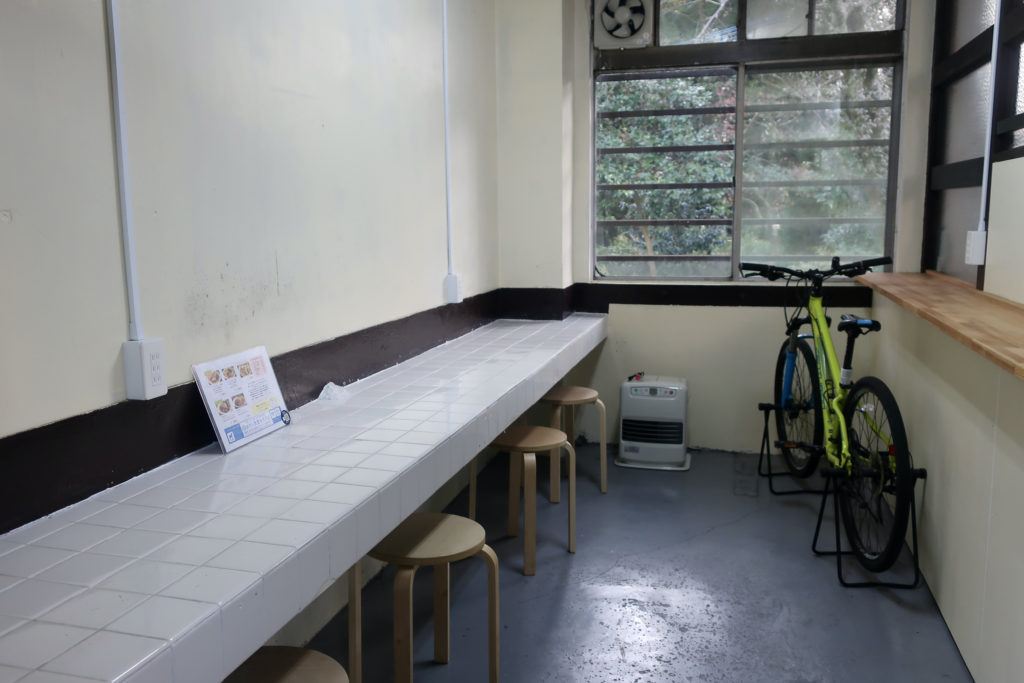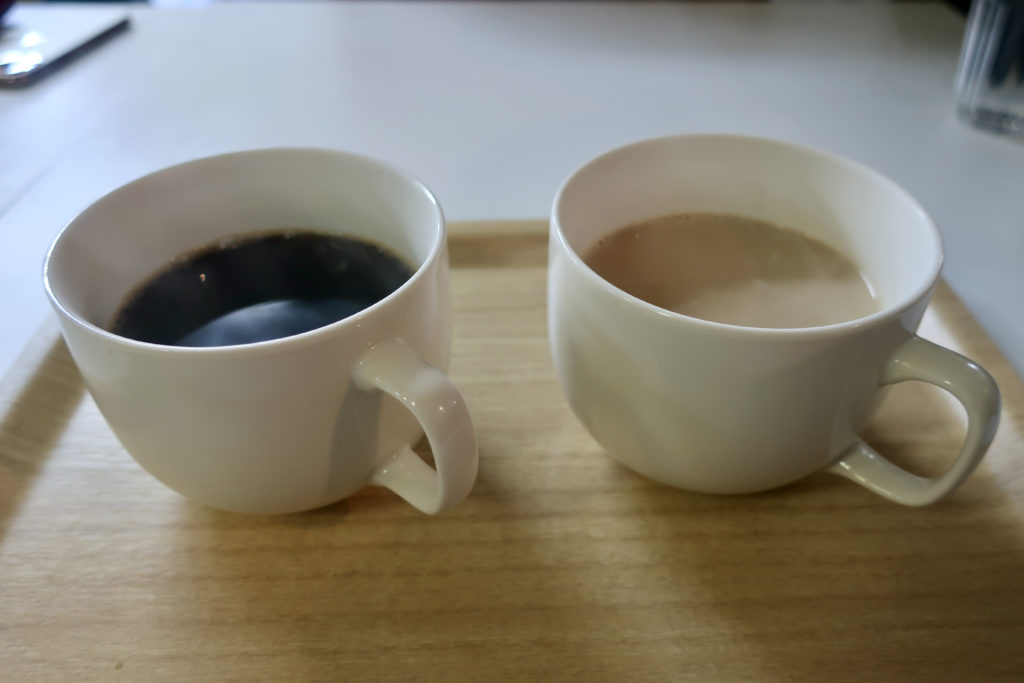 What else can we visit near Asora restaurant and cafe?
Asora restaurant and cafe stands at the centre of Aso City so it's easy to arrange your trip with some places with a nice view. Check the places below and I hope your trip will be more fruitful.
Senshuikyo Gorge (仙酔峡)
Sensuikyo gorge (仙酔峡) is located in the north foot of Mt. Nakadake (中岳) and Mt. Takadake (高岳), which are two of the five peaks consisting "Lying Buddha" in Aso caldera.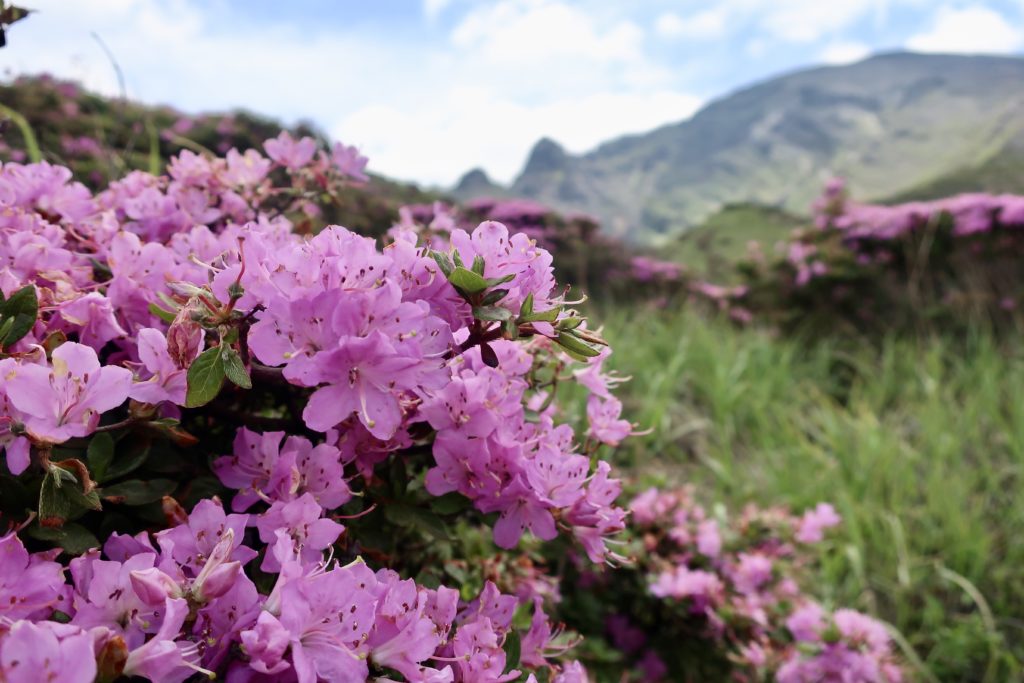 Sensuikyo gorge is famous for Miyama Kirishima or Kyushu Azalea (ミヤマキリシマ) during May to June. I have visited Sensuikyo in April which was after the controlled burning (Noyaki) and in May which was the best time to see Kyushu Azalea.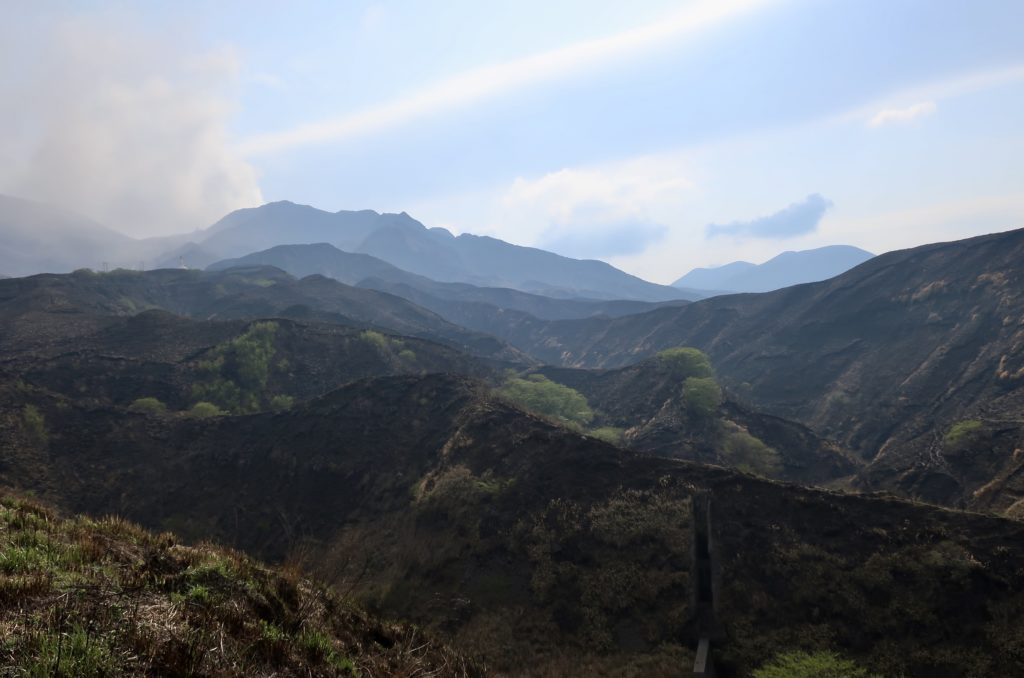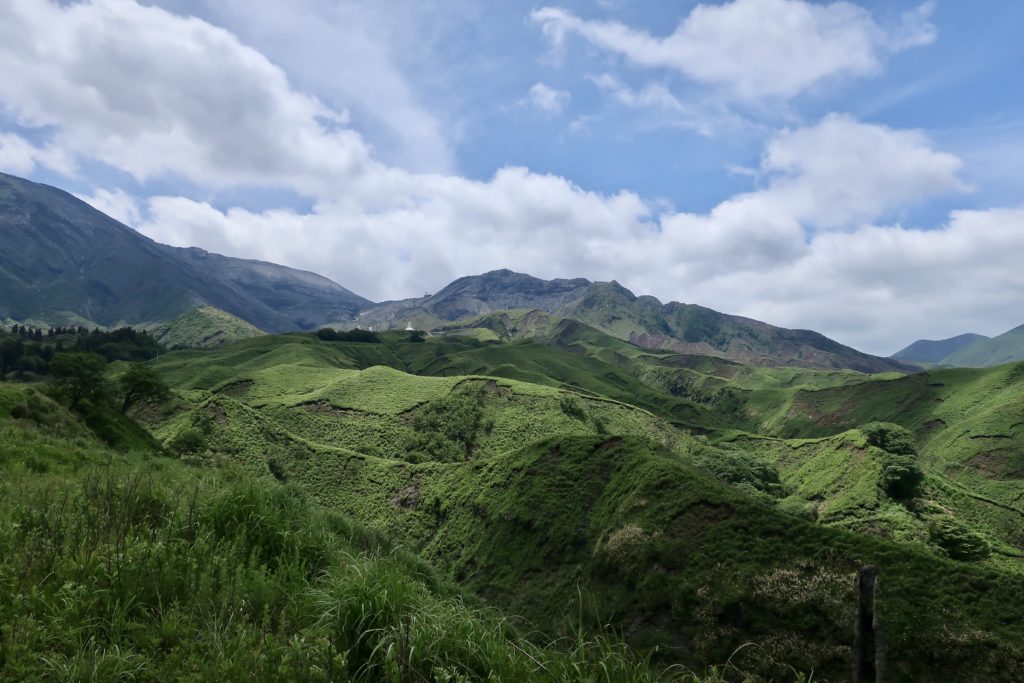 I went back there in December and I fell in love with it again. Sensuikyo gorge shows us beauty in each season. That is why people love Aso and fall in love with it many times.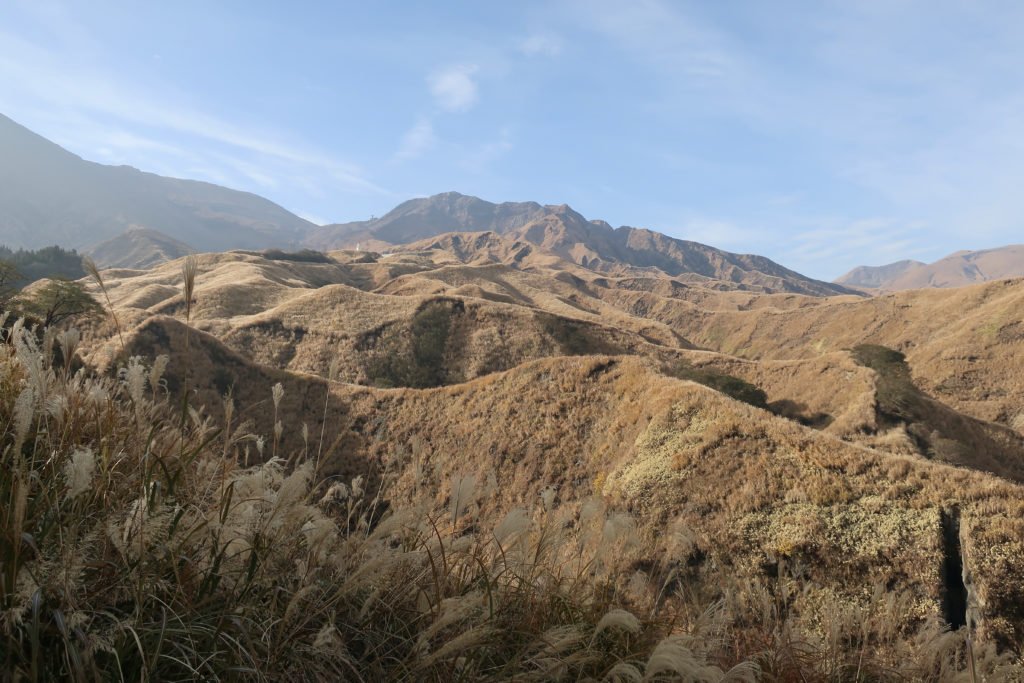 It takes about 15 minutes from Asora by car. Visit my previous article about Sensuikyo gorge and get to know about it more!


Early Morning Hot Air Balloon Ride Experience by Aso Nature Land
A private company, Aso Nature Land holds this event and they have this balloon activity only in the early morning. Even if you are a complete night person, I hope I can convince you by sharing my experience below and hopefully you will join them sometime soon!
It takes about 15 minutes by car from the balloon spot to Asora. It will be an amazing way to start a new day having a fun activity and a healthy breakfast!
Kokuzo Shrine (国造神社)
In this article about Kokuzo Shrine (国造神社), you will get to know about the story of Lying Buddha and how people had started to live in the caldera, which made Aso more unique. It's about 20-minute drive from Asora. Kokuzo Shrine is calm and relaxing and actually it is one of my favorite shrines. Visit my previous article about Kokuzo Shrine and get to know more about it!
Start a day with good food and enjoy Aso at most!
It's been a year since this pandemic had occurred. I can say that I have had a healthy lifestyle but after the pandemic, I watch more careful about what I eat and how much I sleep to strengthen my immune system.
I hope you will enjoy Aso at most and forget your stress for a while.
Take care and stay safe.
Links and Map
Facebook : https://www.facebook.com/asora.syokudo
Instagram : https://www.instagram.com/asorasyokudo/
map