In May 2020, 『HIKE』 has opened in Tamana City. HIKE is a cafe, bar and hostel complex(because of the coronavirus, hostel has not been opened yet) wishing to offer a place where locals and travelers can interact together and get to know the attraction of Tamana more.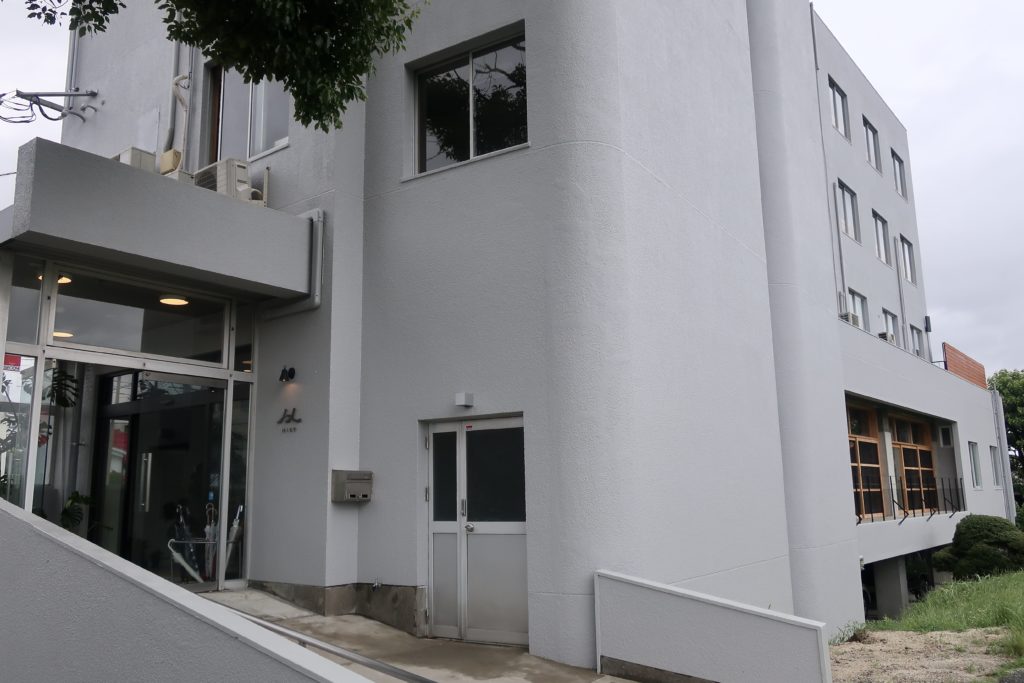 The owners, Mr. and Mrs. Sato used to work at a famous apparel company as a graphic designer and a buyer. After leaving the company, they traveled 37 countries to see local fabrics and handworks around the world.


Everything at HIKE has stories and you can feel, taste, learn about the history and attraction of Tamana area at the fullest.


After the coronavirus situation, it was my first time to go out for lunch with my friend. It was a rainy day but it was a perfect day for staying at a lovely cafe.


Let's see how HIKE was and what stories they have to offer.


『HIKE』cafe, bar and hostel complex in Tamana City
Where does 『HIKE』 stand? ~Historical Port Town Famous for Iris and Arched Stone Bridges ~
HIKE stands along the river called 高瀬裏川(Takase Urakawa River). This area used to flourish as a port town in Edo Period(17 to 19th century). Still now, we can see historical heritages such as arched stone bridges, stone walls, merchant houses etc.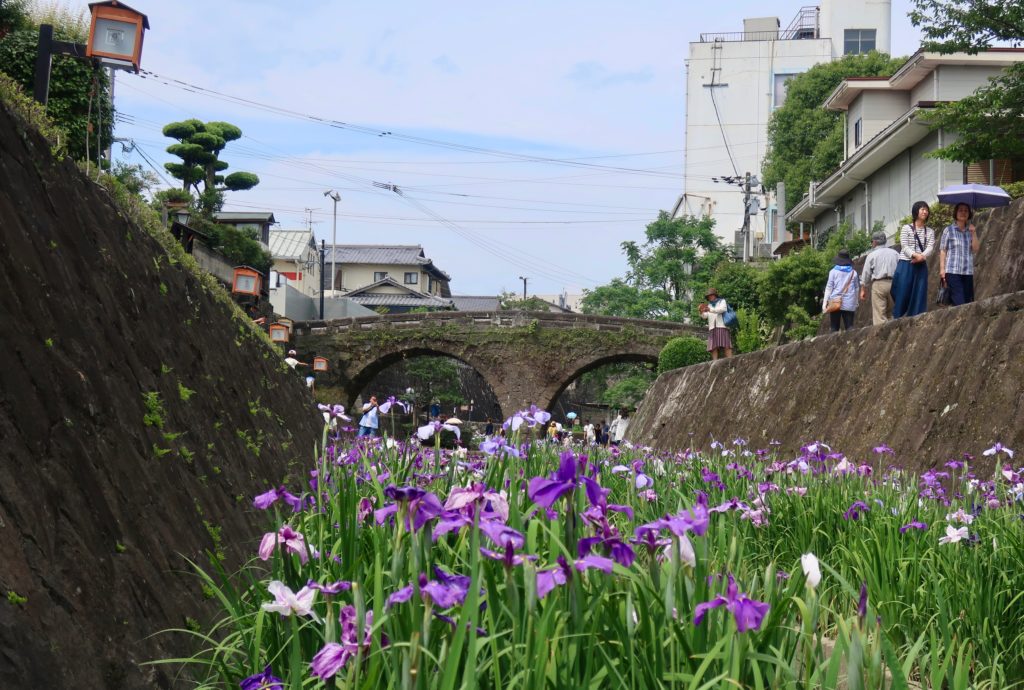 What is famous about Takase Urakawa area is the beautiful irises. From the end of May to the beginning of June, you can see colorful irises. I heard that there are almost 66,000 irises along the 700m of long path. Every year, there is the iris festival and many people visit this lovely area. Unfortunately this year, it was cancelled because of the coronavirus. Hopefully we can join the festival next year.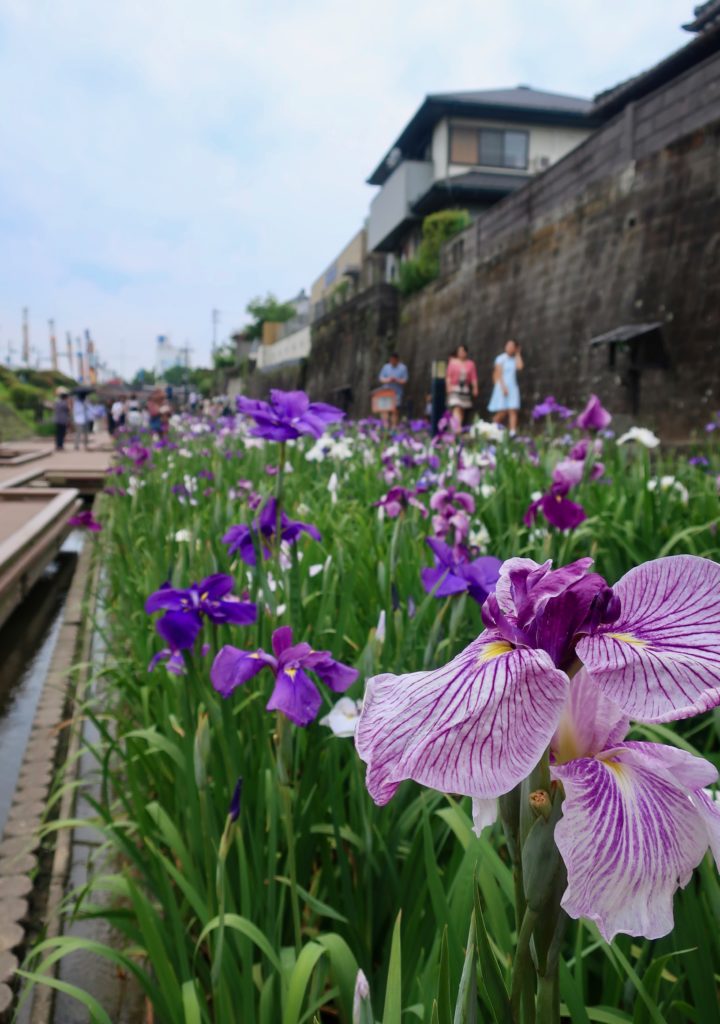 These are photos of 2 years ago.

Take a stroll around the area before or after visiting HIKE and enjoy the lovely scenery.


Get to know about『HIKE』~You will witness the great love of local region and the respect of craftsmanship.~
The building of HIKE
This is the building of HIKE. This building was used for as something else and the owners renovated for opening HIKE. Can you guess what it used to be?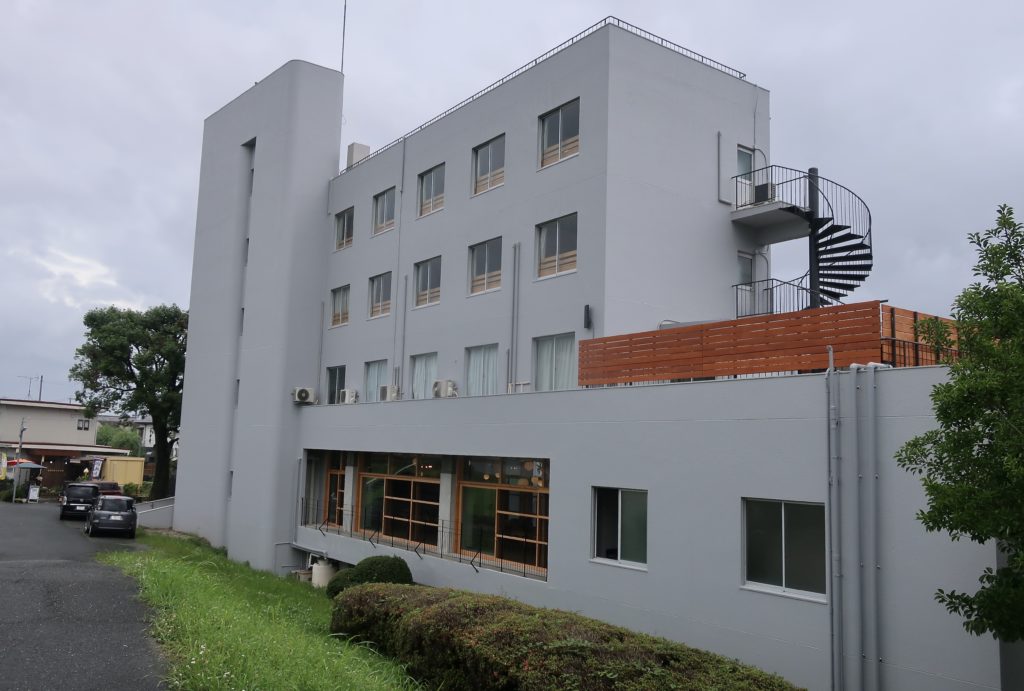 Actually, it was an orthopedic hospital! I heard that this building was built almost 40 years ago and when the owners previewed it, there used to be medical equipments still then.


After they bought it, they offered an architect who has experienced working on conservation landscape in Takase Urakawa area because he specializes not only architecture but also how to develop and maintain local community. The owners and staffs helped as much as they could like getting rid of wall paper, painting the wall, making tables and benches, etc. As soon as you enter the building, you will feel how owners and locals have developed a special attachment to each item.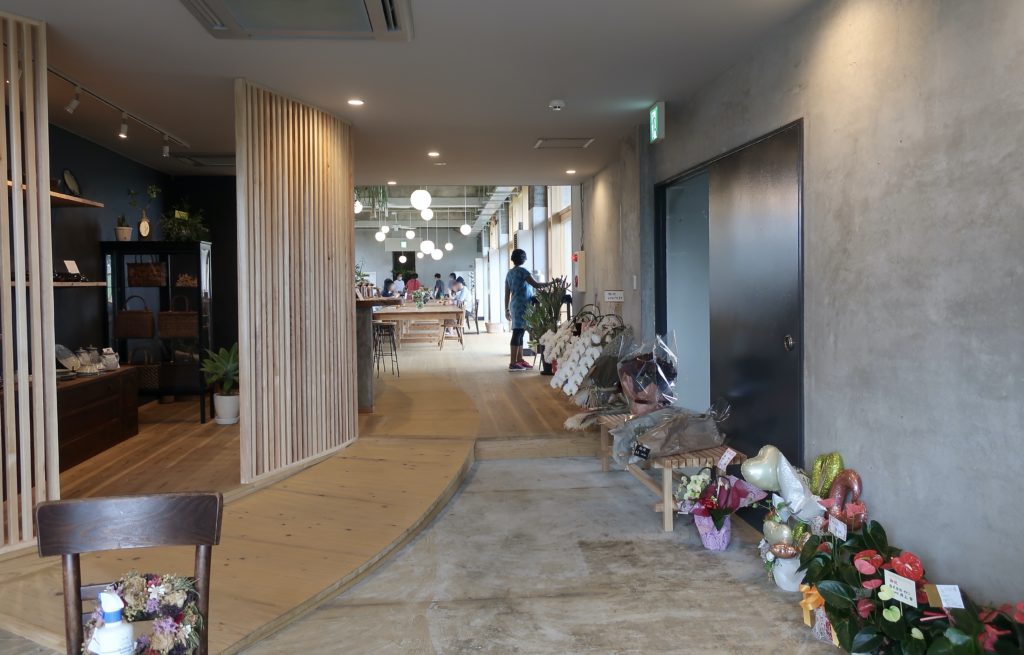 タシュロン(Tashuron), 小代焼(Shodai-yaki Pottery) and Handicraft shop
When you enter the building, on your left you can see a small space full of lovely pottery.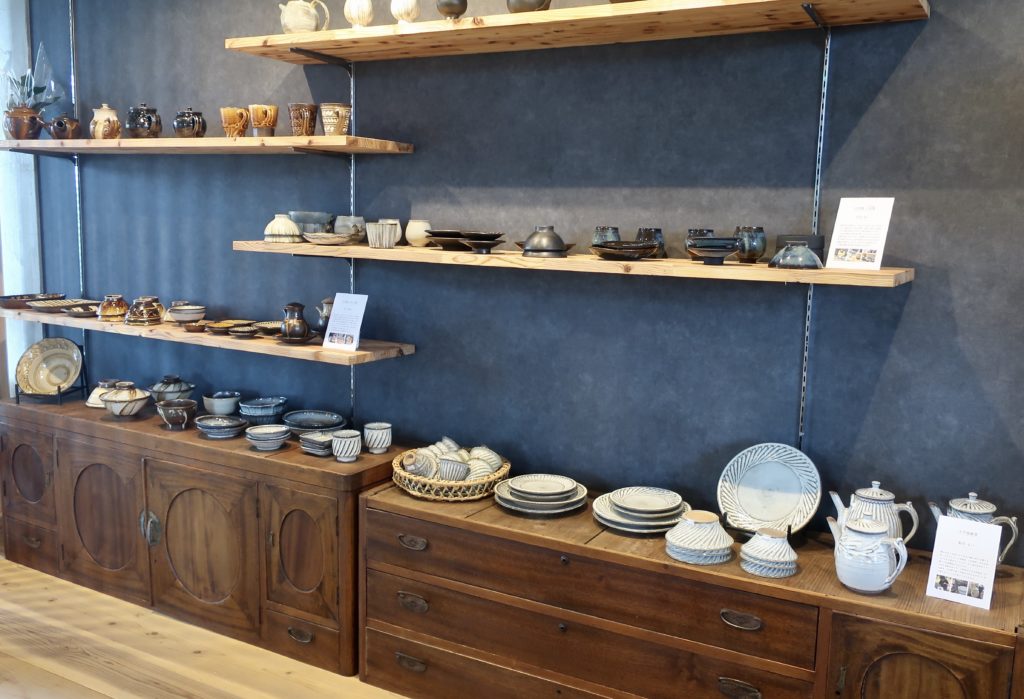 This place is called 『タシュロン(Tashuron)』 and they offer handmade potteries and handicrafts. One of the famous potteries represent Kumamoto is 小代焼(Shodai-yaki Pottery). I am a big fan of Shodai-yaki Pottery and have been collecting little by little.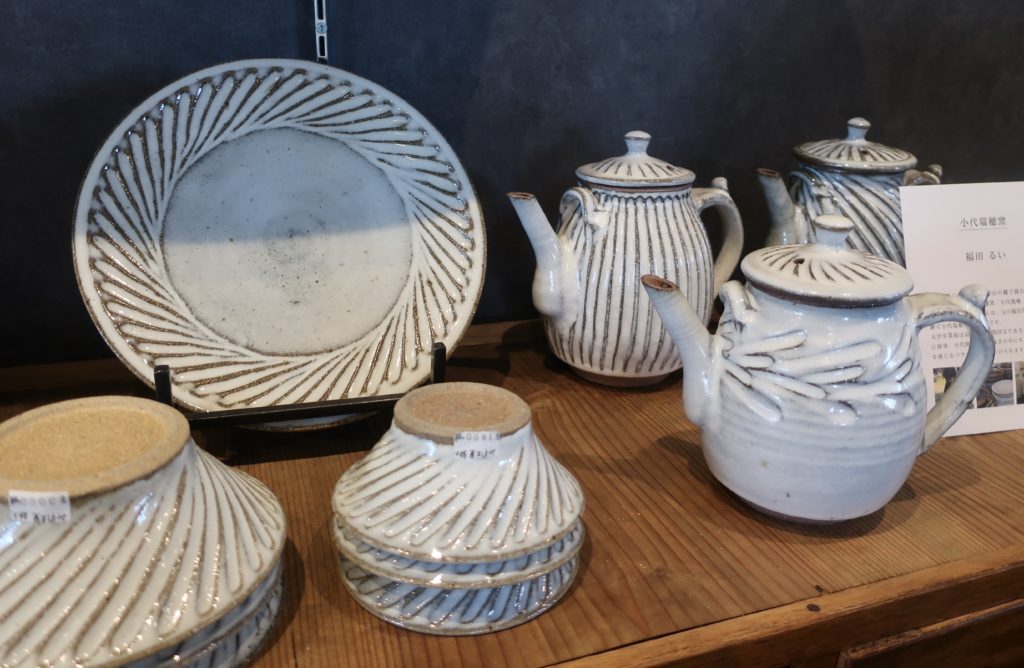 Shodai-yaki has started to be made 400 years ago in the north part of Kumamoto, such as Tamana and Nankan area. It had flourished by the protection of Hosokawa Family who ruled Kumamoto at that time. Hosokawa Family was also famous for being cultured and one of the masters of Japanese tea ceremony. They ordered potters to make cups and goods for tea. As the time goes, Shodai-yaki pottery was almost diminished because of the lack of demand in a new lifestyle. After a while, one kiln of Shodai-yaki Pottery started to make potteries again adjusting to a modern life style. In 2003, Shodai-yaki Pottery was registered to National Traditional Crafts.


Shoudai-yaki Pottery is powerful and quaint so it's often nicknamed as "Wild Samurai". The owner of HIKE told me that Shodai-yaki is rather popular in big cities but sadly, it's not so much in Kumamoto.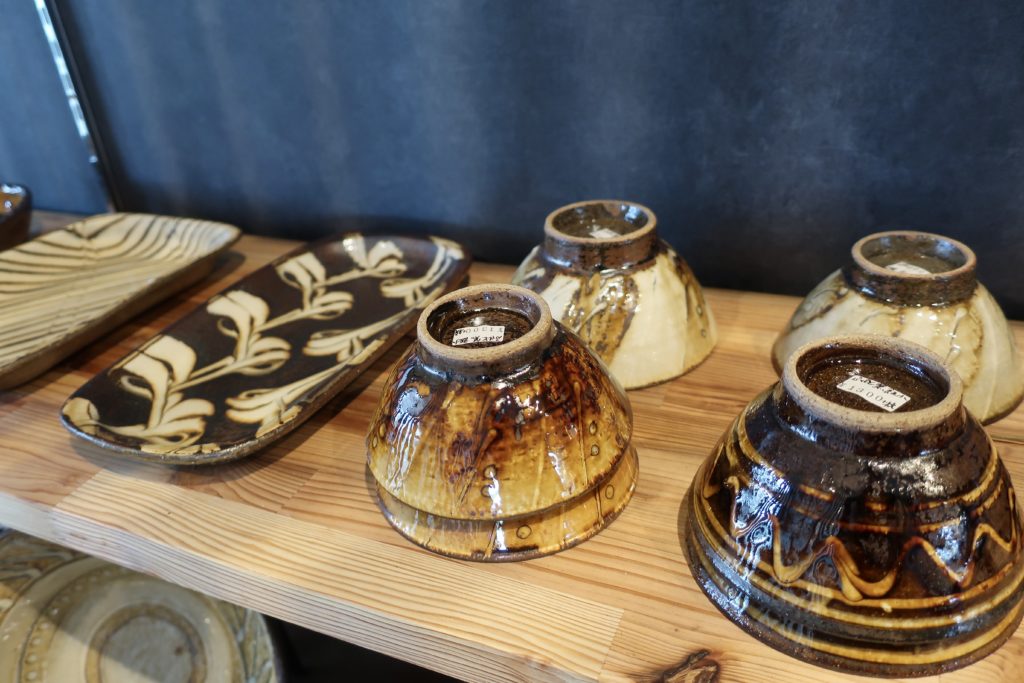 Check the article below and get to know more about Shodai-yaki Pottery!


At the shop, you can see other handicrafts such as 小鹿田焼(Onta-yaki Pottery) from Oita Prefecture and baskets from Tohoku(northern Japan).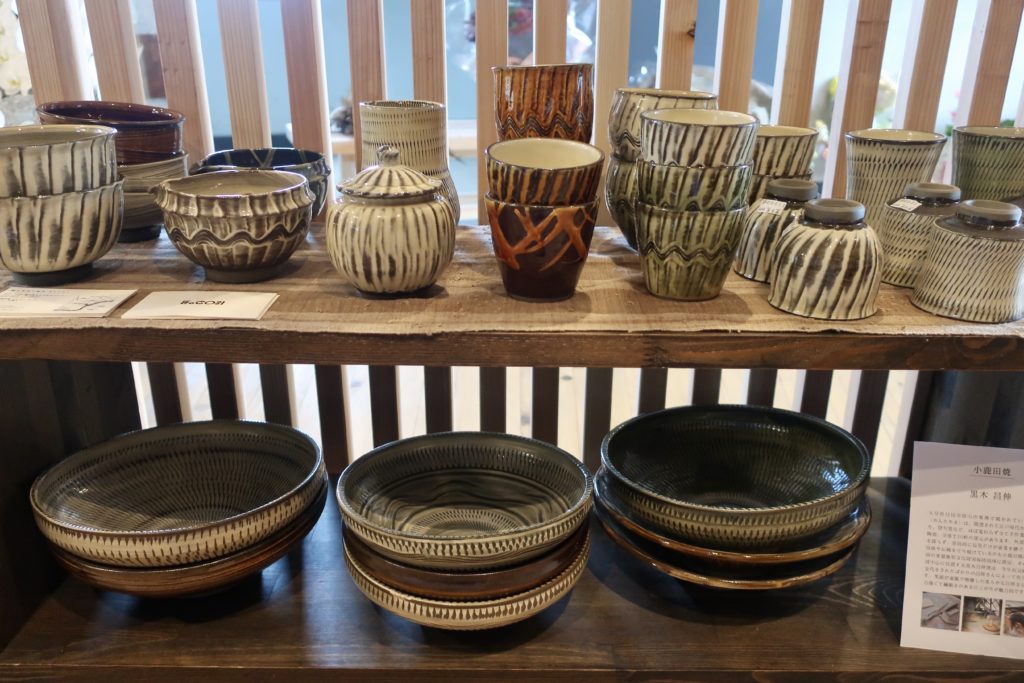 The name "タシュロン(Tashuron)" means craftsman in Berber language who live in North Africa. When the owners were traveling around the world, they met craftsmen there and they were inspired by their passion and amazing skills. We are living in a world of mass-production and mass-consumption and we are losing not only traditional crafts but also cultures and identities which have deeply rooted in each area. The owners want to pass on stories and passion in these crafts so that we can use them not just as a thing but maybe as a partner in our life with great value.


I will introduce soon but lunch at HIKE is served in Shodai-yaki Potteries. You can see and feel how it is used and come back to Tashuron later to get some if you like.


Lunch and Cafe at『HIKE』in Tamana City
Ordering at the counter
After passing by Tashuron, you can see the ordering counter on your left.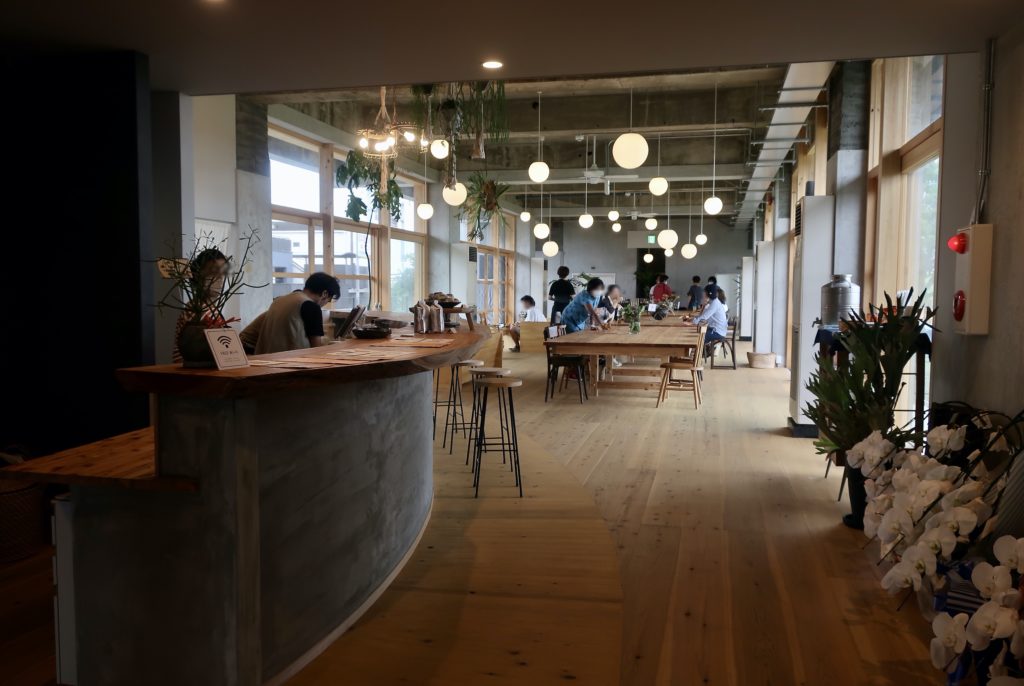 At HIKE, first you order and pay at the counter.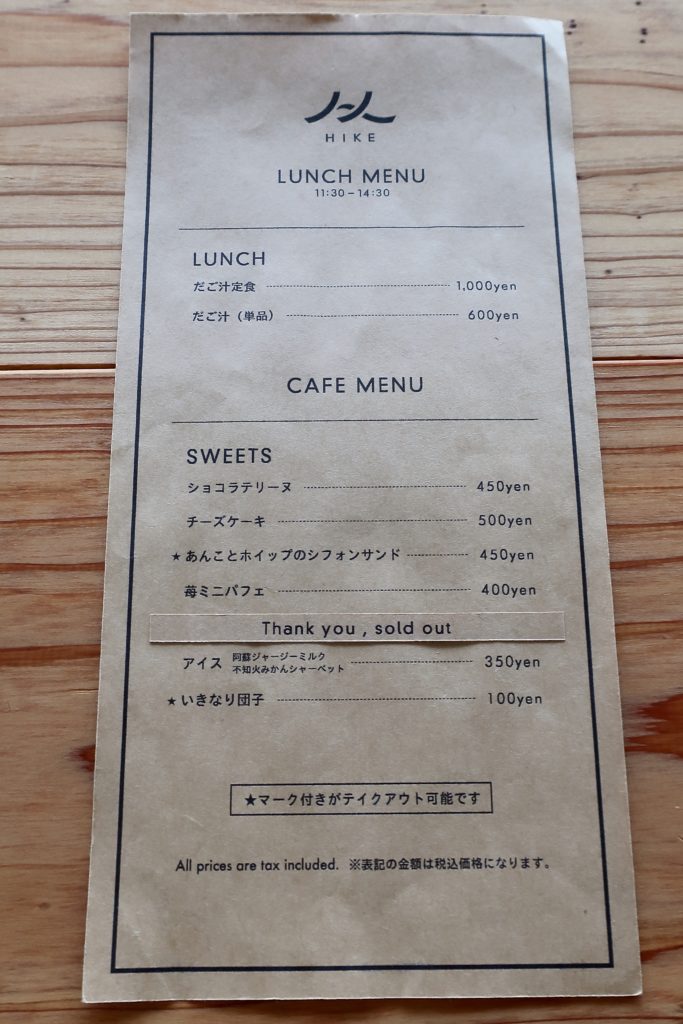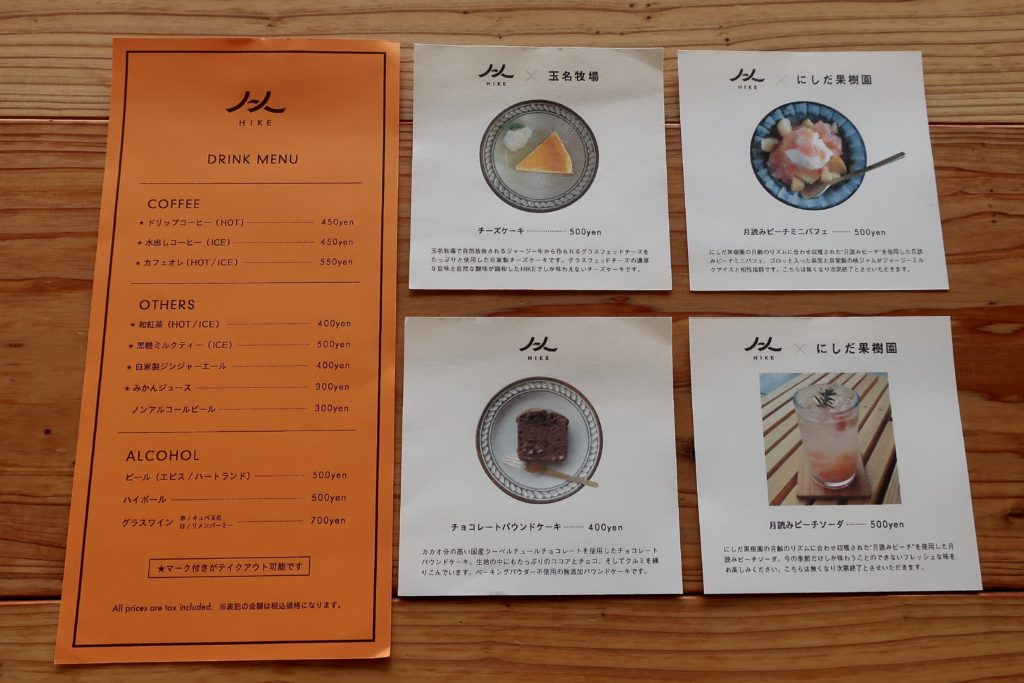 For lunch, they offer 『だご汁定食(Dago-jiru teishoku) 1,000yen』 and 『だご汁(Dago-jiru) 600yen』.


If you had a chance to eat at a Japanese restaurant, you may be familiar with "定食(Teishoku)". Teishoku is a set meal which usually consists of rice, soup, salad, pickles and some side dishes. Teishoku is a balanced meal and it's a popular style at a Japanese restaurant. Here at HIKE, you can also choose only Dago-jiru which will be served in a bigger bowl than the one in teishoku set.


We ordered Dago-jiru teishoku each(I will explain what "Dago-jiru" is later!) and decided to order desserts later.


After paying, the staff will give you a number plate so you can have a seat wherever you like, at counter, big tables or benches outside.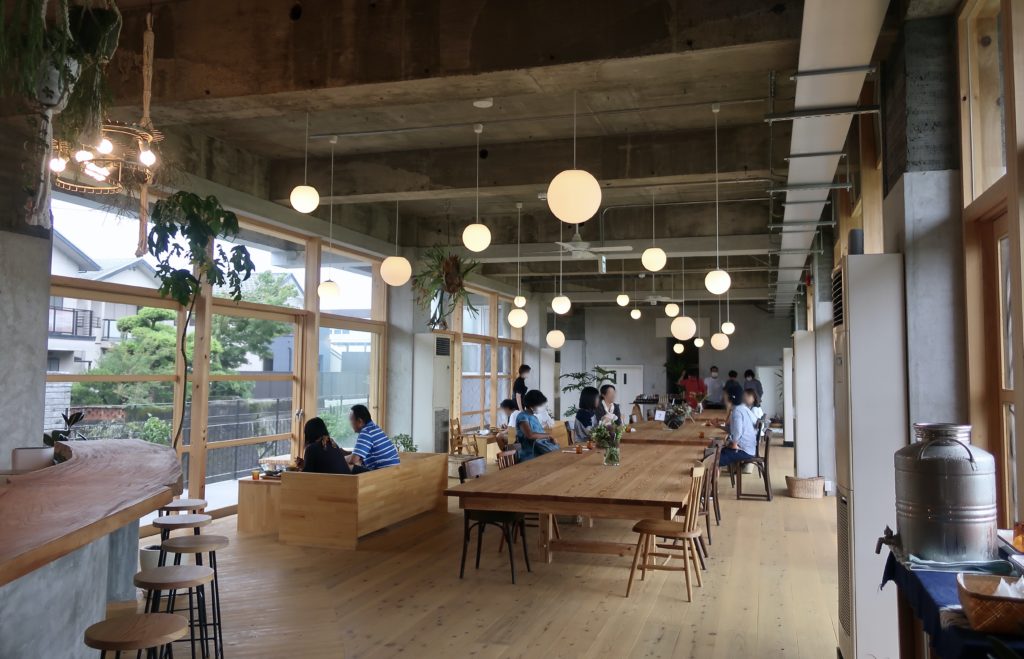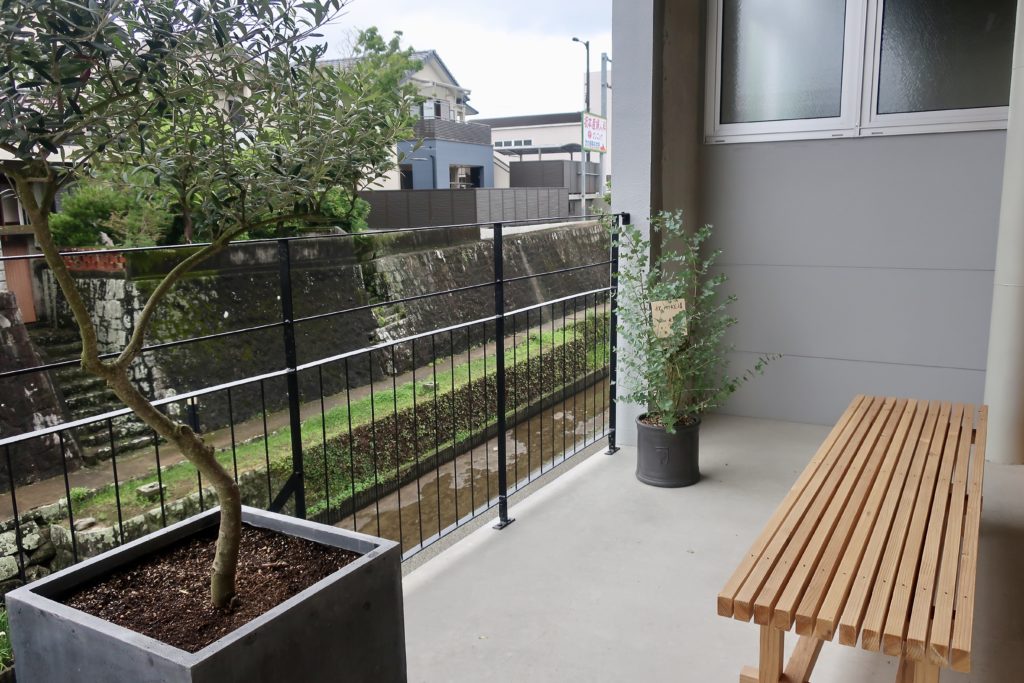 In front of the ordering counter, there are a water server, straws, wet towels and sugar. You can take them if needed.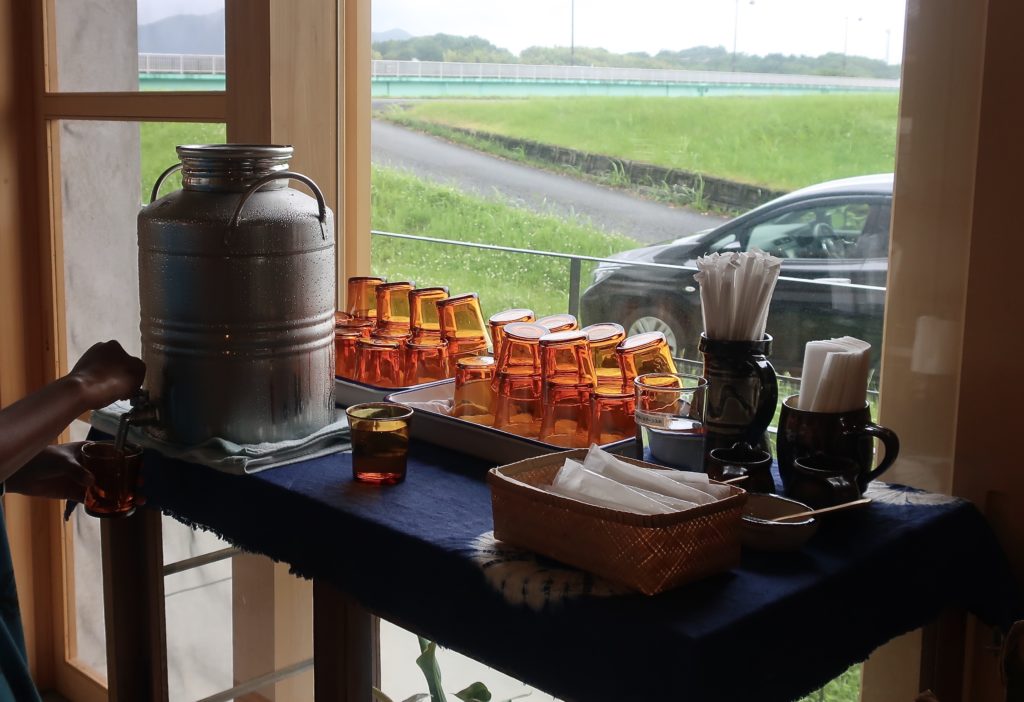 By the way, on the ordering counter, you can see this lovely dumpling.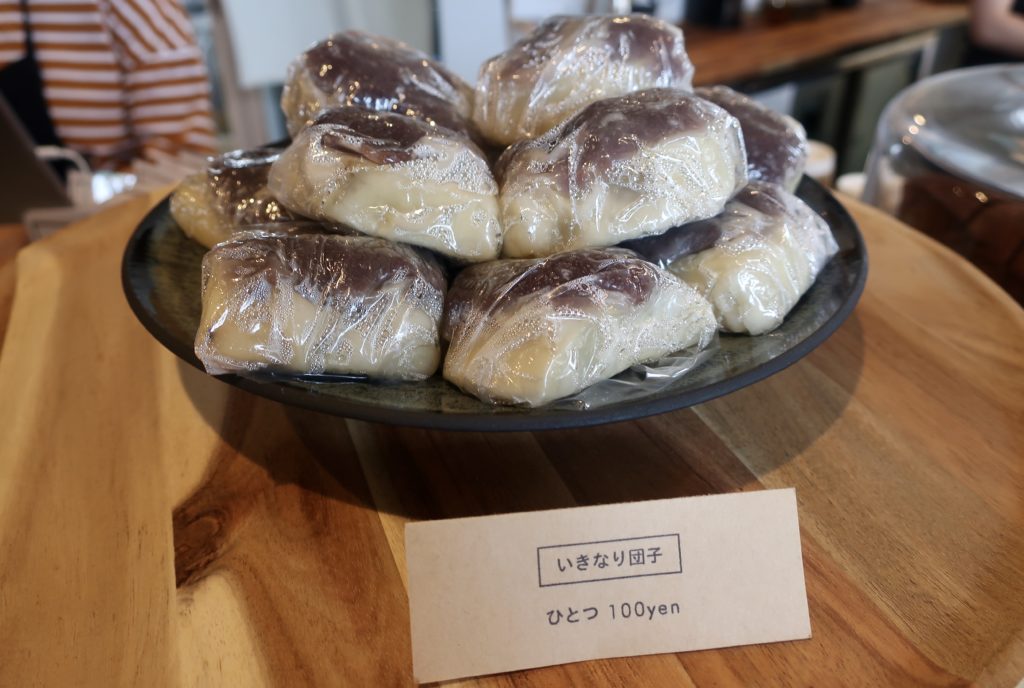 It is "いきなり団子(Ikinari-dango)" which is a popular local sweet in Kumamoto. Ikinari-dango is a dumpling with a thick-sliced sweet potato and sweet Azuki paste inside and steamed all together. At HIKE, most food are made in their kitchen but they buy this Ikinari-dango from a local sweet shop, named "まつり屋(Matsuri-ya)" which is in Tamana City. You can eat this Ikinari-dango at HIKE or you can take it out and have it on the bank of Kikuchi River in front of HIKE. It is refreshing walking along the river.


Dago-jiru Teishoku(だご汁定食) and lovely desserts at 『HIKE』 which is full of charms of Tamana
"だご(Dago)" means dumpling in Kumamoto dialect. Dago-jiru is a soup with dumplings and some meat, Konjak, vegetables, such as daikon radish, Chinese cabbage, carrots, burdock, etc. It is well-known as a local cuisine in Kumamoto and each home has おふくろの味(Ohukuro-no-aji), means "mother's home cooking", like using miso soup, soy sauce soup or putting some special ingredients depending on the region.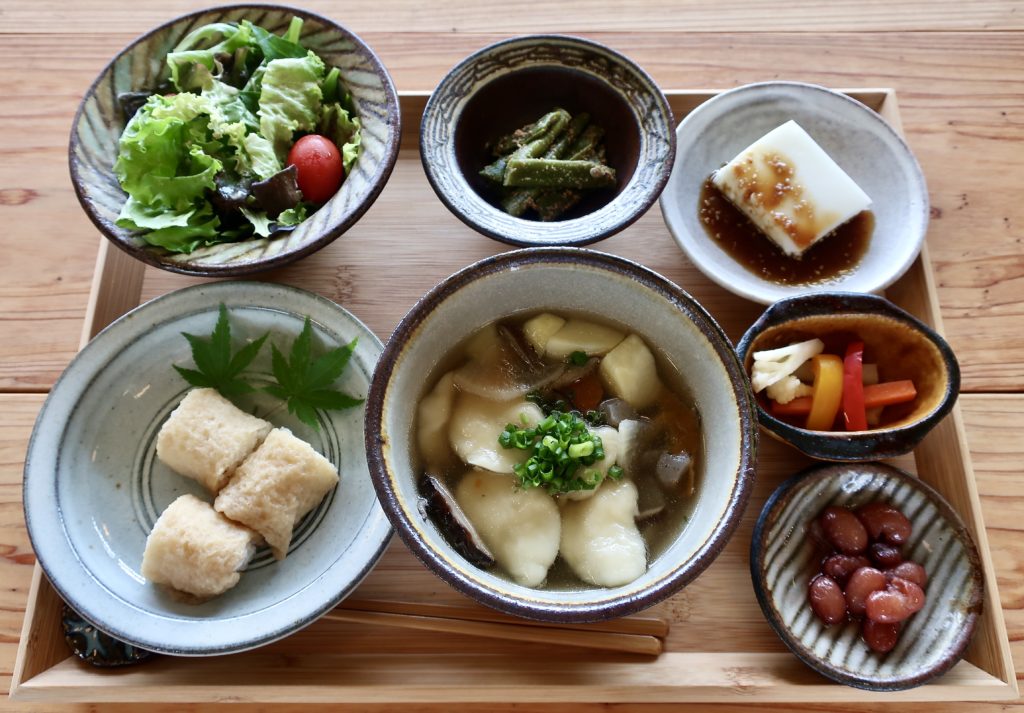 Dago-jiru teishoku was served like this and I couldn't hide my excitement! As a big fan of Shodai-yaki Pottery, I was just so happy to see many kinds of potteries and this lovely food!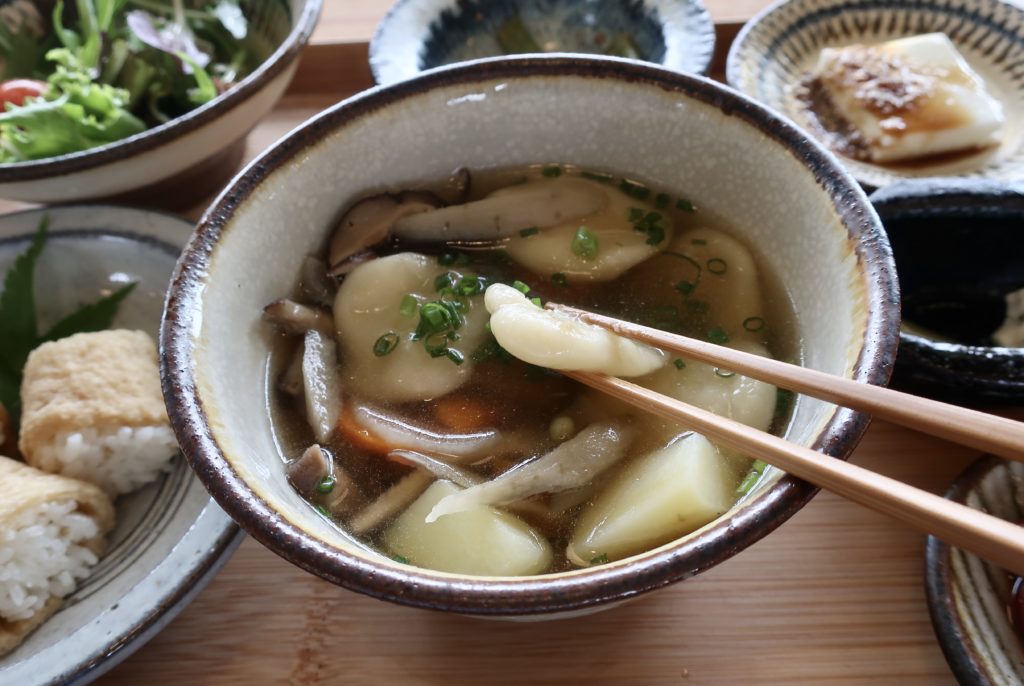 At HIKE, they offer soy sauce Dago-jiru. It is nice and light so we can enjoy the subtleness of ingredients.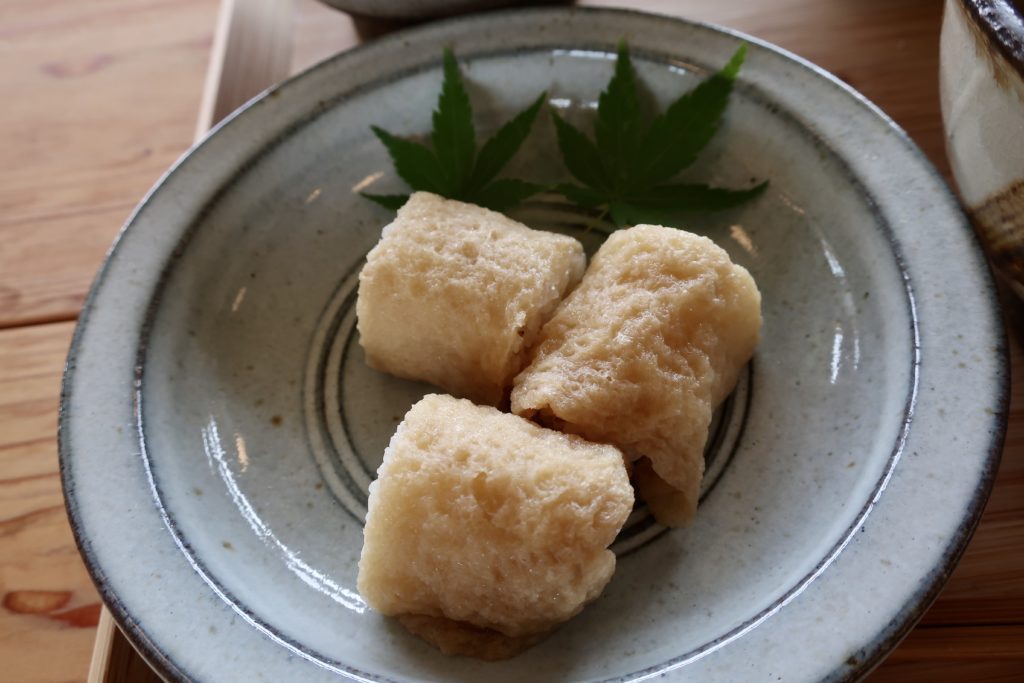 This is 稲荷寿司(Inari-zushi) which is one kind of Sushi. Inari-zushi is rice seasoned with sweet vinegar wrapped with deep fried tofu, called "あげ(a-ge)". This あげ(a-ge) is seasoned with soy sauce and sugar and it is juicy and chewy. At HIKE, they use "南関あげ(Nankan a-ge)" which is traditionally made in Nankan area which is close to Tamana City.


And what do you think this is?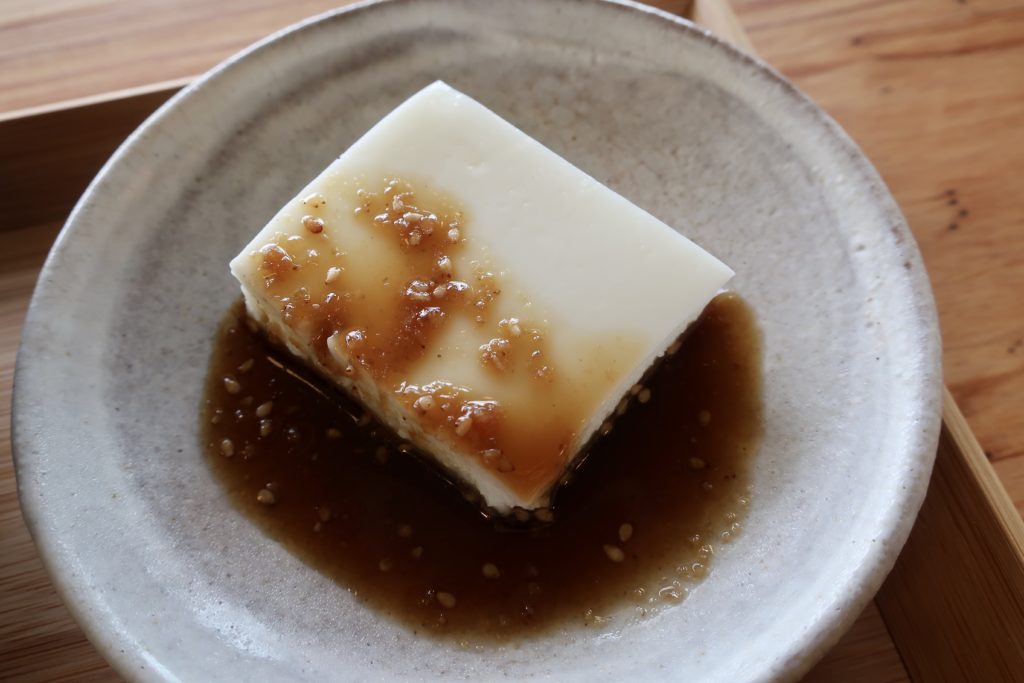 At first, I was wondering is it tofu or sesame tofu? When I asked the owner, I learned that it is "牛乳豆腐(Gyunyu tofu)", means milk tofu. I'm from Oita Prefecture so I am not familiar to this but he said it has been made in Kumamoto for a long time. I heard they mix milk and flour and simmer it slowly for a long time until it sets. The texture is chewy. It goes well with the ginger soy sauce.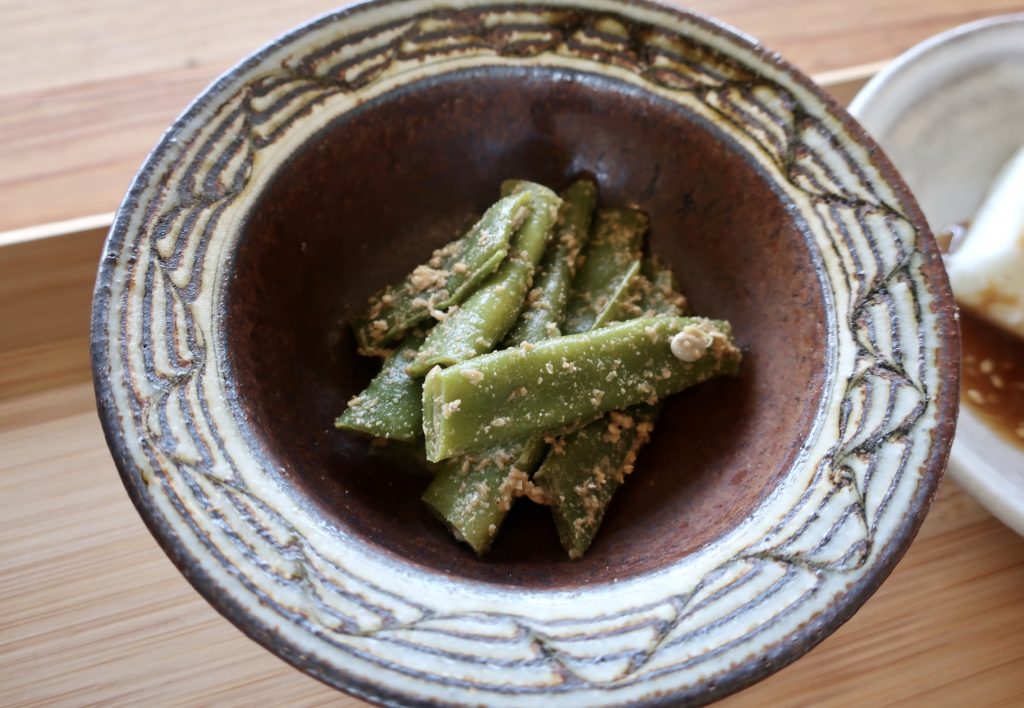 In this teishou, there are more dishes with seasonal vegetables, such as salad, vegetables with sesame paste, pickles and sweet beans. I heard they use vinegar from a traditional vinegar maker, named 荒木直平商店(Araki Naohei Shoten) near HIKE. They have made vinegar for 150 years and its building was built in 18 to 19th century.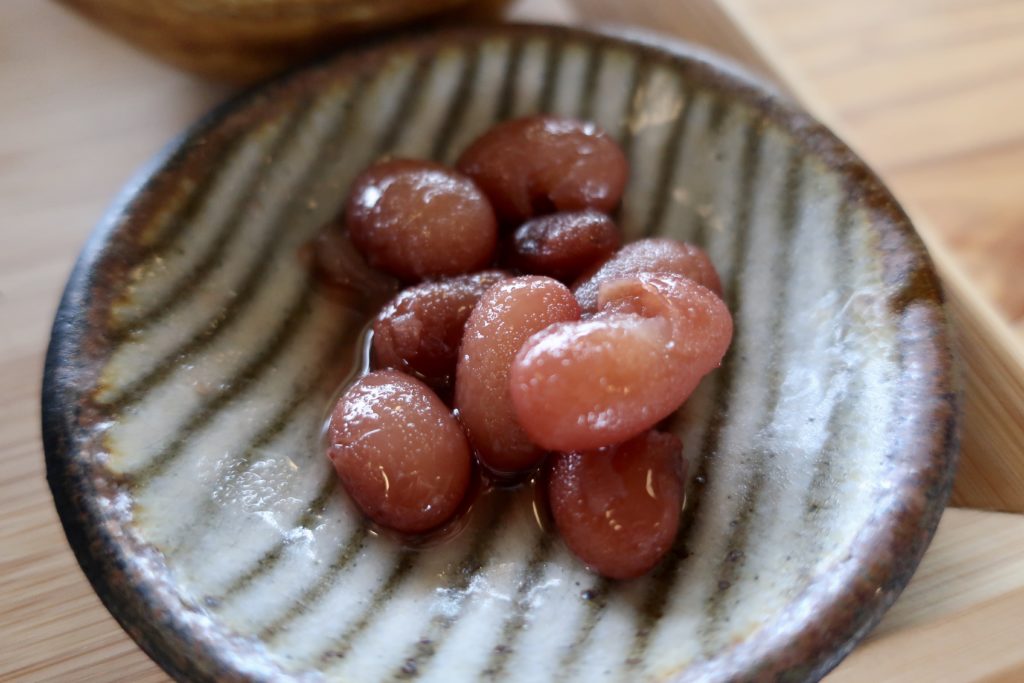 At HIKE, they get vegetables and seasonings from local farmers and producers as much as they can. That's why they know how each ingredient was made and who actually made them. The owner told me that this idea came from when they were traveling around the world. "When we visited a new place, we wanted to eat local food.", he said. It is simple but it motivated them to offer this amazing Dago-jiru teishoku which is full of history and culture of Tamana.


We were so satisfied with their Dago-jiru teishoku but since there are many attractive sweets at HIKE, we couldn't help but trying them!


So, again we went to the ordering counter and ordered cold-brew coffee each and some desserts(I think the lady at the counter was thinking like "Do they eat this much after the Dago-jiru teishoku??")


Anyway, the refreshing cold-brew coffee and desserts have arrived. First, "月読みピーチミニパフェ(Mini lunar phase harvested peach parfait)".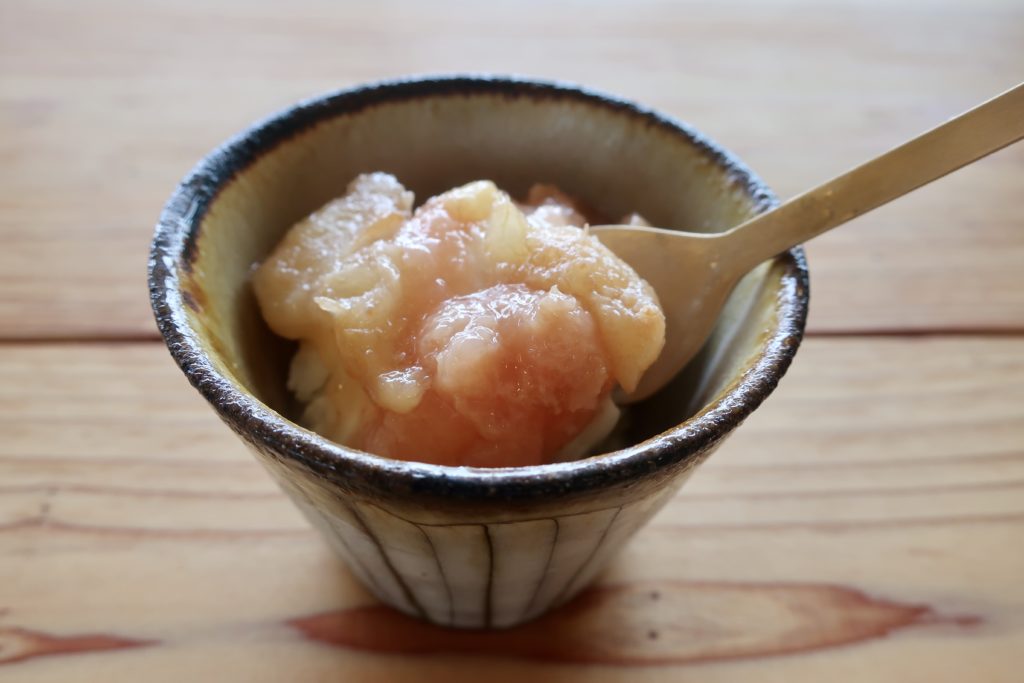 On the menu, it say "HIKE×にしだ果樹園(Nishida orchard). Nishida orchard is in 玉東町(Gyokutou Town) in Tamana county. Nishida orchard grows seasonal fruits with organic farming without using any fertilizer nor pesticide and they harvest fruits with lunar phase. Nishida orchard provides their fruits many cafes and restaurants.


So, back to this lovely parfait. Inside of this lovely Shodai-yaki Pottery, you will enjoy compote peach, ice cream(The milk is from Aso) and chiffon cake on the bottom. It was just so perfect.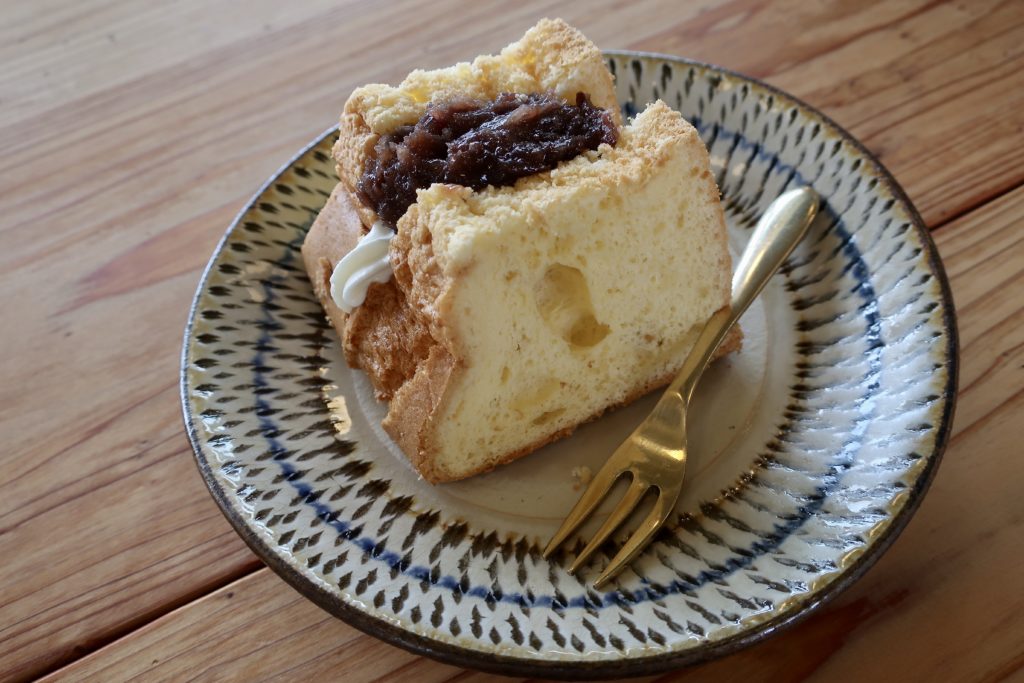 The next sweet was "あんことホイップのシフォン(Chiffon cake with Azuki paste and whipped cream)". You can take it out, too.


Even though eating a big lunch(and some desserts), this cake wasn't heavy at all. The Azuki paste wan't too sweet but subtle and I can enjoy the nice texture of beans. This Azuki paste is from あん工房港屋(An kobo Minatoya) near HIKE. I heard that HIKE offers different chiffon cake sand depending on season. I look forward to trying a new one next time!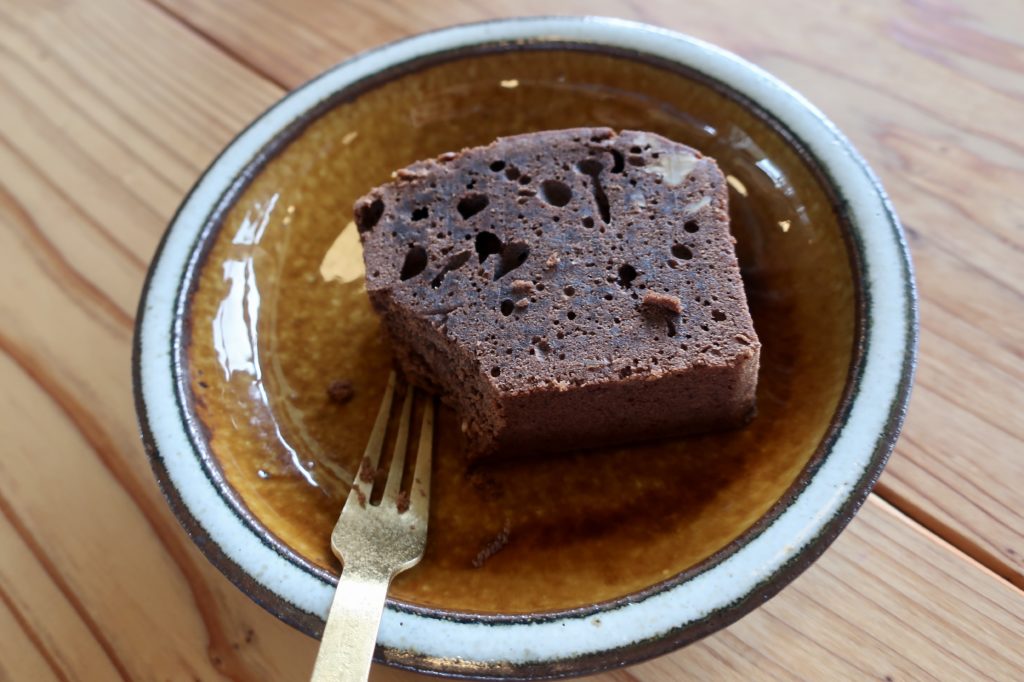 Lastly, this is a chocolate cake my friend ordered(I forgot to take photo right away so she started it!). They use couverture chocolate which was produced in Japan. You can enjoy the richness of chocolate and the nice crunchiness of walnut.


Visit 『HIKE』and feel closer to creators and produces who work with passion!
It was our first outing after the coronavirus situation. It will definitely take time to get our daily lives back and have chance to travel somewhere far. But because of this, I believe that it is the time for us to look at what we have and what we have had in our region. There are many things we don't know but always there.


Visit HIKE and get to know the amazing culture and history Tamana area presents.


I am so sure you will be attracted by them and a great fan of HIKE. Hopefully in the near future, we can interact at HIKE!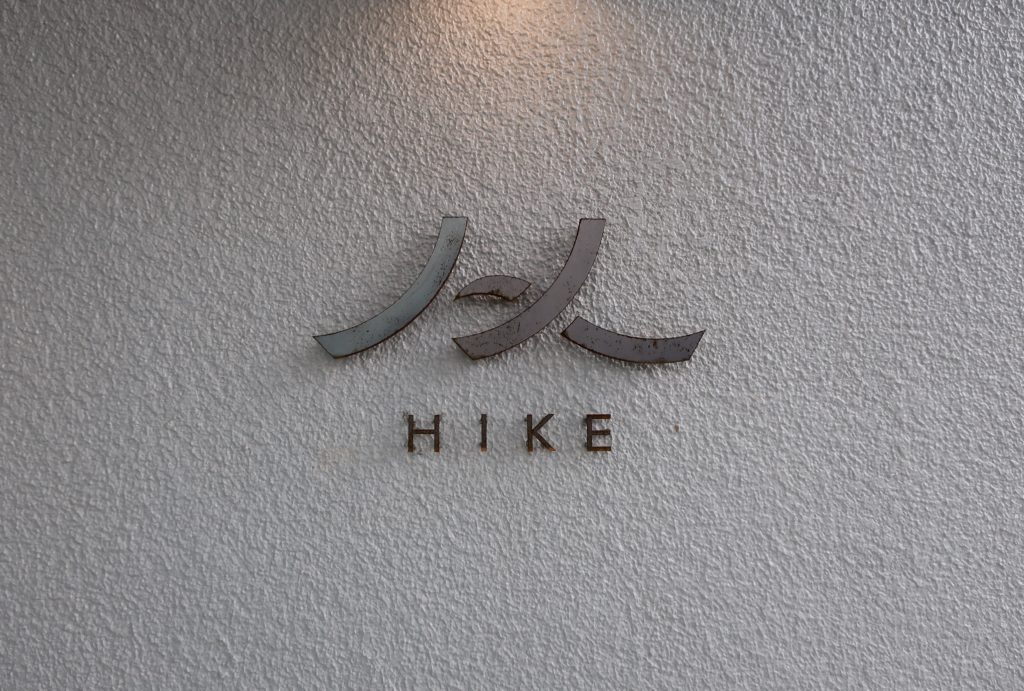 【Information and Links】
Official Website : https://hike-tamana.com
Facebook : https://www.facebook.com/hike.tamana.kumamoto/?epa=SEARCH_BOX
Instagram : https://www.instagram.com/hike_tamana/

Closed on Wednesdays

About the parking lot, you can park at the bank of Kikuchi River which is in front of HIKE. ↓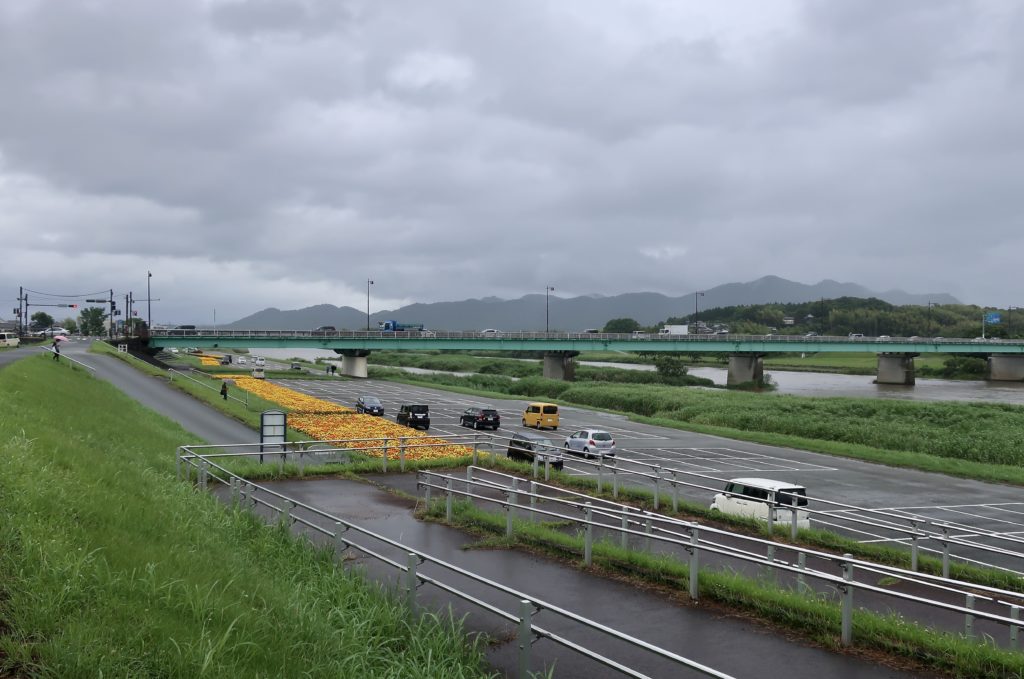 【Map】