Are you a morning person or a night person? I can be both but basically I am a morning person. In Japanese, there is a saying "三文の徳 (Sanmon no toku)" which means the early bird gets the worm. I feel that's very true especially after having a good morning trip with my good friend. We always leave early so that we can take good photos without people (or less), avoid traffic and finish our trip earlier feeling that we still have a half day left.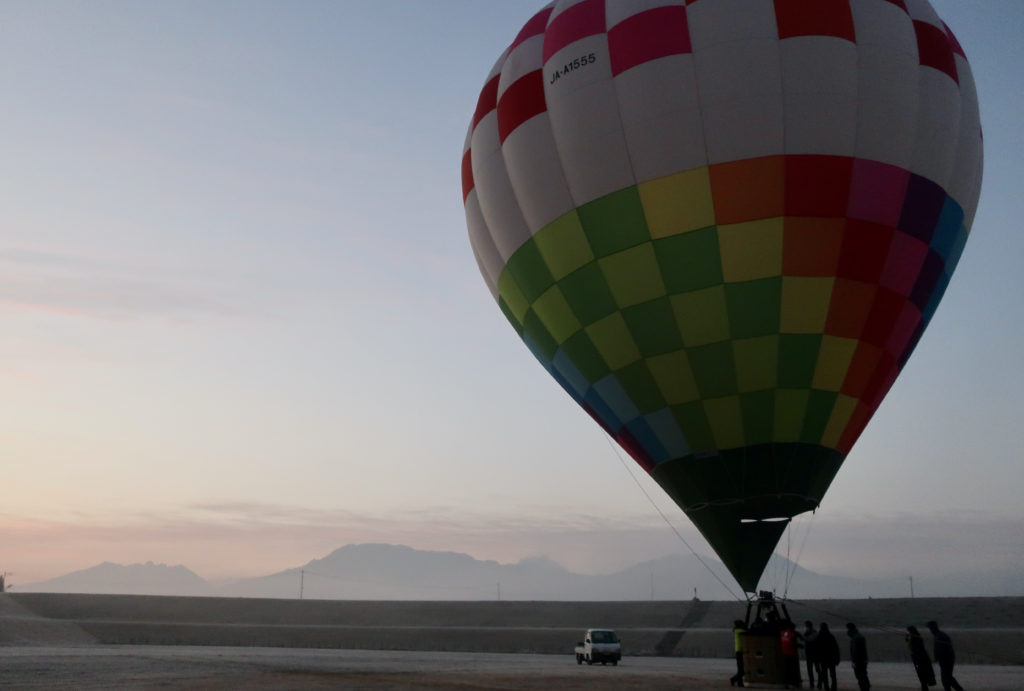 Today, I'd like to introduce to you this "Early Morning Hot Air Balloon Ride Experience" in Aso. This is something that I had always wanted to try so finally my dream came true. A private company, Aso Nature Land holds this event and they have this balloon activity only in the early morning. Even if you are a complete night person, I hope I can convince you by sharing my experience below and hopefully you will join them sometime soon!


Early Morning Hot Air Balloon Ride Experience in Aso
Information about Early Morning Hot Air Balloon Ride Experience
Aso Nature Land is an outdoor goods shop in Aso. They also offer us many activities where we can enjoy the grand nature in Aso, such as Early Morning Hot Air Balloon Ride Experience, paragliding, trekking, bockerl, yoga, etc. Their staffs have rich experience exploring around Aso so if you are considering to make a travel plan in Aso, they will offer you many exciting activities.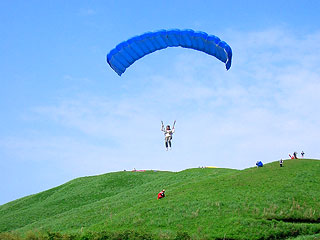 How to make a reservation
If you join their activities, you should book in advance. Visit their website and call or email them. There is a fixed number in each activity so if you decide your travel date, it is better to make a reservation soon. If the total number of people who will join it doesn't reach 15, they will not have this balloon activity. In that case, they will call you or message you in advance.
Official Website in English
http://www.aso.ne.jp/~natureland/english/
Price
It is 2200 yen for over 13 years old (from junior high school), 1100 yen for elementary school children and 550 yen for below elementary school.
Schedule on the day of the experience
They have Hot Air Balloon Ride Experience in the early morning if wind is quiet and not rainy. It is about 5 minutes experience. The gathering time differs depending on seasons. For example from October to March, the time will be 6:30 to 7am. On the previous day, they will call you and tell us what time we should go to the venue. Don't be late for it!
Our first Hot Air Balloon Ride Experience
So now, let's see our first experience of the balloon! Aso Nature Land called me on the previous day and said we should be at the spot at 6:55. My friend and I decided to leave Kumamoto City 5am just in case. Luckily we could see the beautiful crescent moon on the way (It's another good fortune by waking up early!).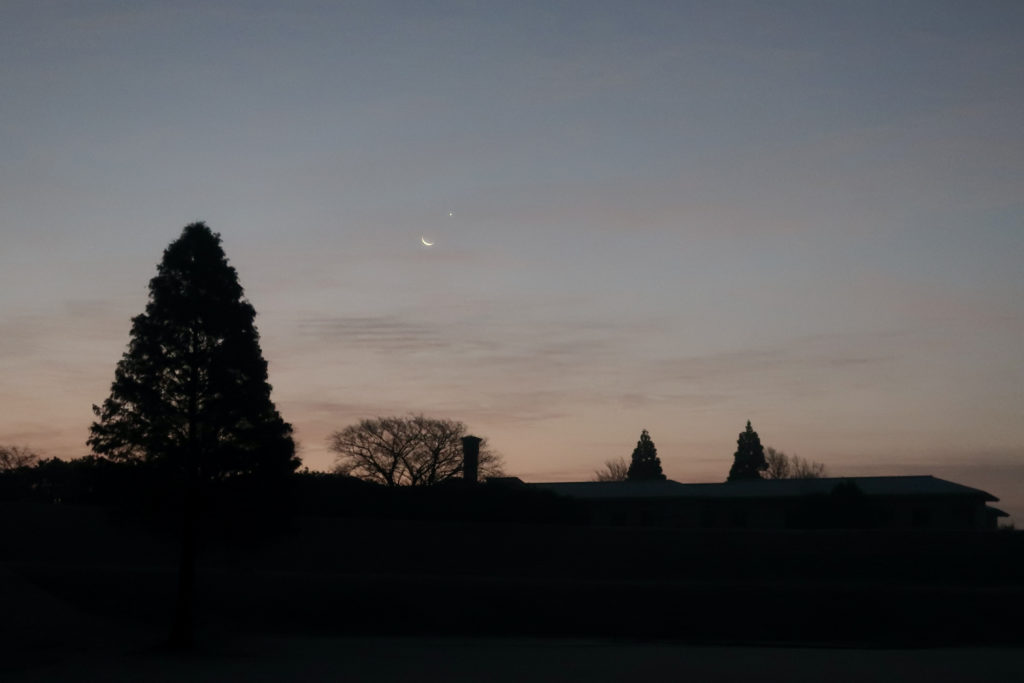 The meeting spot is close to ふれあい水辺公園 (Furei mizube park). You can't find the spot in your navigation so check the map below before going there.




We joined this balloon experience on December 13th and it was so cold. Can you see the frost?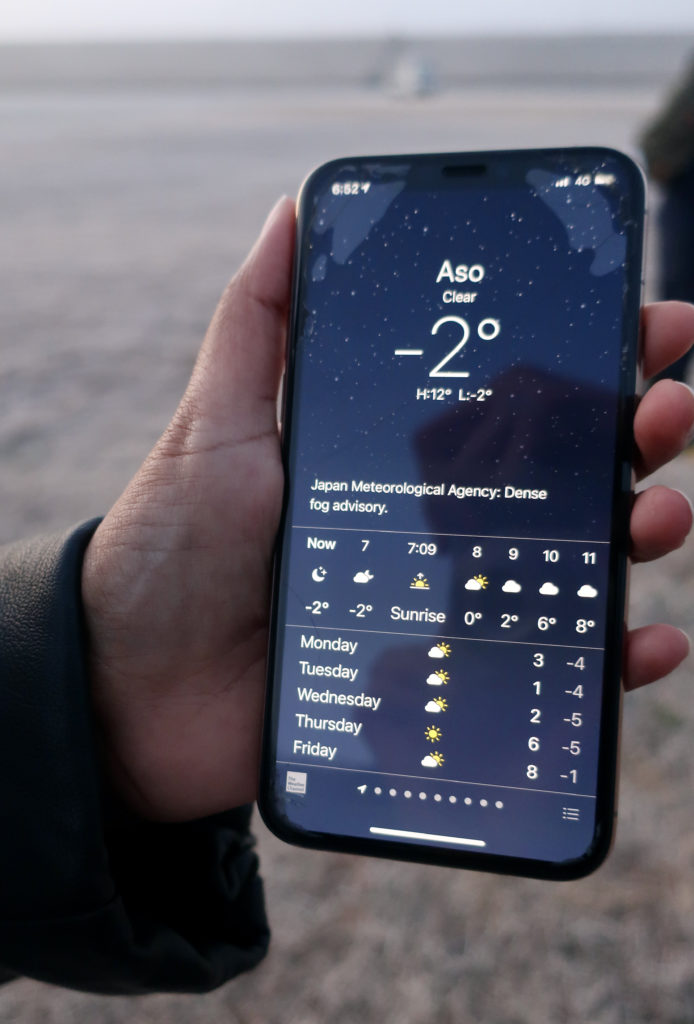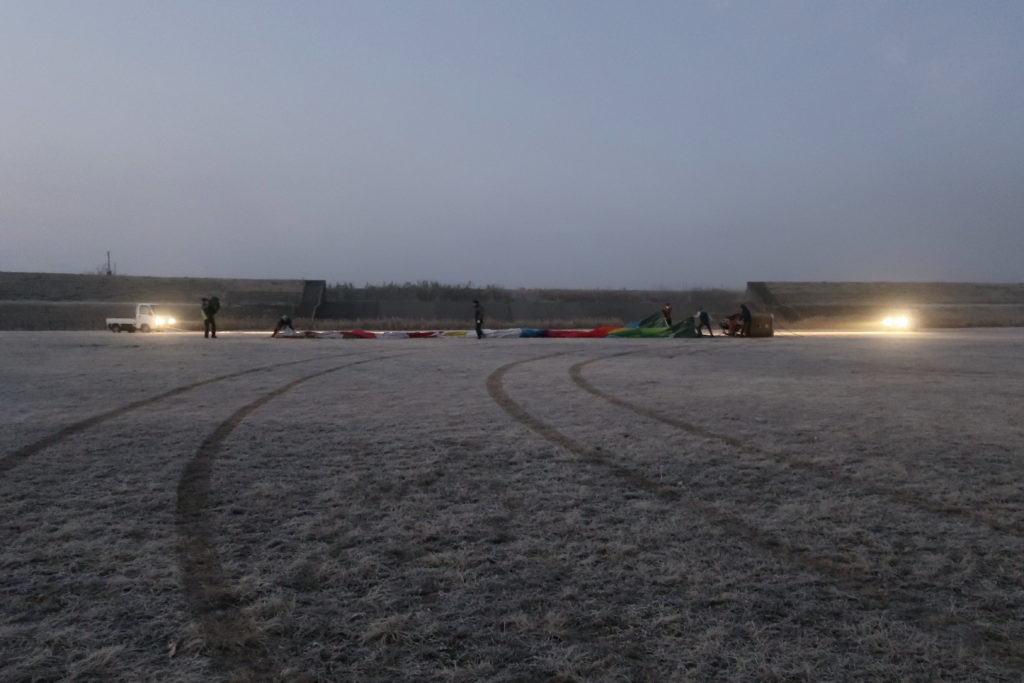 Since we arrived there very early, we could see how they prepare for the balloon.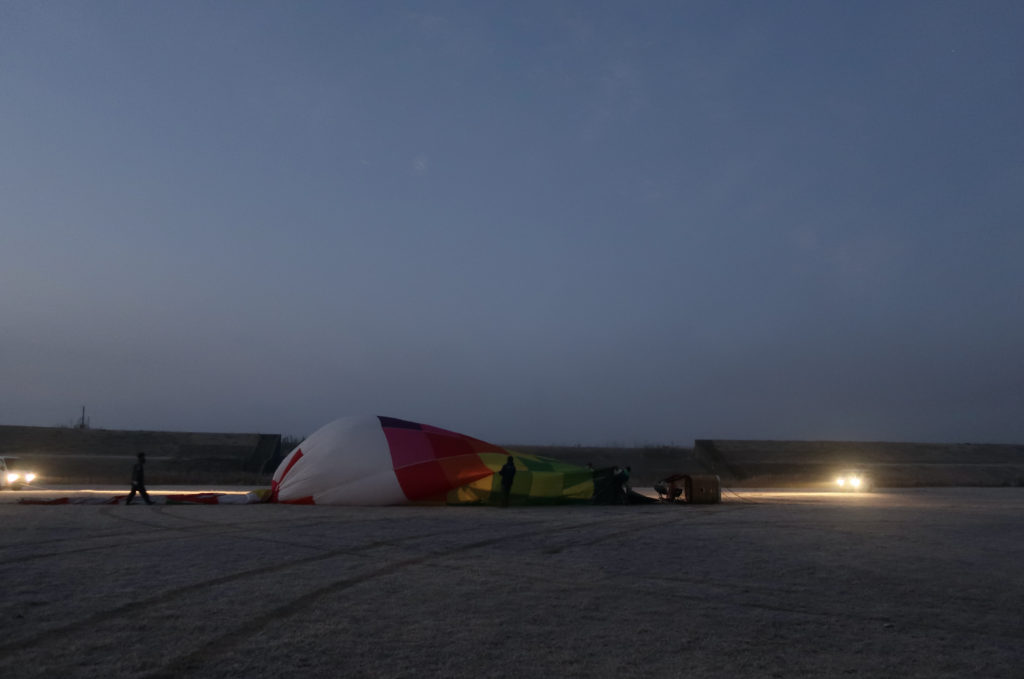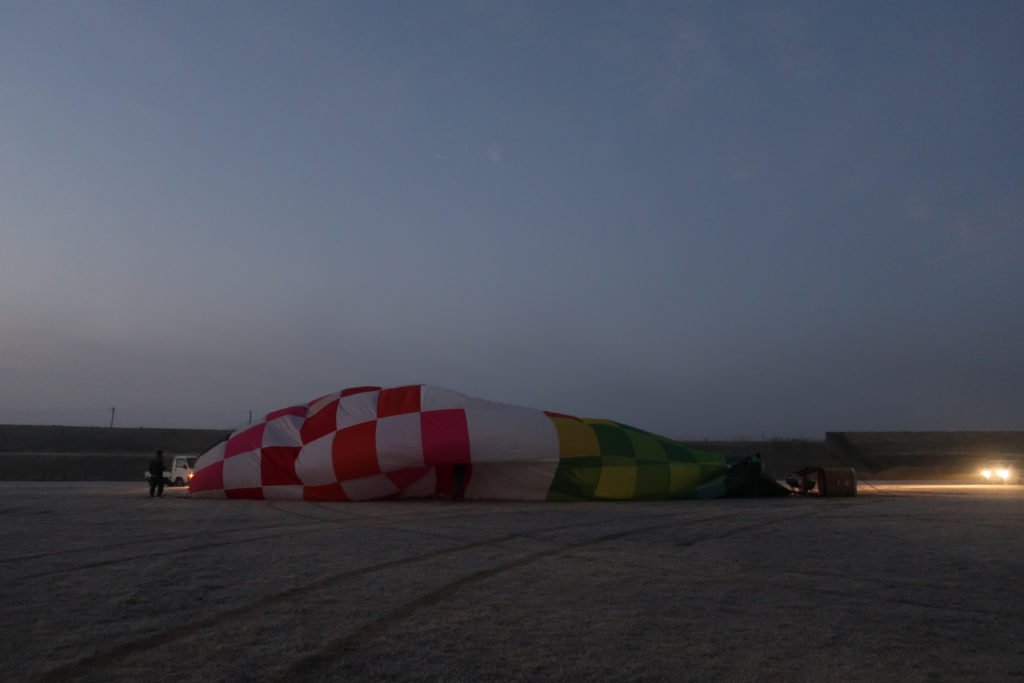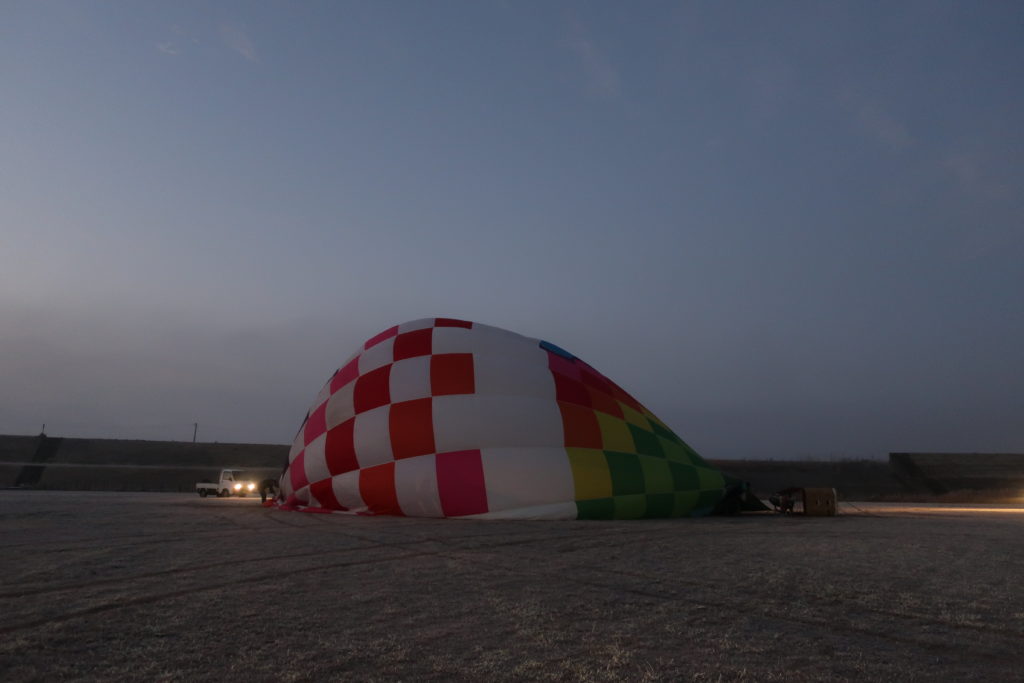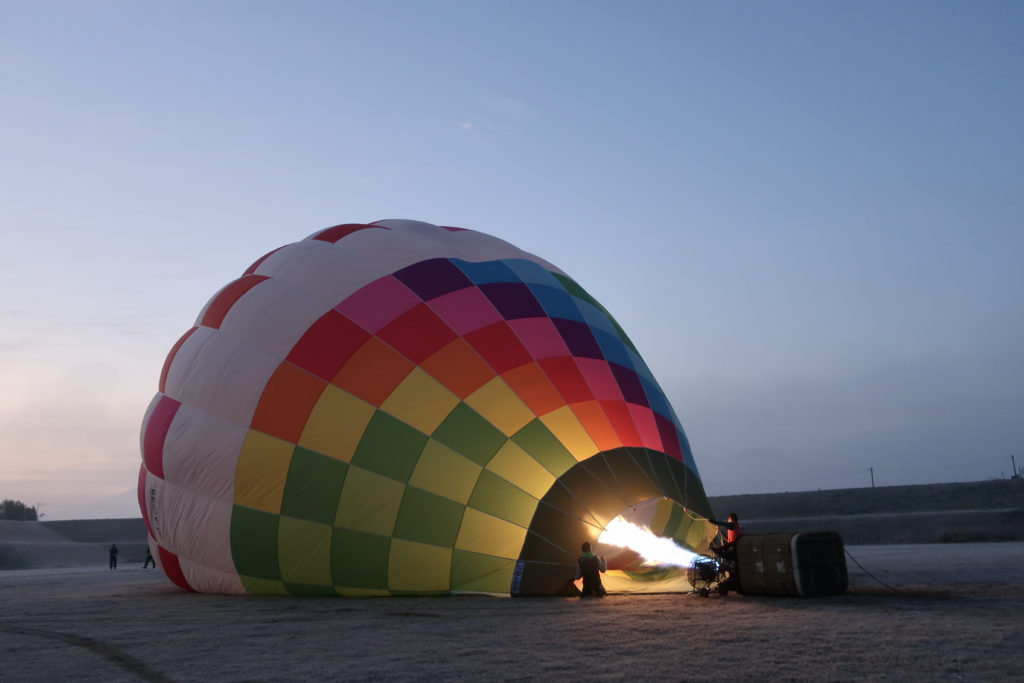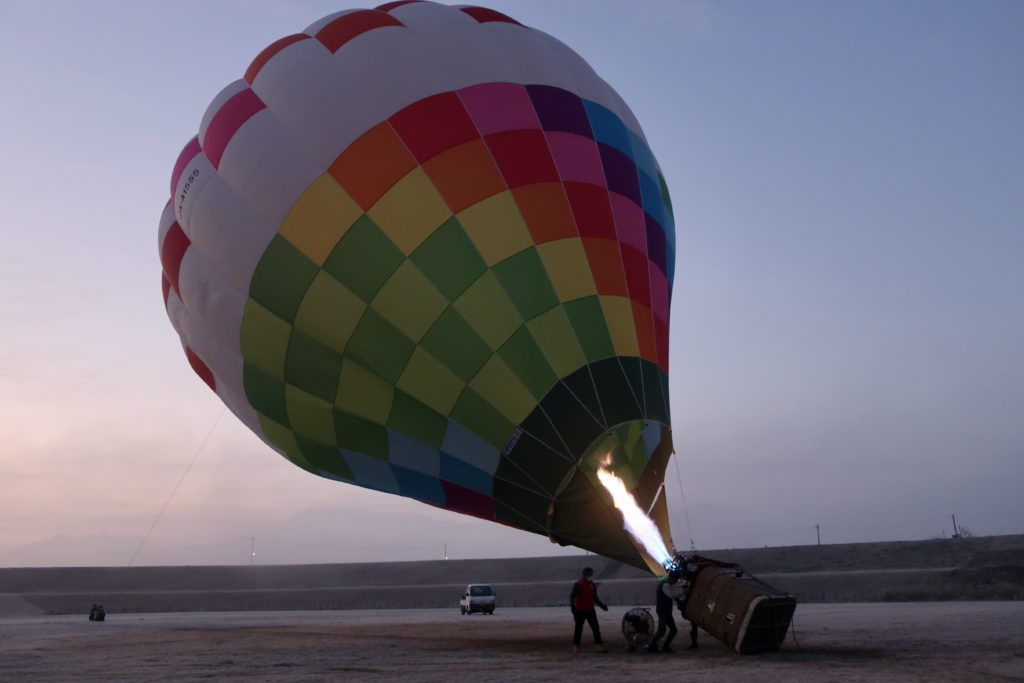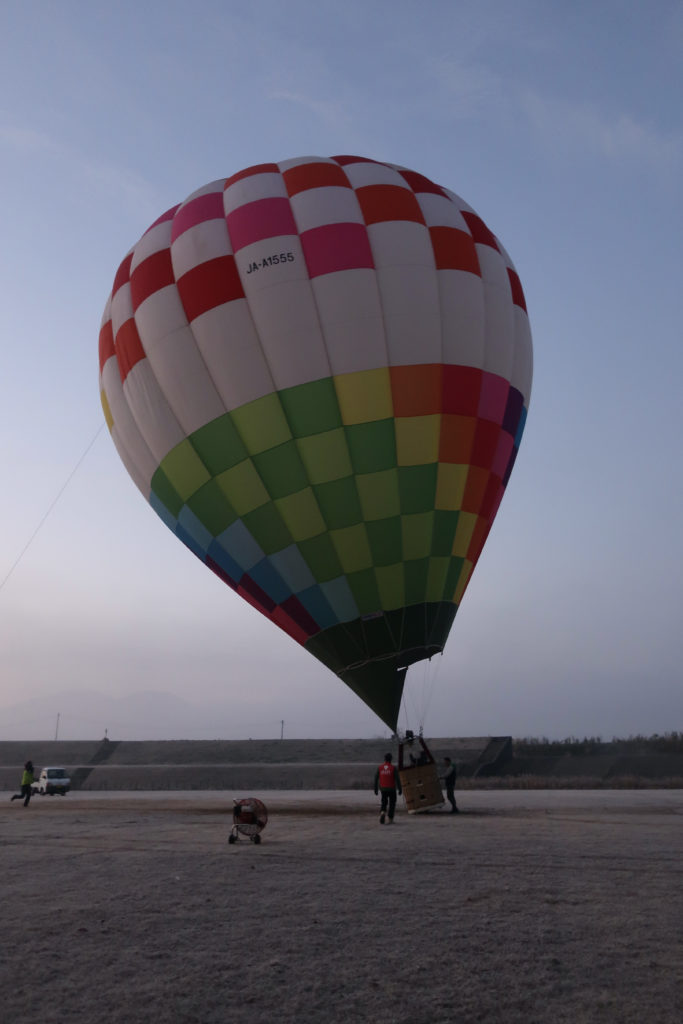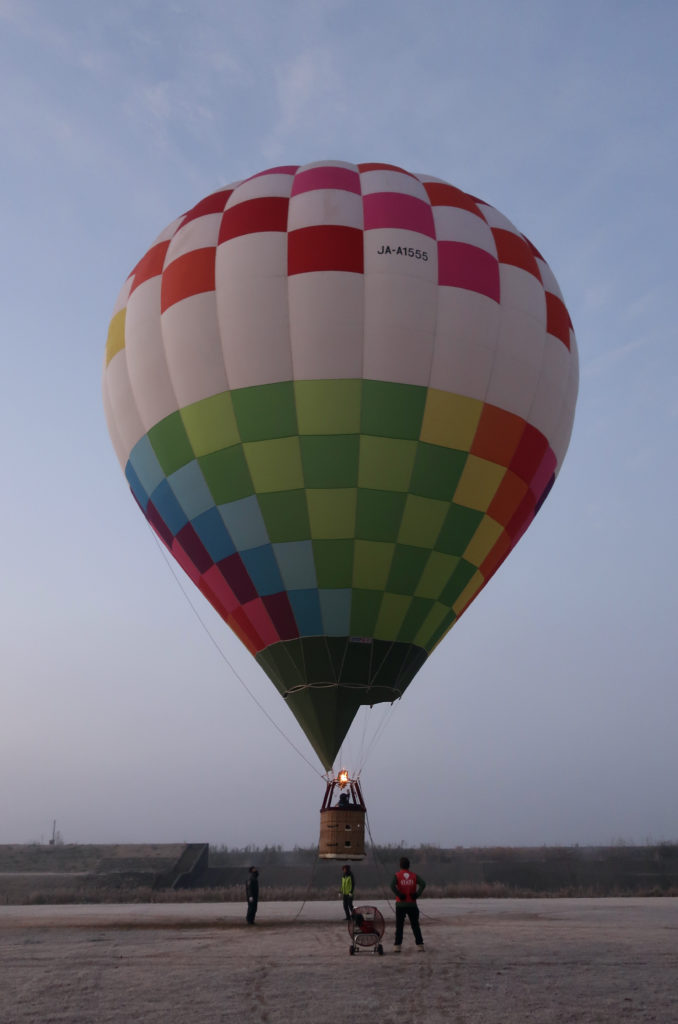 This hot air balloon goes up to 40 miters high. It was very interesting to see how they had adjusted the burner on the balloon.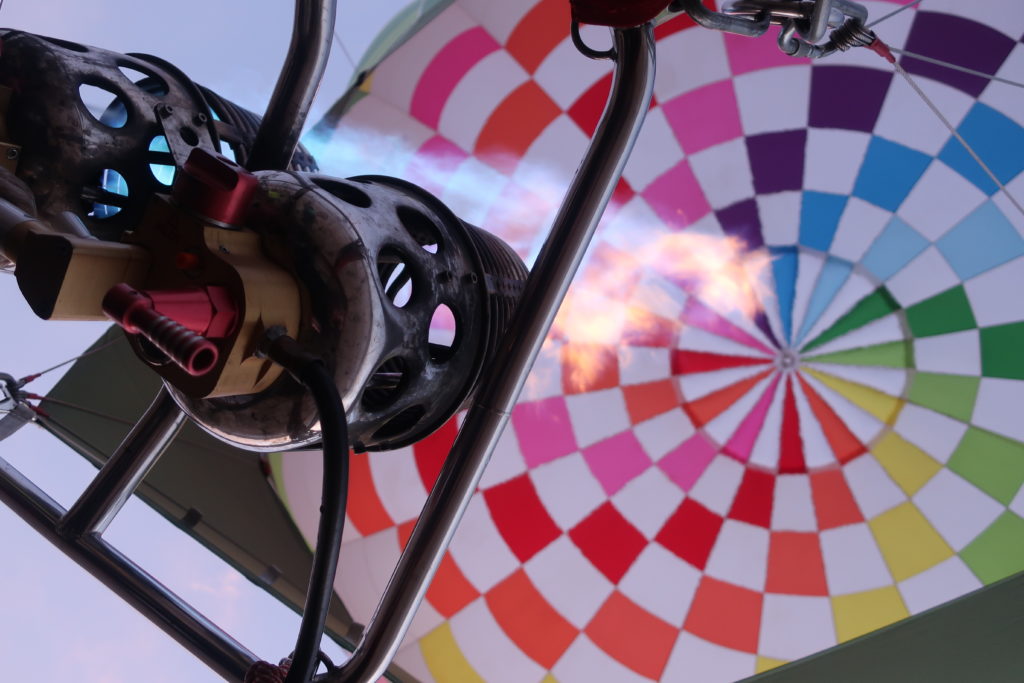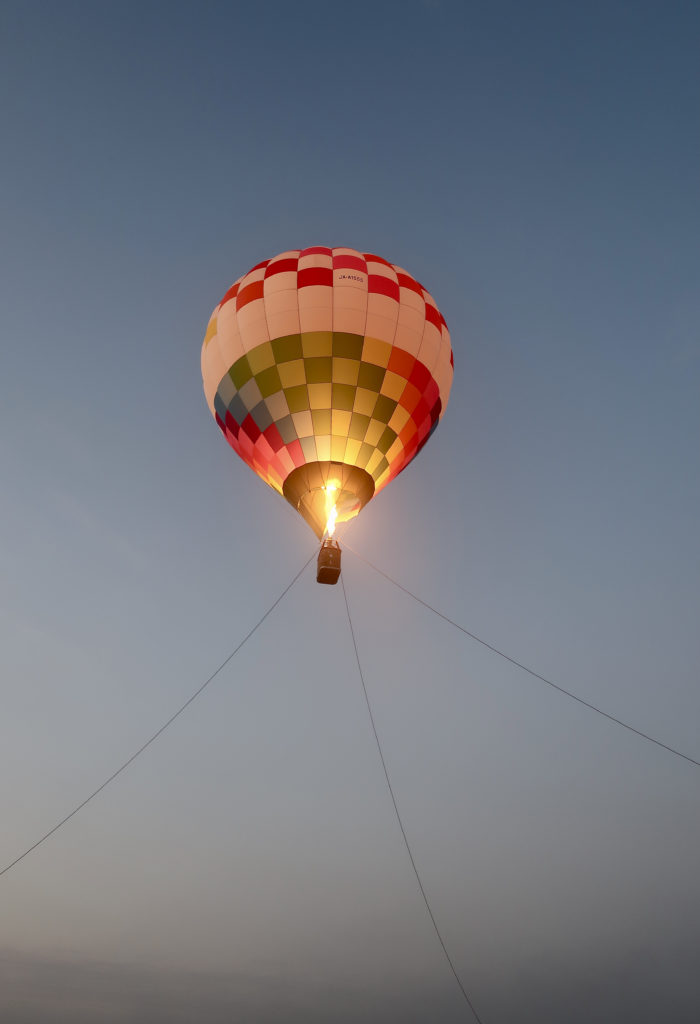 On your left, you can see the famous Lying Buddha in Aso, which is consisted of 5 mountains. You can see the whole buddha shape from the top.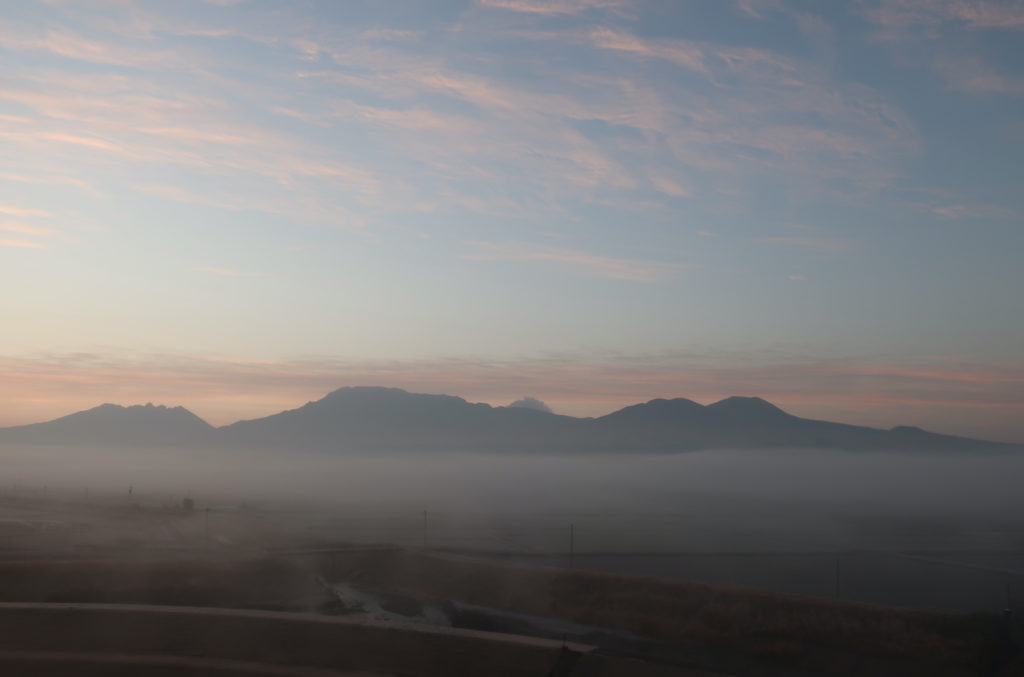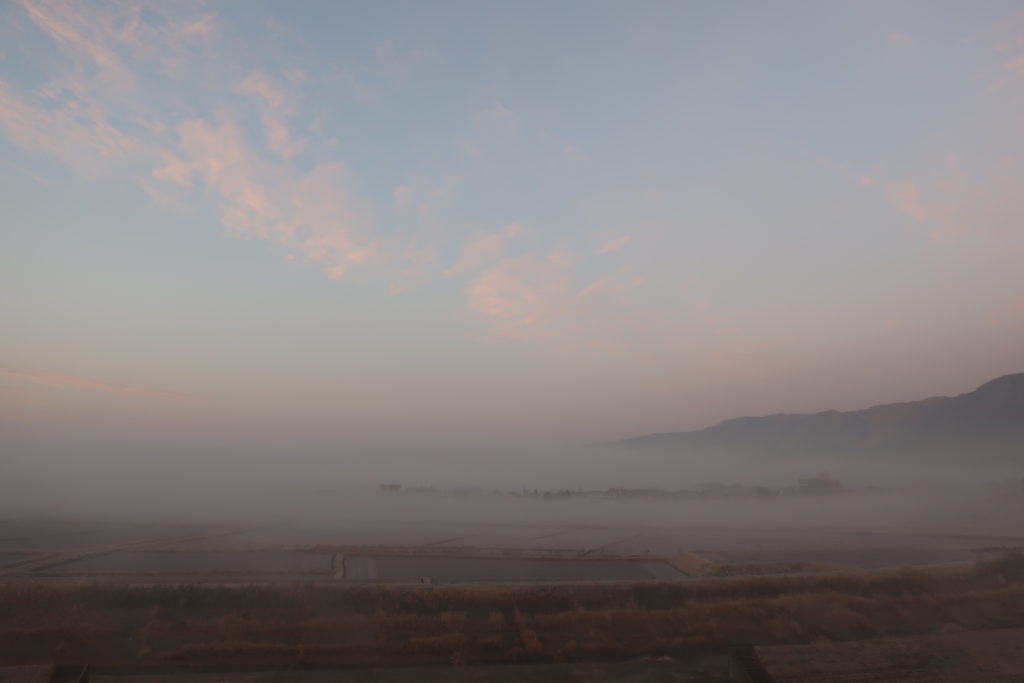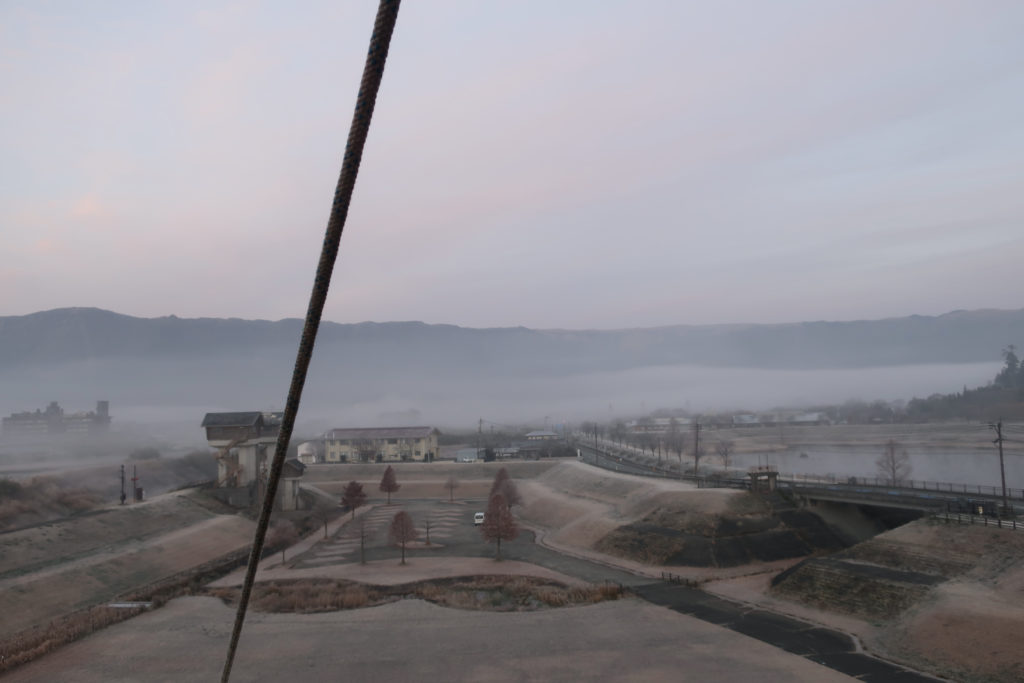 What else can we visit near the ballon spot?
Asora restaurant and cafe (あそら食堂&カフェ)
I will write about this place in my next article but I will introduce them earlier hoping that you can make your day more fruitful!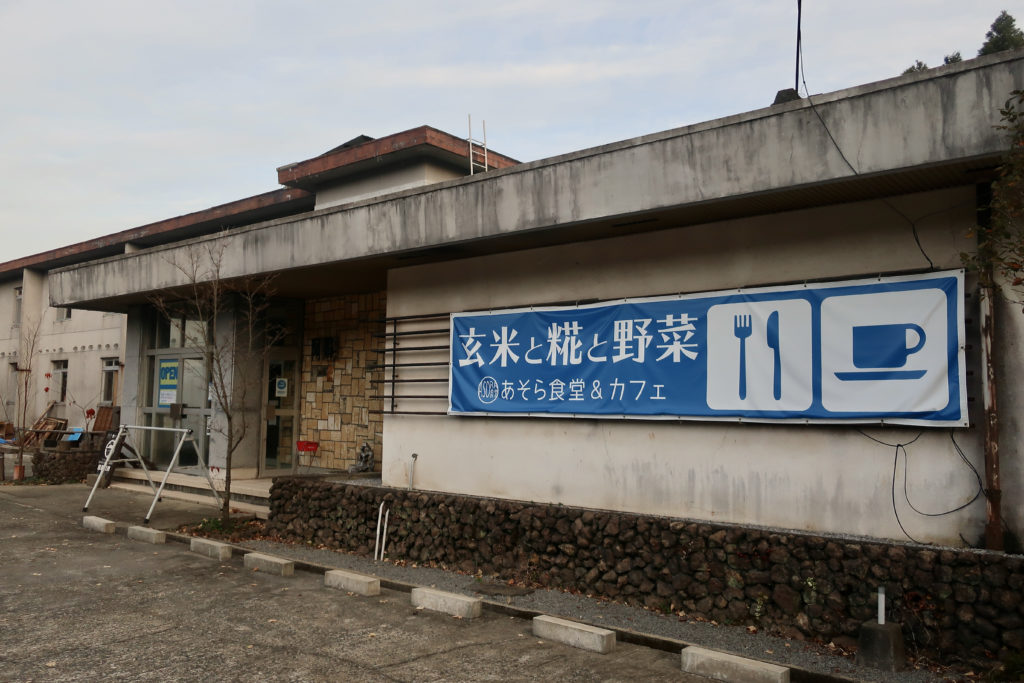 Asora offers you healthy organic food and drinks. They have vegetarian menus, too.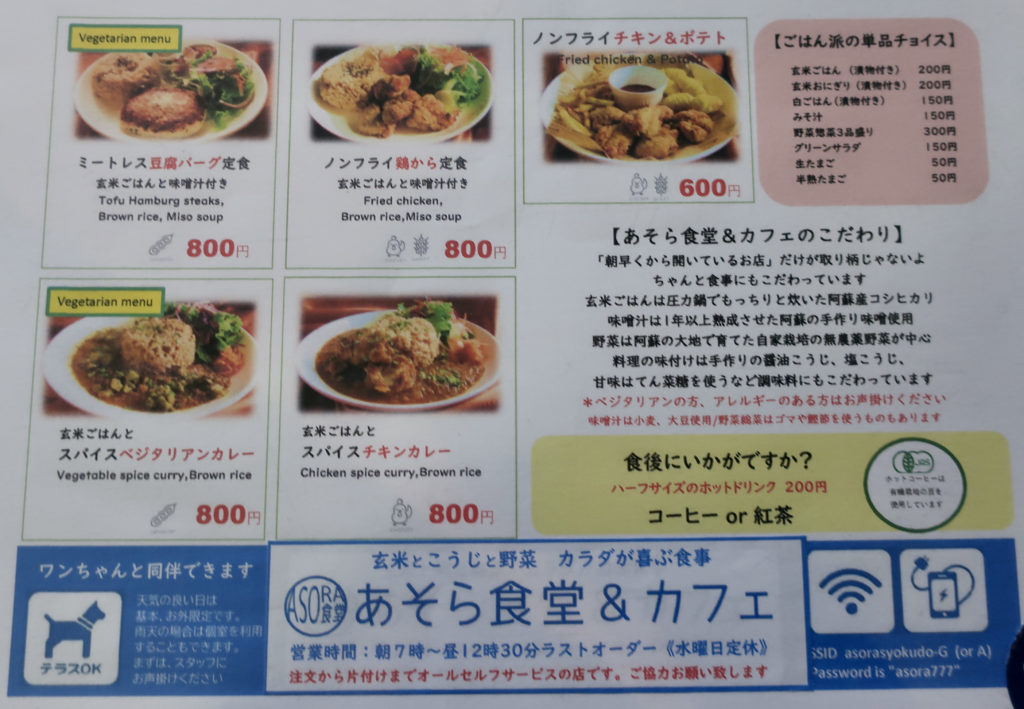 For me, the best thing about Asora is that they open from 7am to 12:30pm. Usually, cafes and restaurants open from 11am or so that is why it is sometimes difficult to find a nice place to have breakfast or branch. It takes about 15 minutes by car from the balloon spot so after experiencing the balloon, why don't you visit Asora and have a healthy breakfast?

Map : https://goo.gl/maps/nD19wgAagr7EHeCW7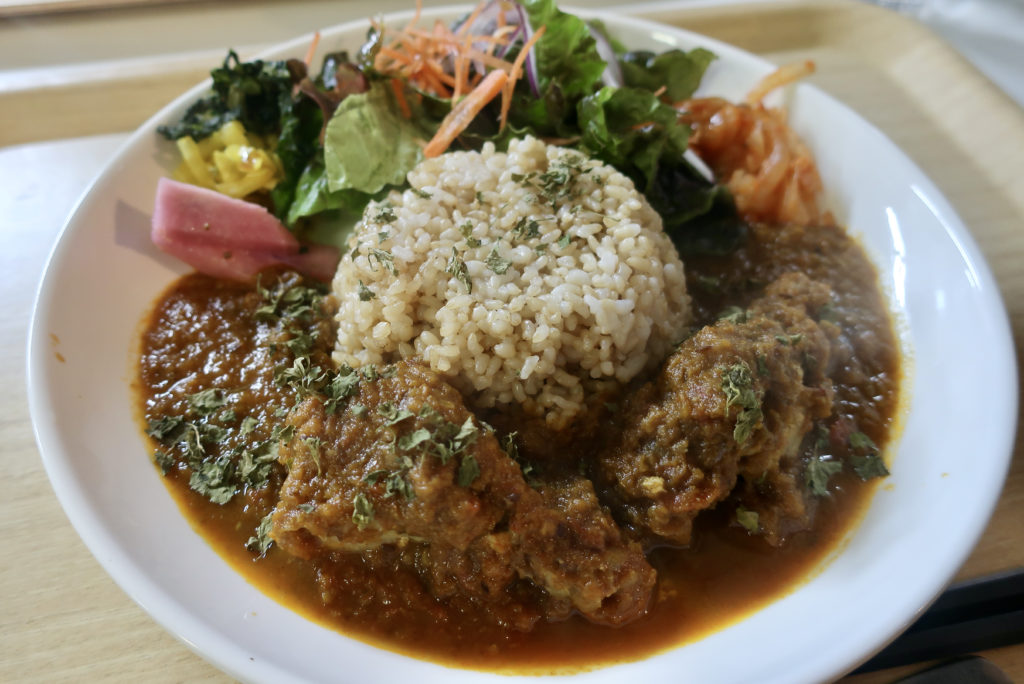 Sensuikyo Gorge (仙酔峡)
Sensuikyo gorge (仙酔峡) is located in the north foot of 中岳(Mt. Nakadake) and 高岳(Mt. Takadake), which are two of the five peaks consisting "Lying Buddha" in Aso caldera.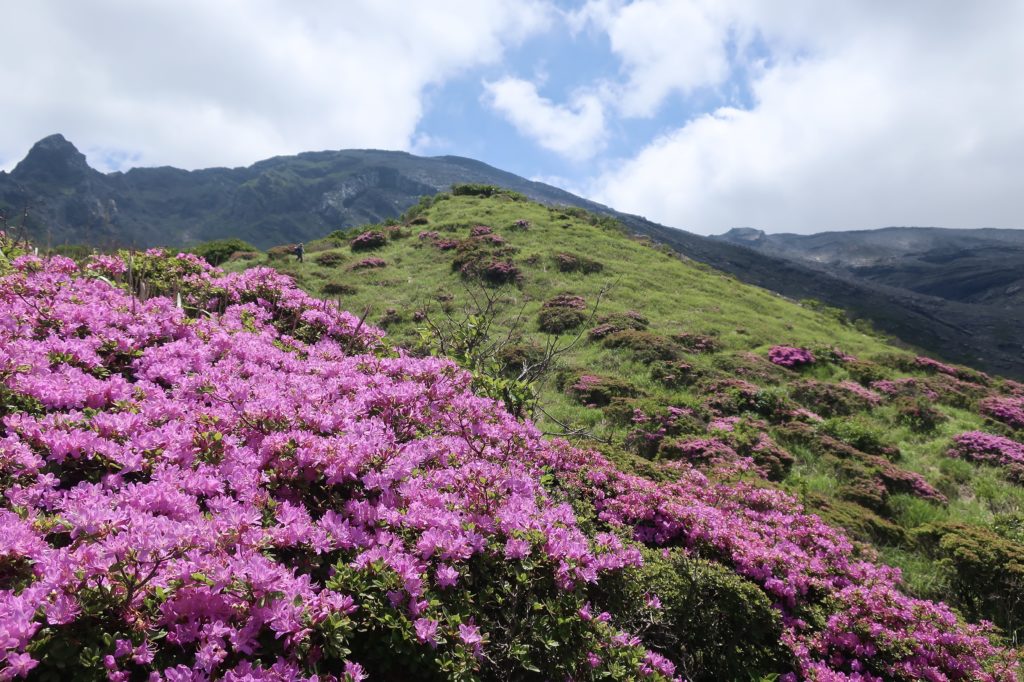 Sensuikyo gorge is famous for Miyama Kirishima or Kyushu Azalea (ミヤマキリシマ) during May to June. I have visited Sensuikyo in April which was after the controlled burning (Noyaki) and in May which was the best time to see Kyushu Azalea.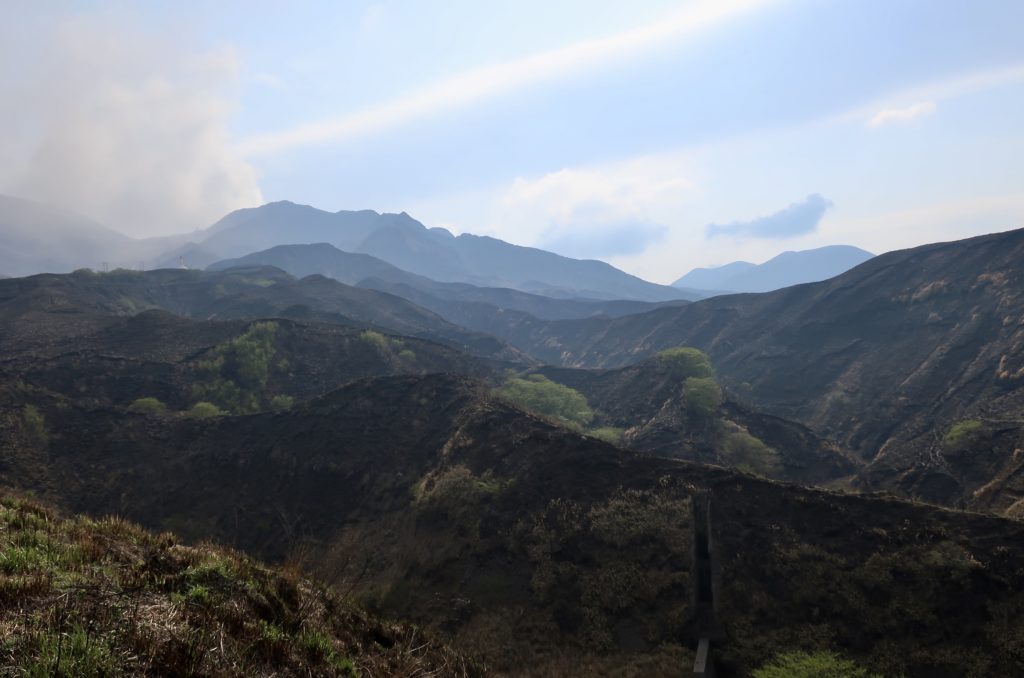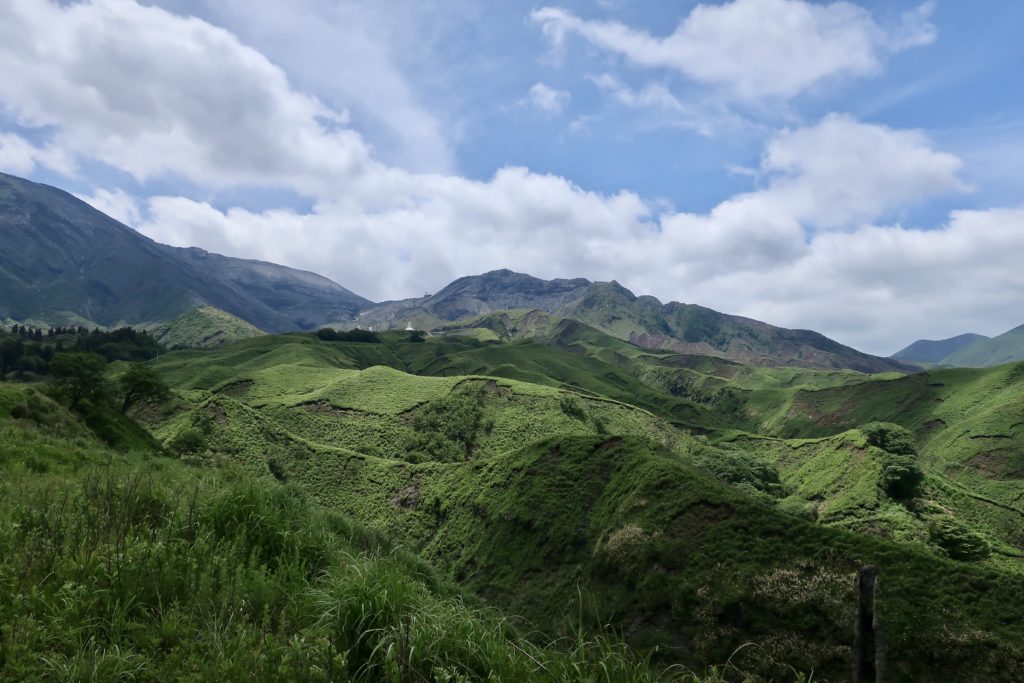 For the first time, I visited there again in December and I fell in love with it again. Sensuikyo gorge shows us beauty in each season. That is why people love Aso and fall in love with it many times.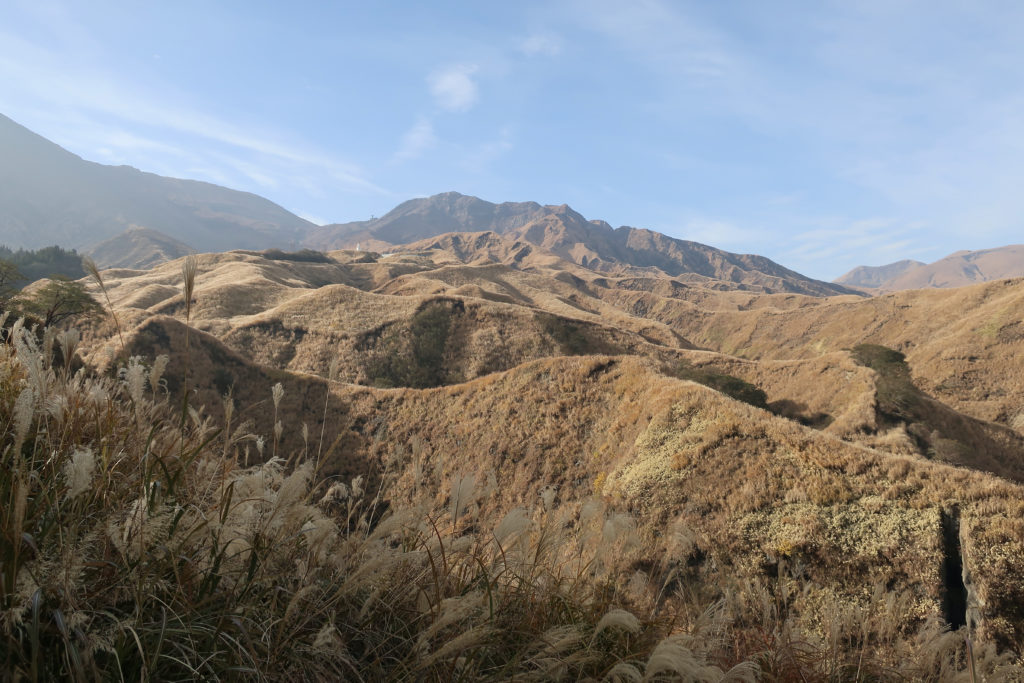 It takes about 20 minutes from the balloon spot and takes about 15 minutes from Asora restaurant & cafe. Asora is on the way to Sensuikyo gorge so I recommend you to have a lovely breakfast at Asora and visit Sensuikyo. Visit my previous article about Sensuikyo gorge and get to know about it more!


Kokuzo Shrine (国造神社)
In this article about Kokuzo Shrine (国造神社), you will get to know about the story of Lying Buddha and how people had started to live in the caldera, which made Aso more unique. It's about 15-minute drive from the balloon spot (the opposite side of Asora and Sensuikyo Gorge). After the experience, you can just drop by at the shrine and feel relaxed. Actually, this is one of my favorite shrines! Visit my previous article about Kokuzo Shrine and get to know about it more!


Experience Hot Air Balloon Ride and make your day fruitful!
This experience was much better than I expected. In Aso, there are many amazing places to see but if you have an activity which you can experience something new in your plan, I believe your trip will be more exciting. I hope you will join this Early Morning Hot Air Balloon Ride, visit some more places and make your day good and fruitful!
Information
Official Website in English
http://www.aso.ne.jp/~natureland/english/

Official Website in Japanese
http://www.aso.ne.jp/~natureland/

Facebook
https://www.facebook.com/ASO-Nature-Land-阿蘇ネイチャーランド-224189814324679