あけましておめでとうございます。
Happy new year, everyone! I wish you a happy and peaceful new year.
Do you have any new year's resolutions? In 2021, I want to explore my neighbor more and get to know their history and stories. I moved to Shimasaki (Kumamoto City, Chuo-ku) at the end of 2019 so I'm still new here. The more I walk around my neighbor, the more I find this area interesting and appealing. I am also interested in names of places. Names tell us history of the area. By getting to know them, I can imagine how people in the past lived there. I am excited to introduce those stories to you little by little.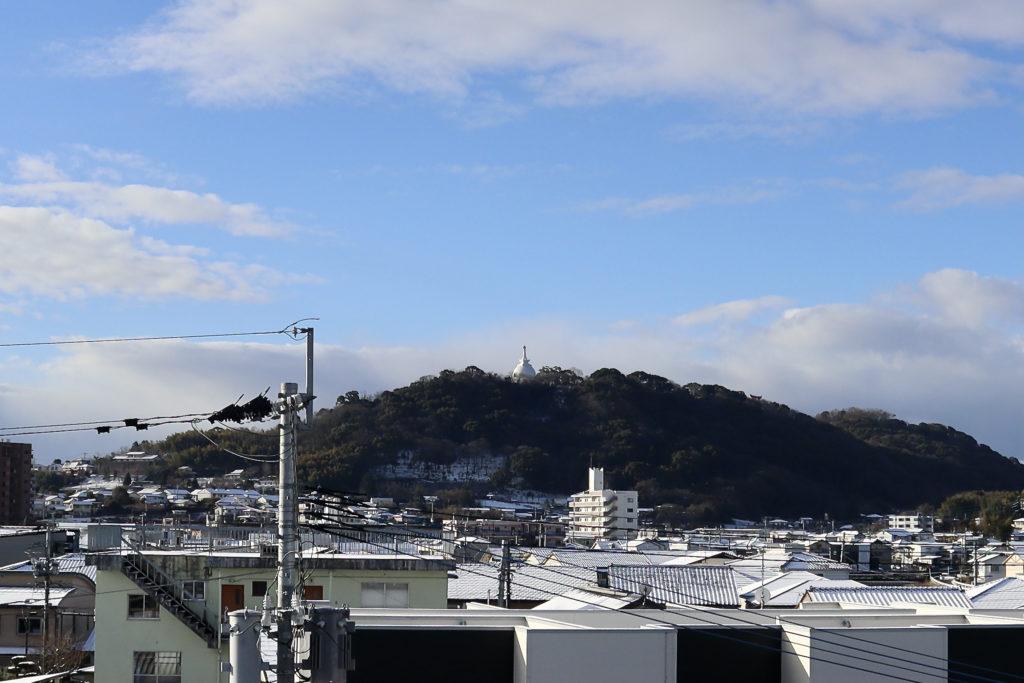 So for my first article in 2021, I chose 花岡山 (Hanaoka-yama, Mt. Hanaoka). From my apartment window, I can always see it so I always feel familiar to it.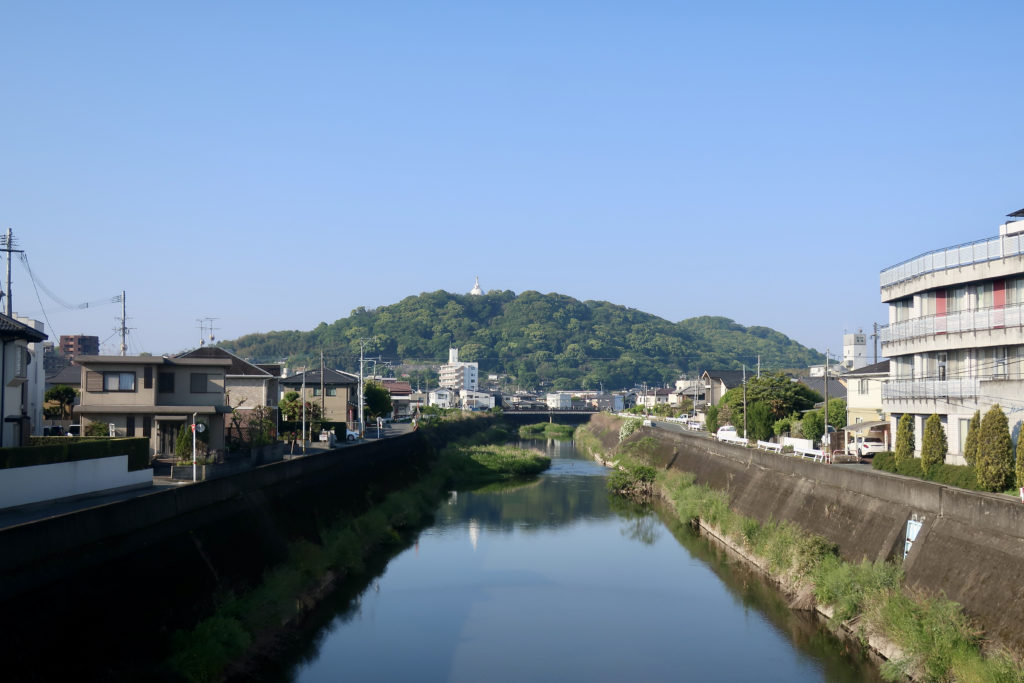 It stands in 春日 (Kasuga), which is in Nishi-ku, Kumamoto City. It is close to Kumamoto Station so you may have seen this mountain from trains. Speaking of Mt. Hanaoka, people think of 仏舎利塔 (Busshari-to, a stupa) on the top of the mountain. There are many other things to tell you about Mt. Hanaoka so let's see what they have!
Mt. Hanaoka (花岡山) in Kumamoto City
History of Mt. Hanaoka (花岡山)
Mt Hanaoka (花岡山) stands in Kasuga (春日), which is in Nishi-ku, Kumamoto City. It is close to Kumamoto Station. Mt. Hanaoka is 132m high.
From 8th to 12th century, Japan had had centralized government. There used to be Kokufu (国府) which means a provincial government to watch local people all around Japan. 国司 (Kokushi) who are people from Kyoto (central government in those days) were sent to those small governments. Back then, there used to be one provincial government near Mt. Hanaoka. Kokushi missed their hometown Kyoto so much and they established some temples and shrines on Mt. Hanaoka and named them from region names of Kyoto, such as Kiyomizu and Gion. For example, there is a tram station named Gion-bashi Station (祇園橋駅) near Mt. Hanaoka.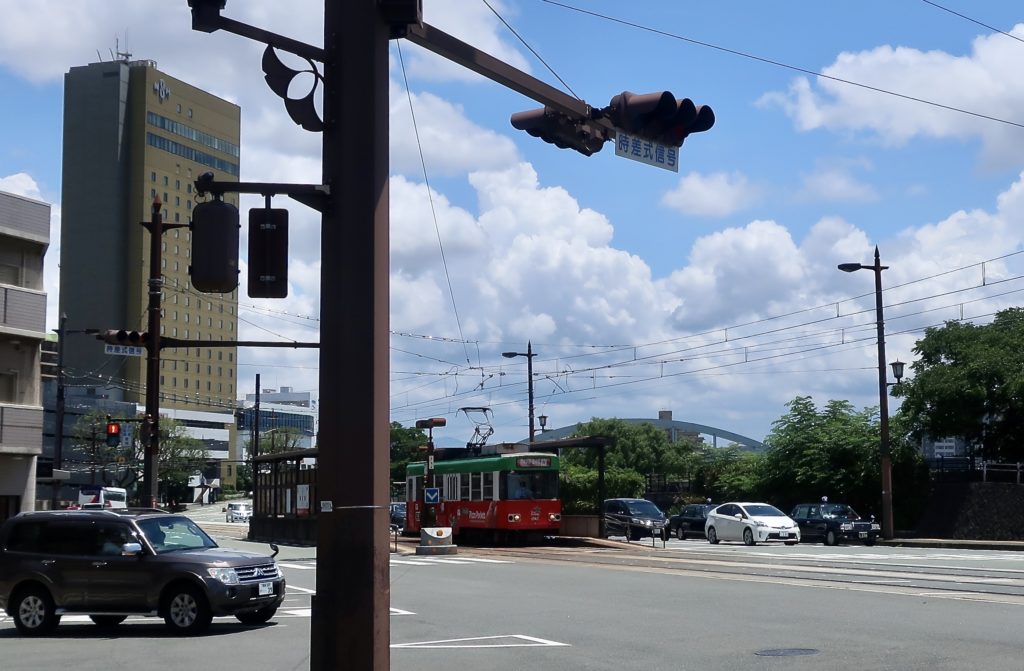 There is a big shrine near Mt. Hanaoka. It is Kitaoka Shrine (北岡神社).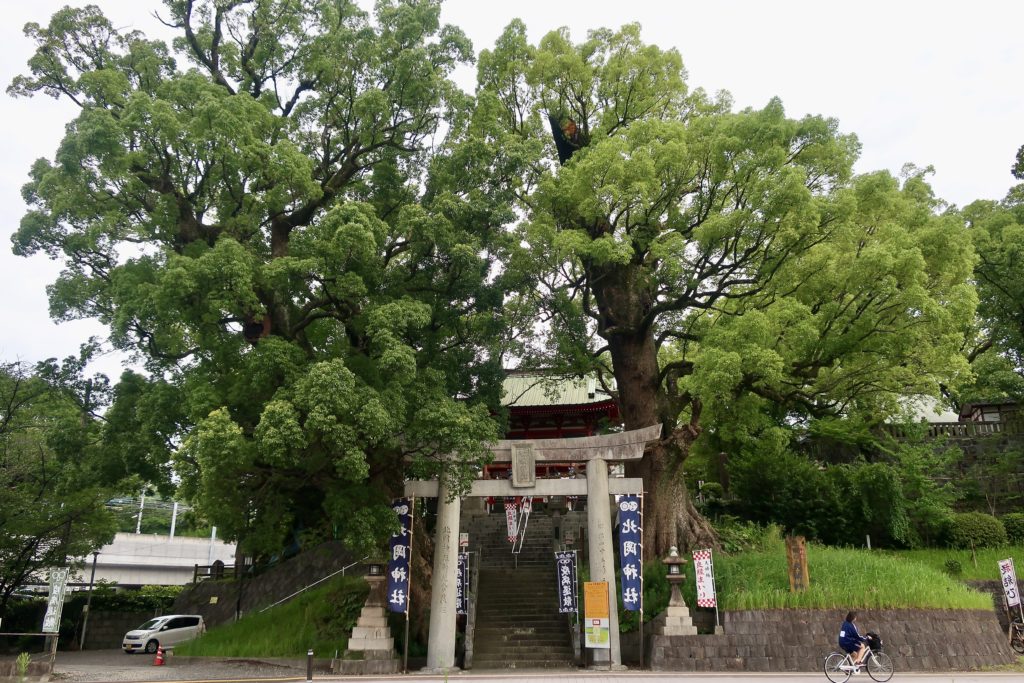 It was transferred to the present location in 10th century. At that time, Mt. Hanaoka was called as Mt. Gion so the shrine was called as "Gion Shrine". In 19th century, local people planted cherry blossom trees at Mt. Gion. After that, people started to call Mt. Gion as Mt. Hanaoka (In Japanese, flower is called "花 (hana)" and "oka (岡) means a hill.). Mt. Hanaoka is now famous for a good Hanami (Sakura viewing picnic) spot.


Great view of Kumamoto City from the top of Mt. Hanaoka (花岡山)
If you walk from Kumamoto Station, it takes about 30 minutes to the top of Mt. Hanaoka. From Kumamoto Castle, it takes about 50 minutes. There is a big parking lot at the top of the mountain so if you don't have enough time, you can just drive up there.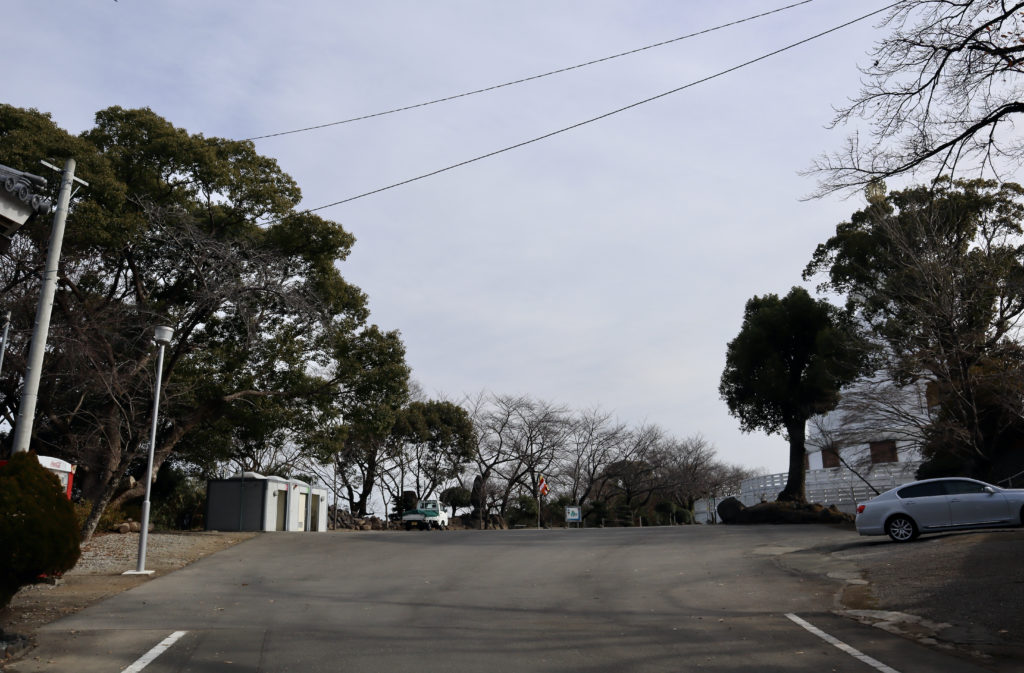 The view from the top is panoramic and you can see the great view of Kumamoto City. If it's clear, you can see Mt. Aso, too. On the left side, you can see Kumamoto Castle and on the right side, you can see Kumamoto Station.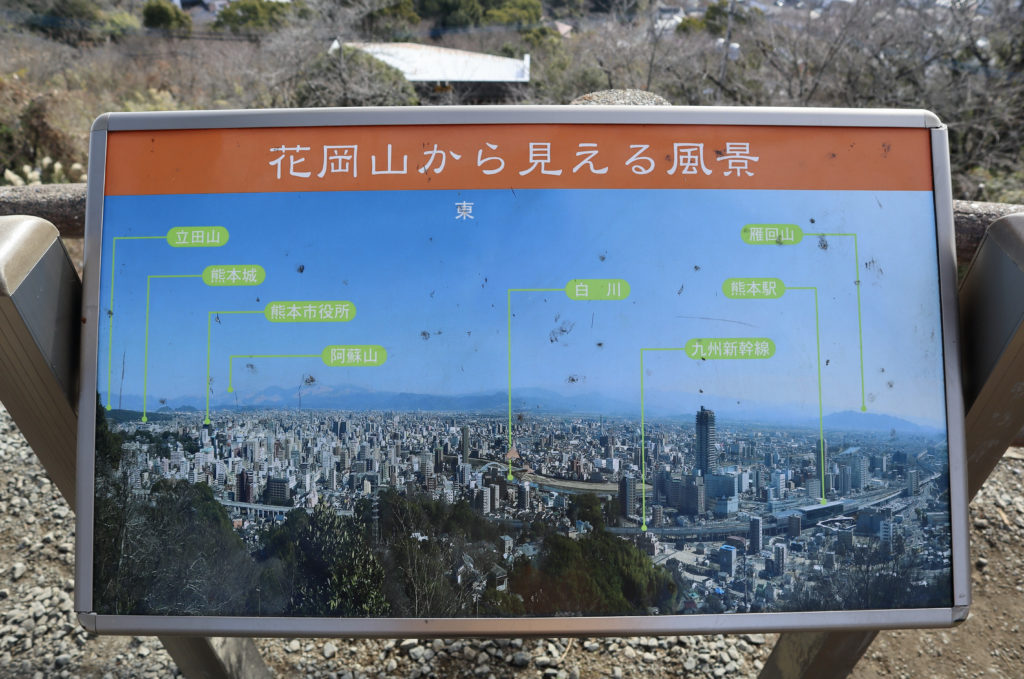 Mt. Hanaoka is famous for the night view. It is said that we can see the best night view of Kumamoto City from there. If you live in Kumamoto City, it is fun to try to find your home!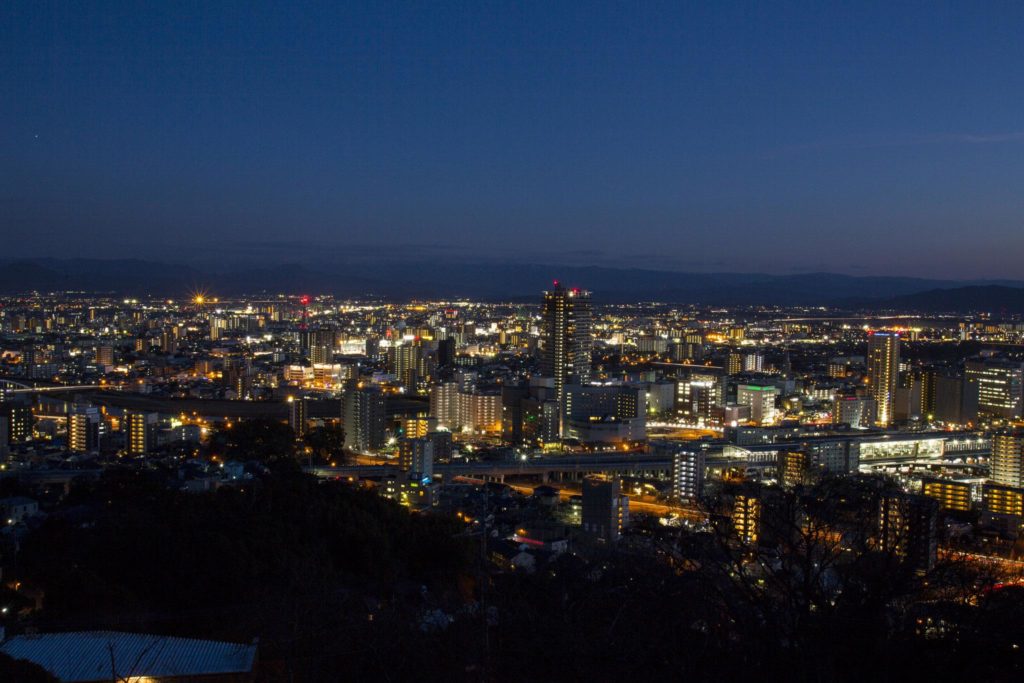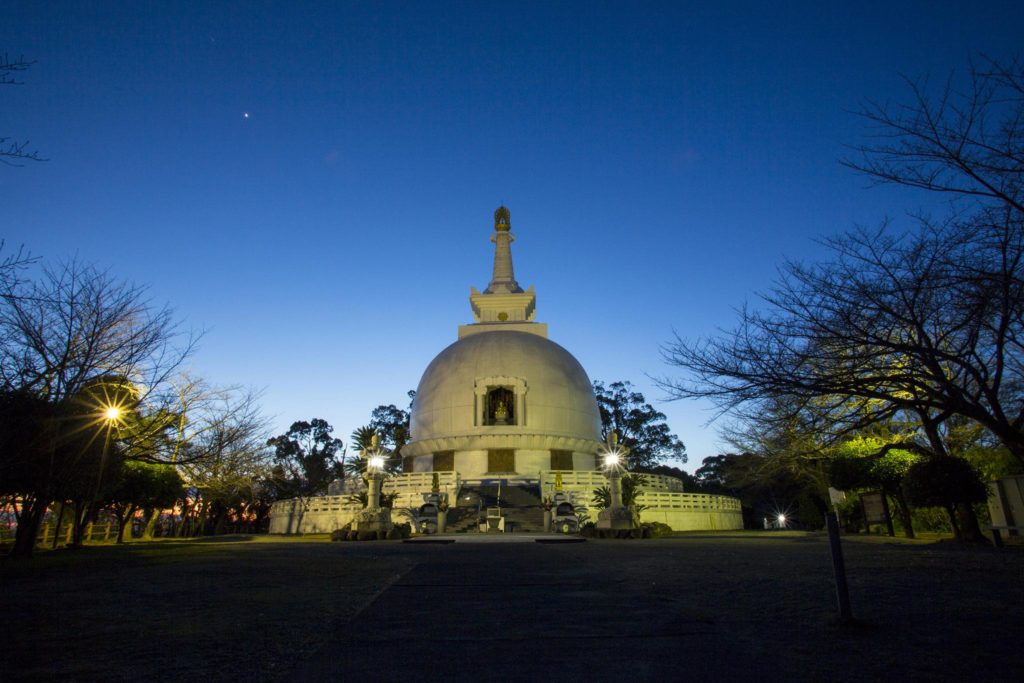 What can wesee at the top of Mt. Hanaoka (花岡山)?
Stupa built wishing for world peace
The most famous thing about Mt. Hanaoka must be this stupa (仏舎利塔, Busshari-to). So what is a stupa? Stupa is a Buddhist prayer hall or a temple which stores Buddha's ashes (usually the remains of Buddhist monks).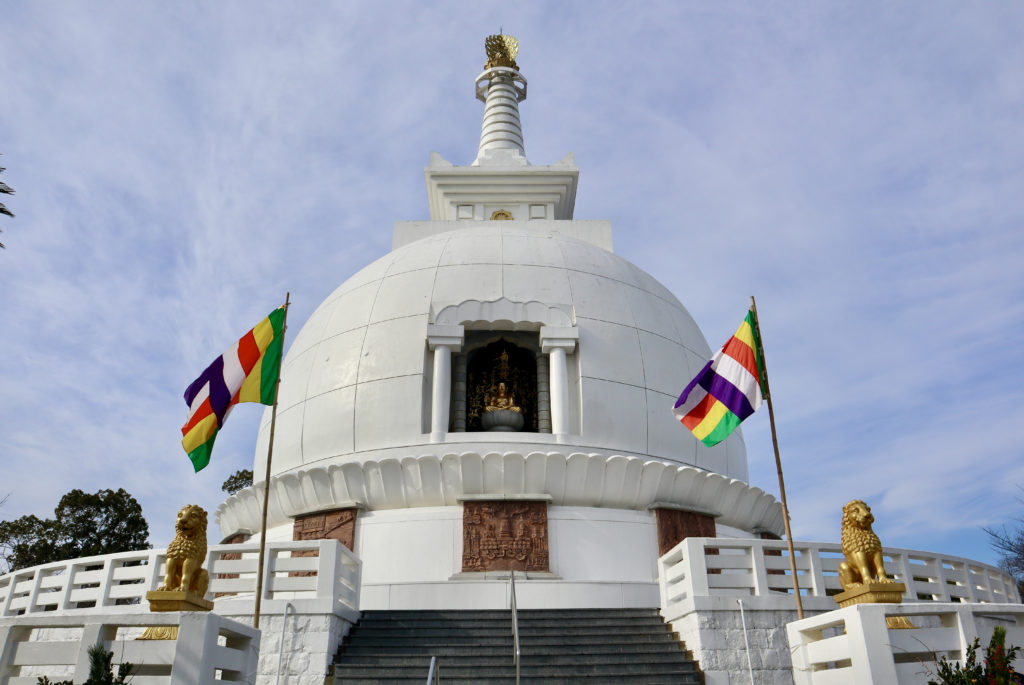 Before talking about this stupa, I have to mention about 藤井日達 (Nittatsu Fujii) who was a Buddhist monk and worked very hard for world peace around the world.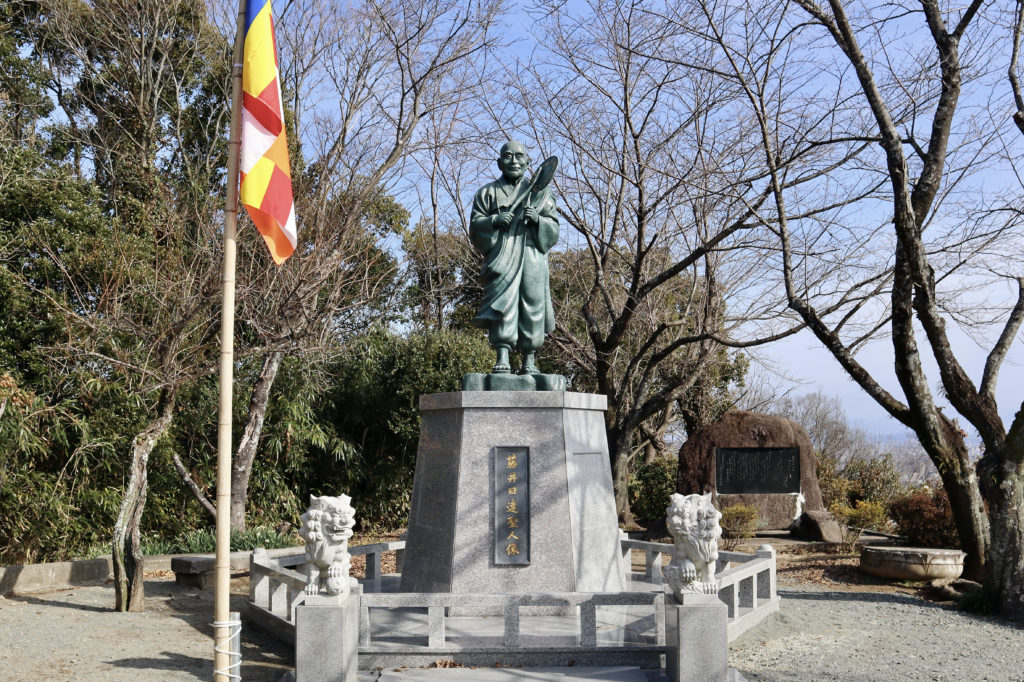 Fujii was born in Aso City in 1885. In his whole life, he had practiced Buddhism and dedicated himself to it. In 1933, when Fujii was in India, he met Mahatma Gandhi and he was inspired by Gandhi's principal of nonviolence. After that Fujii had worked hard for peace movement across the sects of Buddhism and built many stupas around the world wishing for world peace. Fujii died at the age of 101.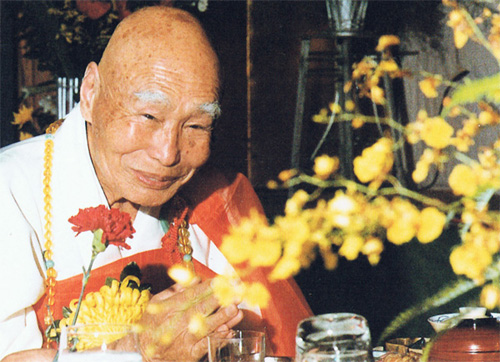 I heard that he built 73 stupas, not just in Asia but Europe and the US, too. And we can see one of them at the top of Mt. Hanaoka. When it was built in 1953, Jawaharlal Nehru who was the first Prime Minister of India praised Fujii's great works and he gave 10 Buddha's remains to Fujii.


In this stupa, one of them is stored and the other nine are kept in other stupas. When this stupa was built, people from around the world, not just Buddhists but also Christians, Catholics, Hindus, and people from all other religion visited the stupa and prayed wishing for world peace.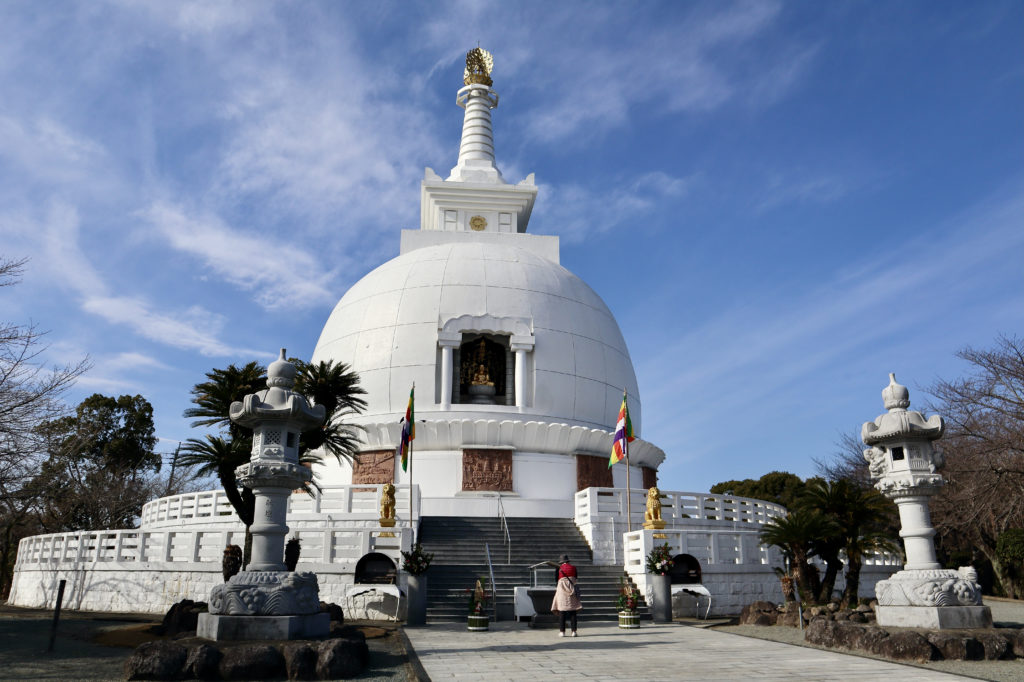 When you go to Mt. Hanaoka, you will notice that many locals visit the stupa and pray in front of it. It is a symbol of world peace and brings peace to our mind.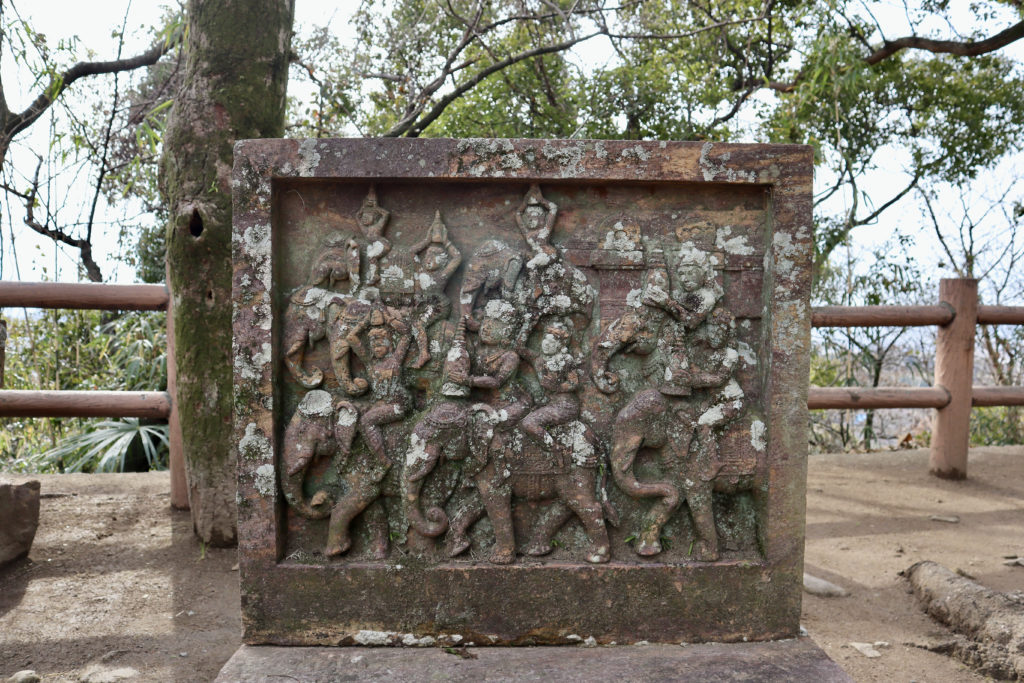 There is another stupa which was built by Nittatsu Fujii at Sensuikyo Gorge (仙酔峡) in Aso. Check the previous article below and explore more!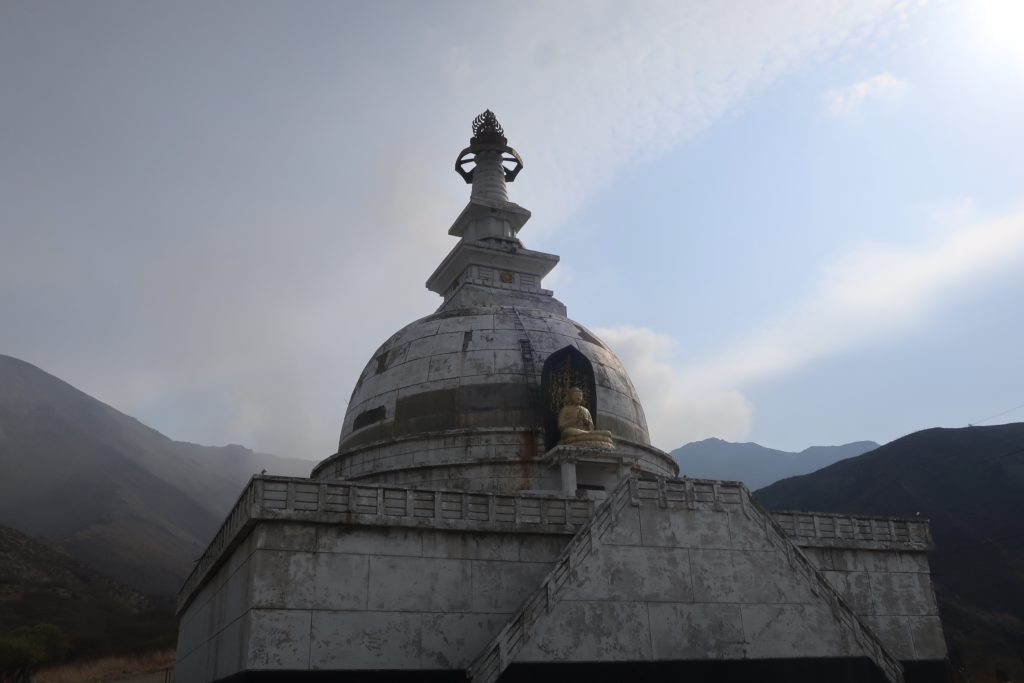 Kiyomasa Kato's Kabuto Stone and Koshikake Stone (清正の兜石と腰掛石)
It is famous that Kumamoto Castle was completed by 加藤清正 (Kiyomasa Kato) in 1607 with the latest technology at that time. When he built the castle, they needed over a hundred thousand of stones. It is said that most stones were brought from Mt. Hanaoka and Mt. Mannichi, which is next to Mt. Hanaoka.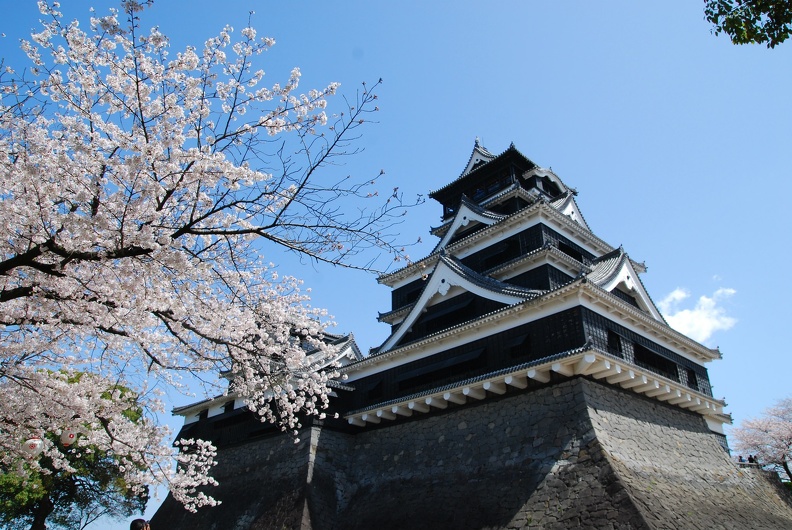 Around the stupa, you can see two large stones. One is called 兜石 (Kabuto stone) and the other is 腰掛石 (Koshikake stone). When Kato was conducting the construction, he watched and gave orders from the top of the mountain. When Kato took rest, he placed his Kabuto (worrier's helmet) on "Kabuto stone".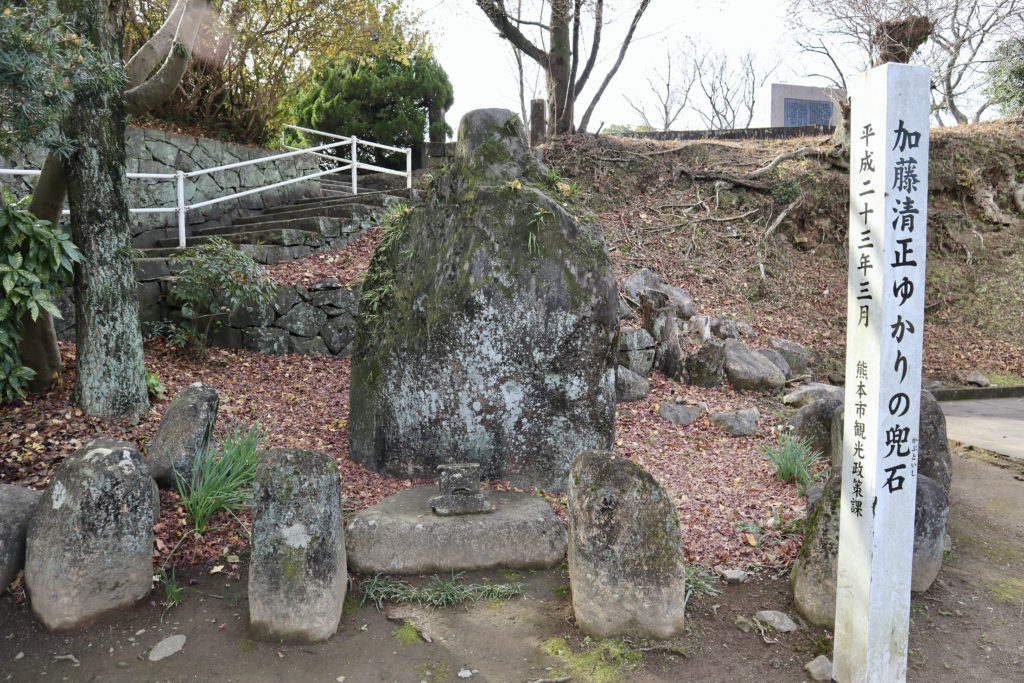 And he took a seat on the other stone which is Koshikake stone. "Koshikake" is literally translated as "taking a seat".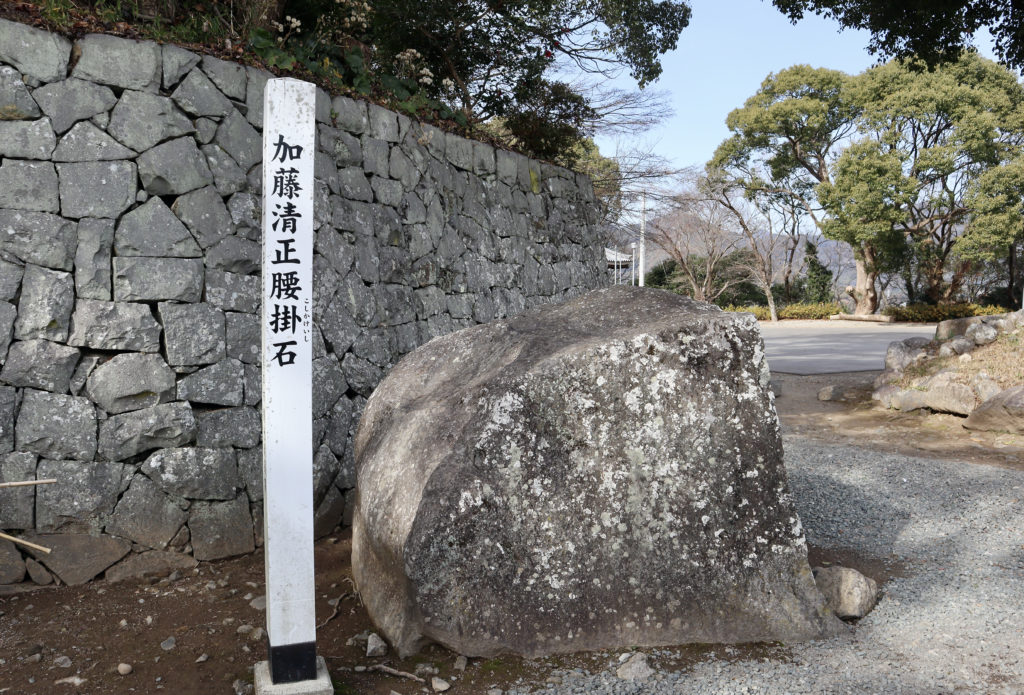 Now some signs and trees block the view but still from Koshikake stone, we can see Kumamoto Castle. After the earthquake in 2016, Kumamoto Castle was severely damaged and it is said that it will take about 20 years for reconstruction.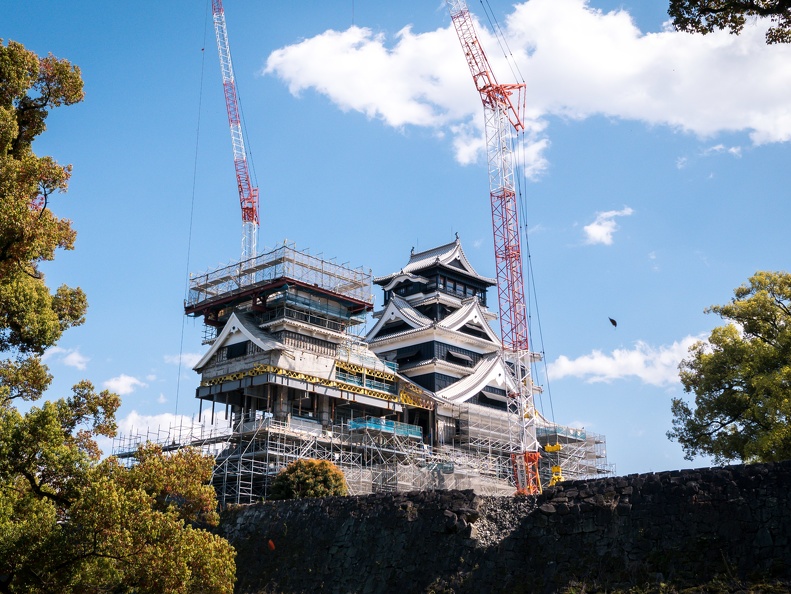 We can visit Kumamoto Castle and see the process rather closely but if we see it from Mt. Hanaoka, we can see different view and think about how Kato was seeing the process of building the castle.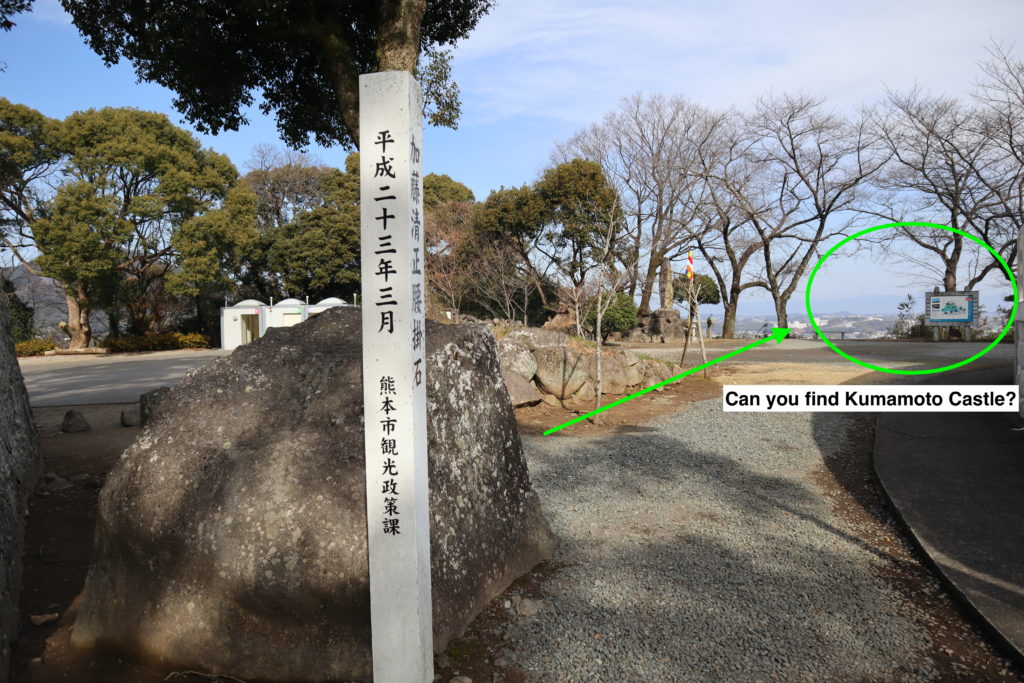 What else can we visit near Mt. Hanaoka (花岡山)?
Kitaoka Shrine (北岡神社) in Kasuga, Kumamoto City
Kitaoka Shrine has an over-1,000-year of history and one of the oldest shrines in Kumamoto City. On foot, it takes about 20 minutes from the top of Mt. Hanaoka and 10 minutes from Kumamoto Station. There is a tram station, "Gion-bashi station (祇園橋)" nearby. Kitaoka Shrine has many interesting stories, such as Husband and Wife camphors, Tower gate, Susanoo who is one of the deities in Japanese mythology, Otemoyan who is one of the famous characters from Kumamoto folk song, etc. Check the article below and I hope you will be interested in Kitaoka Shrine, too.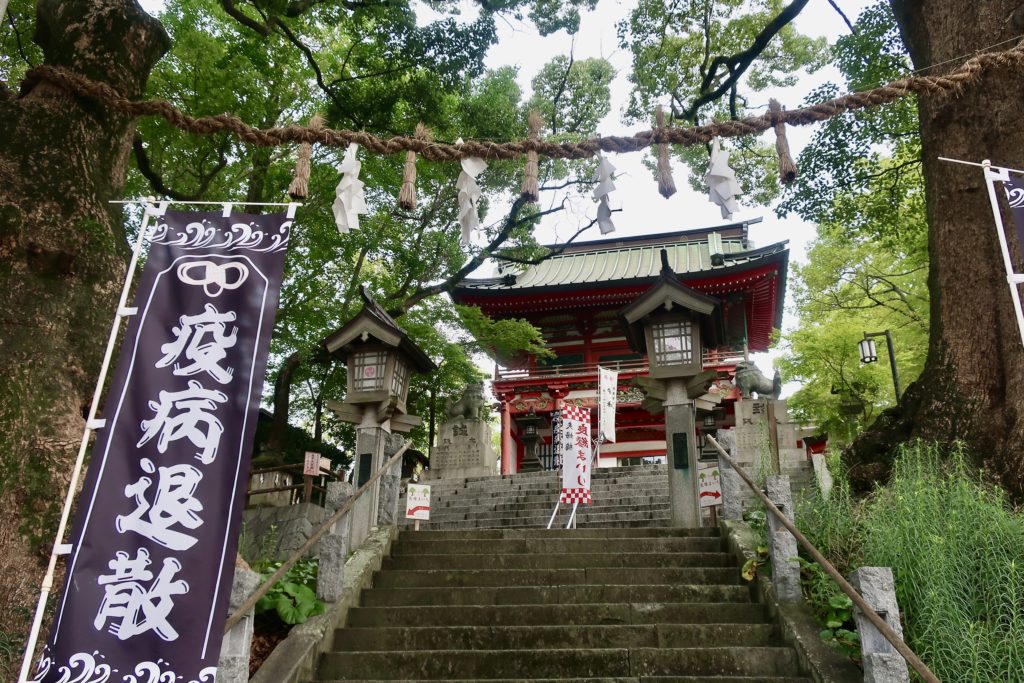 Journey of Otemoyan
Have you heard of "Otemoyan (おてもやん)"? Otemoyan is one of the most famous folk songs in Kumamoto. Last year I got interested in the model of the song and I found interesting stories of her and the composer, Ine. The model of Otemoyan was born in Kasuga. I introduced some places related to those figures in the articles below. I hope you will get to know them and visit some places!


Visit Mt. Hanaoka and enjoy the view of Kumamoto City!
On the way to the top of Mt. Hanaoka, you'll notice that there are some monuments and tombs of victims of battles and other tragedies.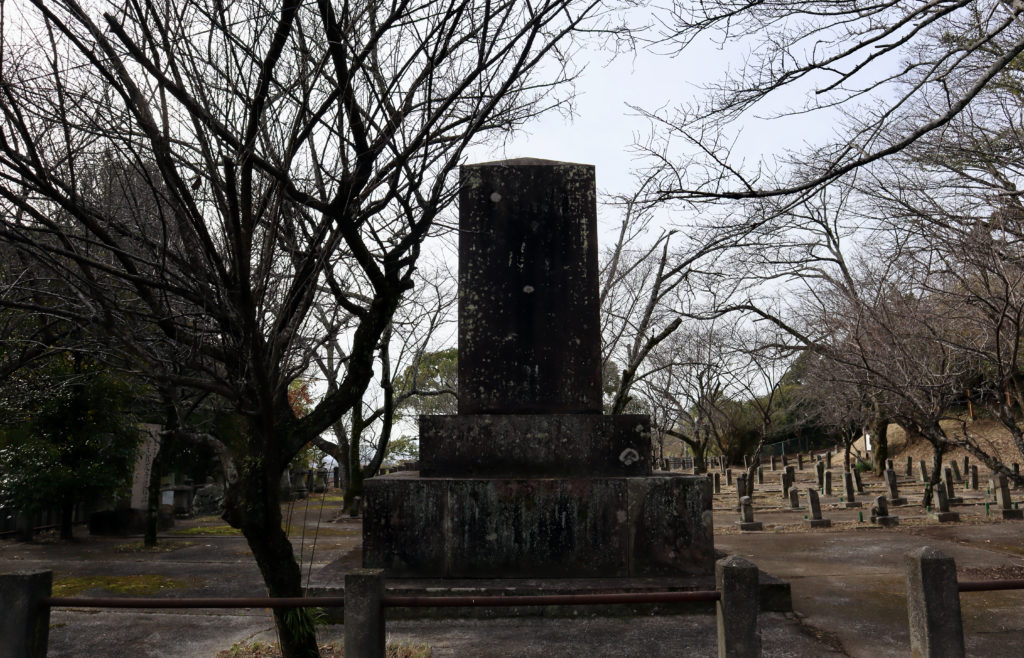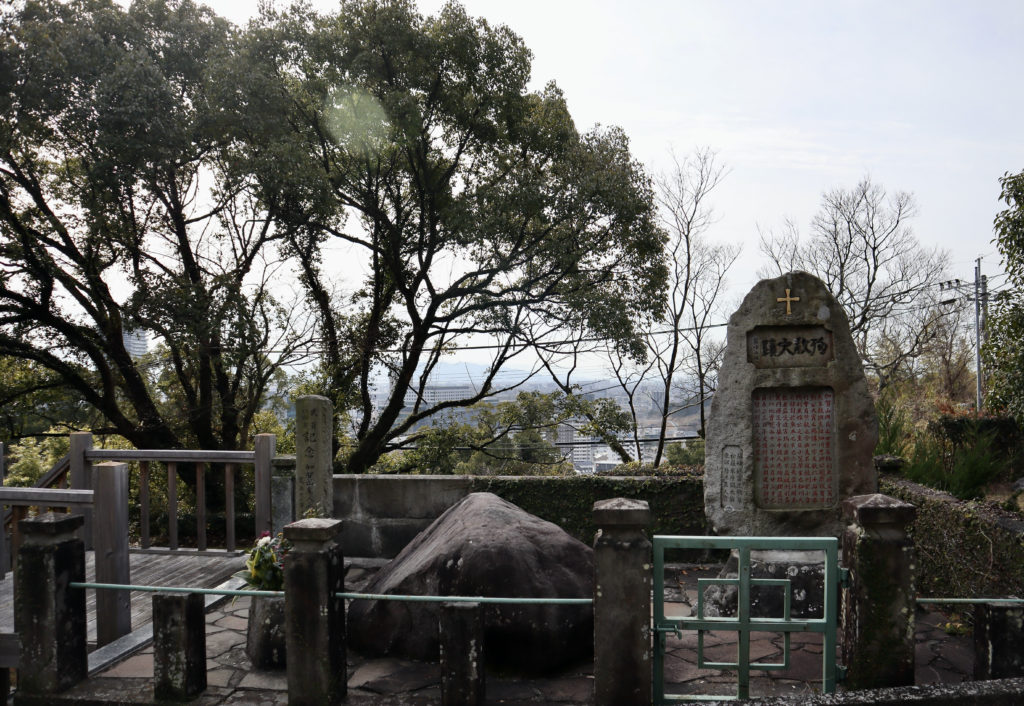 I couldn't find the reason why Nittatsu Fujii decided to built the stupa at Mt. Hanaoka but I personally feel that he wanted to console the spirit of the dead. Mt. Hanaoka stands close to Kumamoto Castle and Kumamoto government so it had always been the battle field. There are many sad stories but those who lost their lives at Mt. Hanaoka had fought for making the world for the better no matter what they believed in. Fujii worked hard for world peace with the principal of nonviolence. The stupa was built after the World War II so I imagine that he wished future generation to live peacefully and respect each other.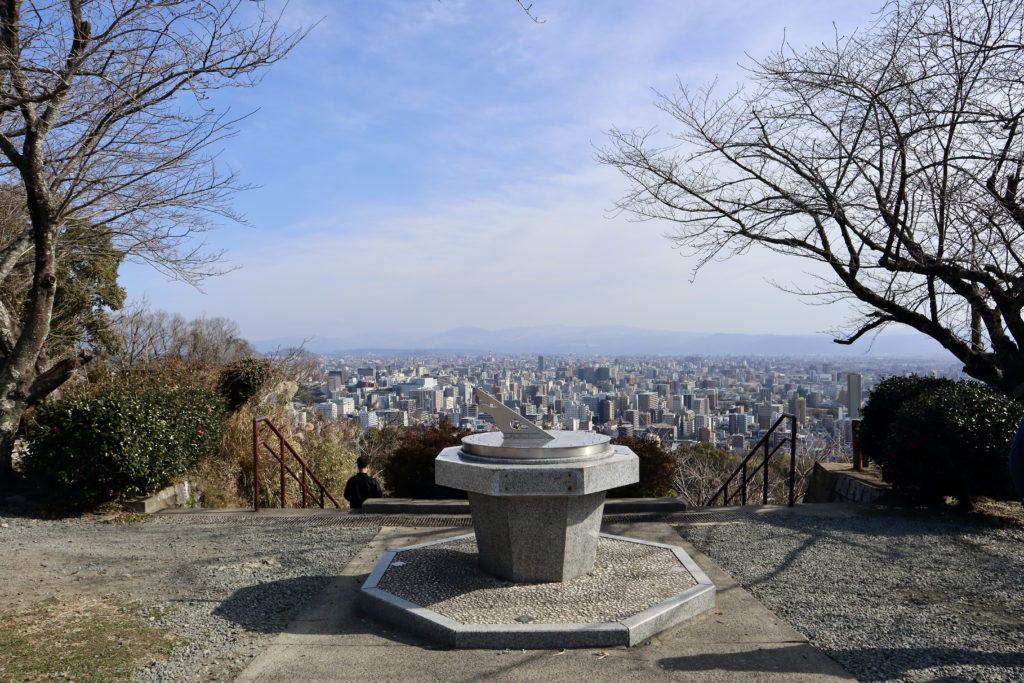 It is easy to access Mt. Hanaoka from the centre of Kumamoto City and the view from the top is great. I hope you will visit there and see the different view of Kumamoto City!


Map