When it comes to the great view of Aso, which places do you come up with? Maybe Daikambo (大観峰), Sensuikyo Gorge (仙酔峡) or Mt. Tawara Observatory (俵山展望所)? I have introduced those places and all the places are amazing. Last year, I happened to find one place in Minaniaso Village. It is Tori-no-koduka Park (鳥の小塚公園) where you can enjoy the great view of Mt. Aso from southern outer rim.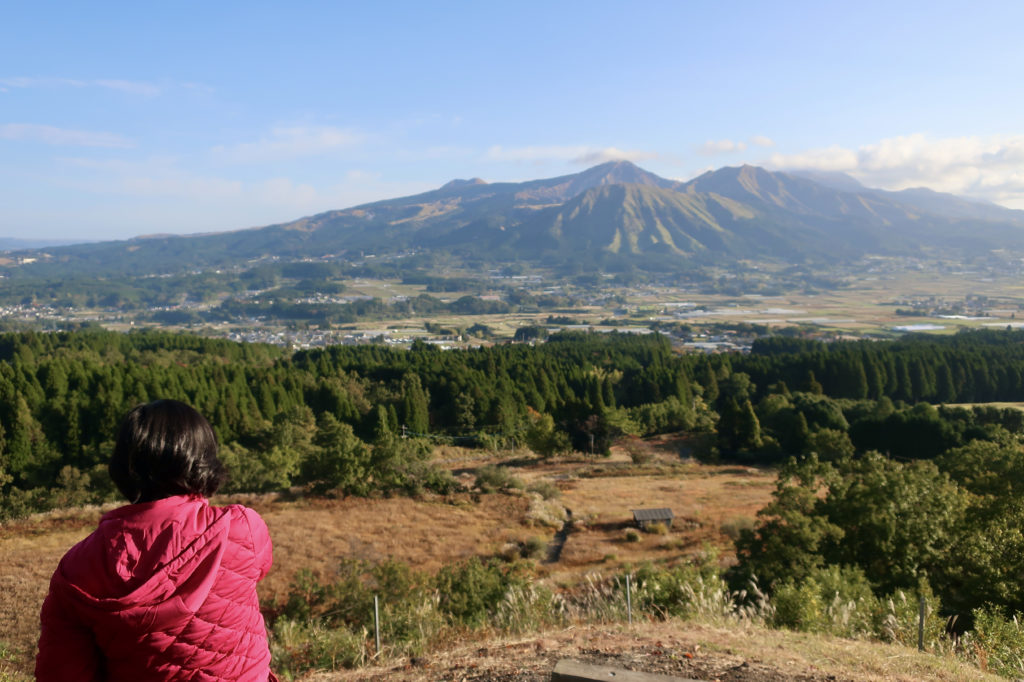 Tori-no-koduka Park is also called Men-no-ishi stone Observatory (免の石望見所). There are two main attraction in Tori-no-koduka Park. One is its amazing scenery and the other is Men-no-ishi stone (免の石). Let's check out Tori-no-koduka Park and get to know more about Aso!


Tori-no-koduka Park (鳥の小塚公園) in Minamiaso Village
Untapped place to see the great Aso caldera from the south
When you arrive at Tori-no-koduka Park, there is a parking lot which is for about 5 to 6 cars.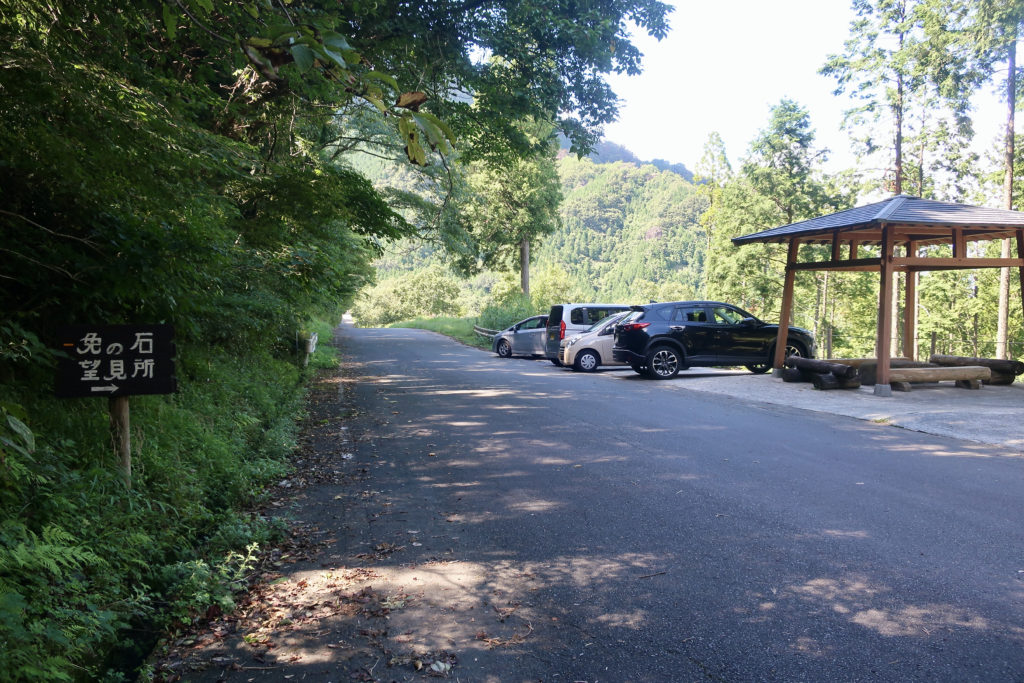 There is Torii gate (鳥居) and a path extends to the observatory.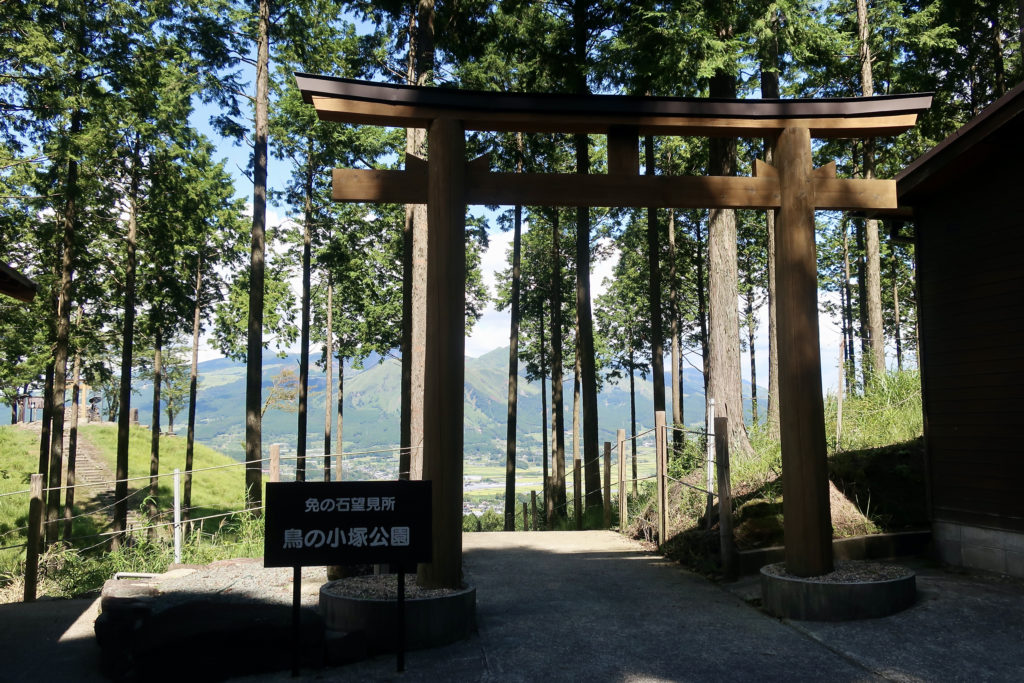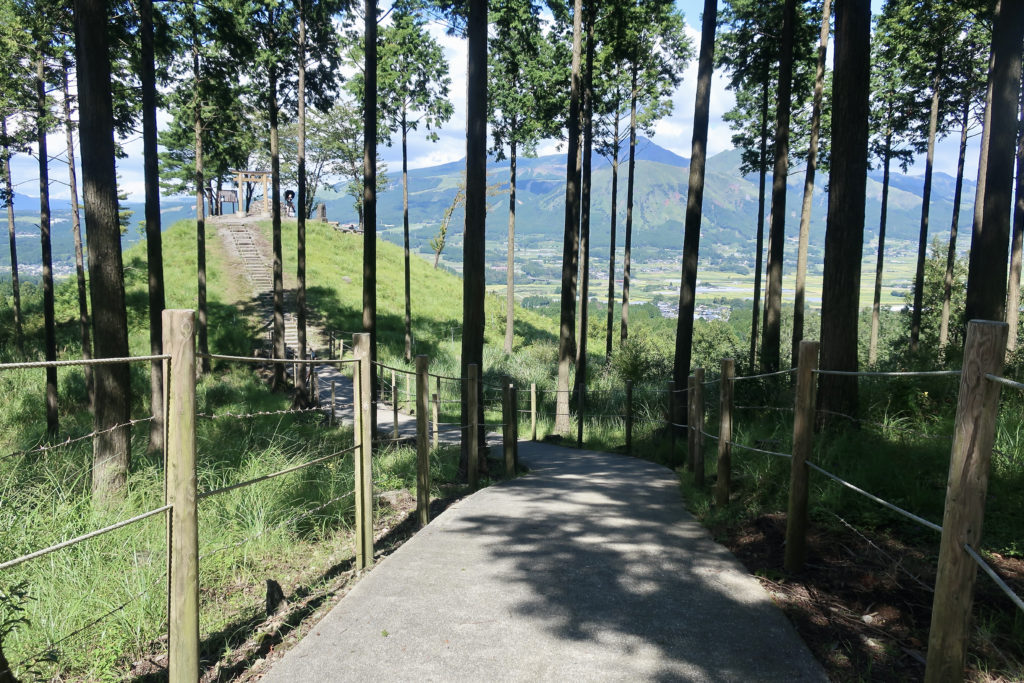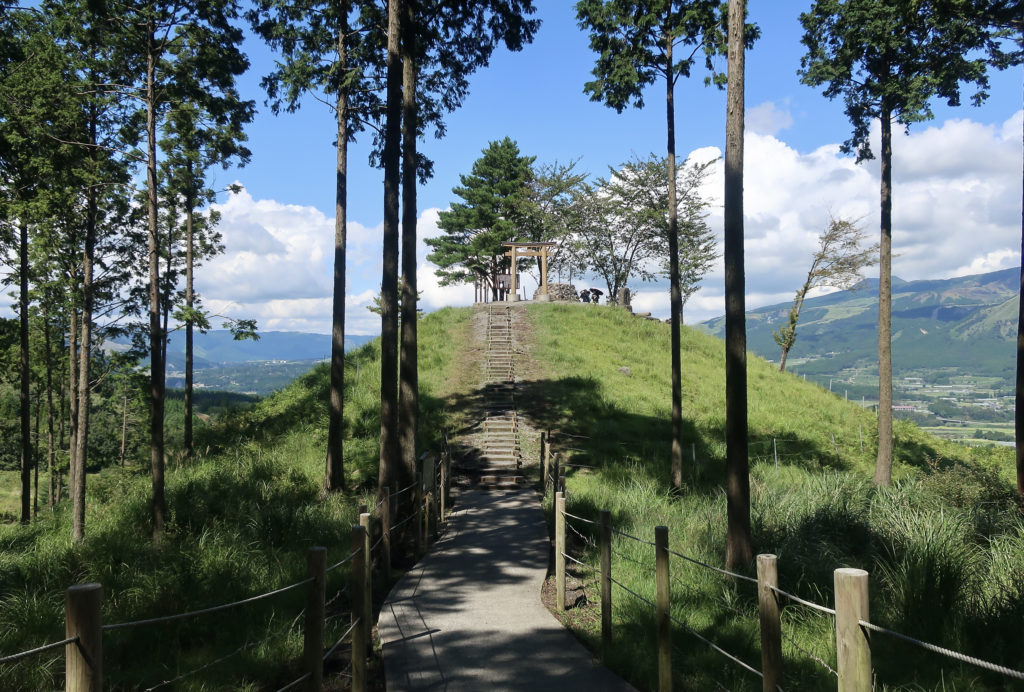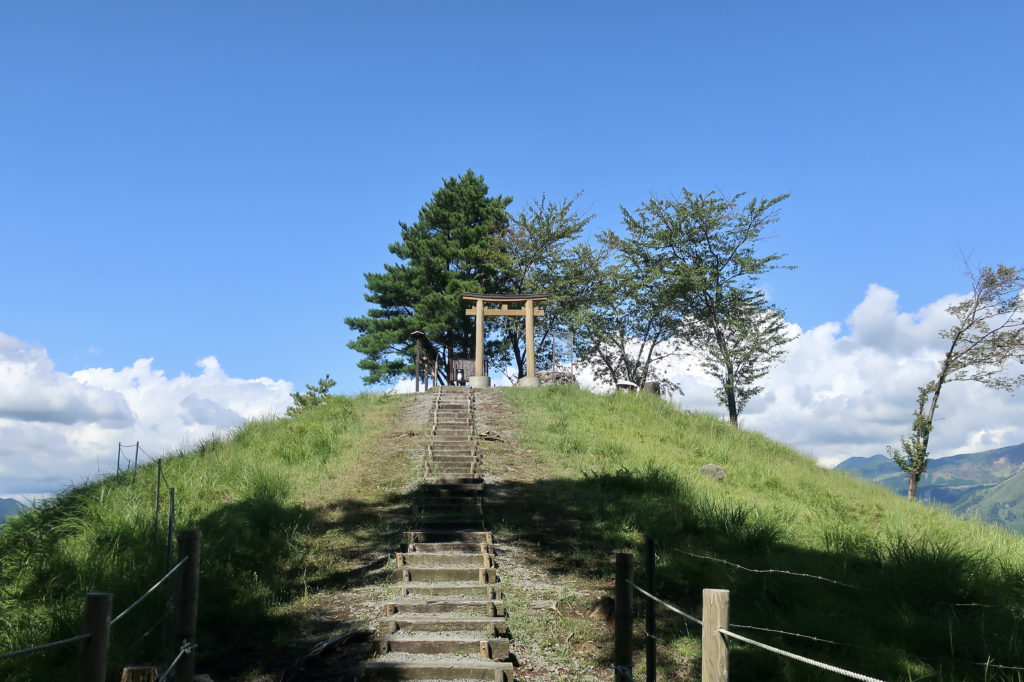 The view at the observatory is amazing. It is open and you can see the panoramic view of Mt. Aso.




Aso is famous for its great Aso caldera. Do you know where you are standing now? Previously, I explained the location of Daikambo, Sensuikyo Gorge and Mt. Tawara observatory. Tori-no-koduka Park is close to Mt. Tawara so the view is similar but I feel Tori-no-koduka Park is more open. Check the drawing below so that you get the image where you are standing at (Sorry for my terrible drawing and handwriting!).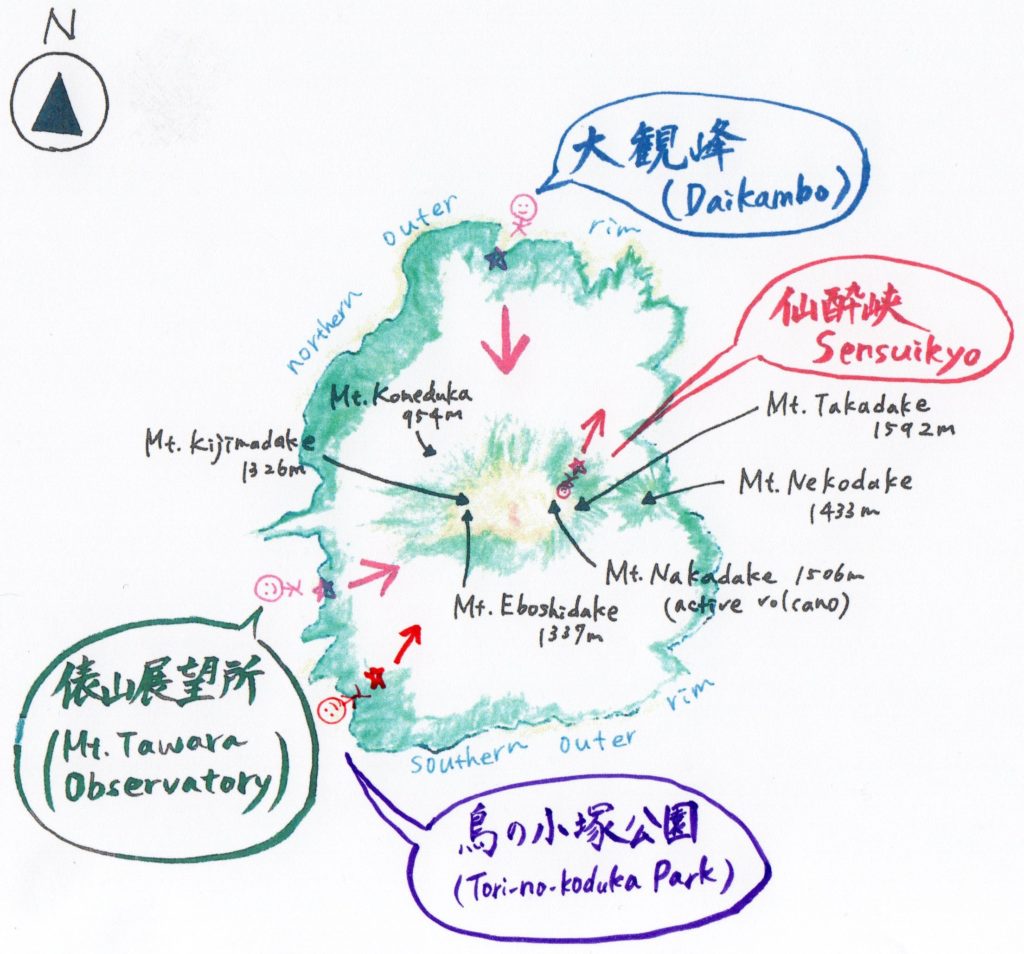 ⬇️ Have you heard about "Lying Buddha in Aso" and do you know which mountain is actually "Mt. Aso" ? If you want to know those answers and get to know more about Aso, check the article below and enjoy Aso at most!


Grassland in Aso is maintained by controlled burning (Noyaki) which has over 1,000 years of history. We are having controlled burning all around Aso area right now (I'll join it this year, too!). One of the greatest things about Aso is that they always entertain us by showing totally different looks in each season. From spring to summer, you will see green Aso, in autumn you will find brown Aso. In winter, you may come across white Aso. Now, we are having black Aso which is created by controlled burning.
It was September when I first visited Tori-no-koduka Park and it was so green and refreshing.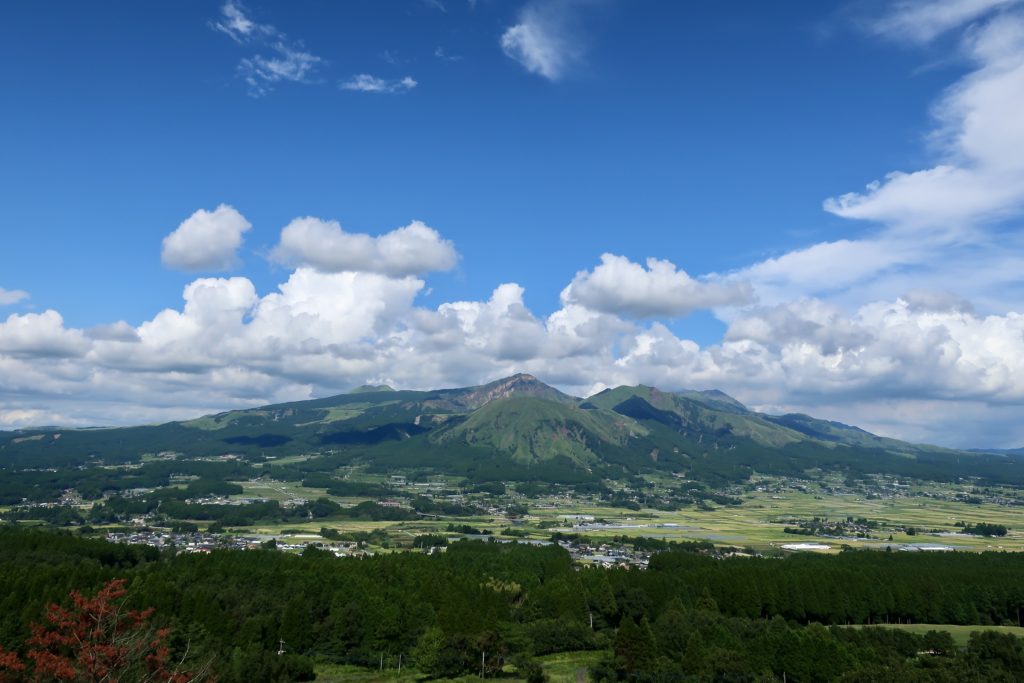 The next time, I visited there in November and it showed us another autumn view.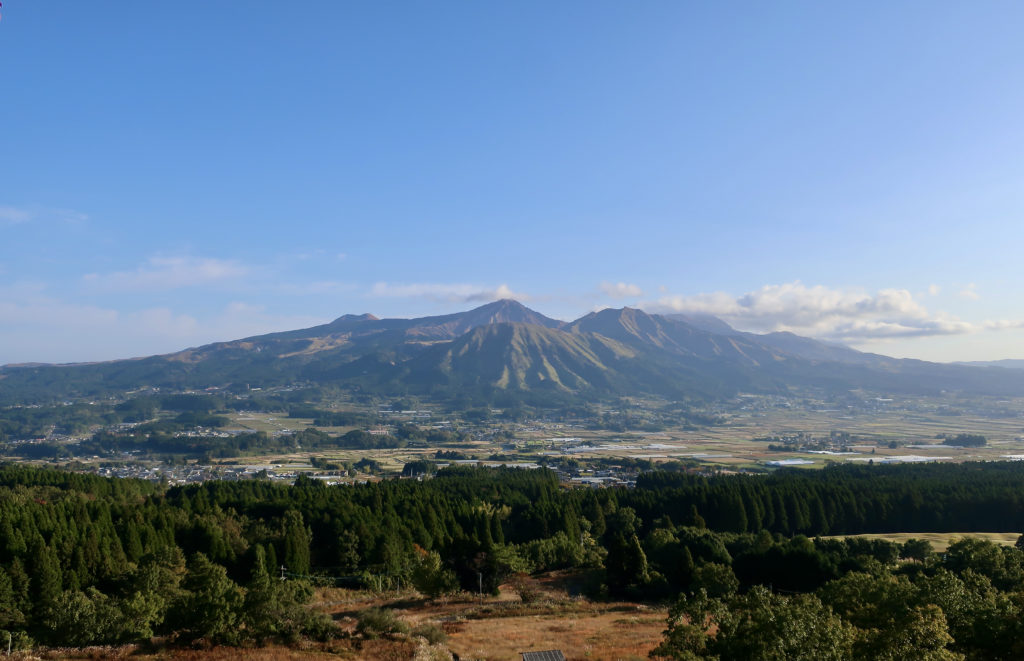 It has been a difficult and stressful situation for all of us but it'd be great if you ca go out for driving sometimes and be in nature. This observatory is an amazing place to unwind.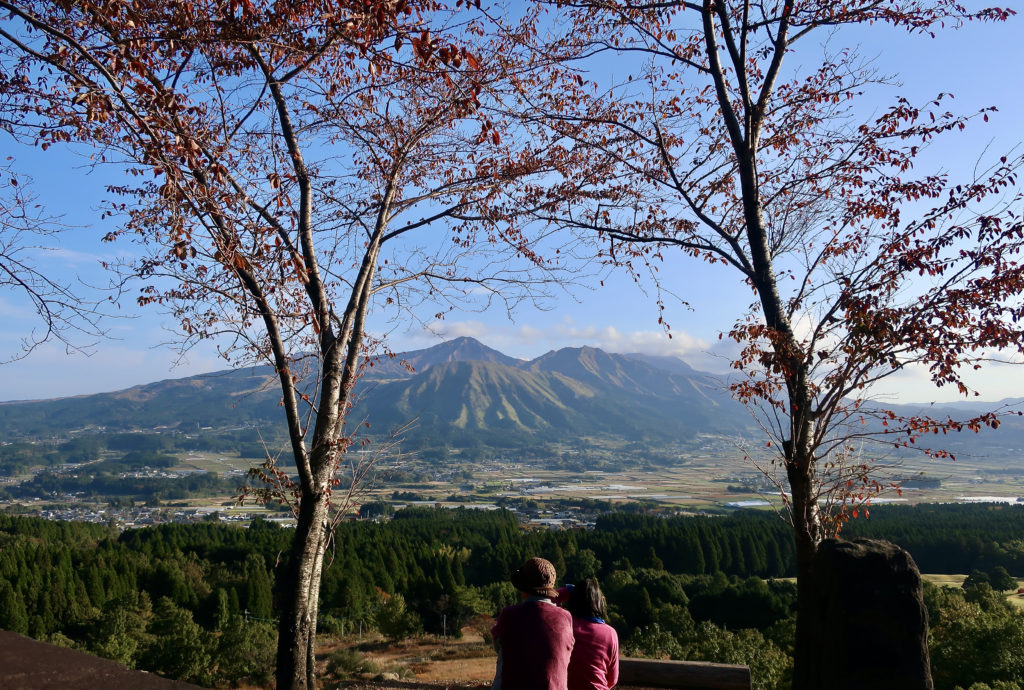 ⬇️ To get to know more about Controlled Burning (Noyaki) in Aso, check the article below!
Men-no-ishi stone (免の石)
What is famous about Tori-no-koduka Park is Men-no-ishi stone (免の石). Near Torii gate at the observatory, there is an arrow-shaped board and a transparent board which face mountains. They show where we should look at to see Men-no-ishi stone. Can you find the vertical gap in the mountain?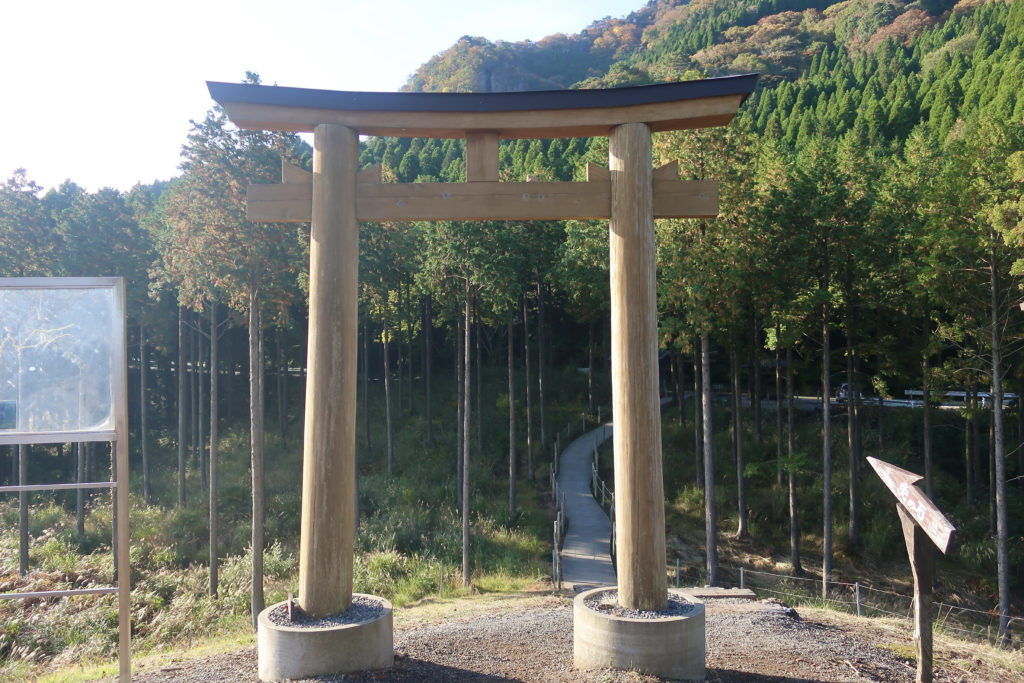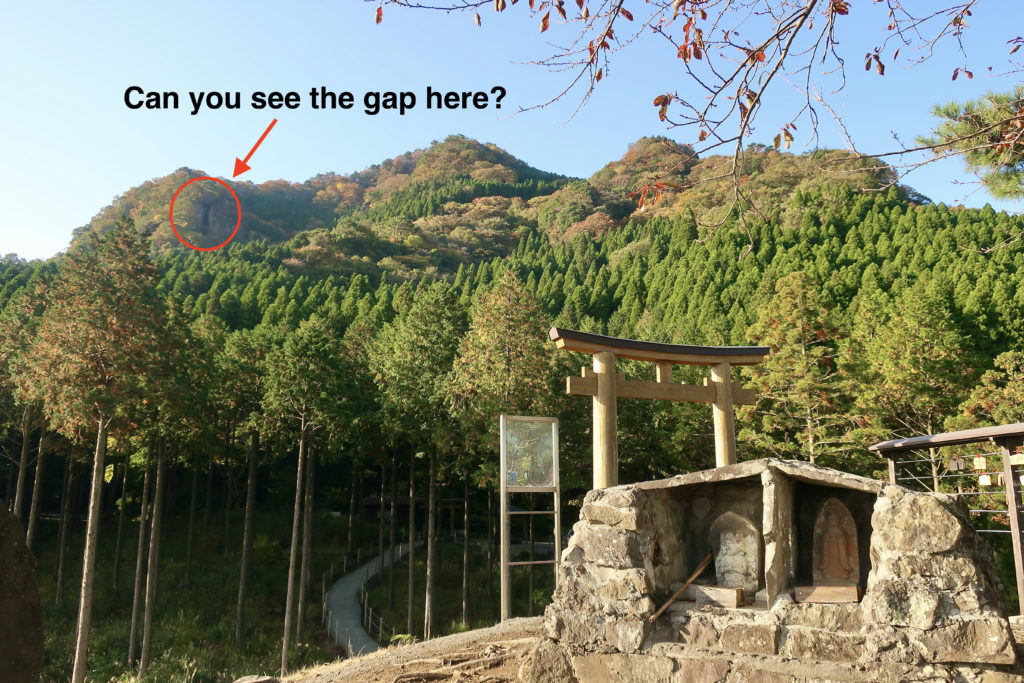 It is said that after the huge eruption of Aso in the past, a huge rock flew to the gap and it got stuck there. The latest eruption is about ninety thousands years ago.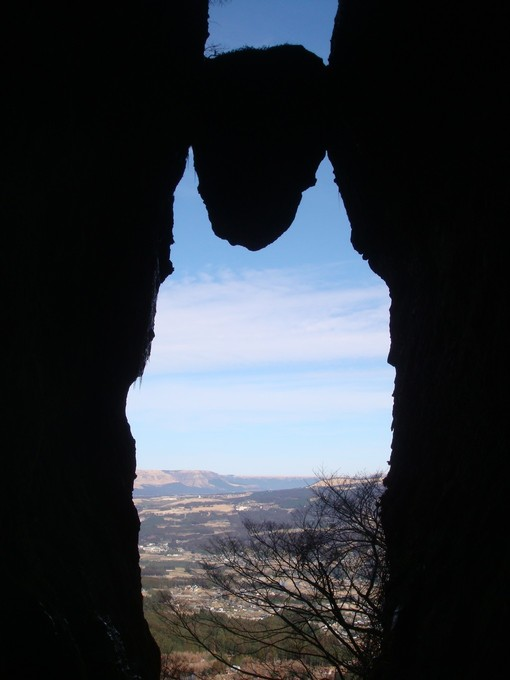 I heard that there is a local myth which is like a flying dragon laid an egg from the sky and it got stuck in the gap. As it shows, the gap and the stone used to be a symbol of getting away from disaster (in Japanese, we say "難を免れる (Nan wo manugareru)"). That is why the stone was named Men-no-ishi (免の石). Here, "men" doesn't mean a plural form of man. The Chinese character "免" is pronounced as "manugareru" and also as "men", which means avoid or get away from something bad. "ishi" means a stone.


Japanese love to visit "Power spot". Power spot is a Japanese English and means a spiritual spot where you can feel in-tune with nature or surroundings. People find Men-no-ishi stone something divine and visit the park to see it. Because the stone had never fell down, people described it as "A stone never falls down (決して落ちない石)". In Japanese, when you fail the exam, we say "Ochiru(落ちる, means fail or fall down)". People thought the stuck stone would bring them good luck on their exam or getting a good job.


⬇️ If you want to know more about Power spots in Kumamoto, check the article below and visit some of them!


Why do I keep using the past tense? This is because the rock fell down after the earthquakes occurred in 2016. We had magnitude-7.3 earthquakes and suffered thousands of aftershocks. Men-no-ishi rock stayed in the gap for over ninety thousands of years and it finally fell down. People were shocked and all the trekking tours were cancelled.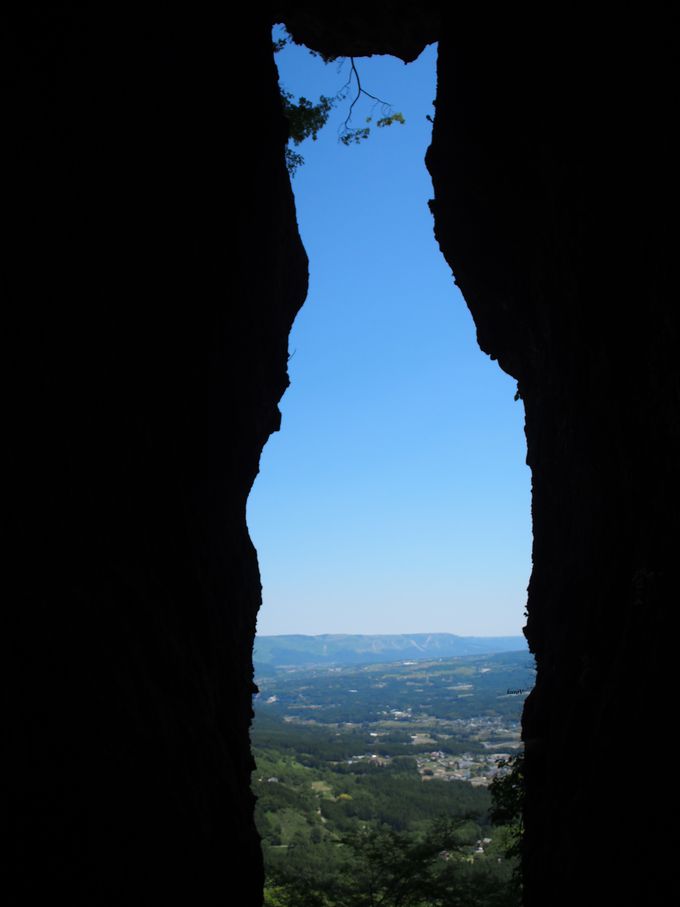 Whatever happens, people don't lose hope. Some people started to express the gap without the stone as something. Can you guess what it can be? It is now called cat-shaped gap! Now, people visit Tori-no-koduka Park to take photos of the gap without Men-no-ishi stone and enjoy the new look!


What else can we visit near Tori-no-koduka Park?
Nagano Aso Shrine (長野阿蘇神社) in Minamiaso Village
If you just drop by at Nagano Aso Shrine, it may look like one of the other shrines but it has many stories you will enjoy, such as Kagura performance which is from Japanese mythology, indigenous cypress in Aso, how people gave names to themselves and to the shrine, etc. It takes about 15 minutes by car from Tori-no-koduka Park. After enjoying the great nature of Aso, I hope you will visit Nagano Aso Shrine and enjoy its history and culture.
Koike Spring (小池水源) in Minamiaso Village
Minamiaso Village is well-known as the place where water is sprung and there are many spring sources and onsen (hot spring) spots. Koike Spring is one of the "Minamiaso Springs (南阿蘇湧水群)" which has been designated as one of the 100 best natural water in Japan. At Koike Spring, almost 13 tons of water wells up a minute. It has been used for irrigation. Around Koike Spring, you can see beautiful rice fields spreading in front of you. Now, it is maintained like a park so locals and visitors can relax and enjoy it as an oasis. It takes about 20 minutes from Tori-no-koduka Park by car. Check the article below and explore springs in Minamiaso Village!
Shikisokuzeku (四季即贅喰), Kawara-soba restaurant in Nishihara Village
For lunch, how about going to a nice Kawara-soba(瓦そば) restaurant in Nishihara Village? Kawara-soba is Cha-soba (茶そば, green tea soba) which is baked on kawara (瓦, roof tile). They put on some toppings on soba, such as thinly sliced egg, seasoned beef, wild vegetable, etc. You dip them into dipping sauce. It takes about 30 minutes from Tori-no-koduka Park by car. For more details, check the article below!
Visit Tori-no-koduka Park and enjoy the seasonal change of beautiful Aso
Today, "New Aso-ohashi bridge (新阿蘇大橋)" was opened to traffic.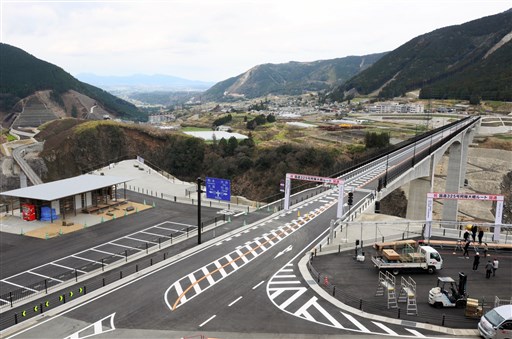 In April 2016, we had severe earthquakes and the previous bridge, Aso-ohashi bridge (阿蘇大橋) collapsed. I was in Kumamoto then and it was a very shocking news for all of us.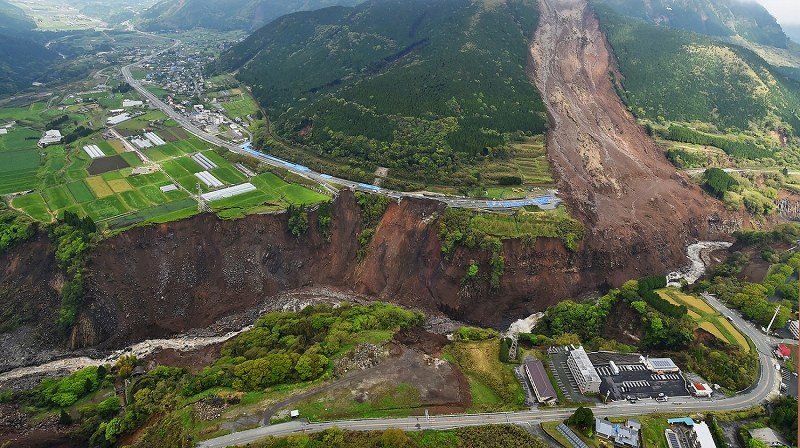 It took 4 years and 11 months for the construction of the new bridge. It will be 5 years since the disaster soon and each of us has our own stories of it. This good news of the bridge is a great hope for people in Kumamoto and makes us feel that we are moving forward.
There is a viewing spot on the road called "Yo-myuru (ヨ・ミュール)" which is from the sound of Kumamoto dialect of "よく見える (Yoku mieru, means I can see very well.)". As the name shows, you will see the great view of southern Aso. I heard that there is a rest area in the spot and the building used to be used as a common space in temporary housing area for victims. Also, they used some materials from those houses for some parts of the new chairs and walls so that we will not forget what happened and we can pass on stories to our future generations.

Visit Tori-no-koduka park and take the New Aso-ohashi bridge on the way. I hope you will enjoy more of southern Aso and come back soon again.
Map of Tori-no-koduka Park

Map of the observatory at New Aso-ohashi Bridge, Yo-myuru (ヨ・ミュール)