Recently, I have had an amazing opportunity to join a local footpath group. They walk almost every weekend mainly in Kumamoto and sometimes in neighboring prefectures. Some members are retired but I am so amazed by their vitality. Each has their speciality field like local history, stone bridges, shrines and temples, traditional crafts, etc. Some of them bring their good cameras and share their photos as soon as they go home. It is very nice to interact with them as I can learn so many things and moreover I have an amazing time with them.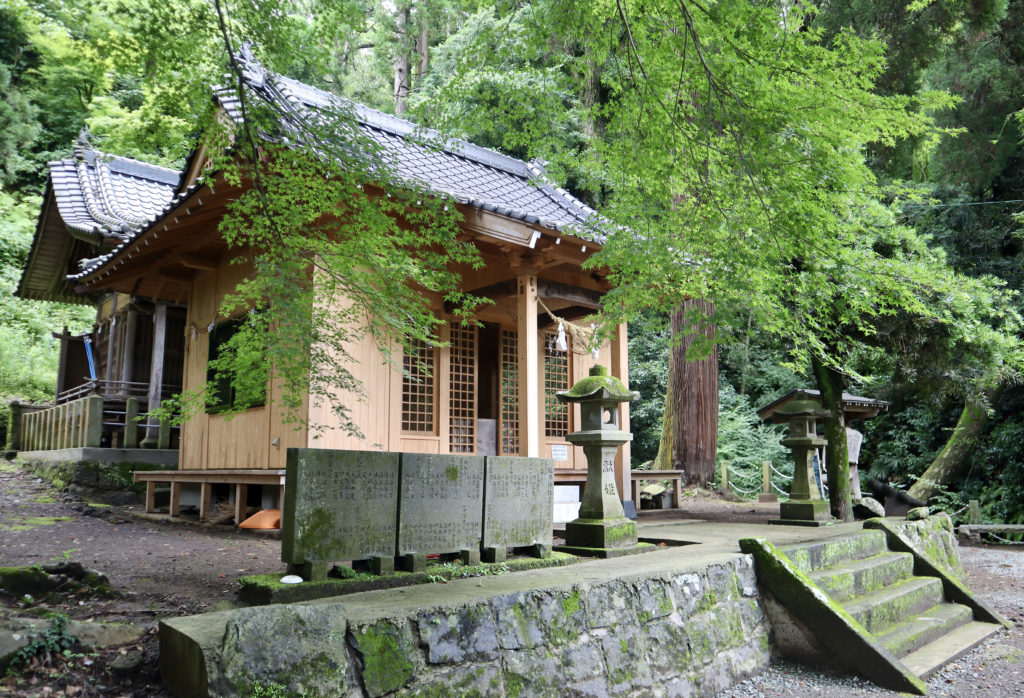 Today, I will introduce you one of the places we dropped by. It is Shioisha Spring ( 塩井社水源 ) and Shioi Shrine ( 塩井神社 ). They stand in Minamiaso Village and are proud of the beautiful spring water. We have been having extremely hot weather these days. I hope this article will give you a nice sense of coolness ( We call it "涼 ( Ryo ) " in Japanese ) and you will enjoy exploring Minamiaso area.


Shioisha Spring ( 塩井社水源 ) and Shioi Shrine ( 塩井神社 )
Minamiaso Village ( 南阿蘇村 ) and its Springs
First, I will tell you a little bit about Minamiaso Village and its springs. Minamiaso Village is located in Aso county which is northern part of Kumamoto Prefecture and stands in the southern part of Aso caldera. Minamiaso Village is well-known as the place where water is sprung and there are many spring sources and onsen (hot spring) spots.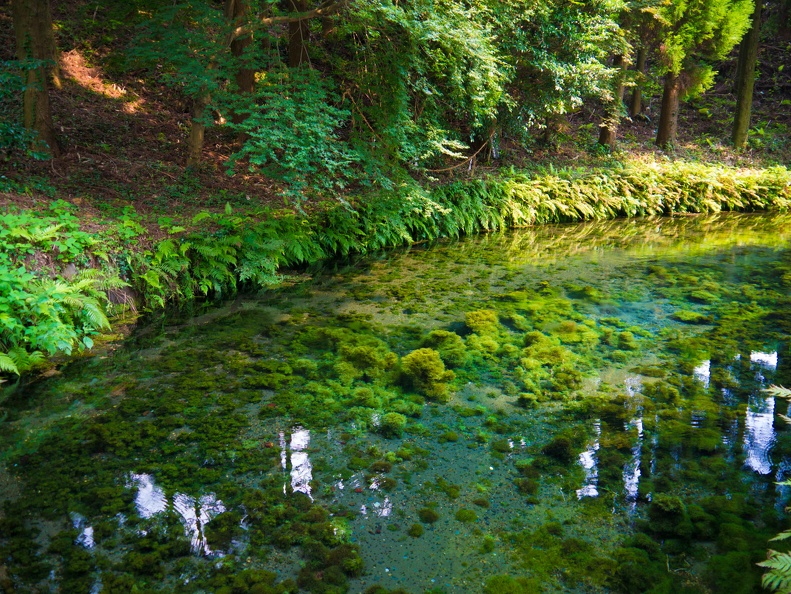 Minamiaso Village is rich in water and it has brought many blessings, such as beautiful landscape and rich agriculture. Thanks to the great nature source, Aso area was registered as Globally Important Agricultural Heritage systems (GIAHS) aiming for preserving traditional and cultural identity and landscape which was created by both power of nature and local's hard work.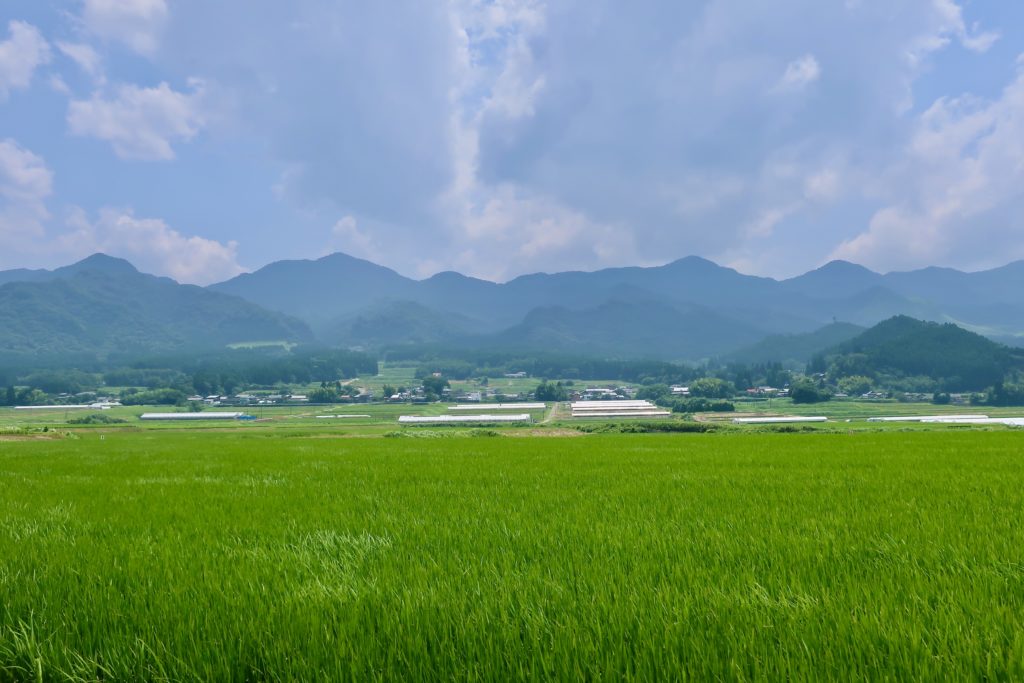 To visit many small springs and feel the nature at most, Minamiaso Village offers you rental cycles. You can rent a bicycle at Michi no eki Asobou no sato Kugino ( 道の駅 あそ望の郷くぎの ) which is a roadside station.


Michi no eki Asobou no sato Kugino ( 道の駅 あそ望の郷くぎの )


Minamiaso information website
https://minamiaso.info
Shioisha Spring ( 塩井社水源 ) and Shioi Shrine ( 塩井神社 )
When you arrive at the parking lot and walk towards the shrine, you will notice the waterway along the path and how the water is clean and clear. Locals have used the water for drinking and growing rice.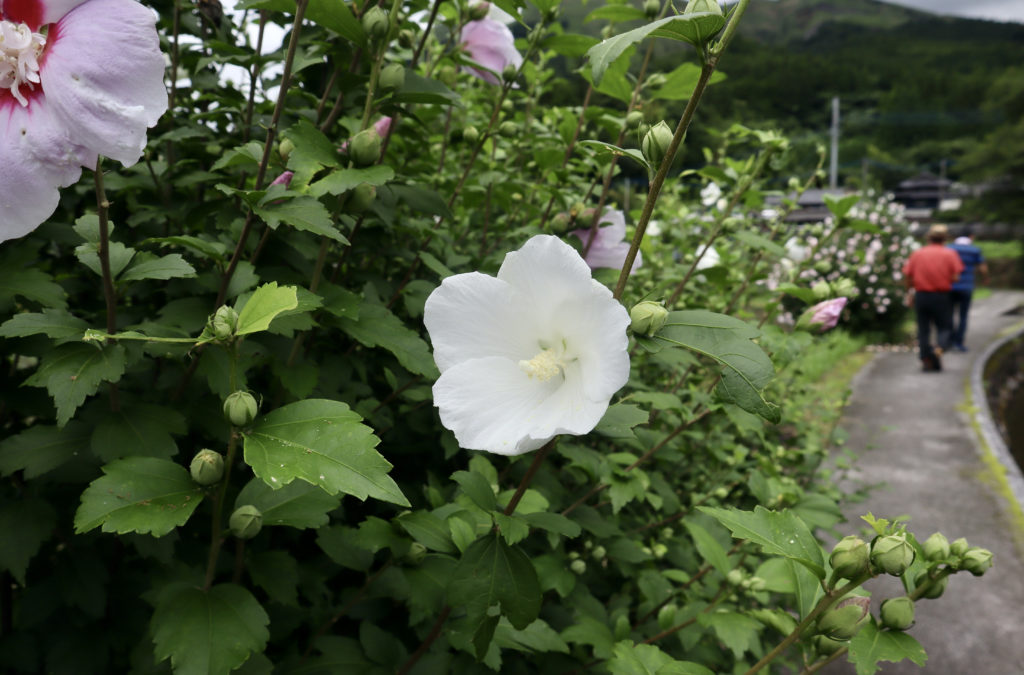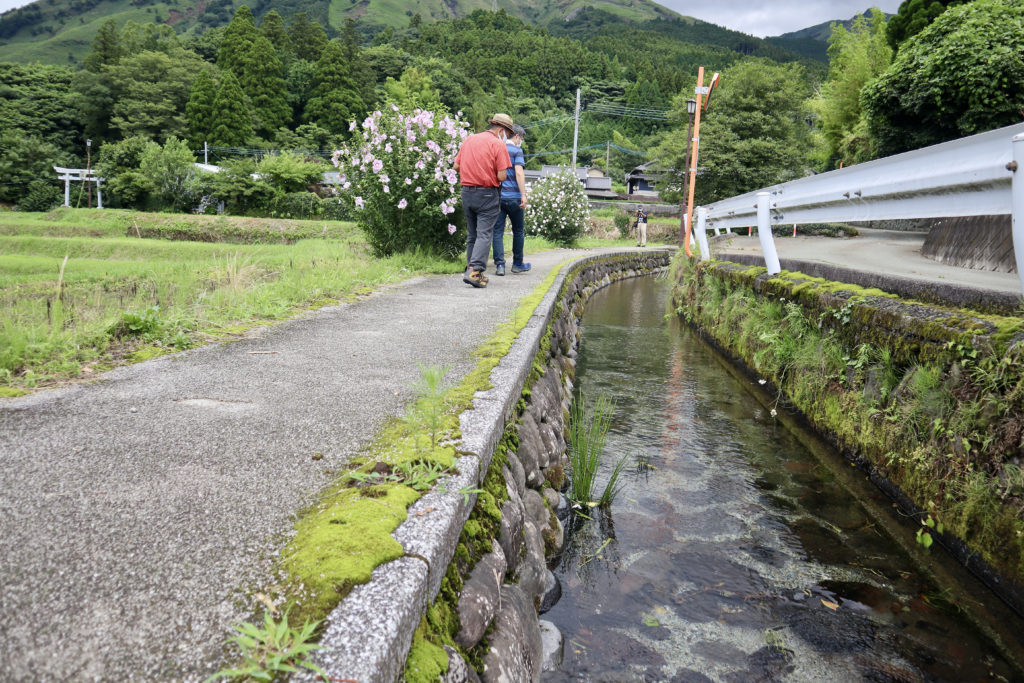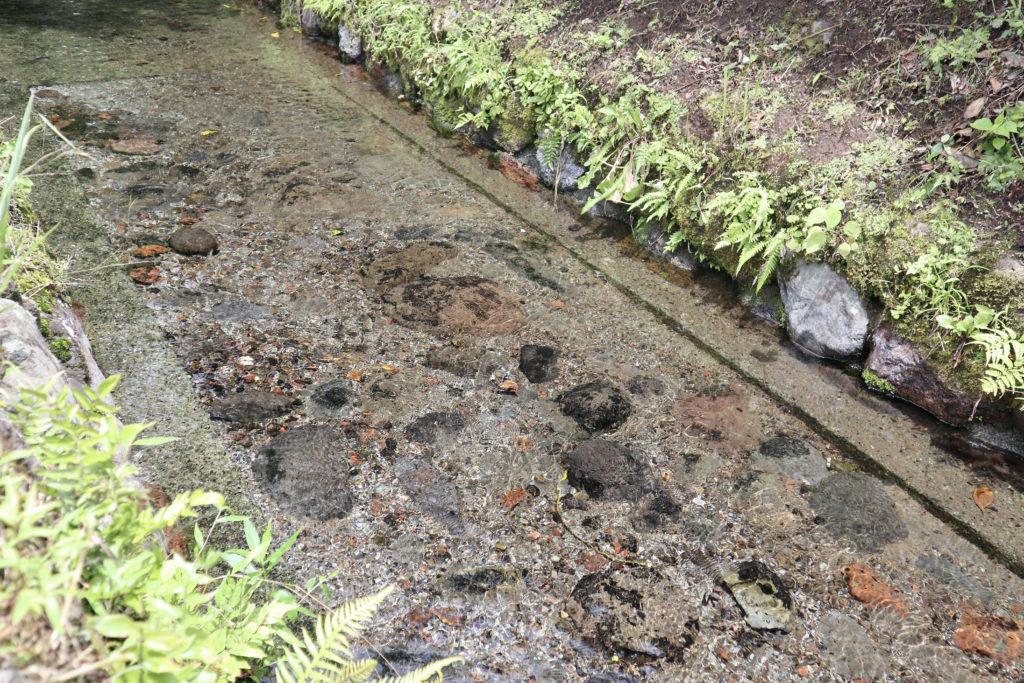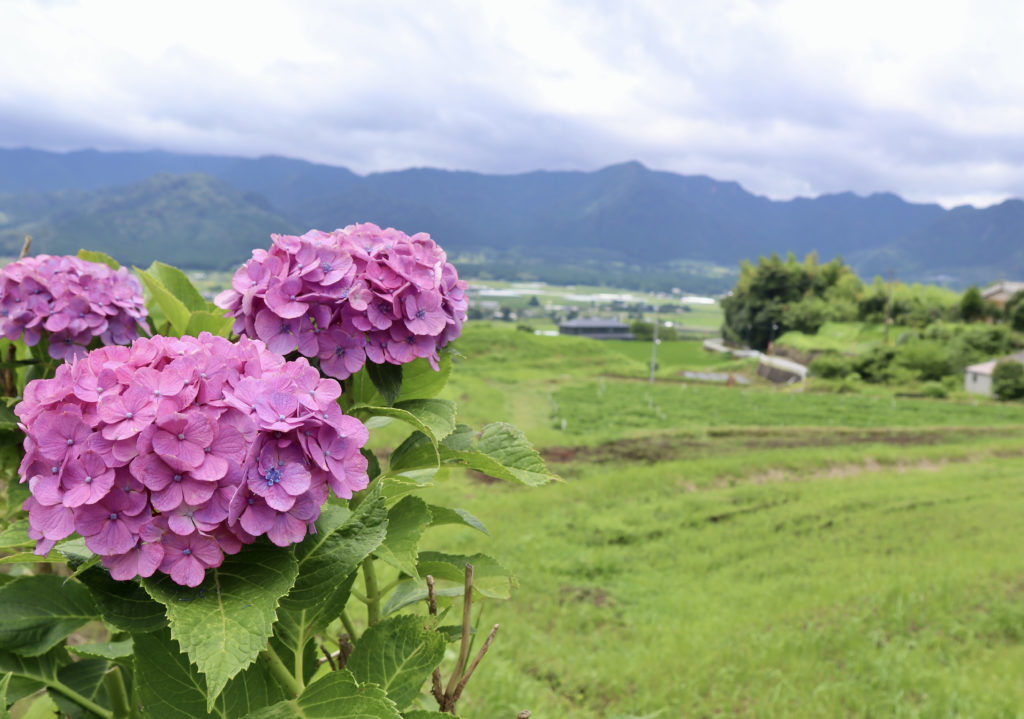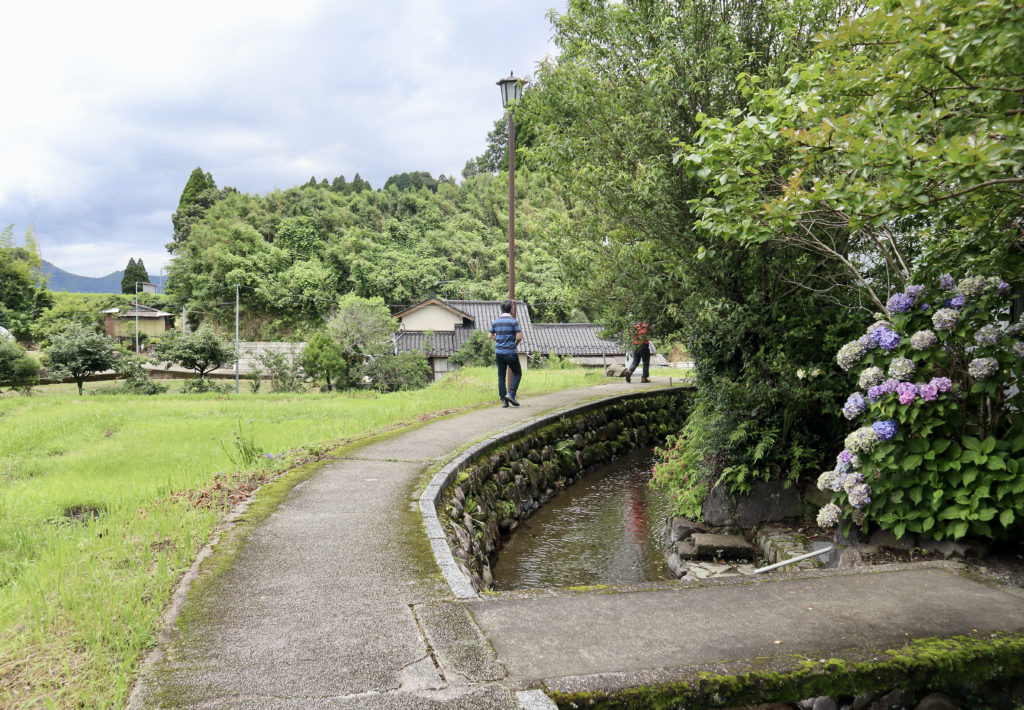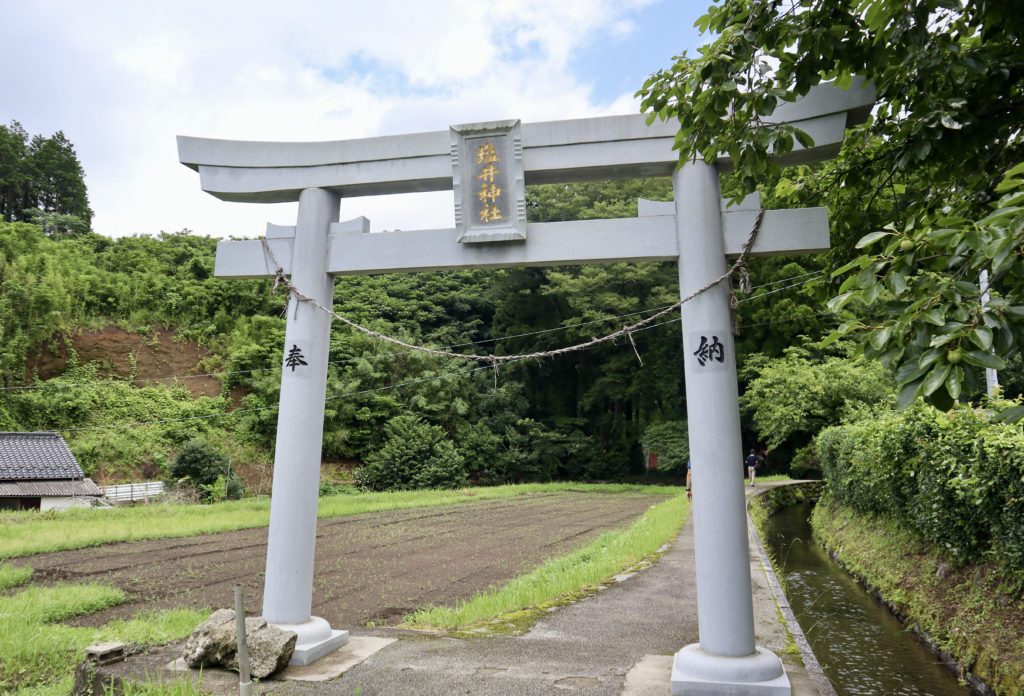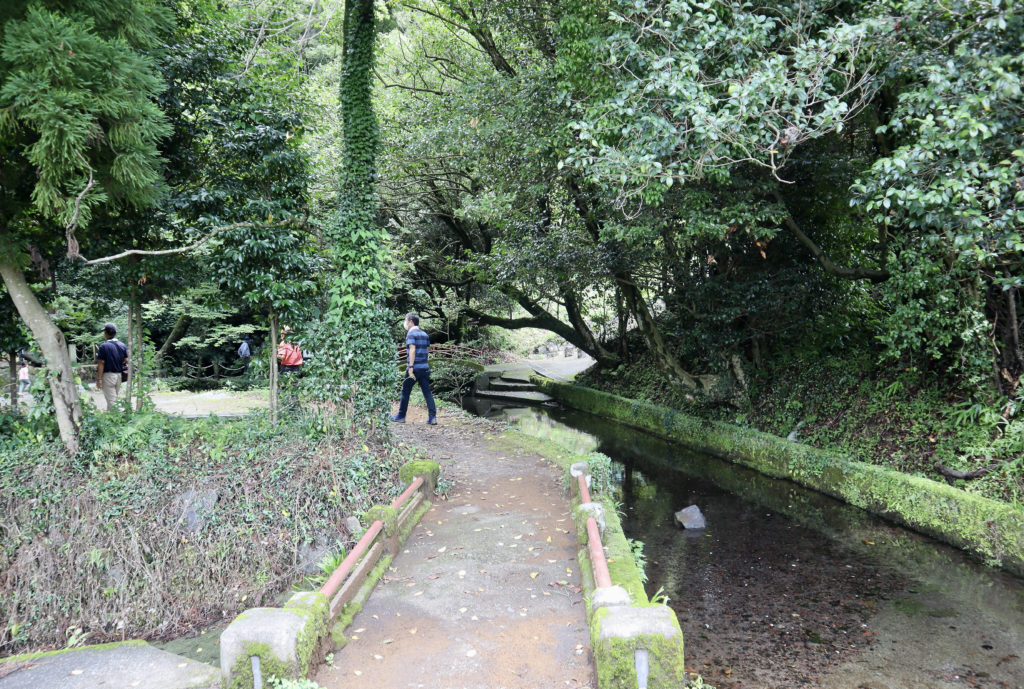 This is Shioi Shrine. It is said that this shrine was established in Heian Period ( 6-10th century, 平安時代 ). It enshrines Mizuhanome-no-kami ( 罔象女神 ) who is the god of water. Locals have got the spring water from the spring because it is appreciated as sacred.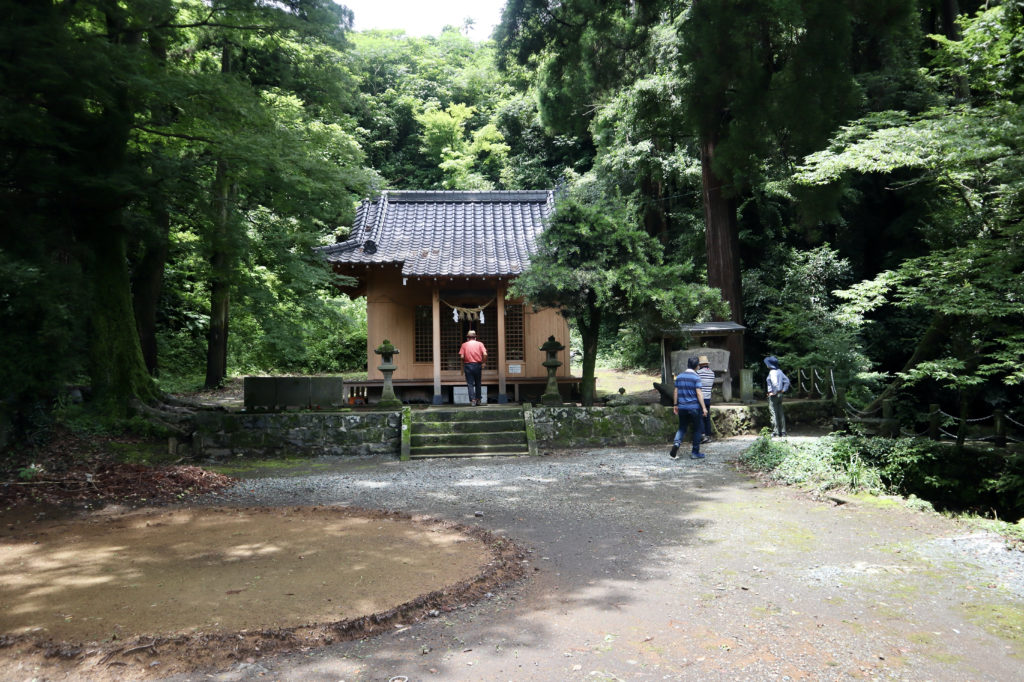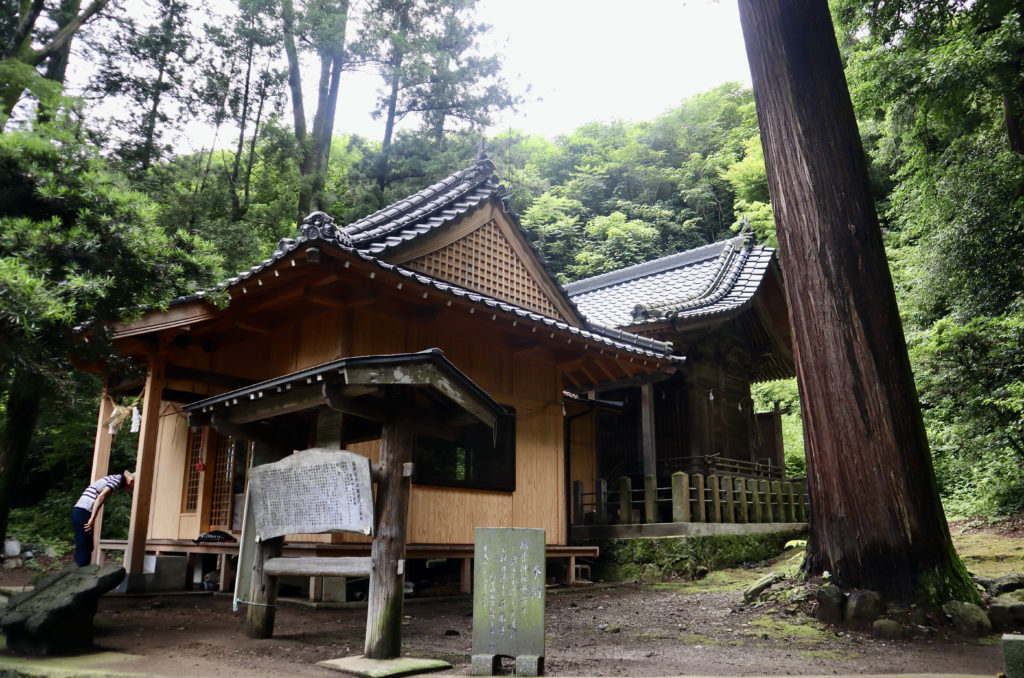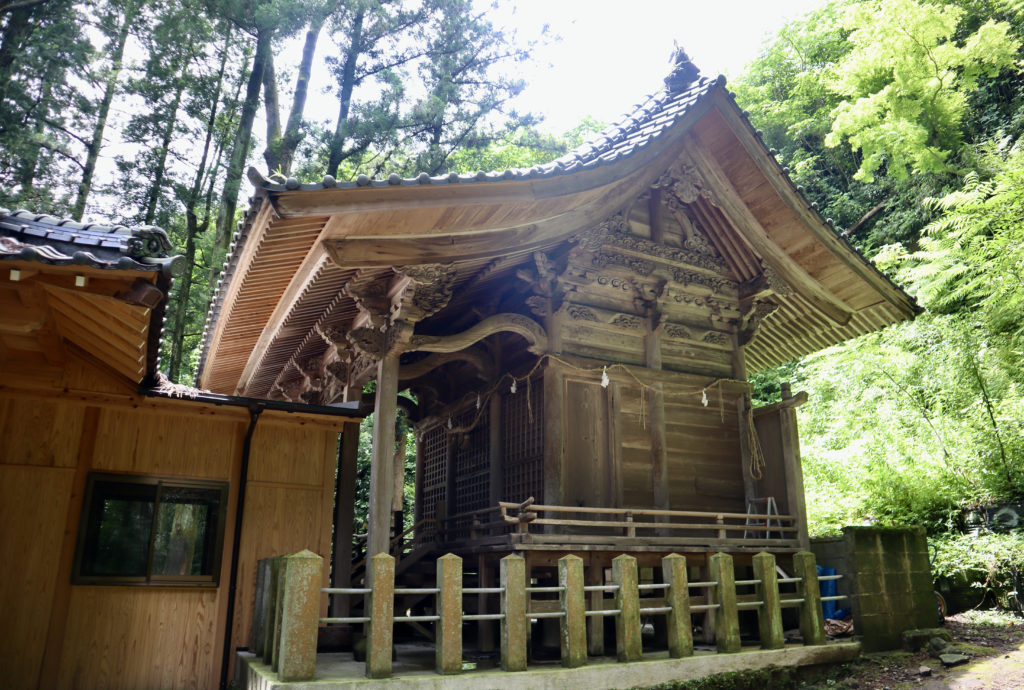 People call the shrine " Oshioi-san ( お塩井さん ) ". The river which runs from the spring is called Shioi River ( 塩井川 ). The origin of the name " Shioi ( 塩井 ) " is believed that we use salt ( shio, 塩 ) to purify our body and soul in Shinto rituals. For example, when you watch sumo games, you notice that sumo wrestlers sprinkle salt around the ring at first.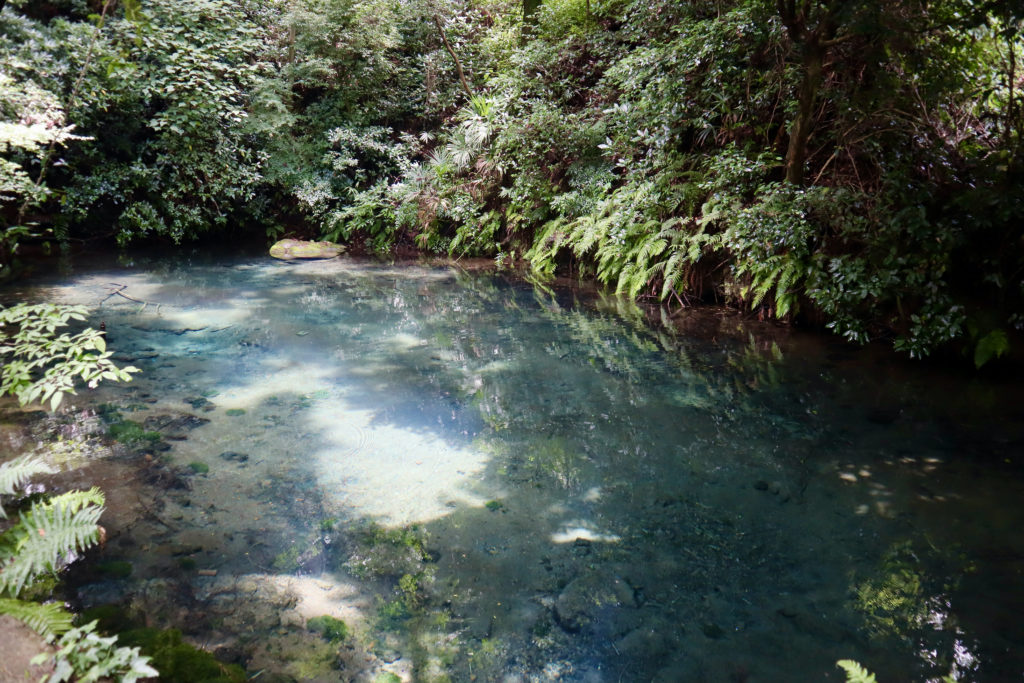 At Shioi Spring, almost 7,200 tons of water wells up a day. It has been used for irrigation.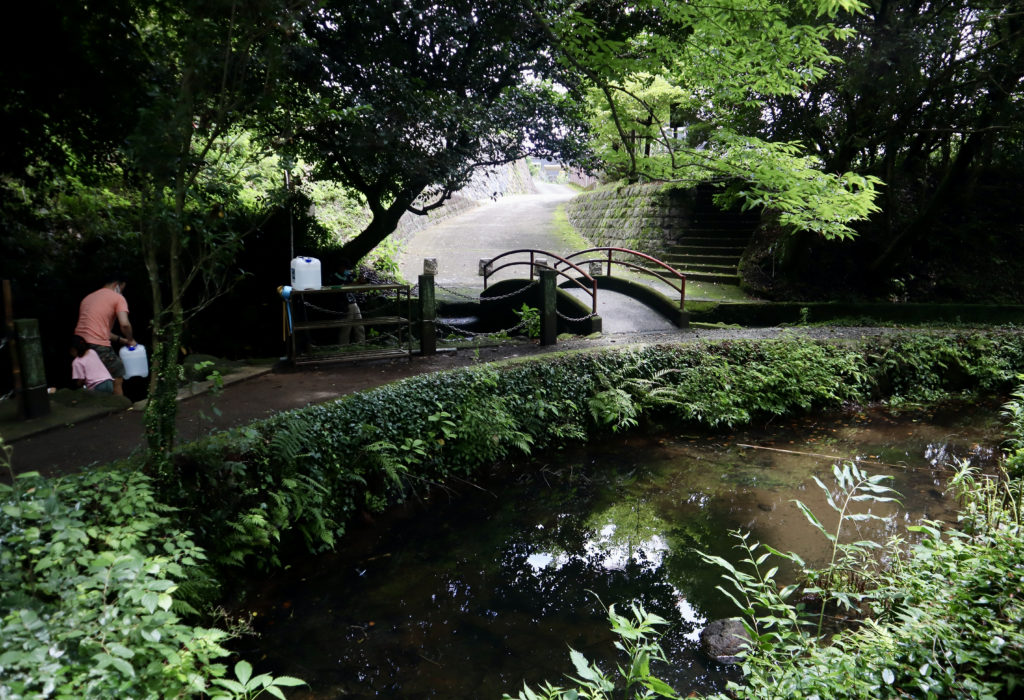 When we were there, some locals came with their bottles and took water from the spring. I tasted the water and it was cold and mellow. Some kids were playing in the river.


Damage caused by Kumamoto Earthquake in 2016
When you see the worship hall and main hall, you can see the difference of color of the woods. This is because they rebuilt the worship hall.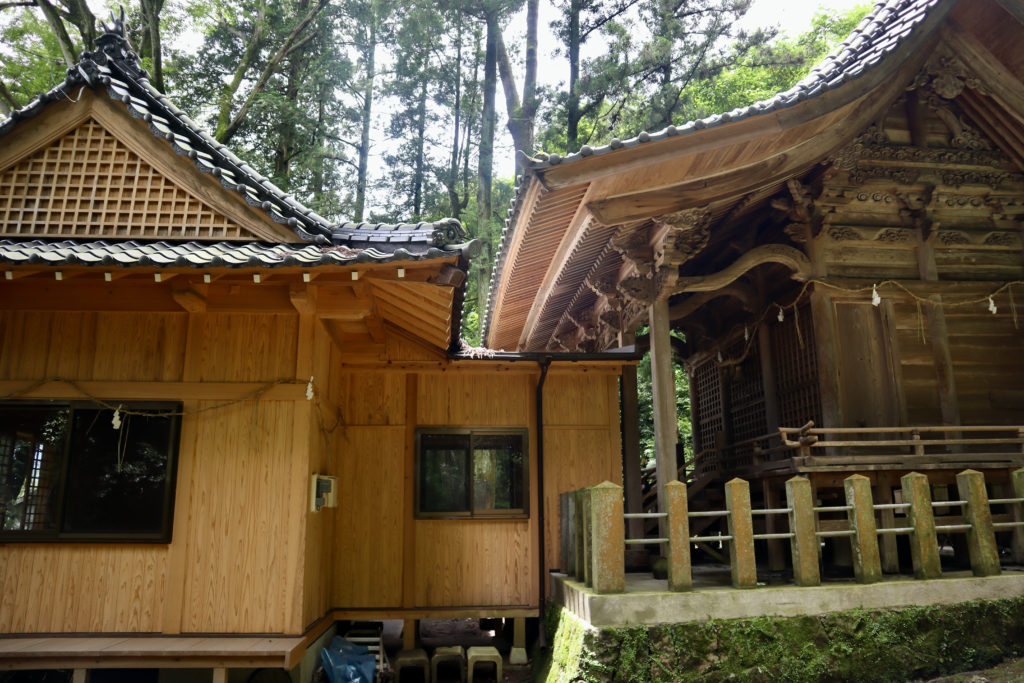 In April 2016, we had Kumamoto Earthquake and Minamiaso area was one of the places which are severely damaged. At Shioisha Shrine, Torii gate and its worship hall were totally collapsed. More shockingly, the water stopped being sprung after the earthquake. It totally dried out and people got very shocked. Shioi Spring has been the object of worship so locals even felt the god of water disappeared.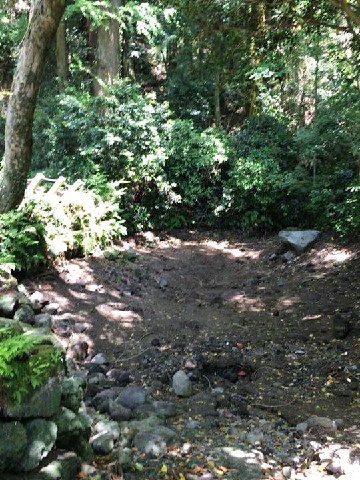 During the rainy season in 2017, some people found that there was water inside of the spring. Others doubted that it was not the spring water but was just a puddle of water from rain. Still, locals tried to drain the muddy water with pump. After sometime, the water came back to the spring and now we can see the same amount they used to have before.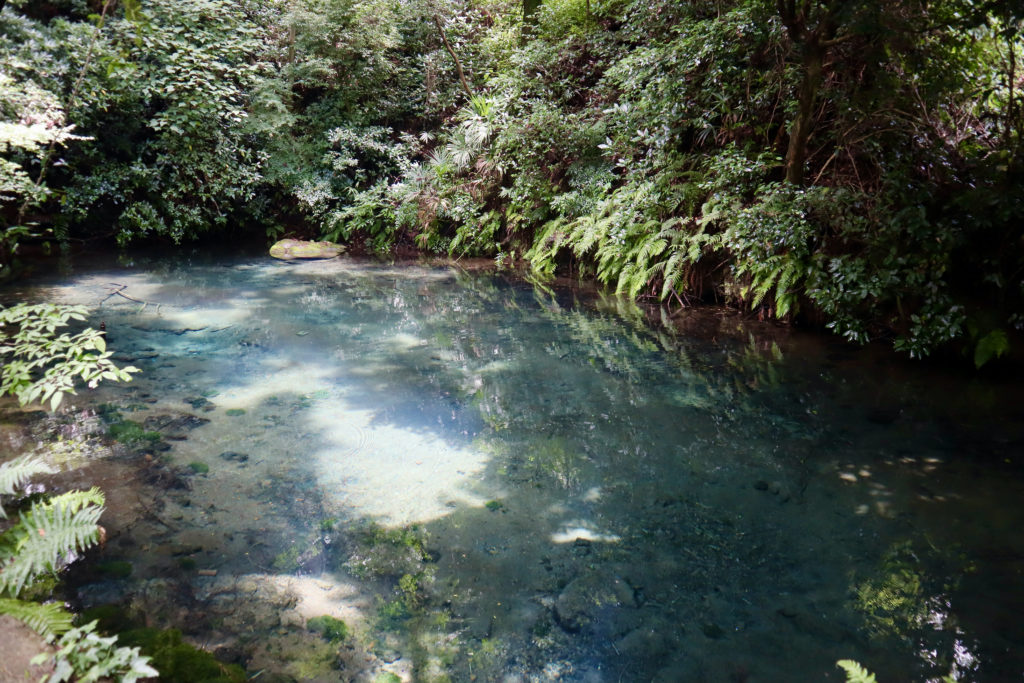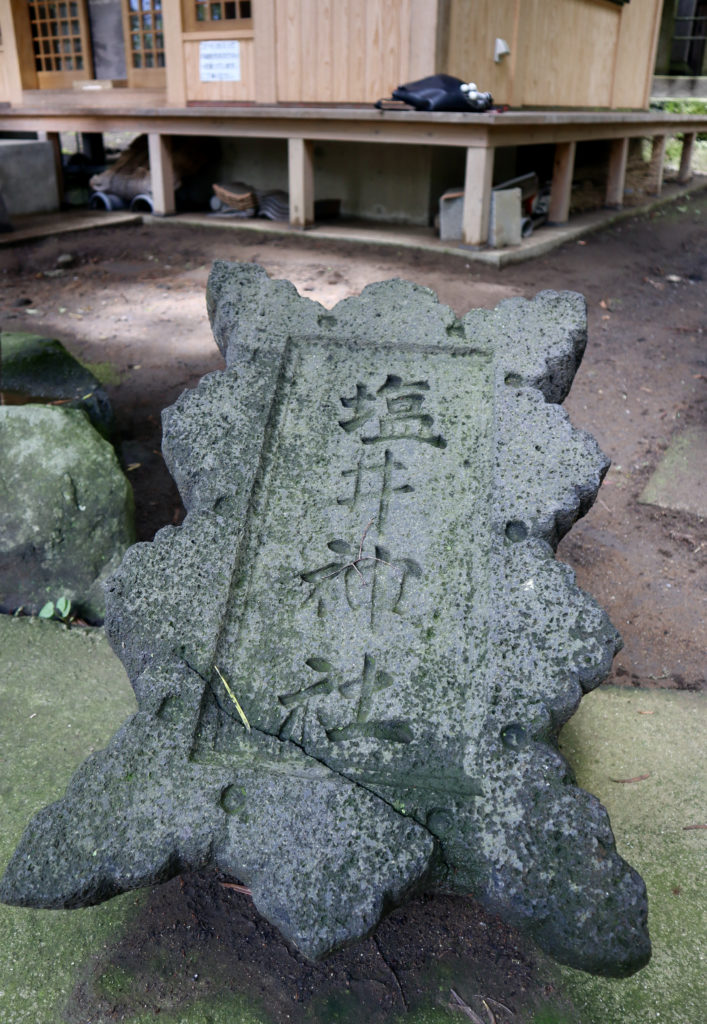 Still, it is not enough to irrigate to rice fields around the spring. Previously, we could see terrace rice fields around the shrine but now it has changed. Locals didn't lose hope. They have been proud of the spring and shrine and also the beautiful scenery of their surroundings. They do not want to see the fields abandoned so they started to plant peanuts instead of rice. Just before the earthquakes occurred, some farmers were planning to have farming workshops. To grow peanuts, they need less water and as an activity it is fun to harvest peanuts so they decided to plant them. After COVID-19, they started to have an ownership system. We can pay for a section and locals take care of peanuts for us. Then they will ship peanuts after harvested.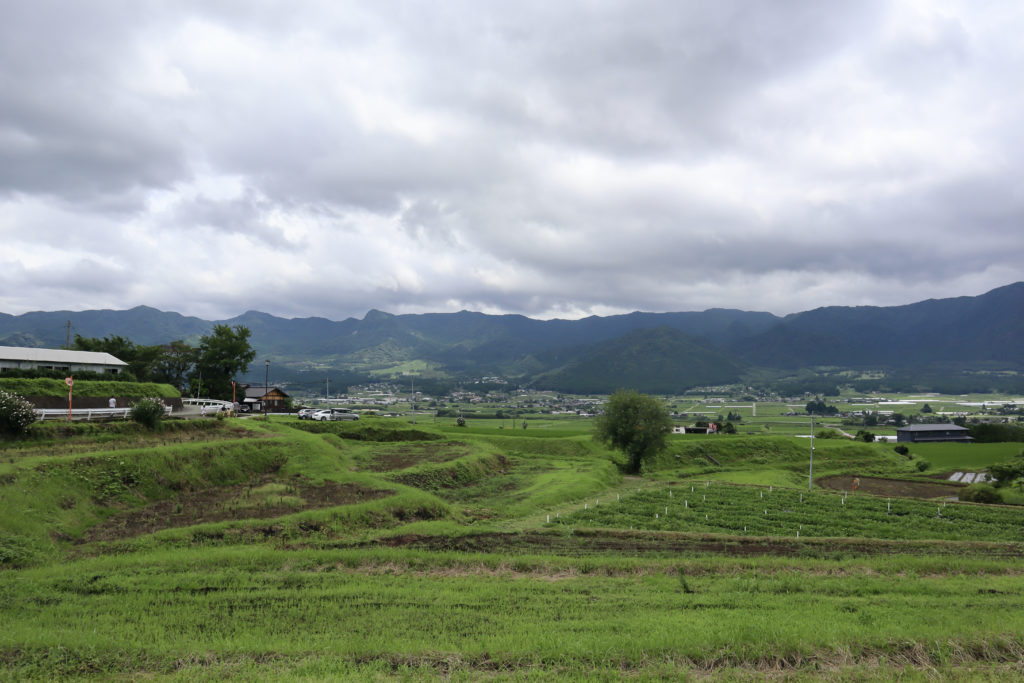 Kuginoan ( 久木野庵 ) lovely soba restaurant
My footpath friends said lunchtime is the best part of footpath. I am so amazed by them knowing so many places to have nice food!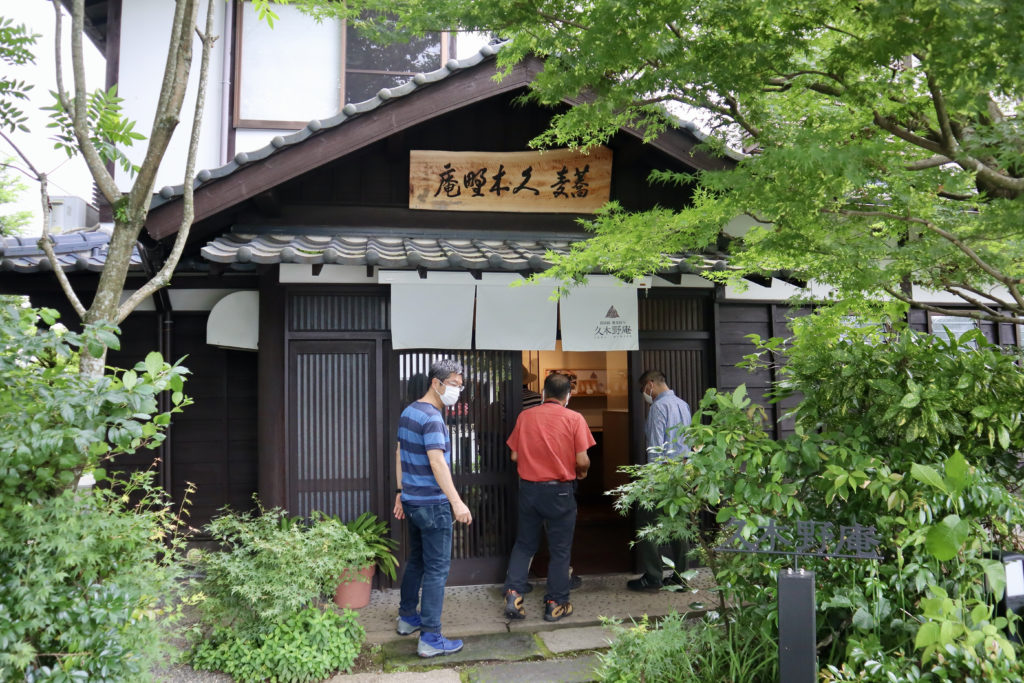 This time, we went to Kuginoan ( 久木野庵 ) which is a soba restaurant. It is located near the roadside station in Kugino. It takes about 7 minutes from Shioi Shrine by car.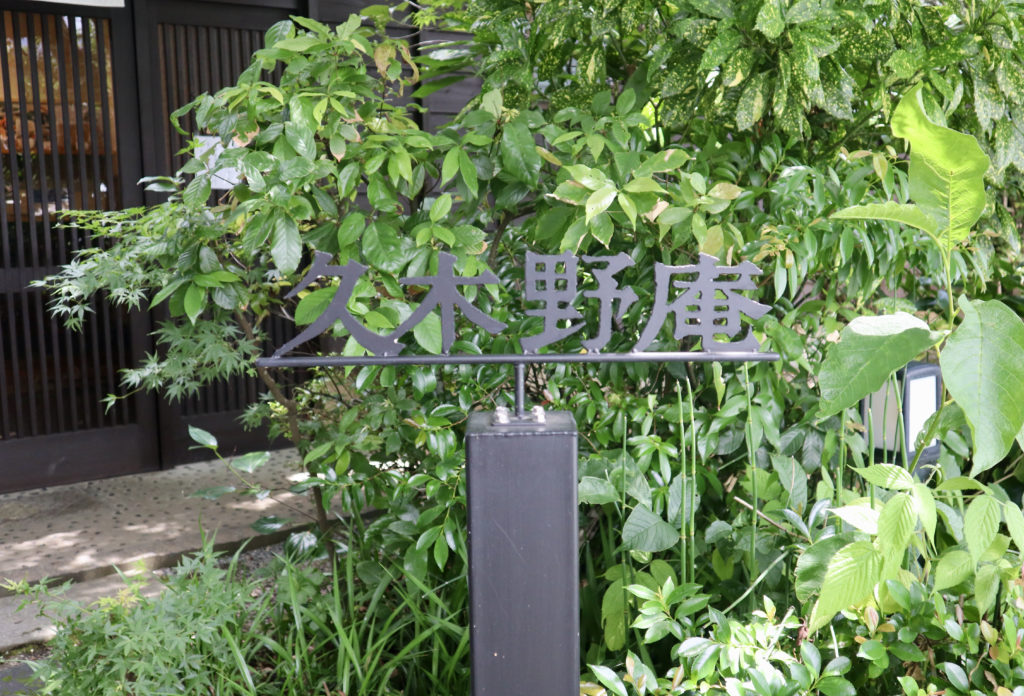 Kuginoan uses spring water from Minamiaso to make their soba noodle. It is very popular and sometimes they runs out noodle so better to book in advance.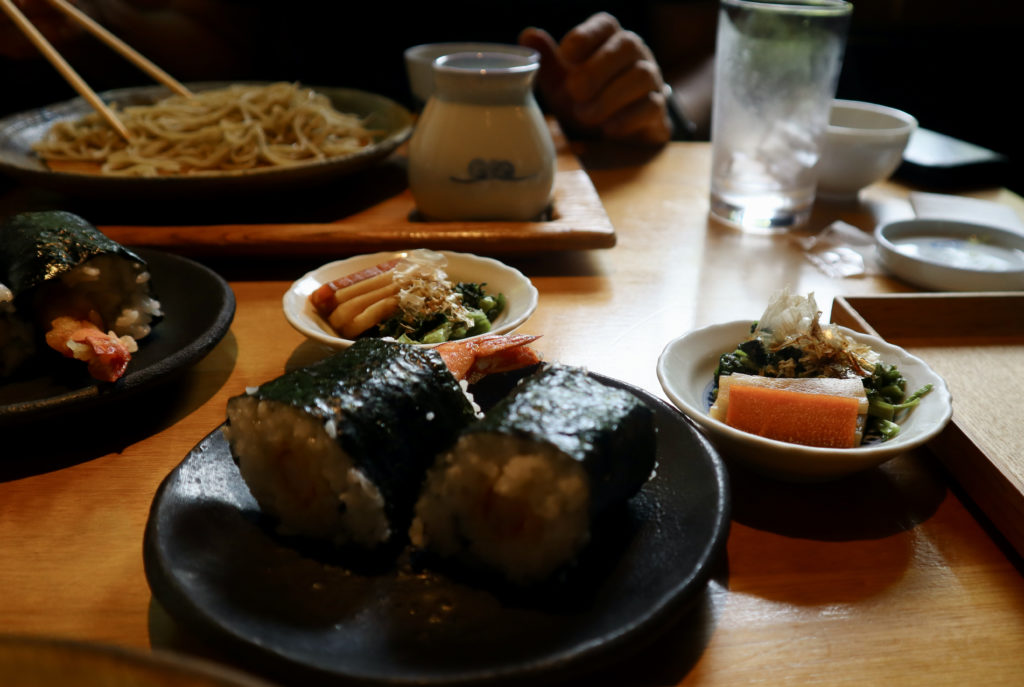 Official Website of Kuginoan
https://kuginoan.com
Map
Where to visit near Shioisha Spring and Shioi Shrine
Koike Spring (小池水源)
If you want to visit more springs in Minamiaso, how about Koike Spring? At Koike Spring, almost 13 tons of water wells up a minute. It has also been used for irrigation. It is maintained like a park so locals and visitors can relax and enjoy it as an oasis. The water is very clean and clear so you can see the beautiful reflection. One of my friends once expressed it like a picture of Monet!
Nagano Aso Shrine (長野阿蘇神社)
If you just drop by at Nagano Aso Shrine, it may look like one of the other shrines but it has many stories you will enjoy, such as Kagura performance which is from Japanese mythology, indigenous cypress in Aso, how people gave names to themselves and to the shrine, etc.
Tori-no-koduka Park (鳥の小塚公園)
Tori-no-koduka Park is also called Men-no-ishi stone Observatory (免の石望見所). Aso is famous for its great Aso caldera. There are many good spots where we can see the great view of the caldera but do you know where you are standing? Understanding it will make your journey more interesting.
Visit Shioisha Spring and Shioi Shrine!
Summer has started and this summer is also super hot and humid. Complaining about it will not make us feel cool so let's visit some places which brings us coolness and eat well to survive this time of the year.
Take care and stay safe.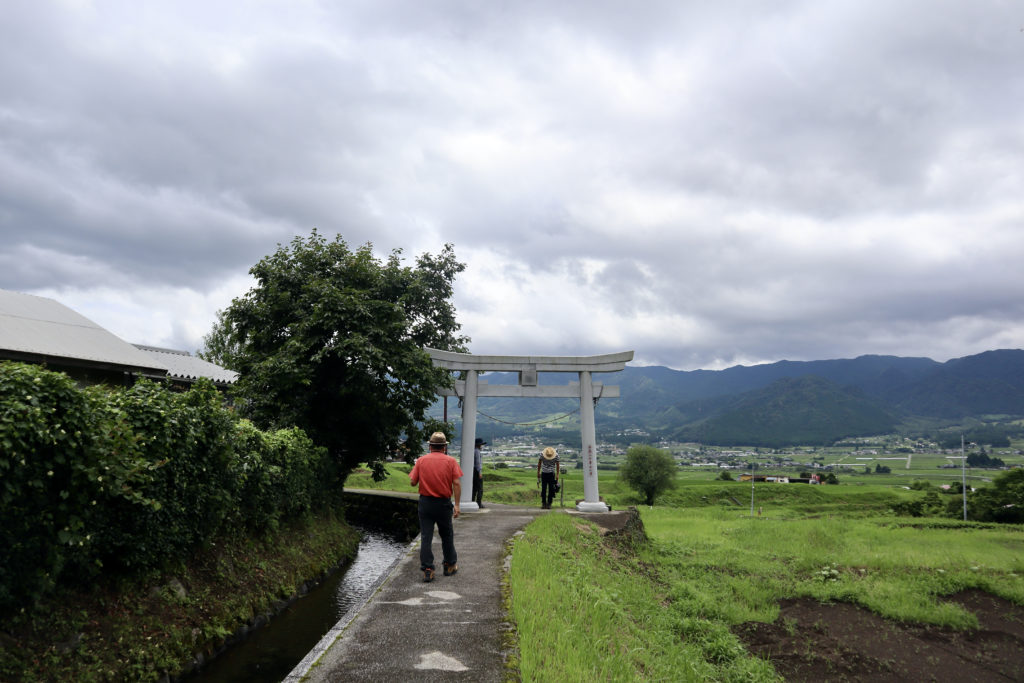 Map of Shioisha Spring and Shioi Shrine