It's been almost 5 years since Kumamoto Earthquake 2016. Recently, Kumamoto Nichinichi Newspaper revealed the data which showed how people feel that the memory of the earthquake has been faded away. It turned out to be about 60% of locals feel that it has been so. Especially the areas which were severely damaged, such as Mashiki Town and Minamiaso Village, showed slightly less percentage but still many people feel that it has been forgotten with time.
Recently, I often think about the great importance of stories. I am urged to write and share one with you when I get to know stories of people in the past. At first, I know about only their names and what they did but after learning their stories, suddenly I feel like I have known them for a while. Stories have power to move us and every person has every story. This is my motivation to keep writing and share the excitement here with you.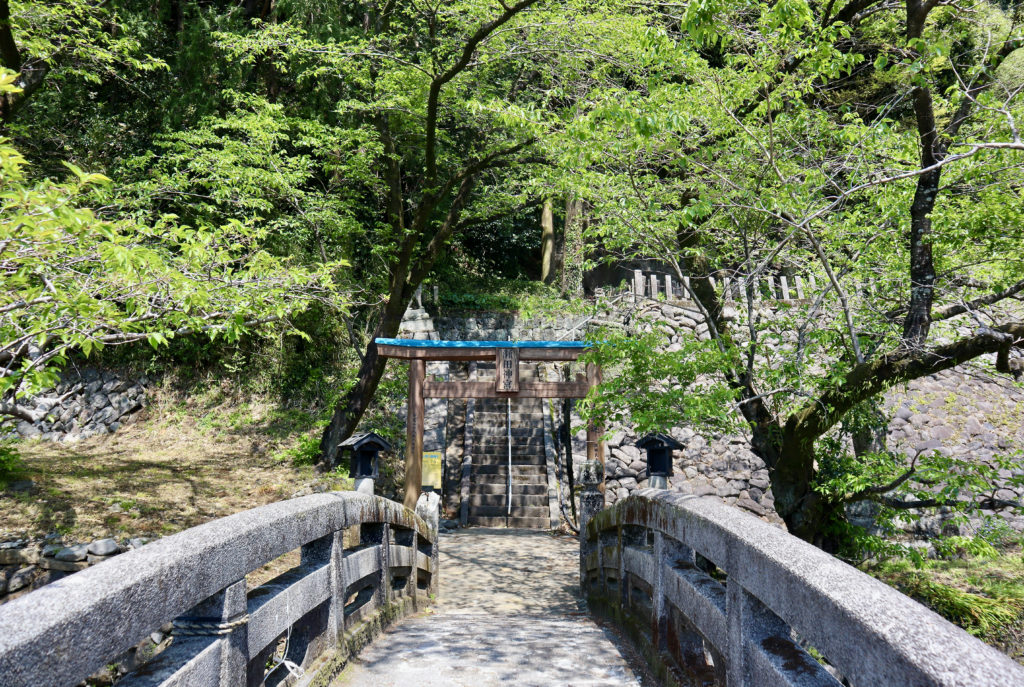 Today, I am going to share with you Seta Shrine (瀬田神社) in Ozu Town (大津町). This is one of the Kumamoto Earthquake museum which aims at passing on the lessons and stories of Kumamoto Earthquake to the next generations. Seta Shrine was collapsed by the secondary damage brought by the earthquake but with all the efforts of locals and their ancestors, they have recovered amazingly. In this article, I introduced other Kumamoto Earthquake museum sites, too. I hope this article will be your opportunity to visit some of the places sometime soon!


Seta Shrine (瀬田神社) in Ozu Town (大津町)
Kumamoto Reconstruction Project (熊本復興プロジェクト)
After Kumamoto Earthquake in 2016, Kumamoto Prefecture established some projects to raise awareness of the disaster from people inside and outside of Kumamoto. Before introducing Seta Shrine, let me introduce one of them first.
What is "Kumamoto Earthquake museum (熊本地震 震災ミュージアム)"?
First, let's check Kumamoto Earthquake museum (熊本地震 震災ミュージアム). It is a project by Kumamoto Prefecture which aims at passing on lessons and stories of the earthquake to the next generations. Also, they want to fortify measures against disaster so that we can hand over Kumamoto which is disaster-resilient to our children.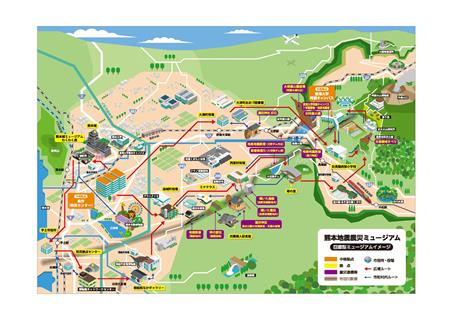 There is no one Kumamoto Earthquake museum. It consists of 58 places. According to their website, the concept of the museum is "corridor of memory". For example, there are university, houses, roads, shrines, stone bridges, etc. All the places tell us how devastating the impact was.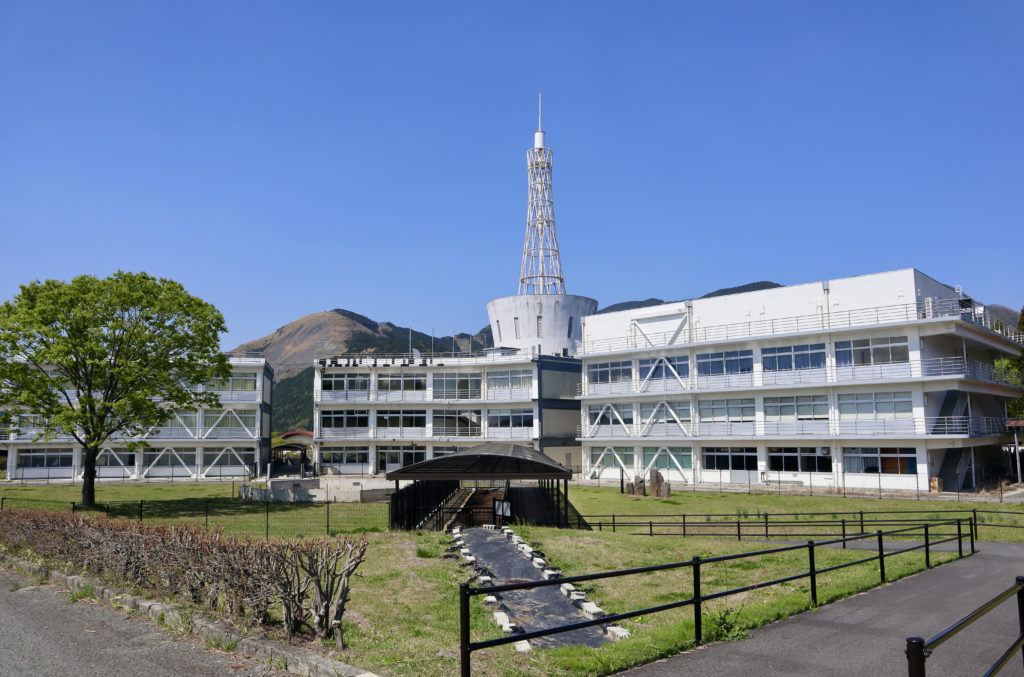 There is a website of Kumamoto Earthquake Museum and you can change it to an English version. In their website, they offer us some plans to explore those disaster-hit places depending on where you travel and how much time you have. If you have a chance to visit Amakusa, you can drop by at Uto City and Uki City. If you go to Aso area from Kumamoto City, you can visit Ozu, Mashiki, Nishihara and Minamiaso. Visiting those disaster-hit areas is always a great support for them.

Official webste of Kumamoto Earthquake Museum (熊本地震震災ミュージアム)
https://kumamotojishin-museum.com
ONE PIECE Reconstruction Project (ワンピース復興プロジェクト)
It is also a part of Kumamoto Reconstruction Project (熊本復興プロジェクト).
Eiichiro Oda (尾田栄一郎) who is a world famous manga artist of ONE PIECE. He was born and grew up in Kumamoto City. After the earthquake, Oda sent a handwriting message to people in Kumamoto saying that he promised to help and support for Kumamoto.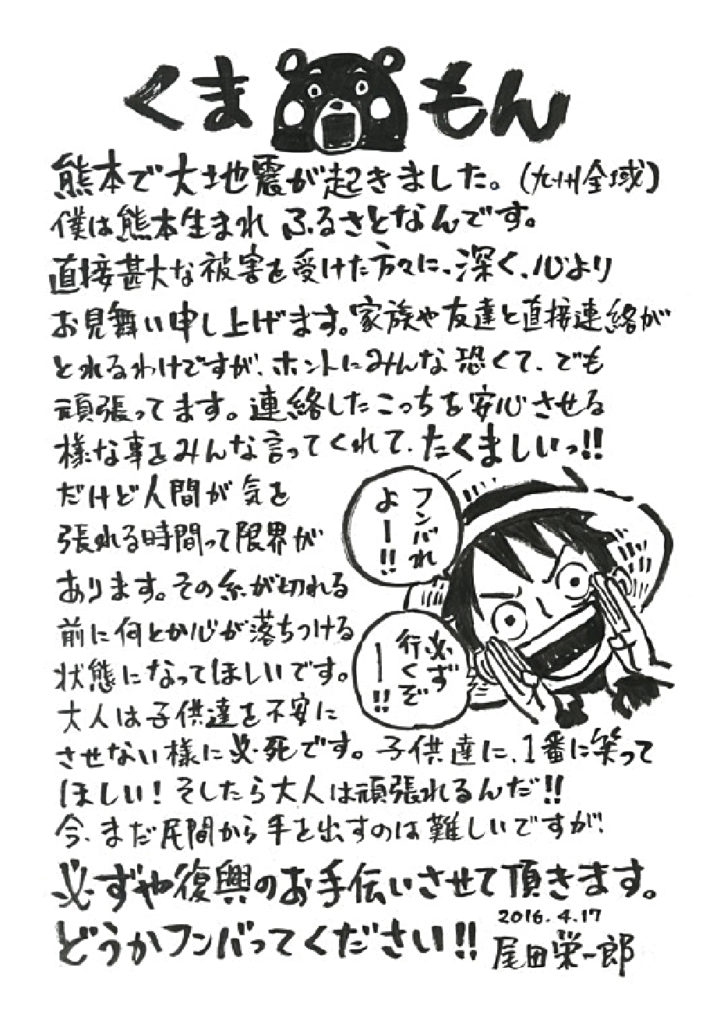 After that, he donated 800 million yen (about 7.7 million dollars) to Kumamoto. Also, his most successful work ONE PIECE and Kumamoto Prefecture collaborated and started this reconstruction project. First, Oda provided illustration of ONE PIECE for covering trams in Kumamoto City (I see one every morning!).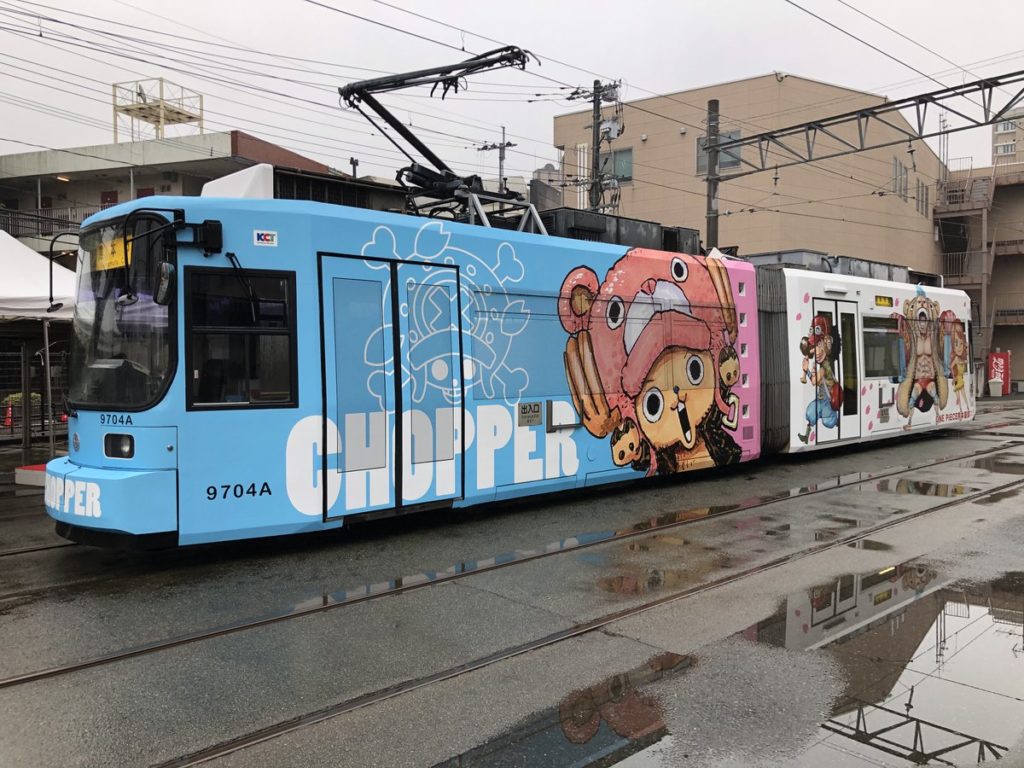 Then, they have placed bronze statues of characters from ONE PIECE in places which were especially damaged by the earthquake. For example, Luffy at Kumamoto Prefectural Office, Usopp at Aso Station, Franky at Takamori Station, etc. To appreciate and praise Oda's support, Kumamoto Prefecture endowed Prefecture Honor Award on him in 2018.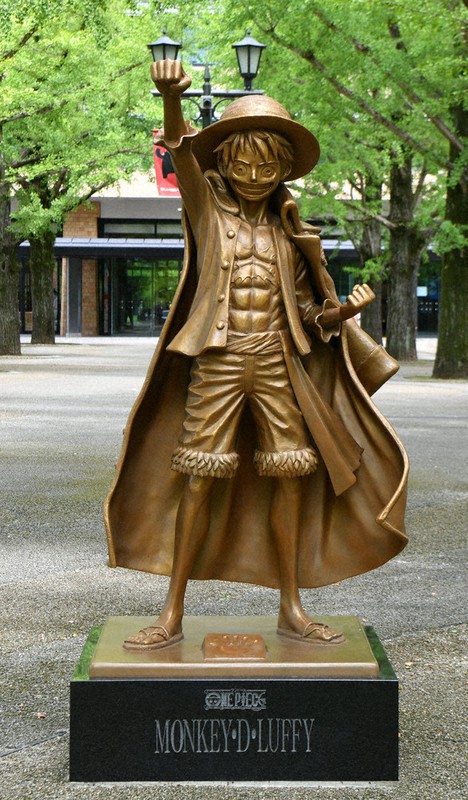 ⬇️ Check where you can see the other statues in Kumamoto!
Official website of Kumamoto Reconstruction Project (熊本復興プロジェクト)
https://op-kumamoto.com
Seta Shrine (瀬田神社) in Ozu Town (大津町)
Uwaide River (上井手川) which was Kiyomasa Kato's project to irrigate water and make the locals lives better
Now, let's get to know about Seta Shrine.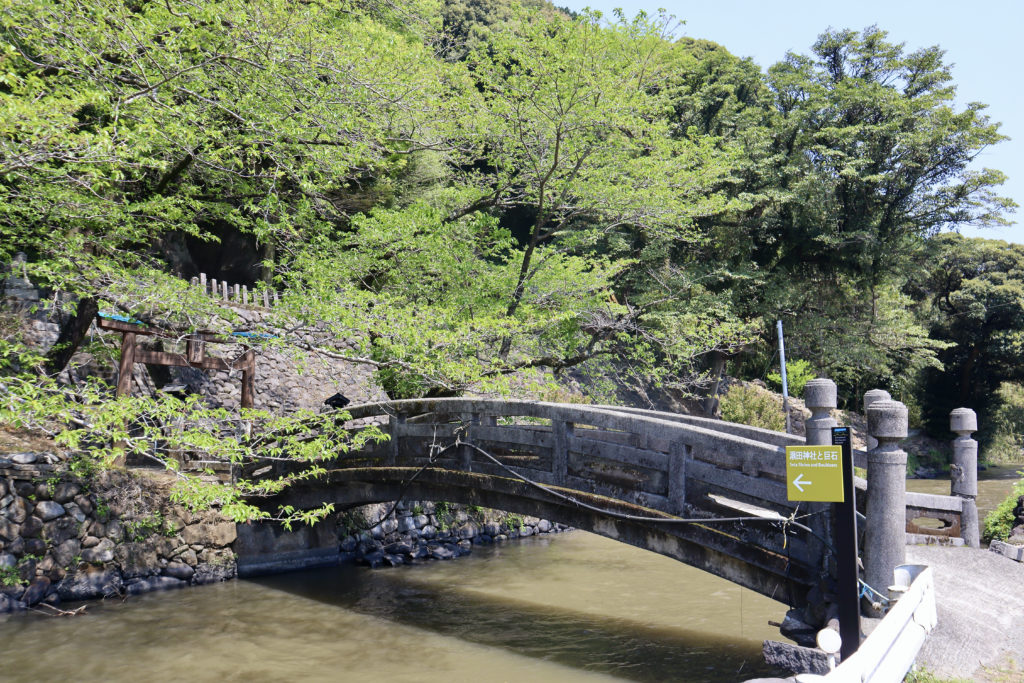 Seta Shrine stands in the area called Seta (瀬田) in Ozu Town (大津町). When you arrive at Seta Shrine, you will see the river and the bridge. The stone bridge is called Myoken Bridge (妙見橋) which was built in 1933. Seta Shrine is also called as Seta Myoken Shrine.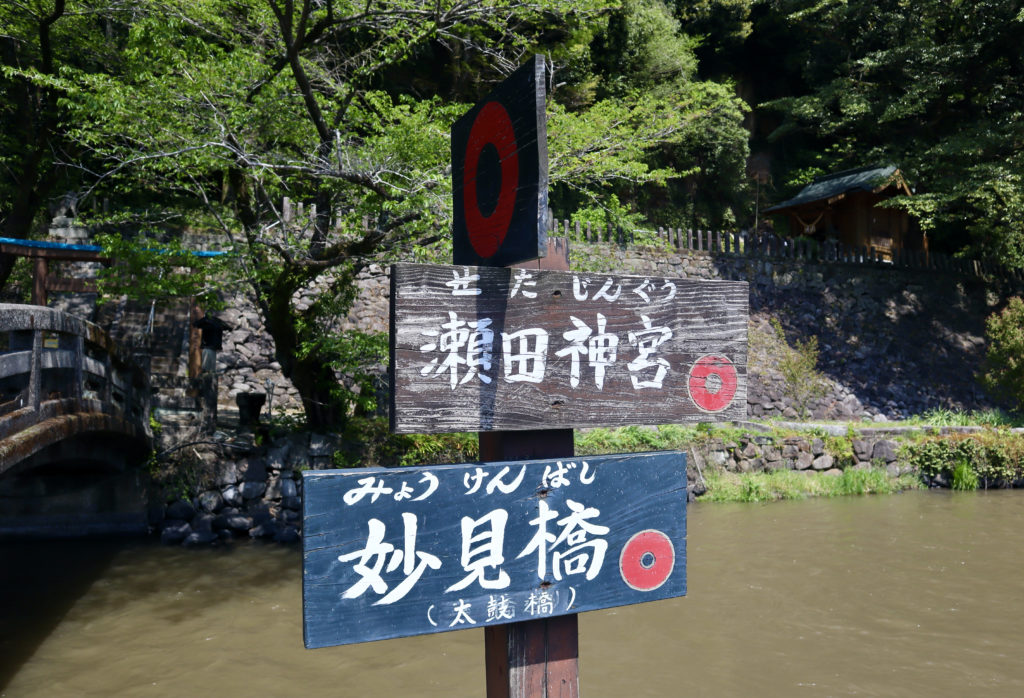 This river is Uwaide River (上井手川). There is an interesting story about this river. In 16th century, Kiyomasa Kato (加藤清正), who is one of the famous figures in Kumamoto that conducted the construction of Kumamoto Castle, was ordered to rule Kumamoto. When he visited Ozu area and saw the vast uncultivated land, he wondered how to use it efficiently. One of his subordinates advised Kato that in order to irrigate water from Shirakawa River to this area, Kato should build a river intake in Seta area. Kiyomasa Kato planned and his son Tadahiro Kato started the construction in 1618. After Kato's era ended, this project was passed on to Hosokawa Family who ruled Kumamoto after Kato family. Lord Hosokawa finished the work after 19 years later. After building agricultural irrigation canal, Ozu and its neighbor Kikuyo had 334 rice fields. People used Uwaide River to transport rice to Kumamoto Castle. Also, it was used for water powered sawmill and polishing rice, etc. This project had brought economic growth to Ozu and Kikuyo area.
Seta Shrine and Kumamoto Earthquake
Let's enter Seta Shrine now.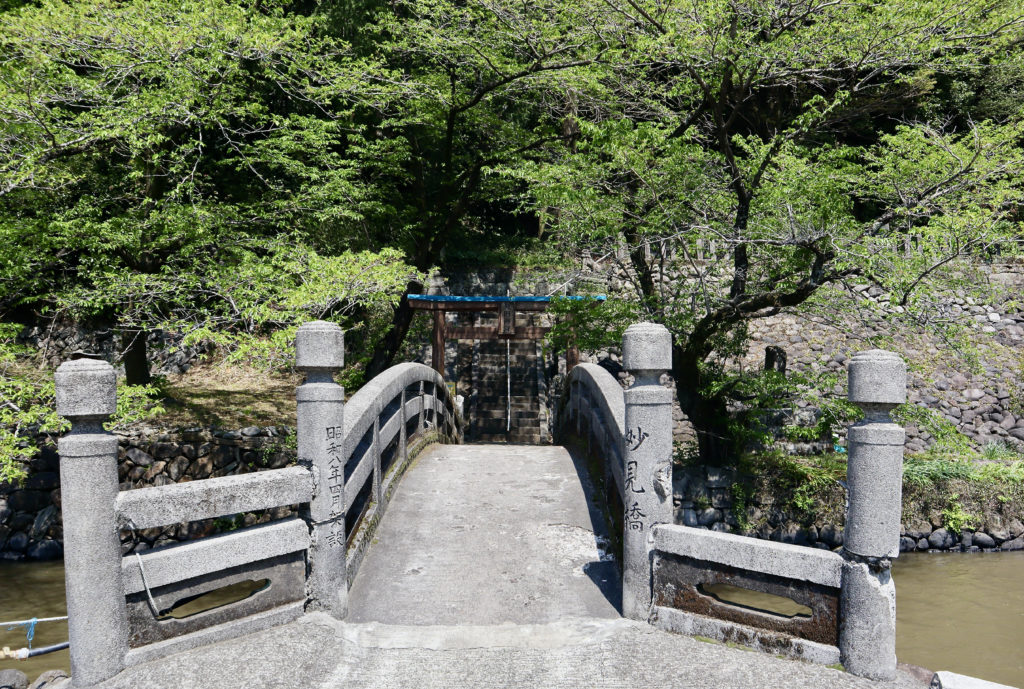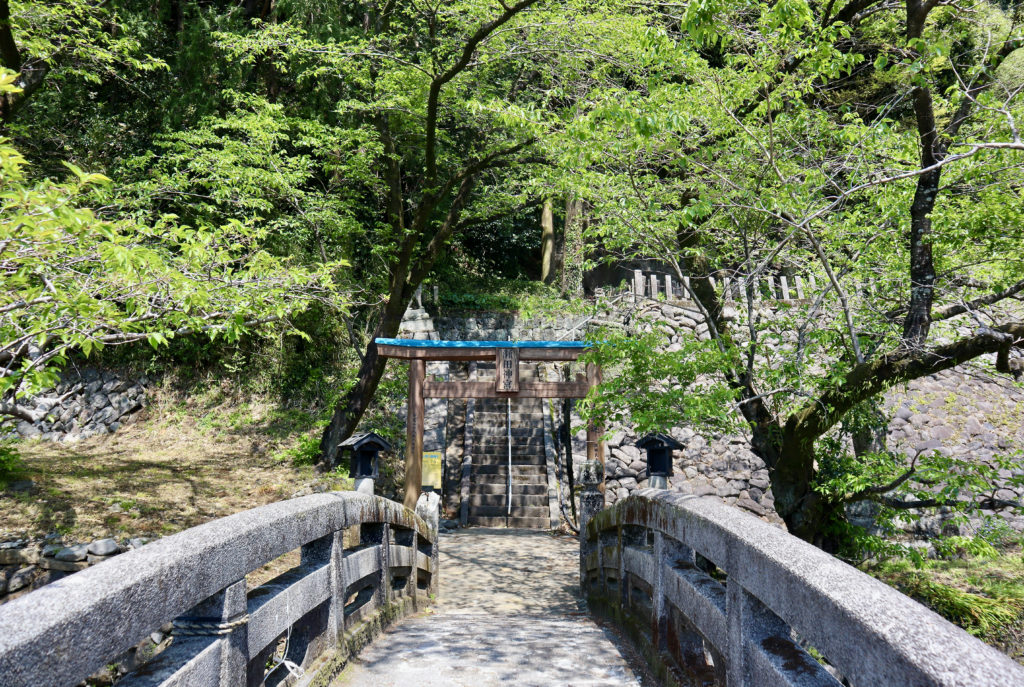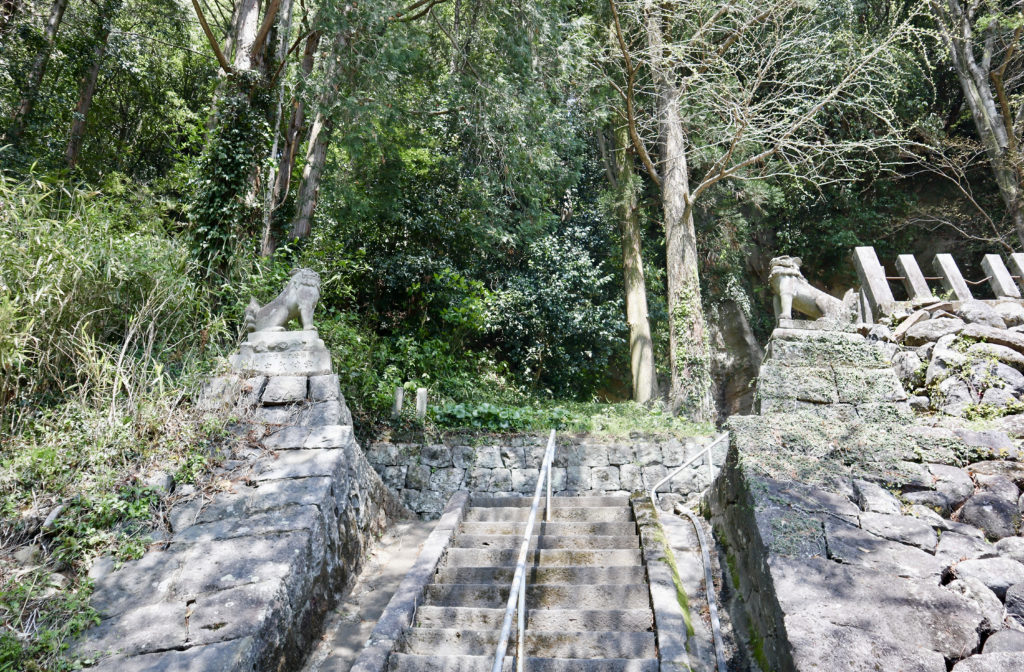 After climbing up stairs, you will see the worship hall in front of you.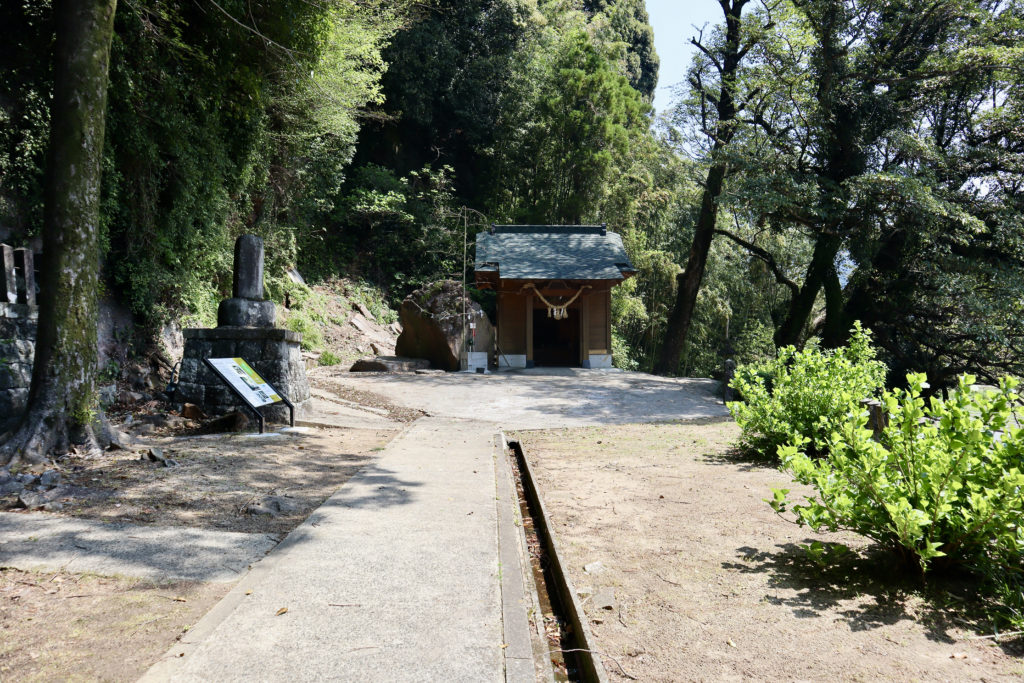 On your left, there is a huge rock and a worship place. I asked the staff at Ozu cultural centre what it is for but couldn't get the answer. I will share when I get to know about it.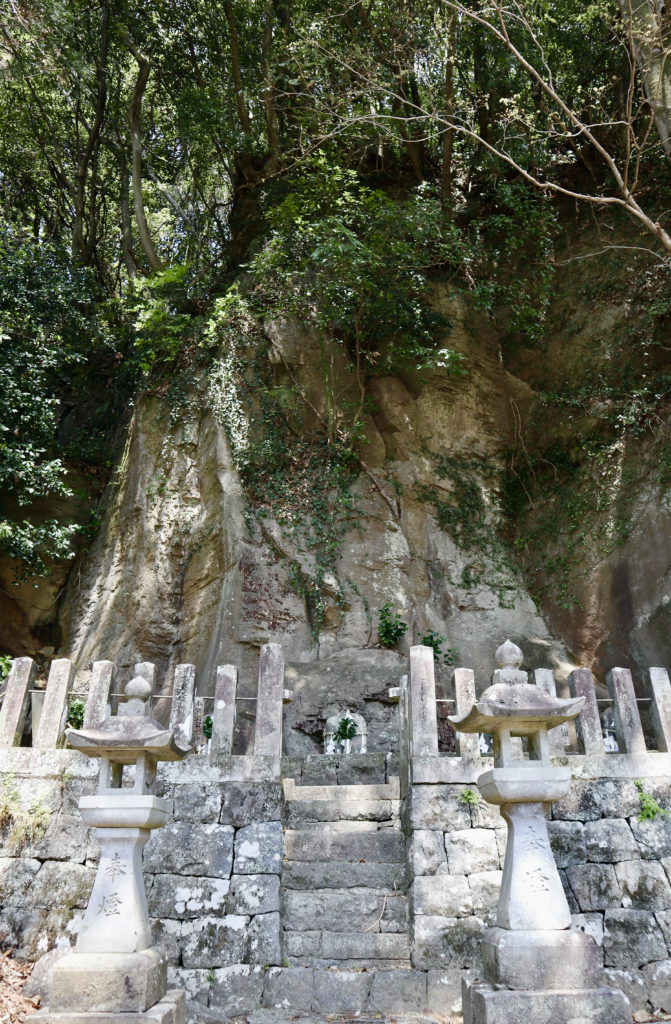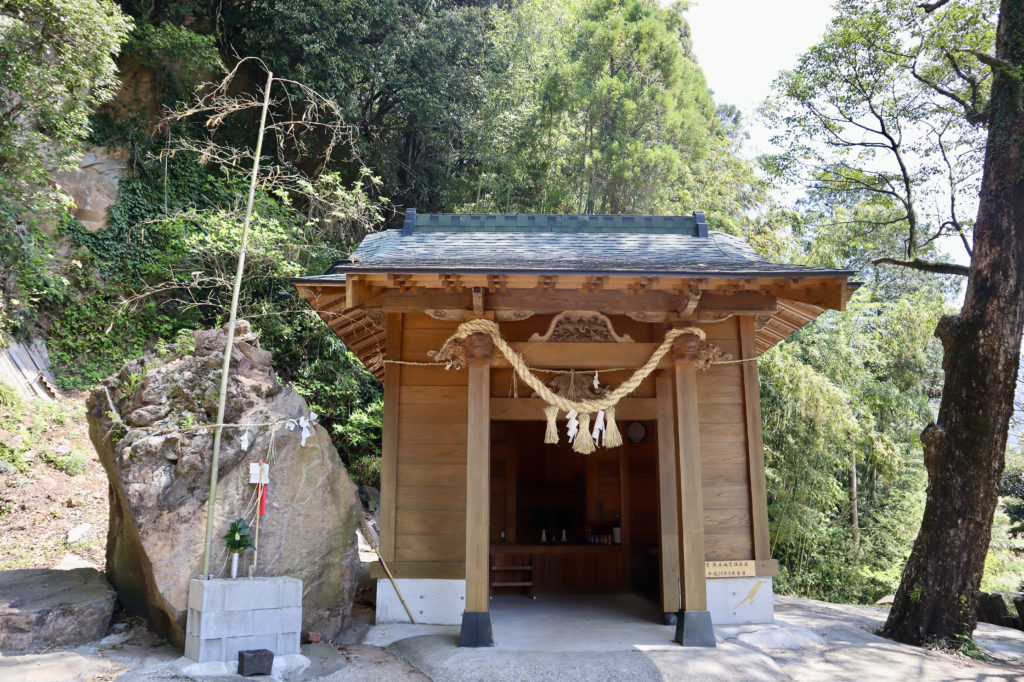 This is the worship hall. You may be wondering what the huge rock is. I will tell you about what happened to Seta Shrine. On April 14th 2016 we had the magnitude-6.5 earthquake. Seta Shrine could manage to bear it but 28 hours later we had another one which recorded magnitude-7.3. Having triggered by the later earthquake, the surface of the rock cracked and the huge rock fell off and hit the shrine.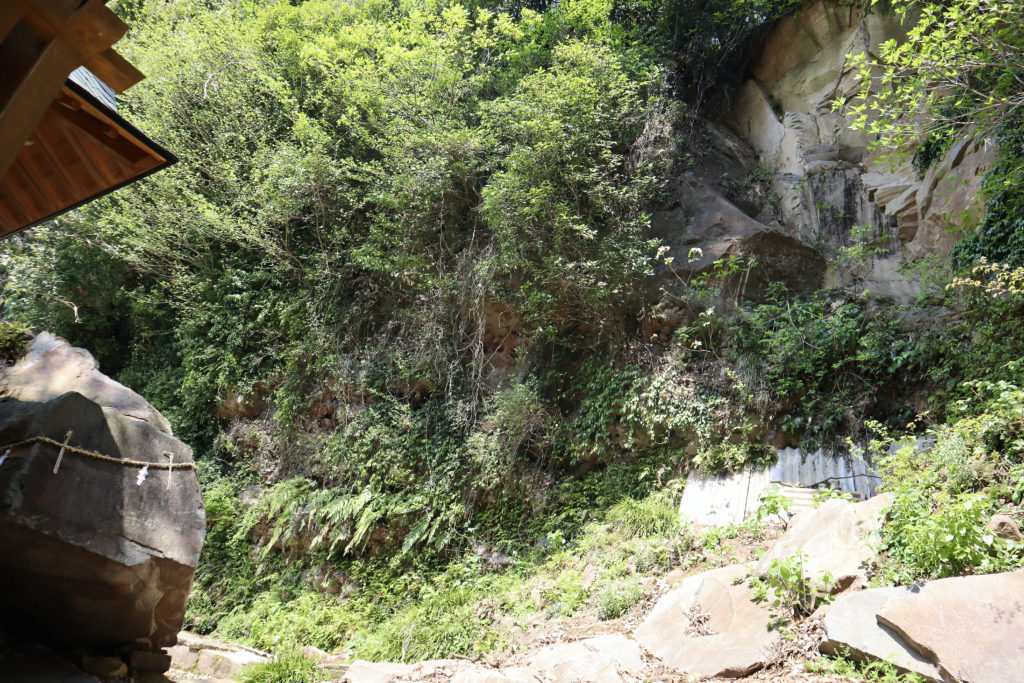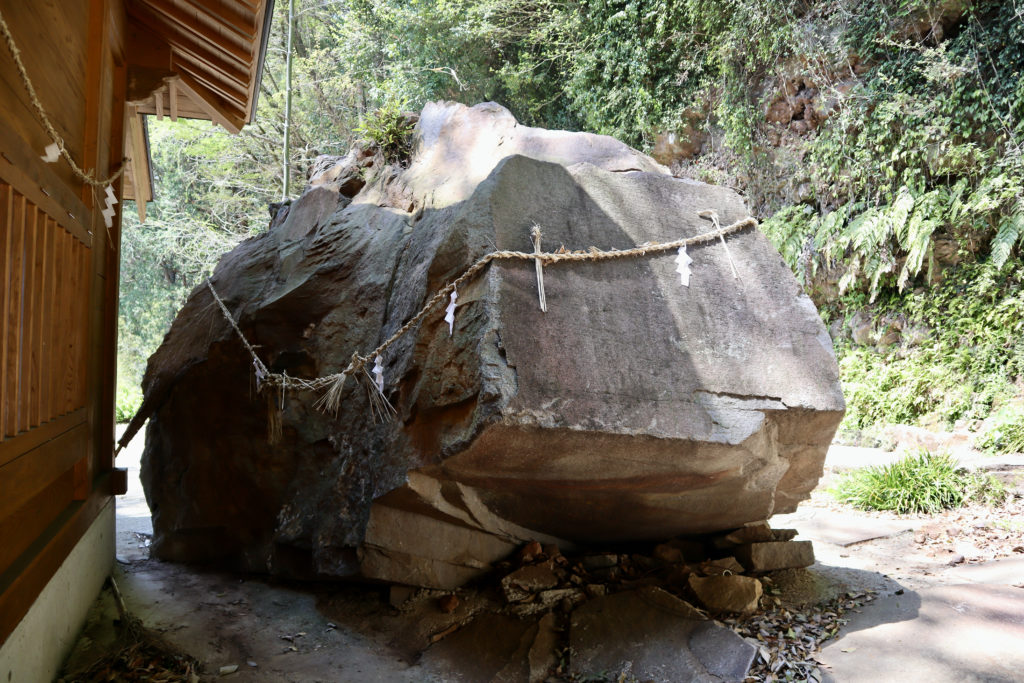 Like other shrines, Seta shrine has been always close to locals. They have taken care of it for generations. In August 2016, after the number of aftershocks were declined, locals started to clean the premise of Seta Shrine. To get rid of rubbles, they made a path behind the river so that they could bring heavy equipments. I heard that the locals covered the road with concrete by themselves and this work tightened their bonds more.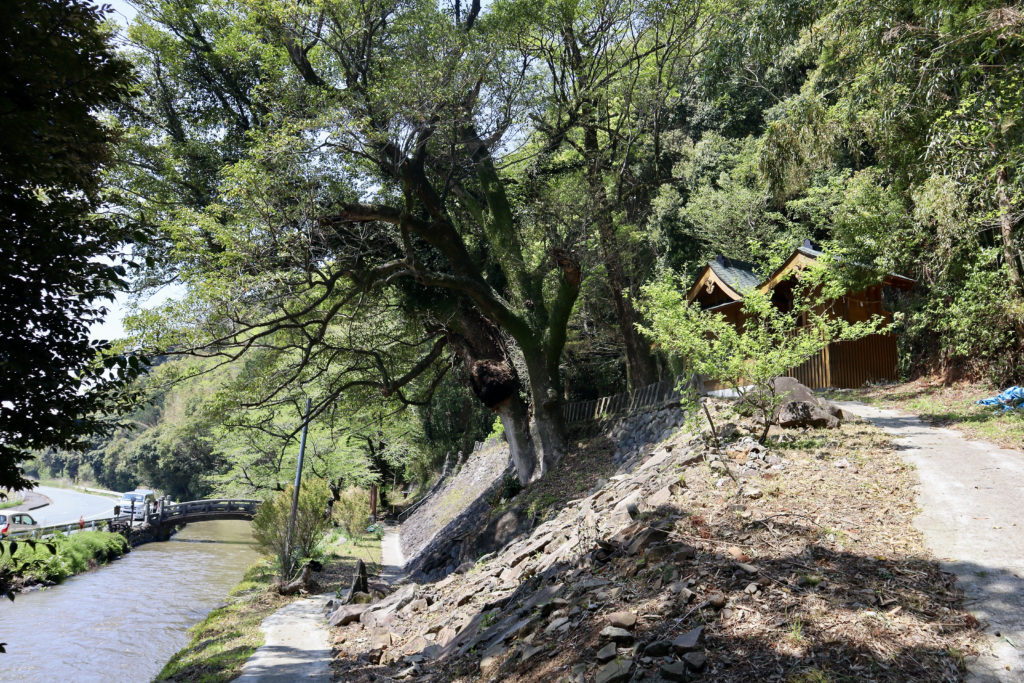 In January 2017, they started the construction and completed the main hall after 2 months.They said that the rock could symbolize "descent of god" and they wanted to keep it as a memory of Kumamoto Earthquake for the next generations.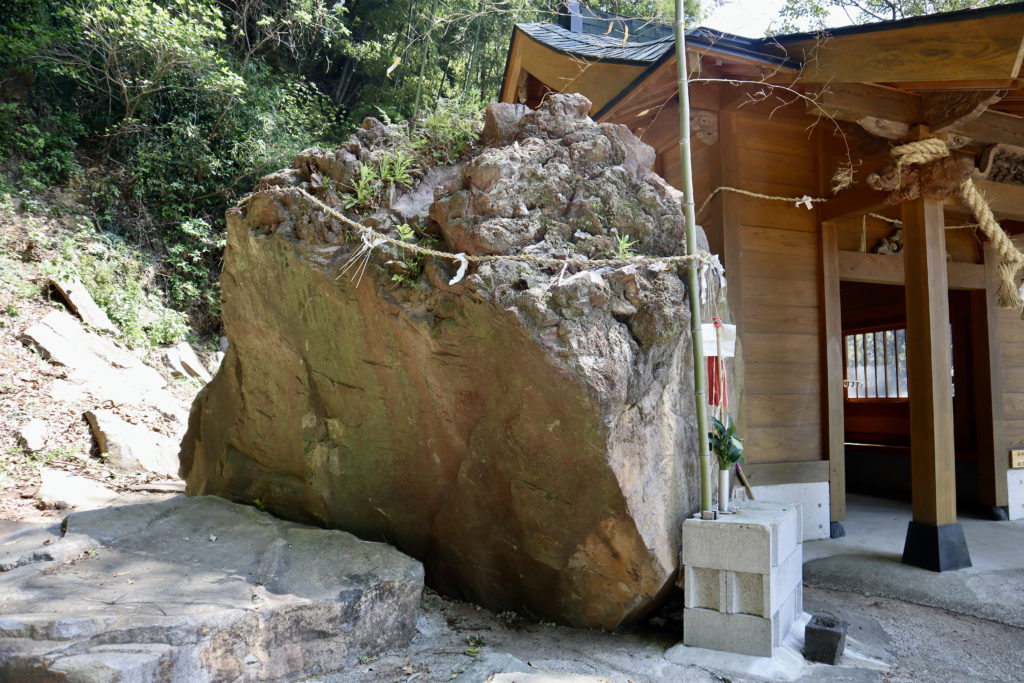 After the earthquake, people struggled how to manage the finance. In Seta area, there were many people whose houses were severely damaged. The subsidy had to be used to repair living infrastructure. Almost everyone was struggling how to get their lives back so it was very difficult to ask for donation for Seta Shrine. So how could they rebuild the shrine just one year after the disaster? This is because their ancestors had saved money little by little if by any chance something might occur to the shrine. Seta Shrine was established in 1570 and have always protected the locals. The water brought locals enriched life so the people had always wanted to protect the shrine just like it had done for them.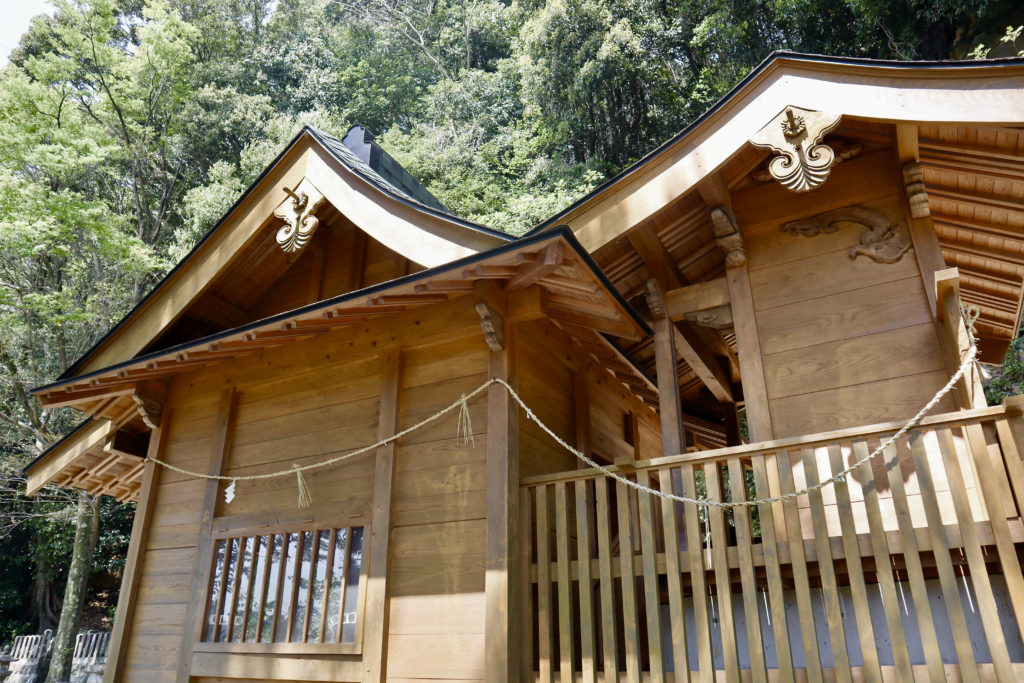 If you look at the halls carefully, you will notice that there are some old wooden parts. I guess they must have taken them from the old building and attached to the new one so that they can appreciate the old building which their ancestors cherished. I am very glad that I visited and wrote about it. This is a beautiful story.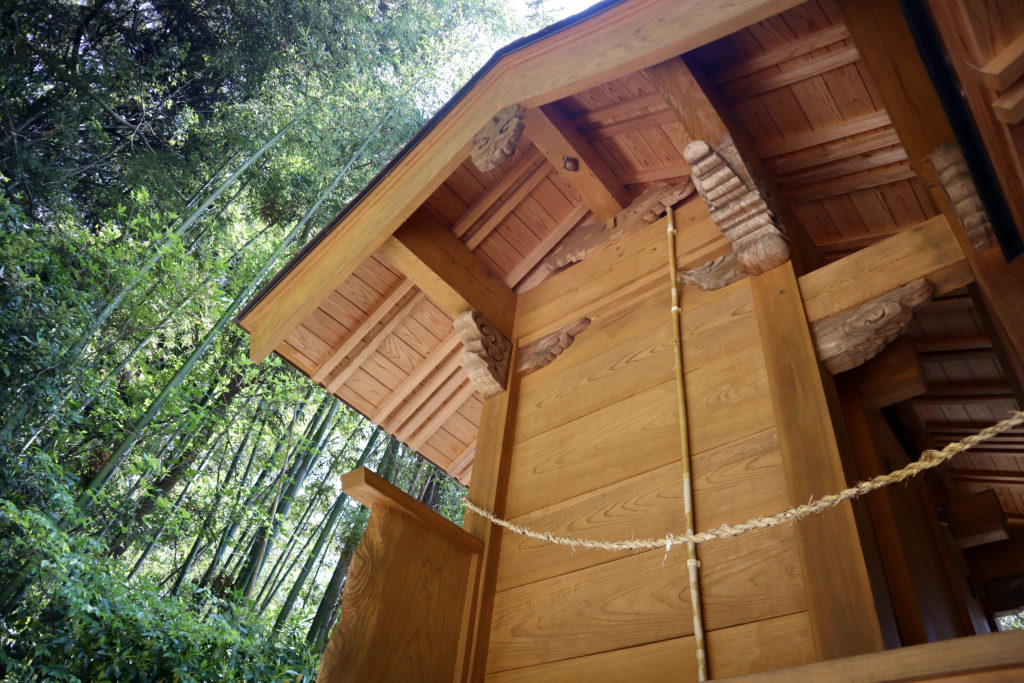 New Aso-ohashi Bridge (新阿蘇大橋) and Yo-myuru (ヨ・ミュール)
"New Aso-ohashi bridge (新阿蘇大橋)" was opened to traffic on March 7th this year.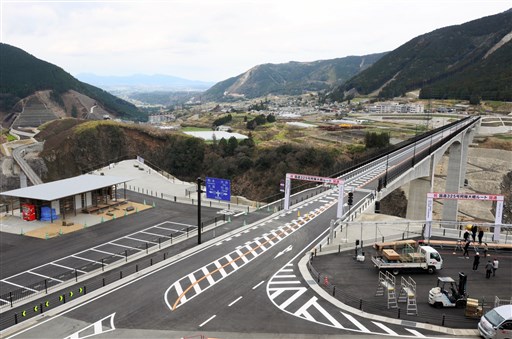 The previous bridge, Aso-ohashi bridge (阿蘇大橋) collapsed after the earthquake occurred on April 16th 2016. It was a very shocking news for all of us. It took 4 years and 11 months for the construction for the new bridge.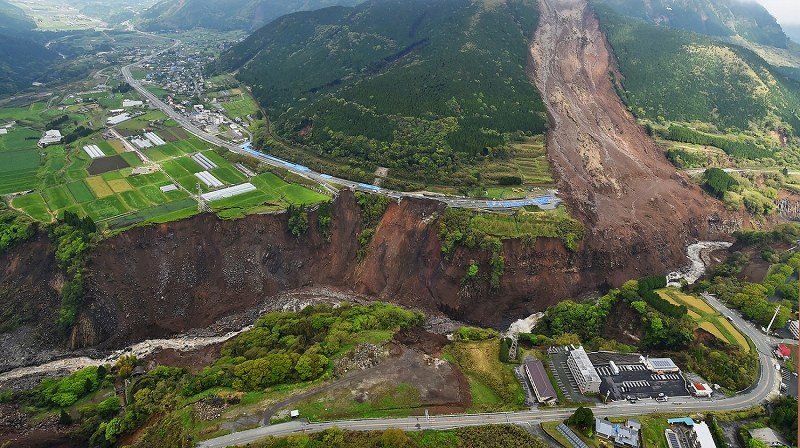 There is a viewing spot on the road called "Yo-myuru (ヨ・ミュール)" which was named after the sound of Kumamoto dialect of "よく見える (Yoku mieru, means I can see it very well.)". As the name shows, you will see the great view of southern Aso. There is a rest area and the building used to be used as a common space in temporary housing area for victims. Also, they used some materials from those houses for some parts of the new chairs and walls so that we will not forget what happened and we can pass on stories to our future generations.
After the opening of the bridge, many people drive and drop by at Yo-myuru to see the view and have their gelato. It will be crowded for a while (I tried to go there once but it was too crowded!) but I hope you will have a chance to use the bridge and you can drop by at Yo-myuru!

Sugaru-kuzure Monument observatory (数鹿流崩之碑展望所)
As I shared above, Yo-myuru is too crowded now. I recommend you to visit Sugaru-kuzure monument parking instead (actually, the guide I met at former Tokai University campus told me this place.). It is close to Yo-myuru and we can see New Aso-ohashi Bridge very well.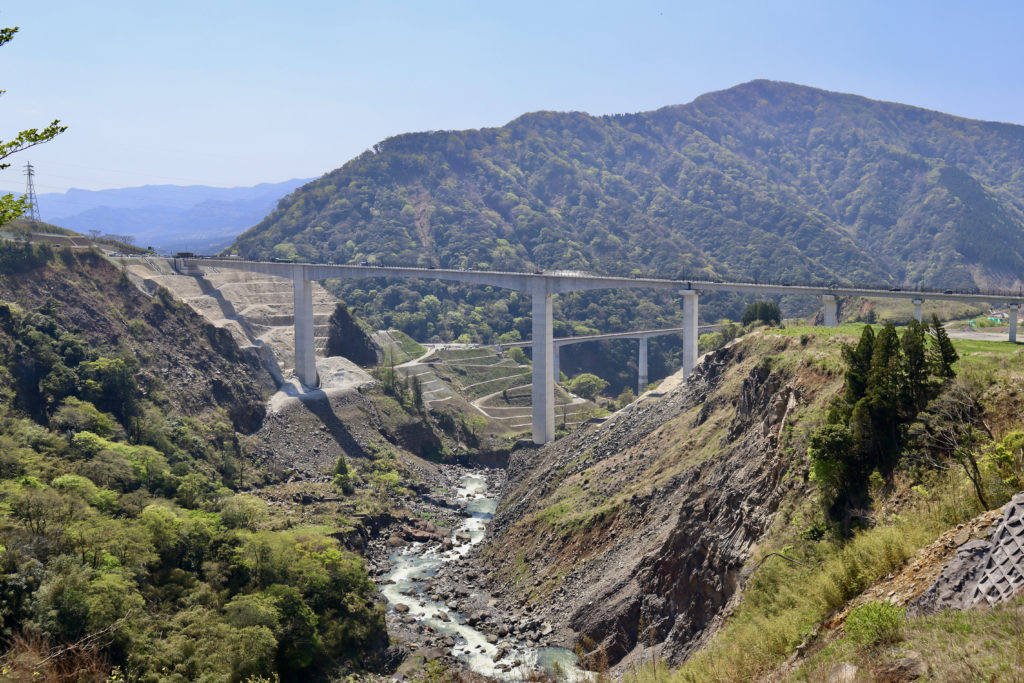 This parking space is big. It stands the place where the old Aso Bridge used to be and you can see the mountain which still shows how severe the landslide was.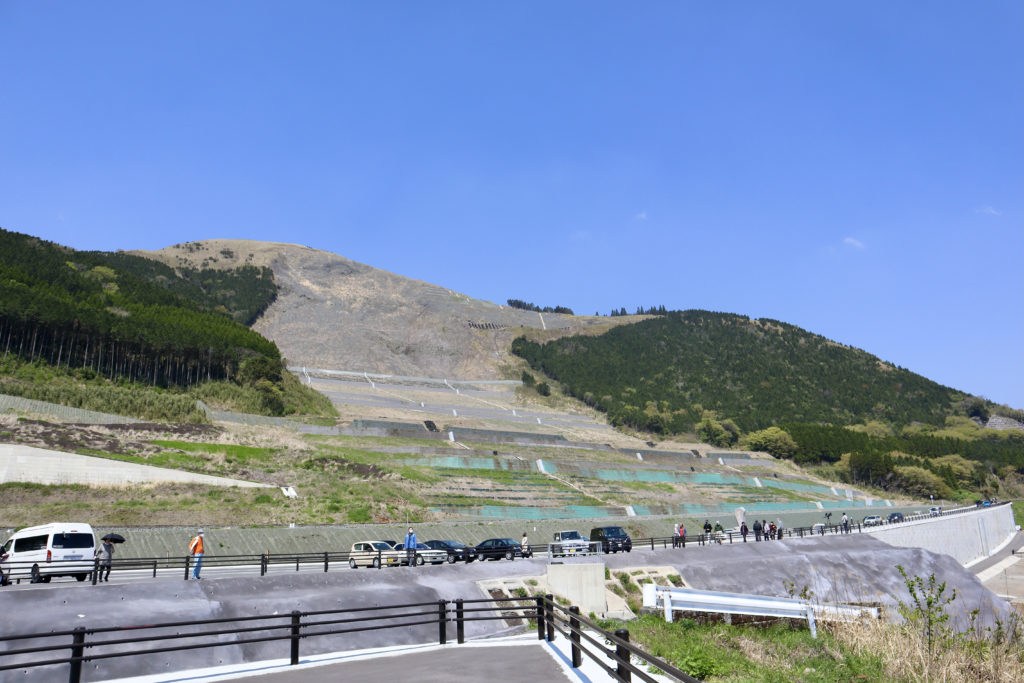 The part of the collapsed Aso-ohashi bridge still remains and you can see it from there.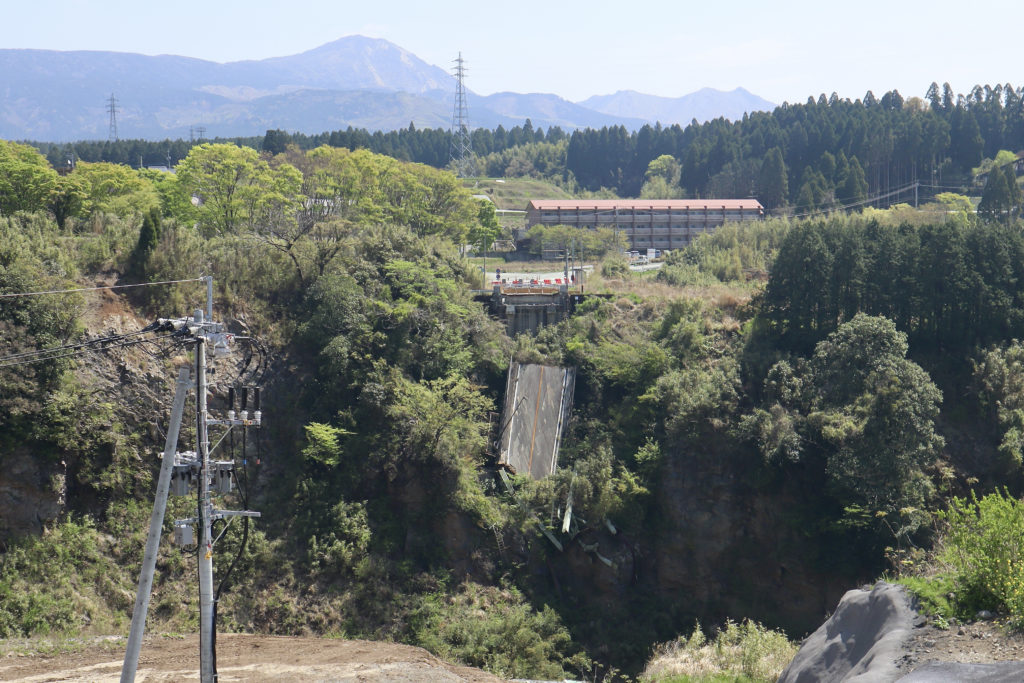 Former Tokai University Aso campus (旧東海大学阿蘇キャンパス)
This is one of the sites of Kumamoto Earthquake Museum. It was used as a campus of agriculture department of Tokai University. I heard that there used to be about 1,000 students studying at the campus before the earthquake. The campus is about 580,000㎡ but now no one can study there.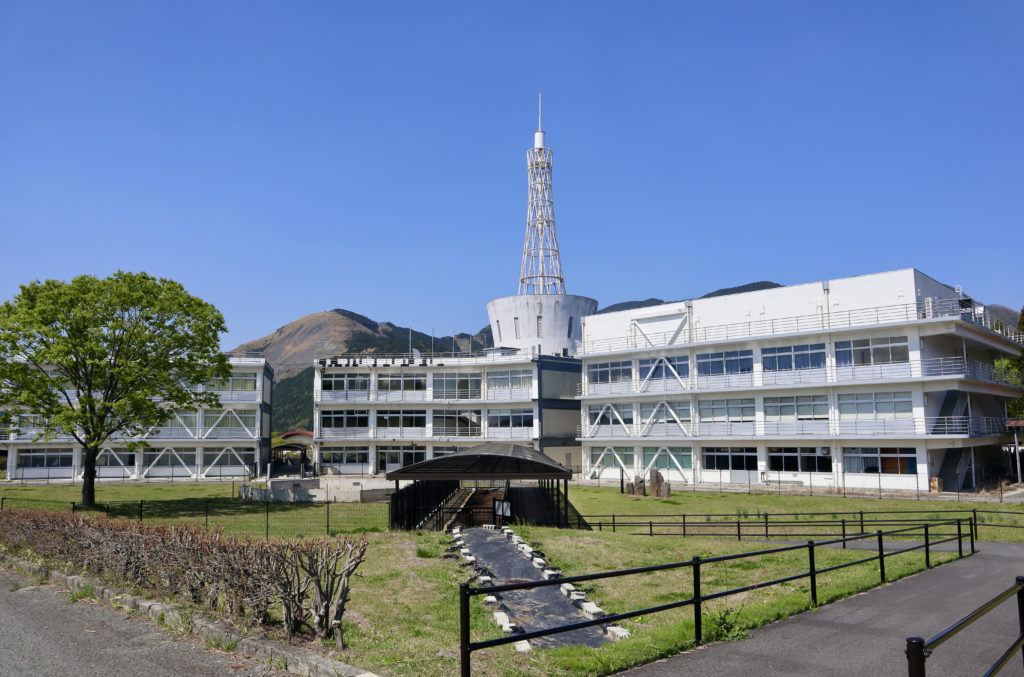 When I visited there, one guide showed me around and explained about the sites. It seems like there are three separate buildings but it used to be one building.
In 2013, they had construction for earthquake resistant. As you can see, they installed the equipment only the right side and the left side. I heard that this is because they thought it would work if they installed earthquake resistant equipment only the both sides. Also, it was difficult to install those equipments at the centre part because it is curved.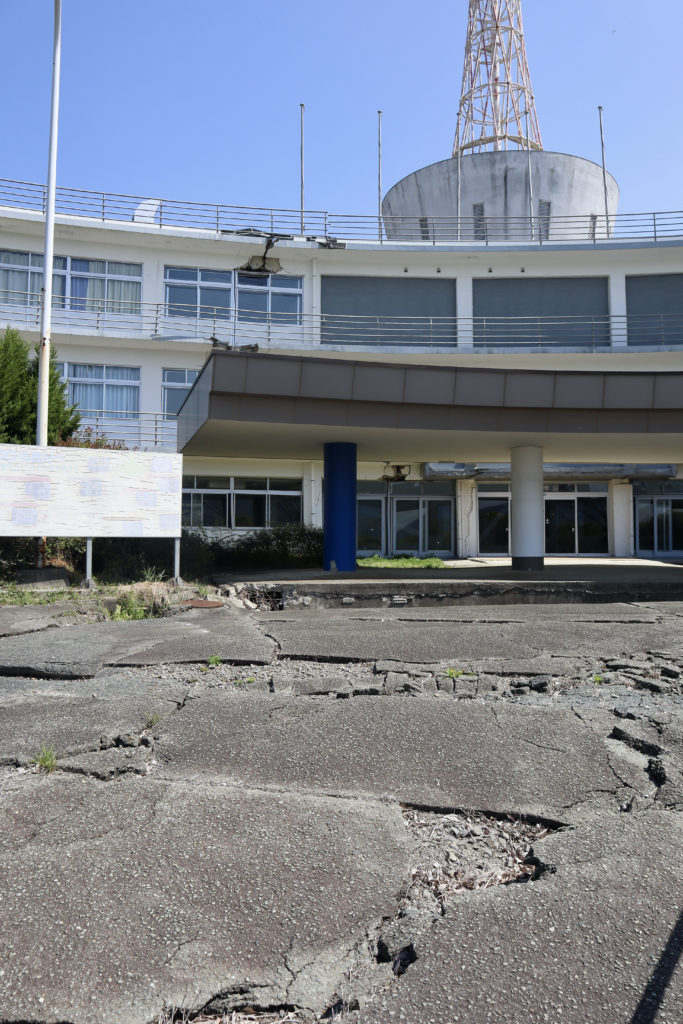 Unfortunately, there was Futagawa-Hinagu Fault running across the center of the building. The fault was not known as an active one. The center of the building was so damaged and weak so they cut the building into three so that they can preserve it safely.

If you visit the campus, you will see how the fault appeared on the surface and how it affected the building.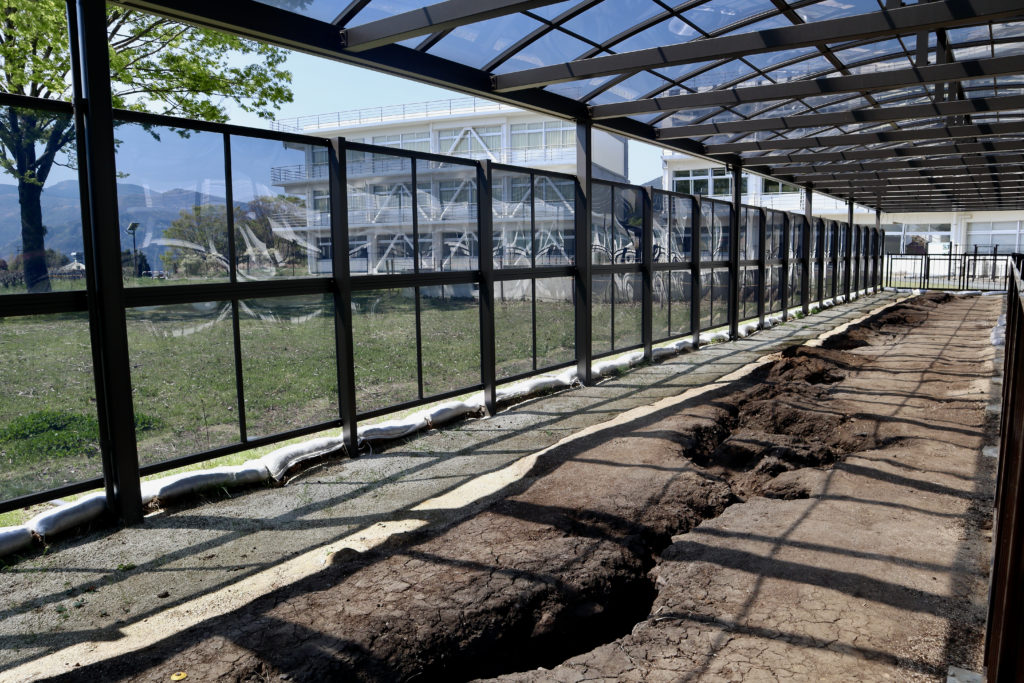 This site opened in August 2020 and there were only 5 local guides at first. They have over 30 guides now. Everyone has each story of the earthquake and sharing it with others is very important for all of us. Just getting to know data doesn't make us feel closer to the site. When I visited there, one guide showed me around. He said he experienced Japan earthquake and tsunami 2011 in Sendai City (Miyagi Prefecture). He came back to Kumamoto which is his hometown in 2015 and chose Minamiaso Village for living. Then another natural disaster happened again. I remember so many people were saying that they hadn't expected that it would happened in Kumamoto. It is still hard to listen to stories of victims but we have to learn lessons and pass on them to our future generation.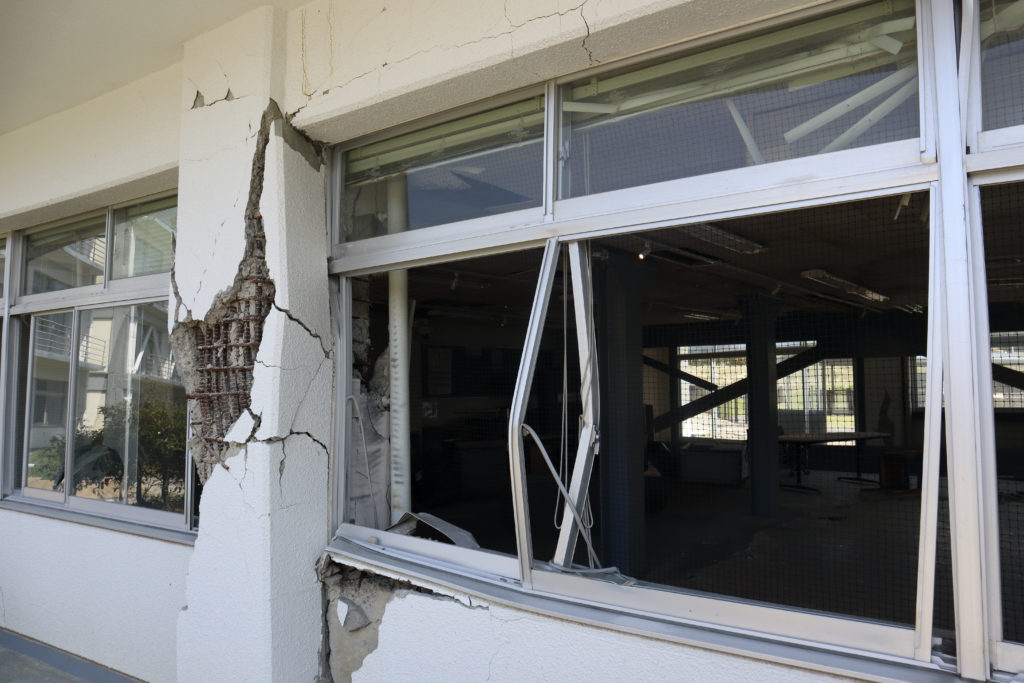 If you understand Japanese, please look around the site with a guide. You don't get disappointed if you don't. There are English explanations at main points.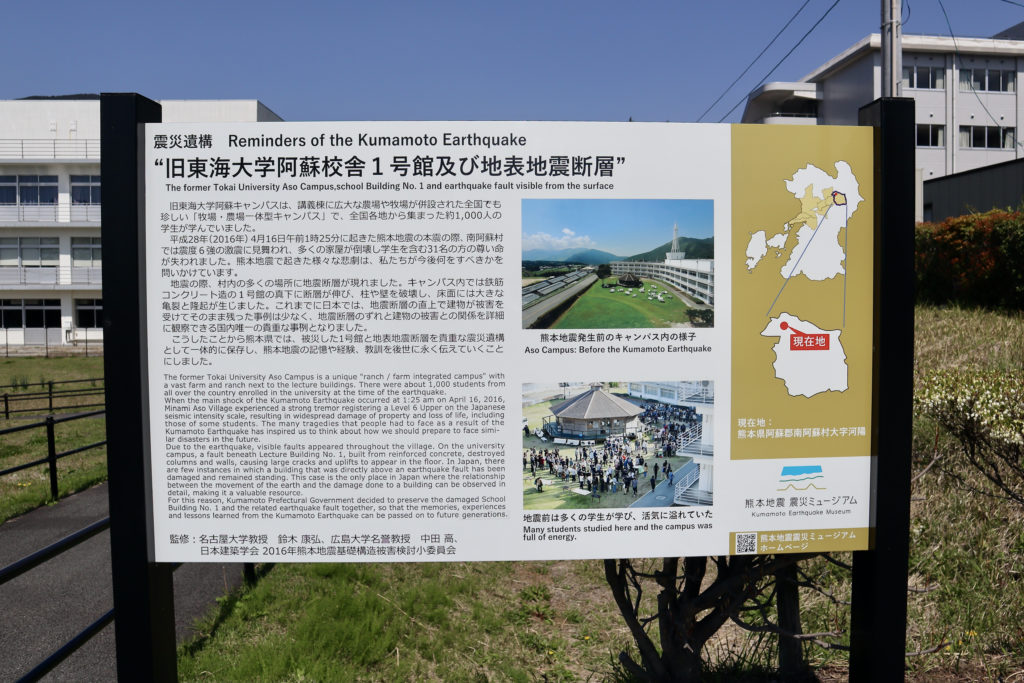 Around the area, most roads are recovered and look new but when you visit the campus, you will go back to April 2016. I believe visiting a site has meaning. I hope this article will be your opportunity to visit some earthquake museums.


Visit Seta Shrine and other sites of Kumamoto Earthquake museum
I am originally from Oita Prefecture but I have lived in Kumamoto City about 17 years now. Just after the earthquake occurred, my husband and I were evacuated to his hometown Fukuoka because we had water outage. I was watching the news on TV and saw how Kumamoto Castle was damaged. I was very saddened to see it and also realized how the castle was very close to me then. Kumamoto Castle has been always there so I think I forgot to appreciate it.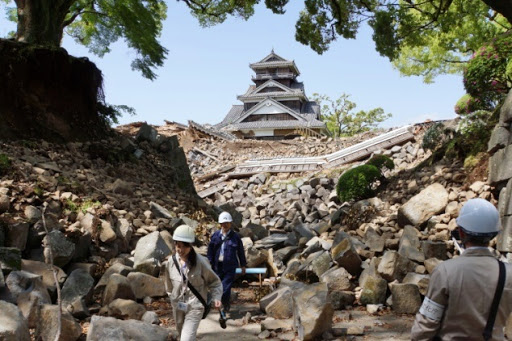 During this 5 years, I have visited Kumamoto Castle many times and seen the progress of reconstruction. It is a great symbol for people in Kumamoto because seeing the progress is a great hope for all of us and makes us feel that we are moving forward.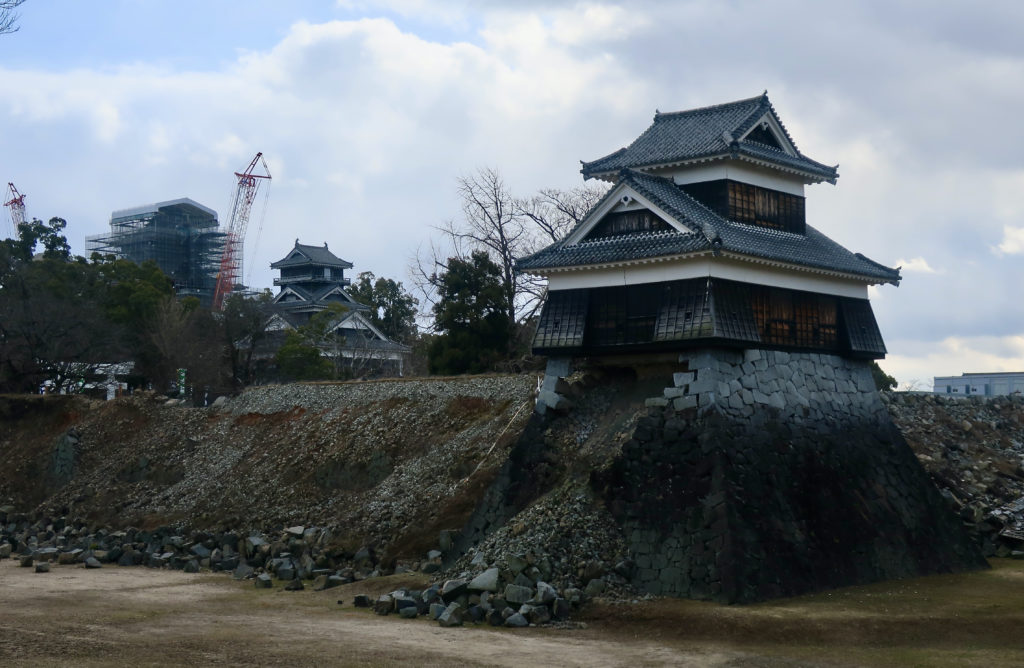 I hope you will visit some of the sites of Kumamoto Earthquake Museum and witness how people are overcoming and reconstructing their lives with places they love.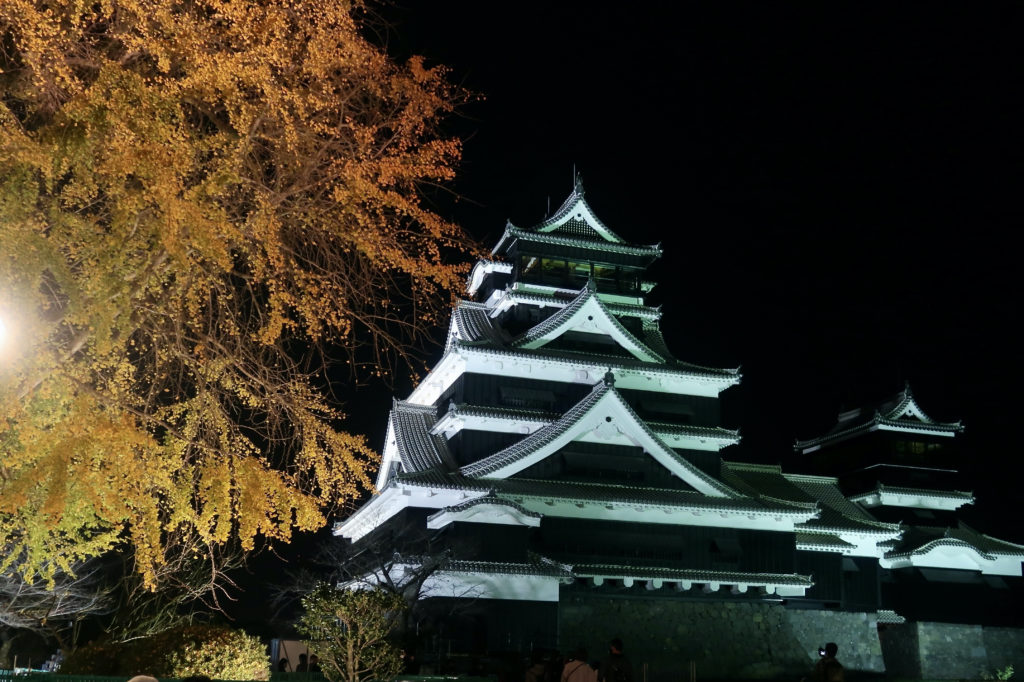 Map of Seta Shrine (瀬田神社)
Parking space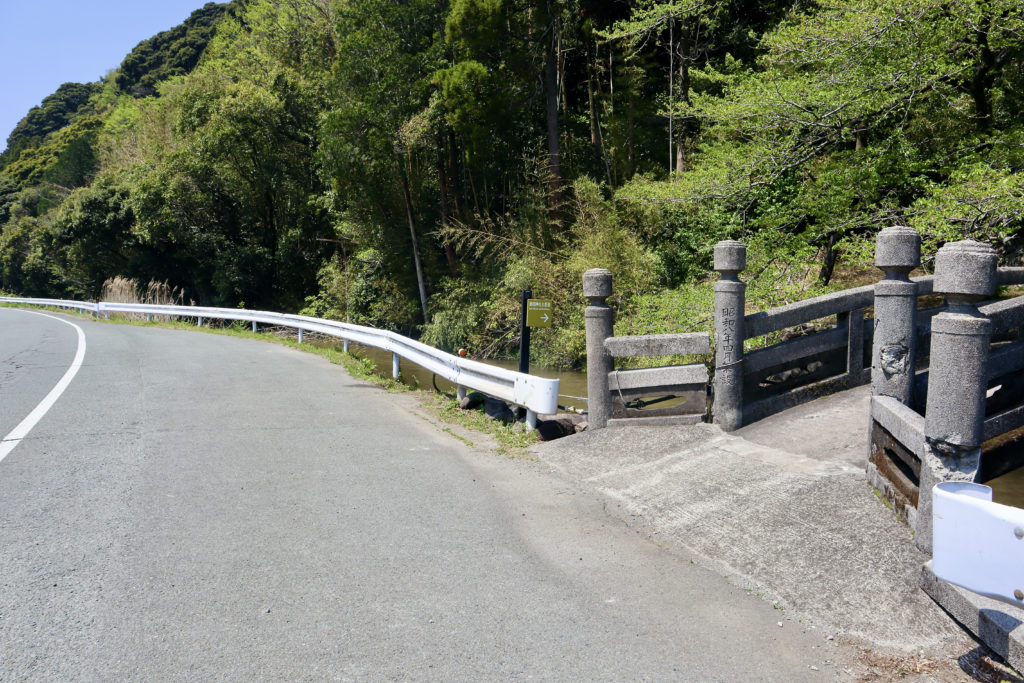 In front of the entrance of Seta Shrine, there is a space for maybe 3 cars at most. To visit Seta Shrine, you can park your car there.