Rengein Tanjoji Okunoin temple (hereinafter called "Okunoin", 蓮華院誕生寺 奥之院) is located in Tamana City (玉名市), the northern part of Kumamoto Prefecture. I wrote about Rengein Tanjoji temple (蓮華院誕生寺) in 2018 and both are affiliated temples.


This time I had a chance to go to Okunoin and it all started when I met Prof. Juko Ito (Prof. Emeritus, Kumamoto Univ.) who is also one of the monks of the temple. A few months ago, I joined an event of Kumamoto Machinami Trust (https://kumamoto-machinami-trust.org/). They are an NPO organization aiming at preserving old but precious buildings in Kumamoto. Prof. Ito is a chairman of the organization and an expert in architecture. He offered me a chance to cover how he performs Goma fire ritual.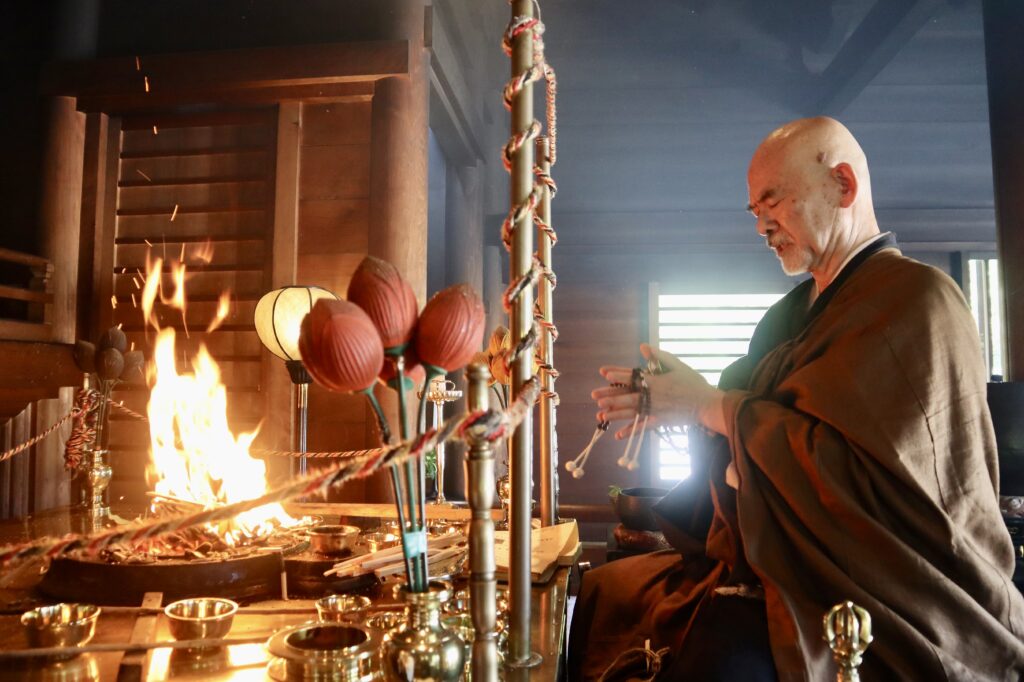 You can see the ritual at some sects of Buddhism, such as at Shingon sect, Tendai sect and Tibetan Buddhism. Originally, Goma fire ritual is not supposed to be in the public eyes because it is esoteric Buddhism. However, to raise awareness of their practice, he offered me to take photos closely. I will write about the details of Goma fire ritual in the next article.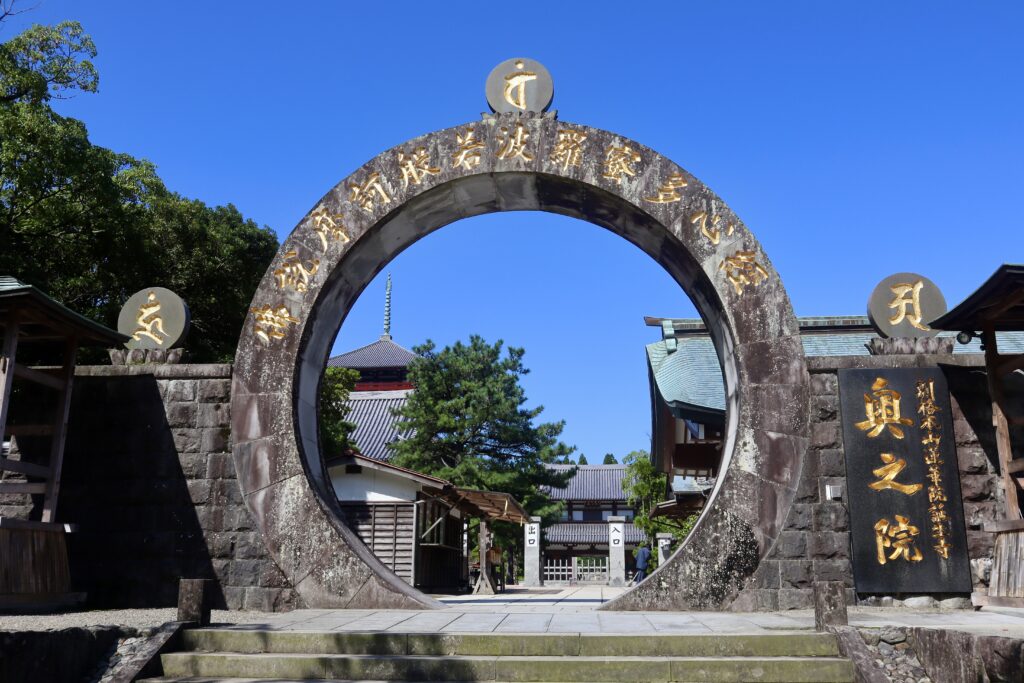 Okunoin itself is a very nice place to walk around. I heard that Okunoin was designed under the concept of "a temple like a park where you can visit anytime". When it comes to temples or shrines, we think they are something very difficult but Okunoin has a very open and welcoming atmosphere. Also, they have many things to see and experience.


Rengein Tanjoji Okunoin temple in Tamana City (蓮華院誕生寺 奥之院)
Rengein Tanjoji Okunoin temple (蓮華院誕生寺 奥之院)
Rengein Tanjoji Okunoin temple is located on the foot of Mt. Shodai in Tamana City. The whole grounds is about 60 hectare and it was built around the statue of Koen daibosatsu (Bhodhisattva). There are many attractions in the site, such as the biggest bell in Japan, five-storied pagoda, the observatory, nice walking paths with seasonal flowers and Goma ritual hall, etc. Let's see what we can see and enjoy at Okuno-in temple.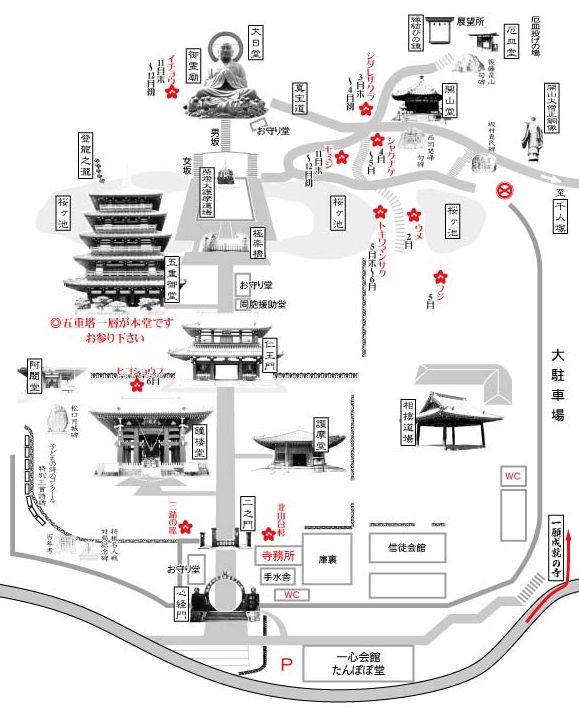 Bell of Hiryu (飛龍の鐘), the biggest bell in Japan
There are many attractions in Okunoin but it must be the most famous one. Bell of Hiryu (飛龍の鐘) is the largest temple bell in Japan. The hight is 4.55 m, thickness is 30 cm and the weight is 37.5 tons. When it was built in 1976, it was the largest bell in the world. It was made in Kyoto and shipped crossing the Setouchi Sea carried to Okunoin which is about 250m sea level. Back then, the roads to the temple was not paved and was very narrow. People didn't think it was possible to carry the huge bell to the temple so when it succeeded, the locals praised the great work. They expressed that the bell was just like flying not being carried so people started to call it "Bell of Hiryu" which literary means a bell of flying dragon.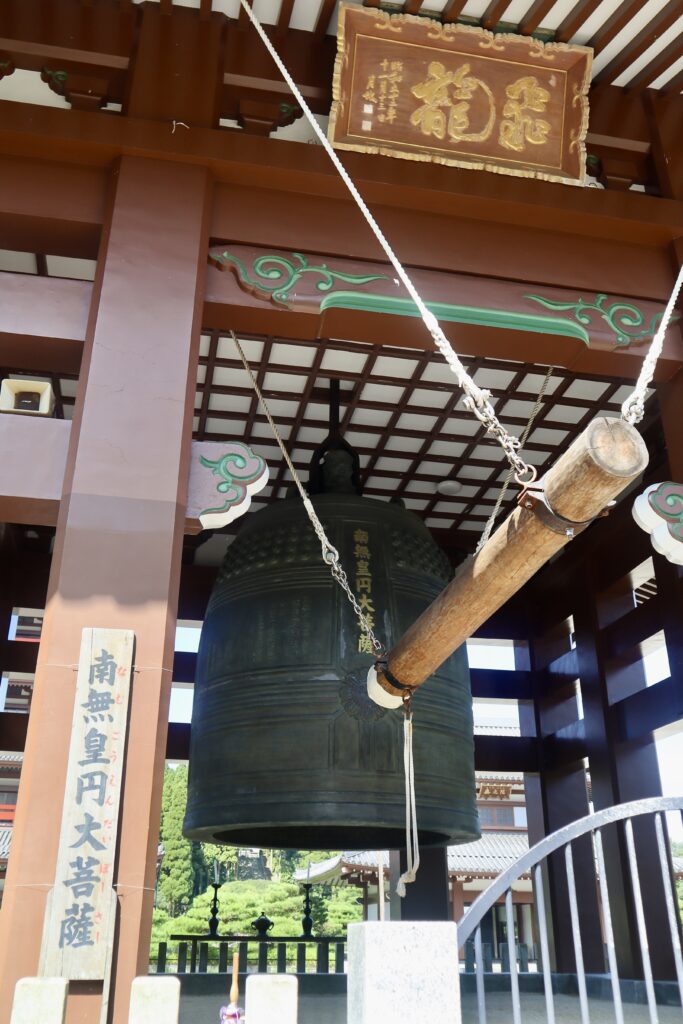 At Okunoin, they ring the bell everyday at 6 am and noon wishing the world peace. At noon, you can join and ring the bell with a monk and other visitors. It is 5,000 yen (for 1-15 people. After that, added 250 yen per capita) and you can apply at the temple office at the entrance. The monk will chant for you and you can join striking the bell like the photo below!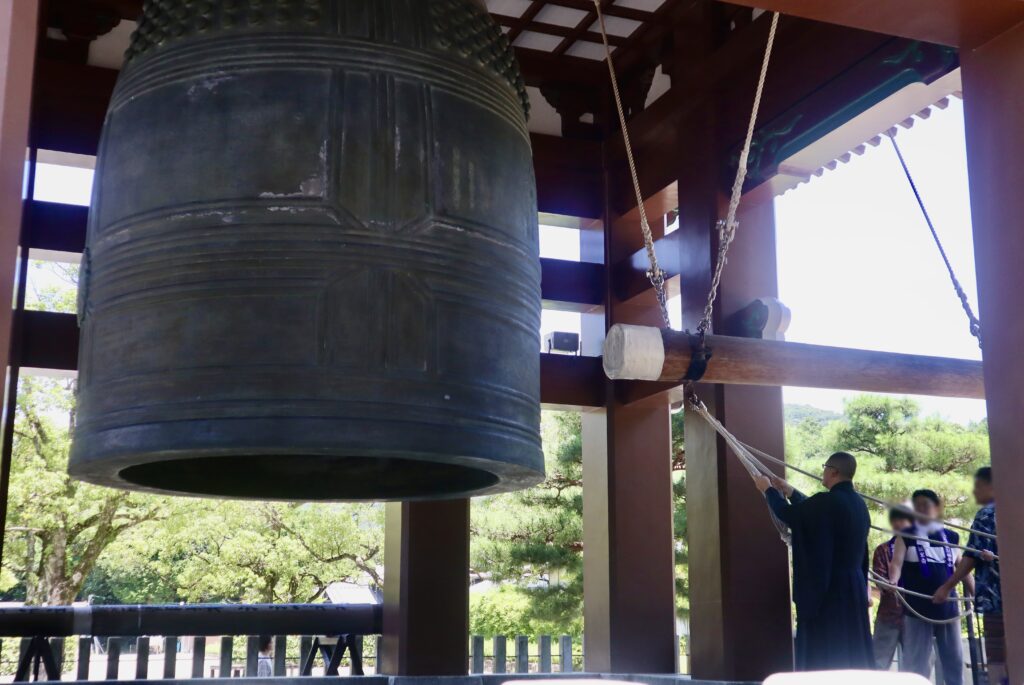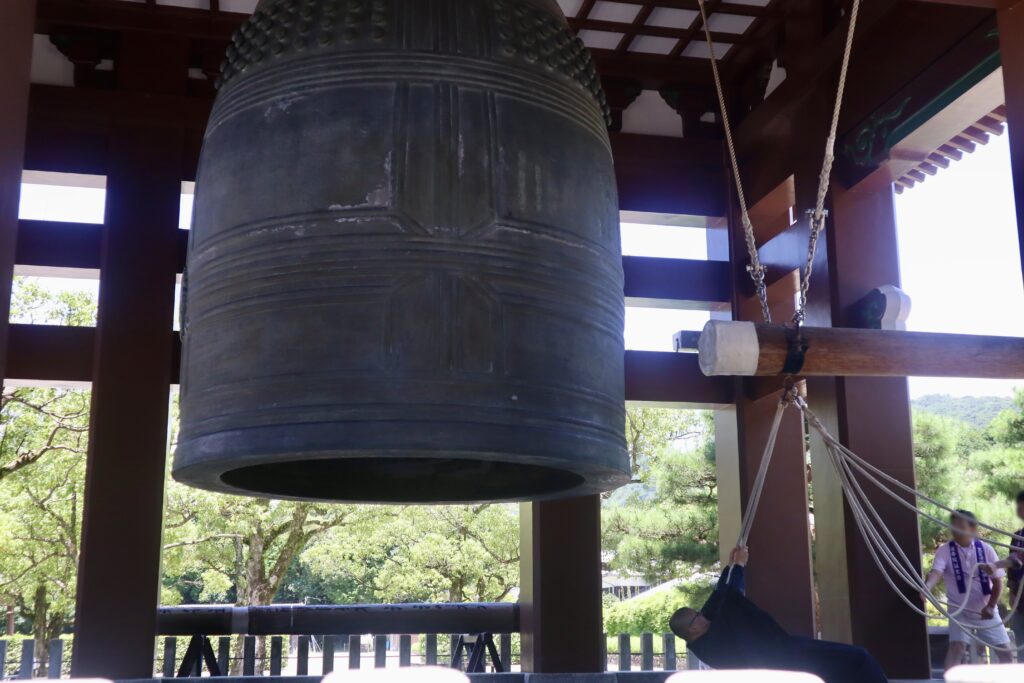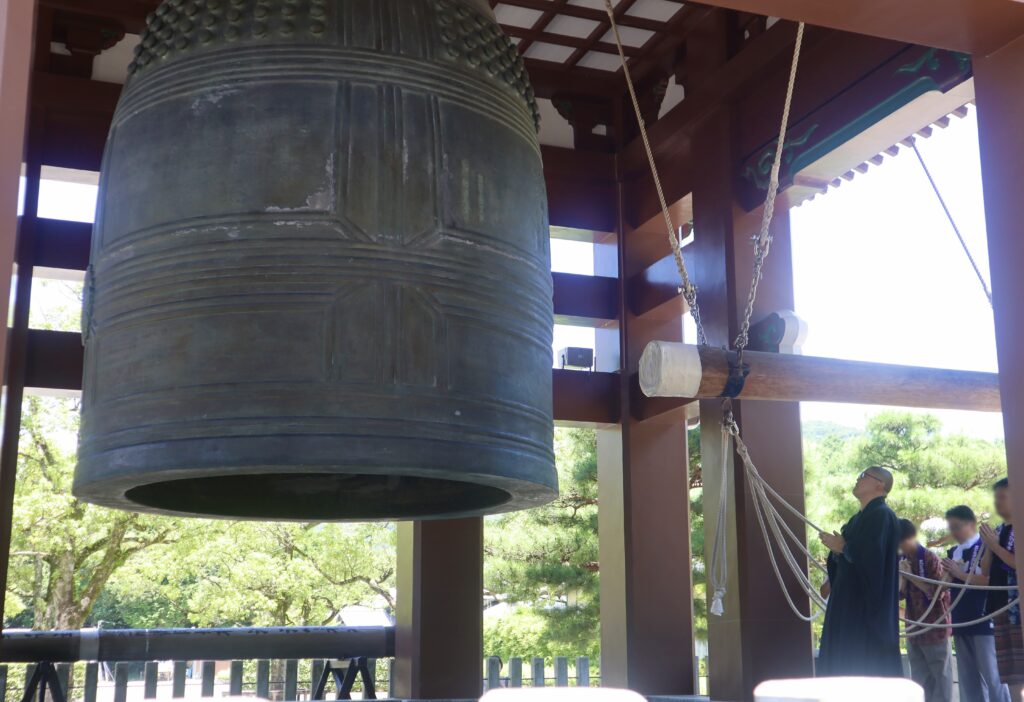 Goma fire ritual hall (護摩堂)
At Okuno-in temple, you can see how they do Goma fire ritual. It starts at around noon at "Goma-do (護摩堂, Goma hall)". It is a wooden building and built in traditional Japanese architecture.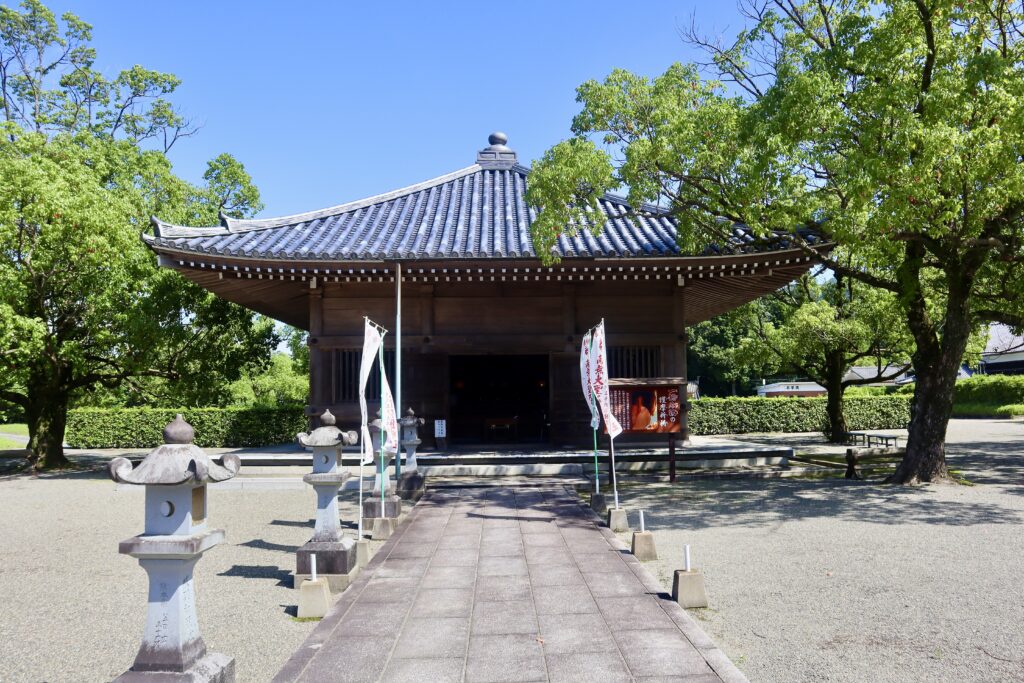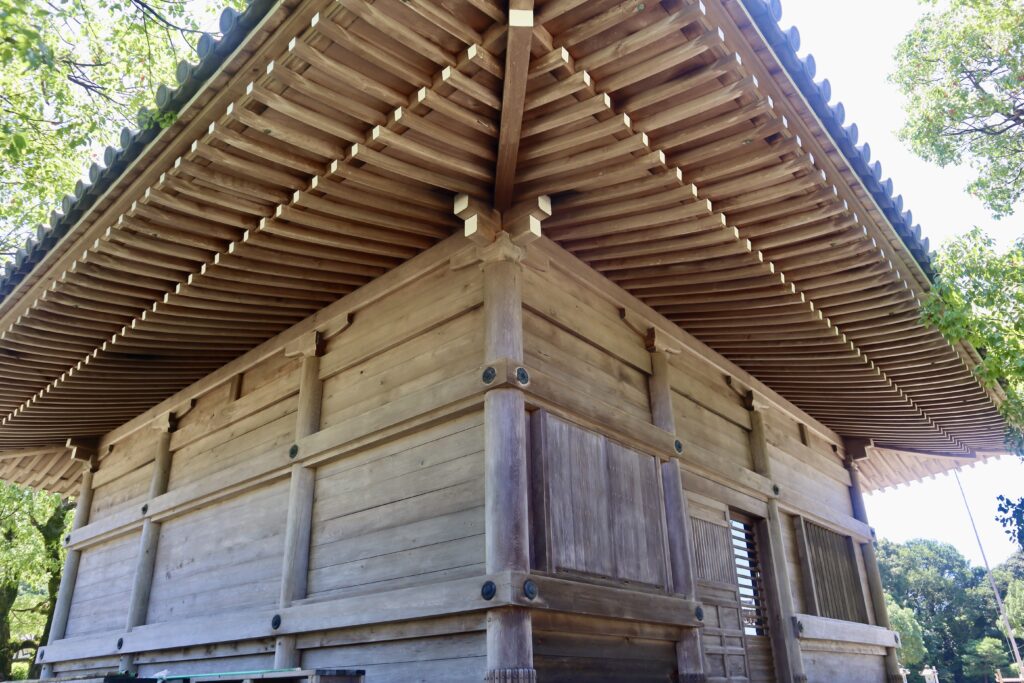 I will tell you in the next article about the ritual, but it is a part of their religious practice so we usually cannot see it. However, some temples have halls for the rituals to open to the public to let people get to know about Buddhism.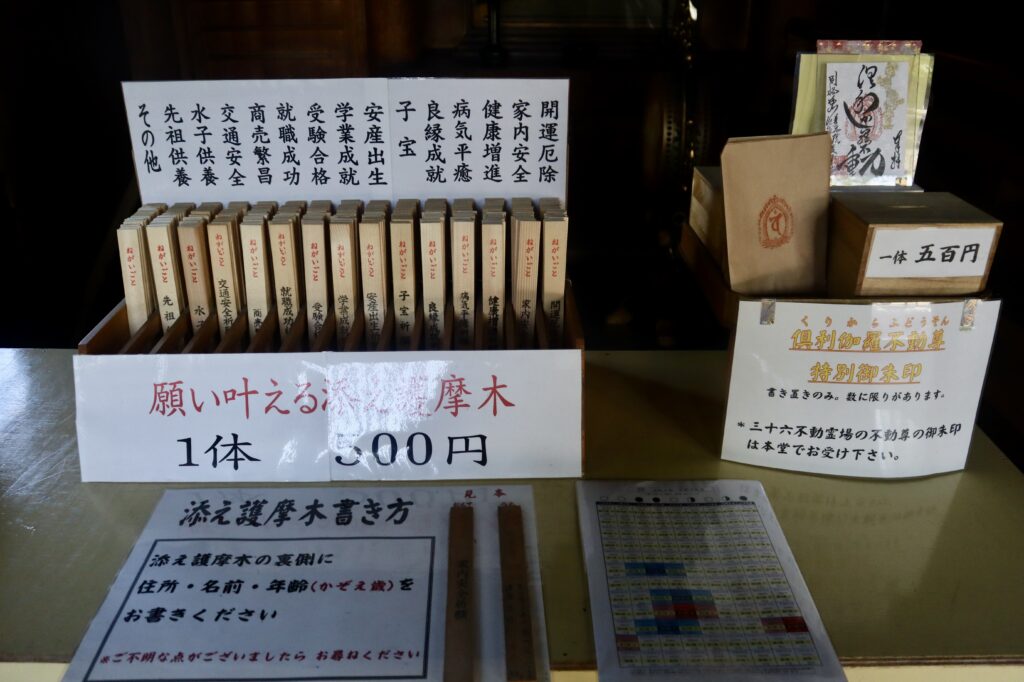 At the Goma hall, you can write your own wishes or what you want to ward off on a piece of wood. Monks will burn your wood during the ritual and pray for you. The building has big windows in each side so you can also see monks do the ritual in each angle and listen to monks giving a fervent prayer.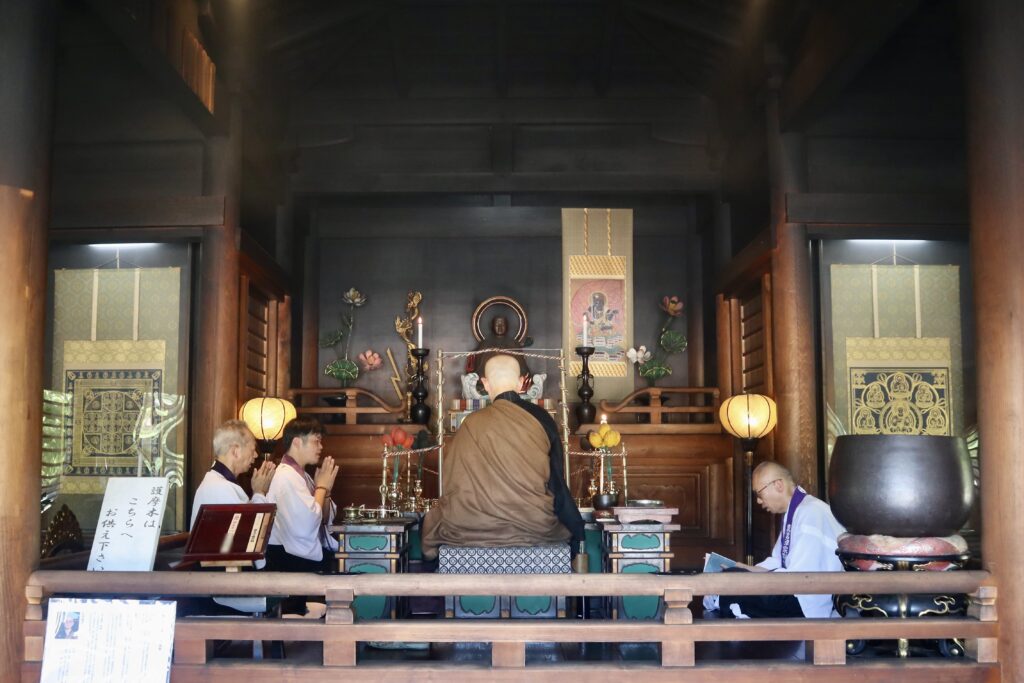 Nio-mon gate (仁王門)
Nio-mon gate is located in the centre of the temple. We often see Nio-mon gate at temples.You will see two statues of Kongo Rikishi (also known as Nio) in the gate building. Those statues are believed to protect a temple like gatekeeper and they are always placed in pairs.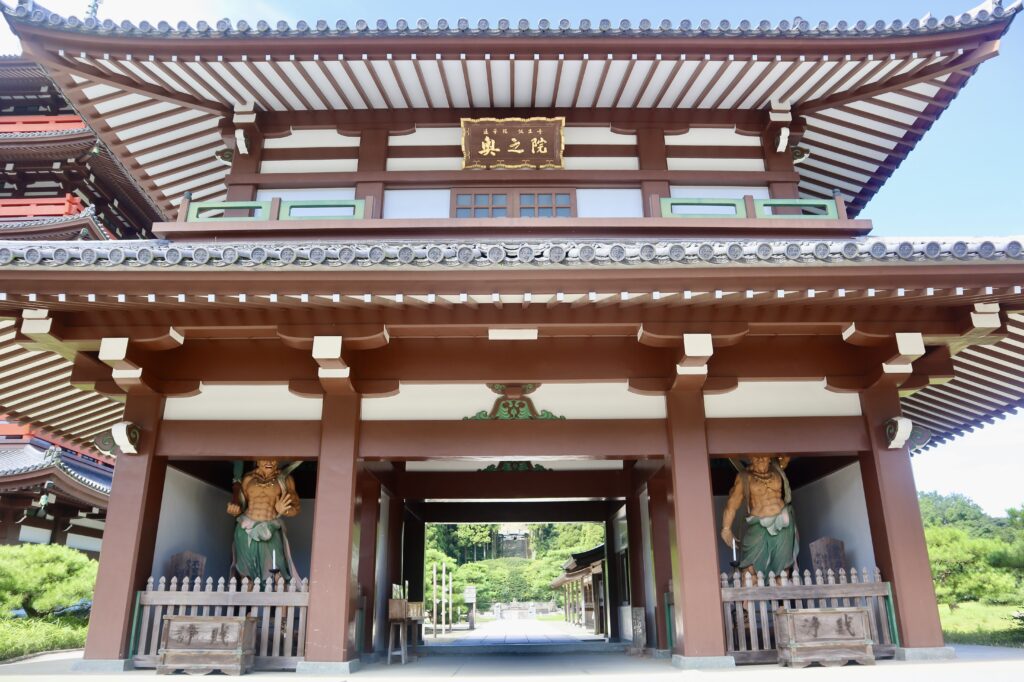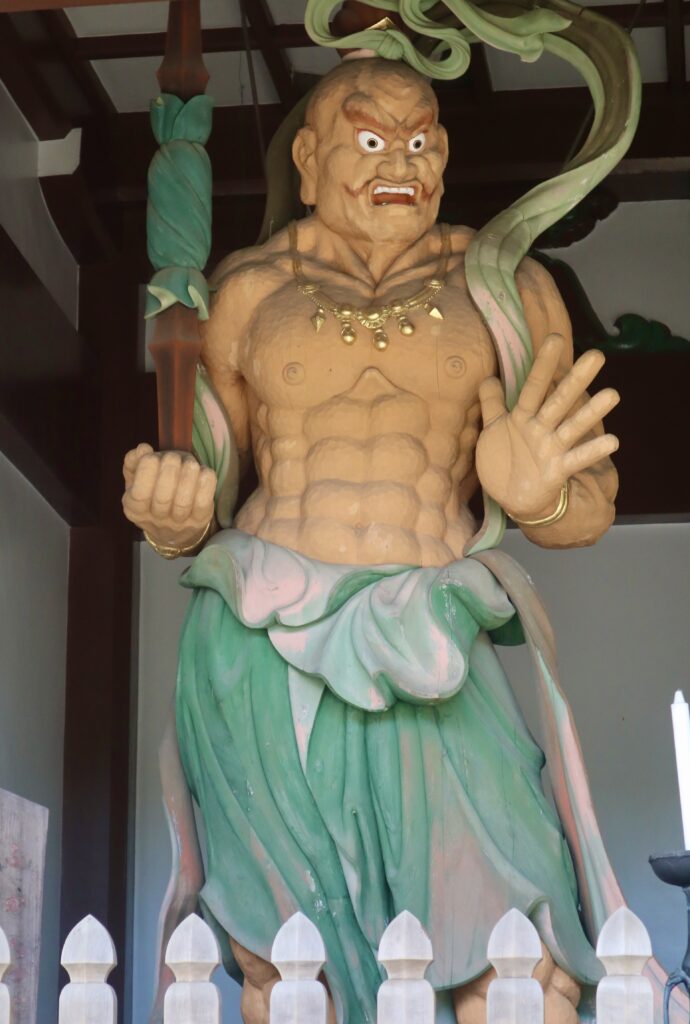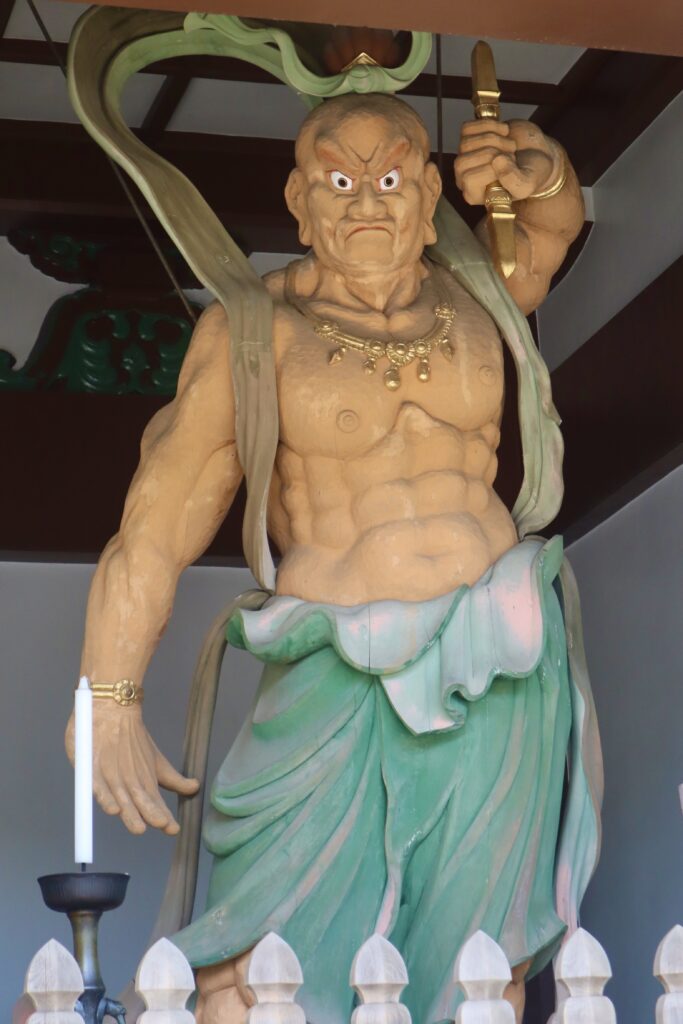 Five-storied pagoda (五重塔)
After passing through Nio-mon Gate, you will see this five-storied pagoda on your left.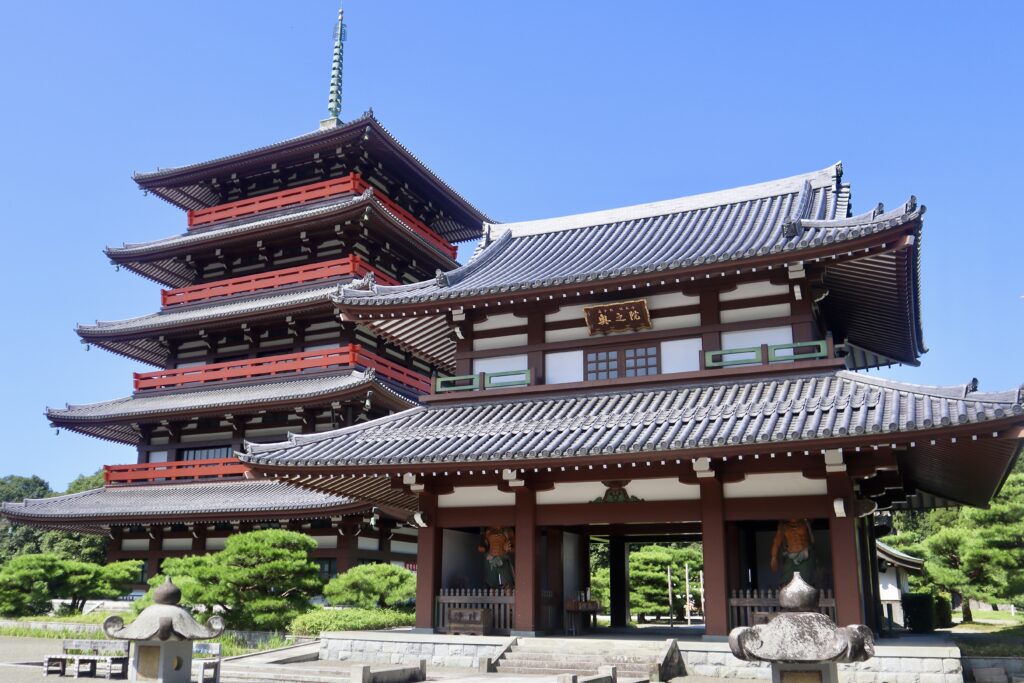 I didn't have a chance to go inside this time but I heard that you can experience some Buddhist practices in the building, such as Shakyo (copying Buddhist sutra) and Zazen (meditation) etc., according to their official website. I heard that the view from the top of the building is very good.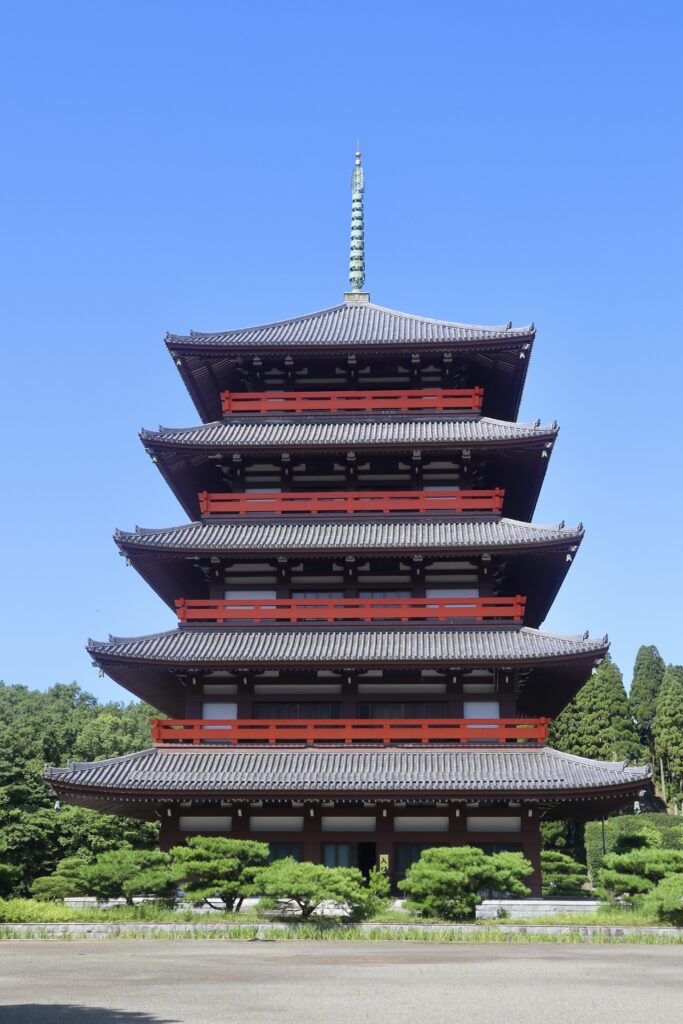 Statue of Koen Daibosatsu and Observatory
After seeing the beautiful five-storied pagoda, let's keep walking to the observatory. The first thing you will notice in front of you is the huge statue of Koen Daibosatsu (Daibosatsu means Bodhisattva or a Buddhist saint).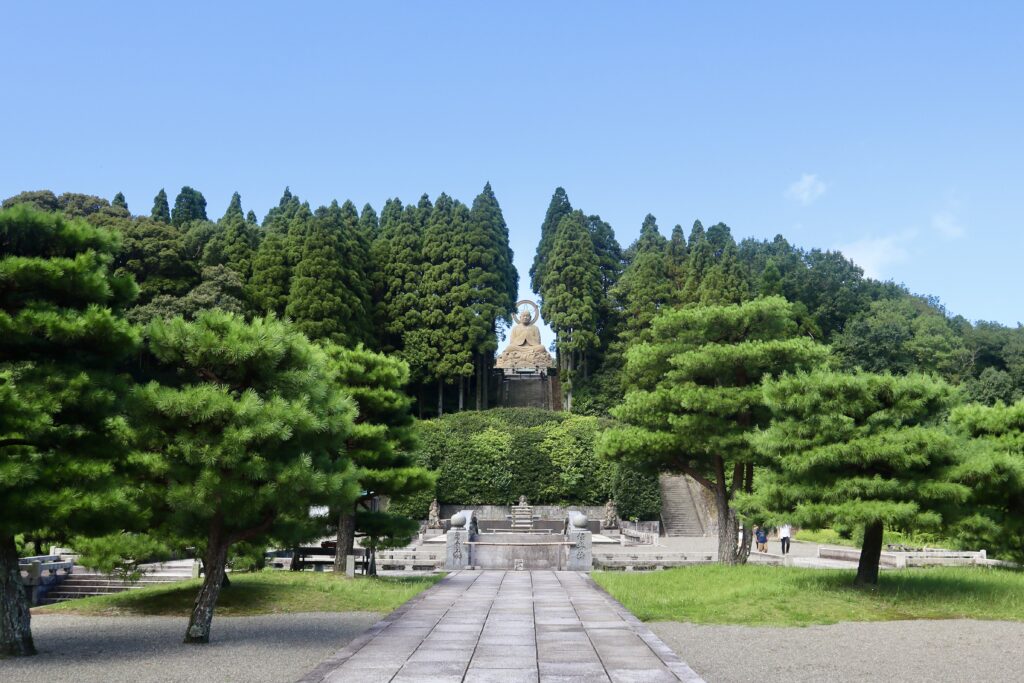 Koen was born in Tamana City in 1073. He practiced the religion at Mt. Hiei which is the head temple of Tendai sect of Buddhism. Koen was also excel in his study and involved in making one of the history books of Japan. Okunoin temple enshrines him.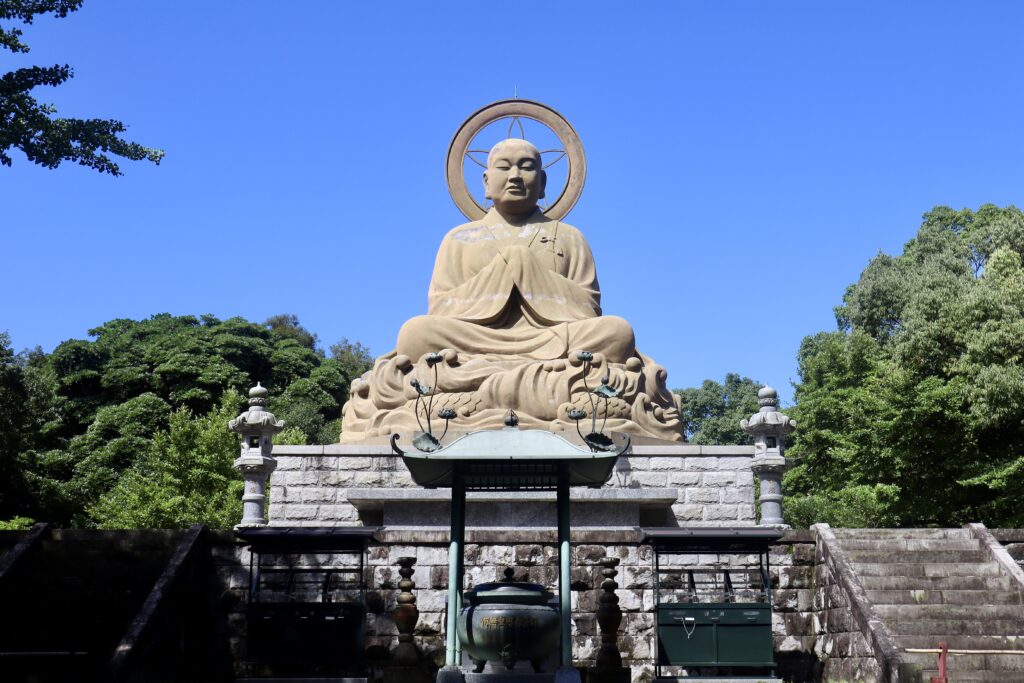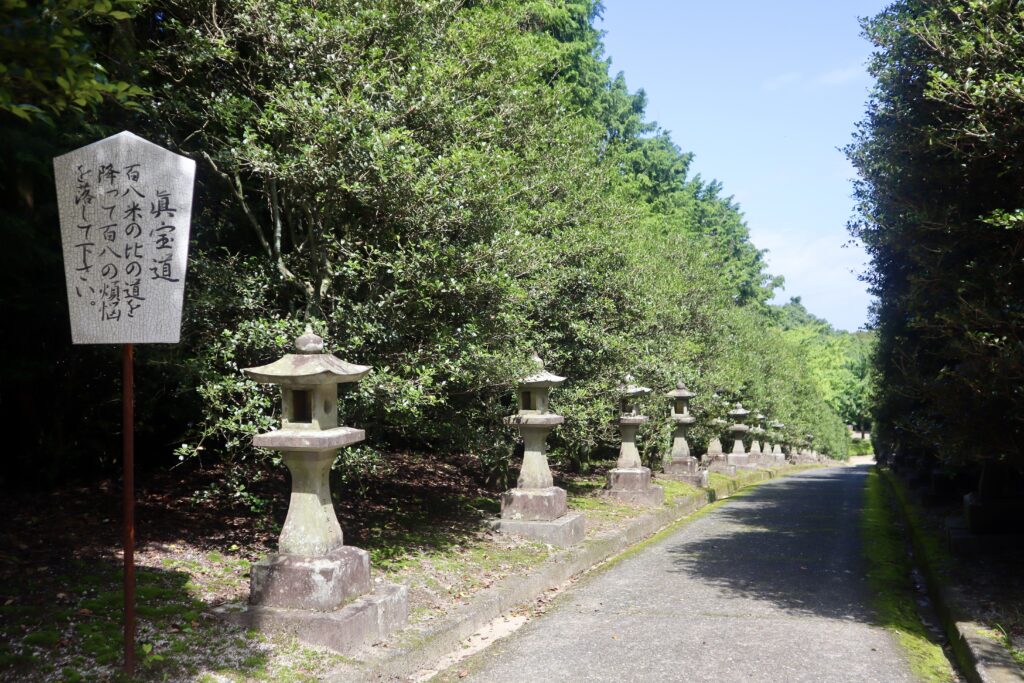 This is a viewing spot. Luckily, I met local people who were practicing their wooden flute! In this area, there are some attractions you can enjoy.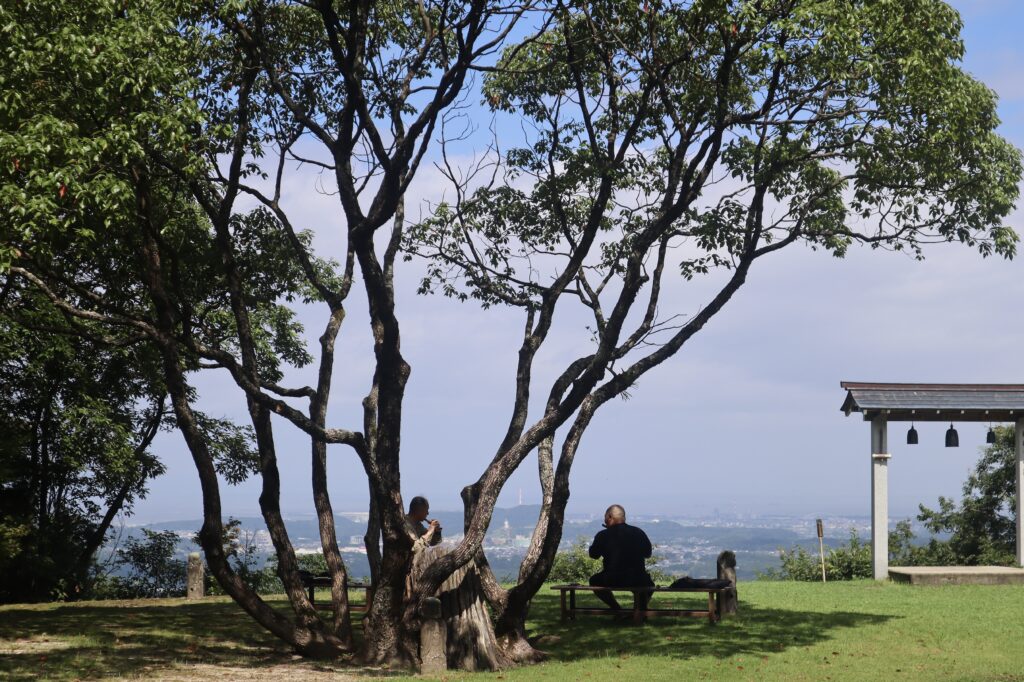 This is Bell of Enmusubi (縁結びの鐘) that means a bell of good matchmaking. You can ring bells with your friends or with someone special for you.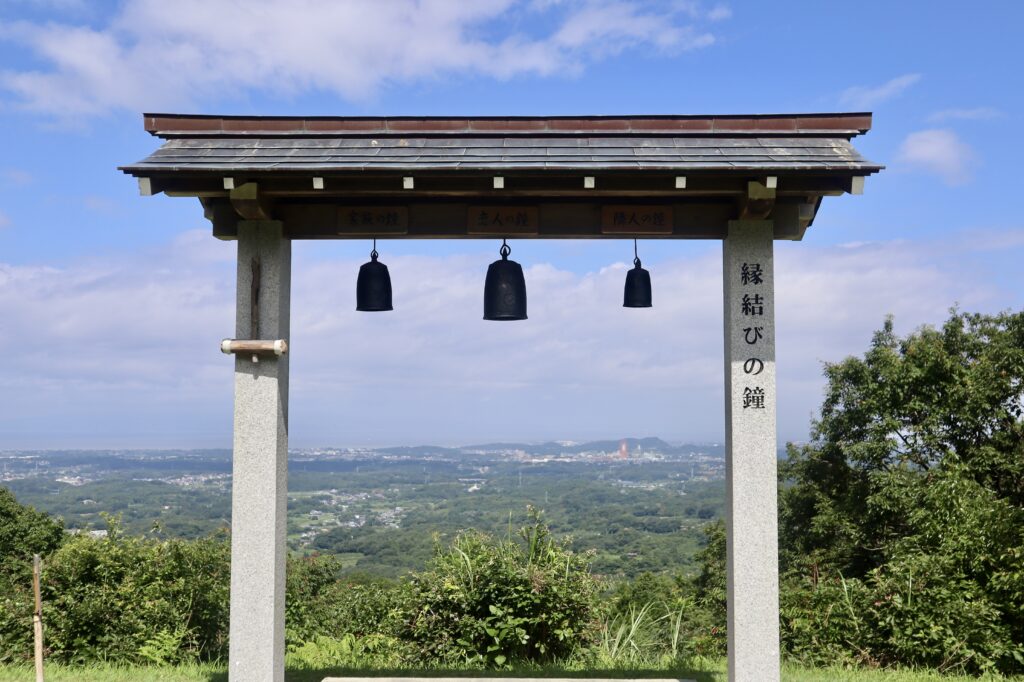 Another thing is Throwing a Plate (厄皿投の場). You can purchase a plate(500 yen per one plate) and write your wish (write one wish on one plate!) , your address, name and age. Then stand inside of the frame and throw your plate into a wood!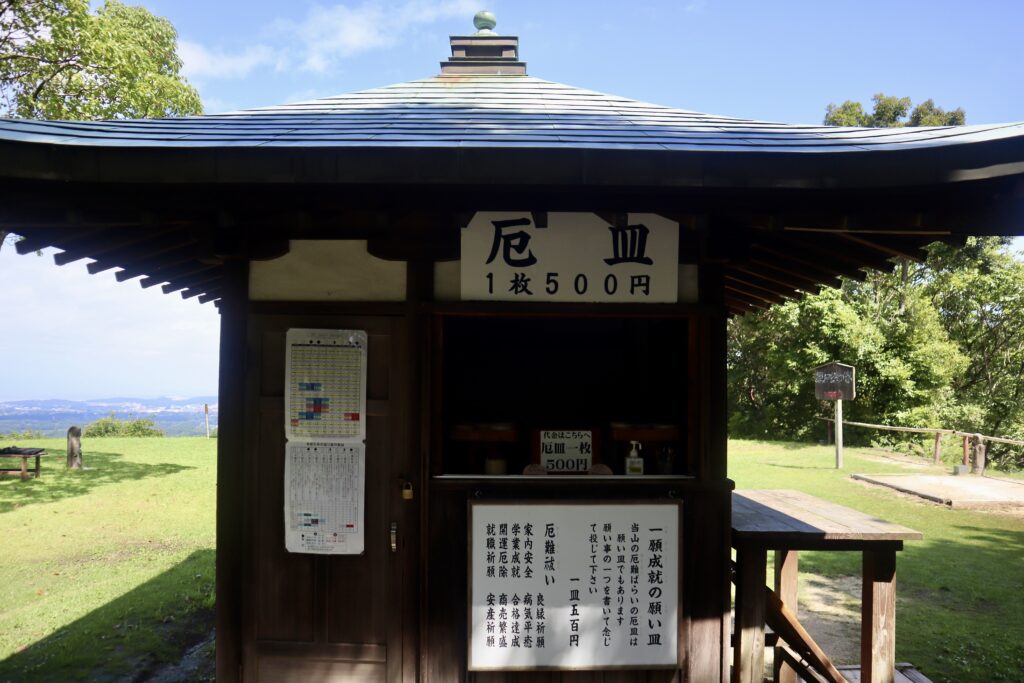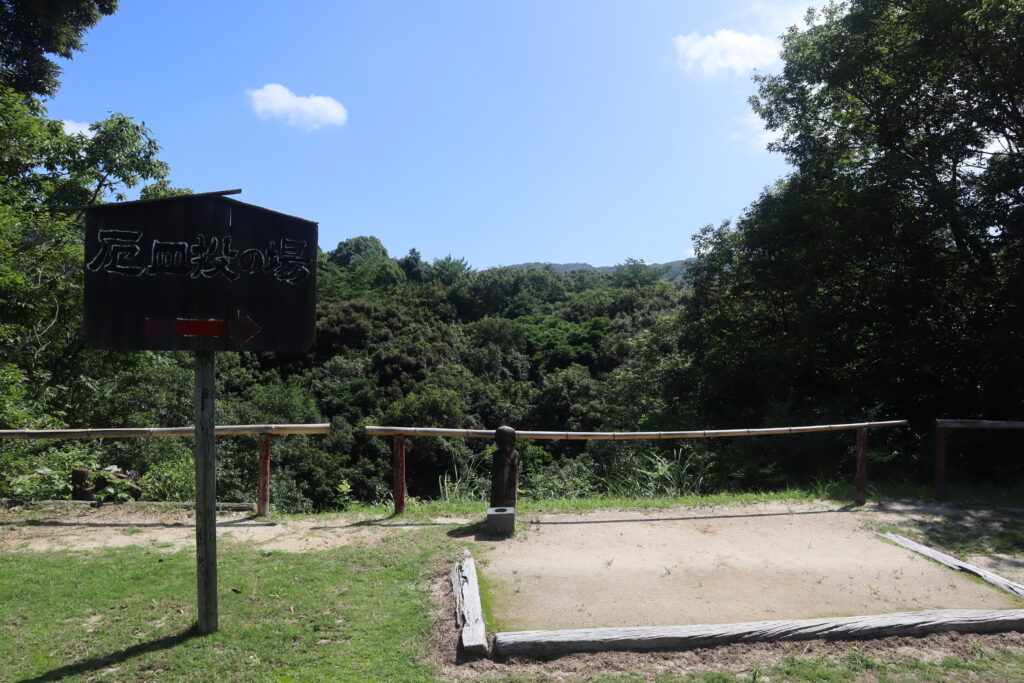 After having a relaxing time at the observatory, take a walk and enjoy seasonal flower. I visited there in the middle of July so flower season was ended but it was very refreshing to walk on this green path. In spring, you will see Sakura (cherry blossom), Rhododendrons, wisteria, in autumn you will see beautiful colored momiji (maple leaves).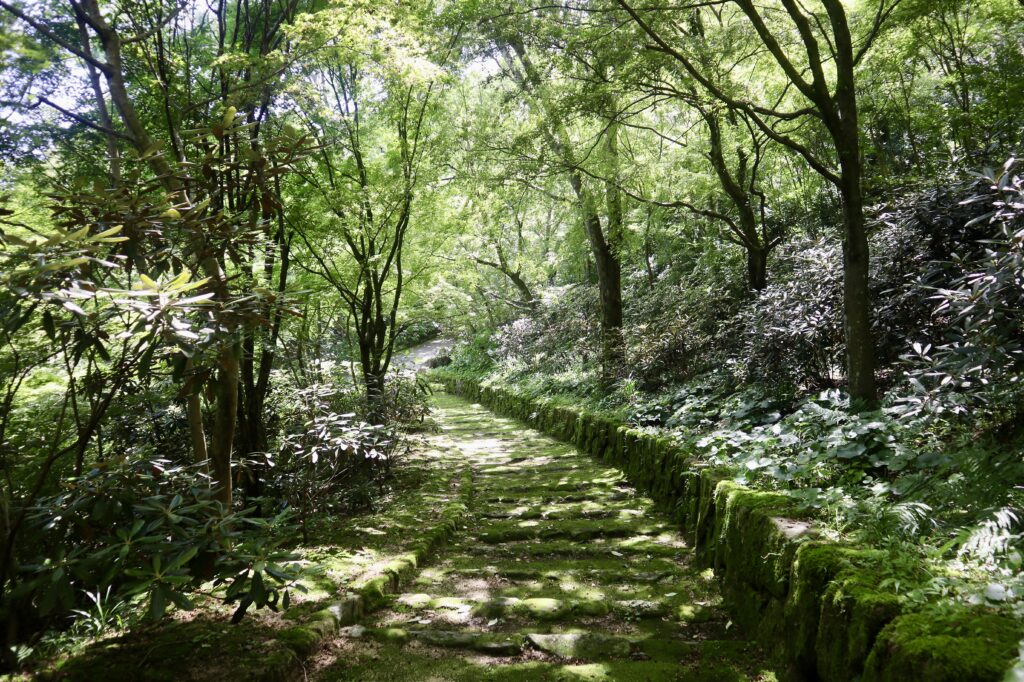 You will meet some Jizo statues on the way back.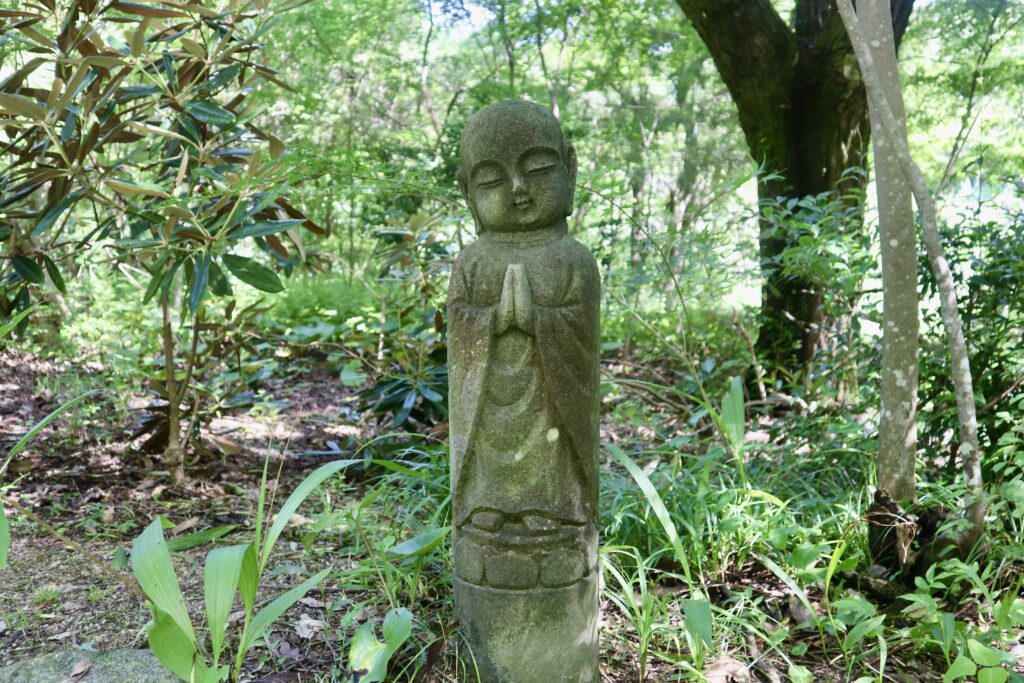 What else can we visit near Rengein Tanjoji Okunoin temple?
After walking around Rengein Tanjoji Okunoin temple, you can visit some lovely places in Tamana City.
Rengein Tanjoji temple (蓮華院誕生寺)
Rengein Tanjoji temple (蓮華院誕生寺) is an affiliated temple or headquarter of Okunoin. Okunoin was built in the concept of open to the public but Rengein Tanjoji temple has more strong connotation of religion. It is a beautiful temple where you can see Buddhist buildings, such was their five-storied pagoda and traditional buildings. It takes about 10 minutes by car from Okunoin. You will unwind and feel peaceful atmosphere.
Takase Urakawa River Park and Takase Arch Stone bridge
During the middle of May to the beginning of June, there is a festival called Hanashobu Festival. Hanashobu means Iris and there will be a lot of irises booming along the river during the season. There used to be great stonemasons in northern Kumamoto in the past and you can see one of their works. It is Takase arch bridge (高瀬目鏡橋) which was built in 1848. This area is just beside Kikuchi River and river bank is a nice place to walk around.
HIKE hostel/cafe/bar
HIKE is a cafe, bar and hostel complex and they wish to offer a place where locals and travelers can interact each other and get to know the attractions of Tamana more.
It is one of my favorite cafes in Kumamoto. They use ingredients from local farmers and shops. As a big fan of Shodai pottery (小代焼), which is one of the local special potter in Kumamoto, their great variety of pottery always make me excited. You can rent a bicycle so you will explore Tamana more!
Visit Rengein Tanjoji Okuno-in temple
It was my first time to visit Okunoin, but I didn't expect that it was so beautiful and interesting place where we can relax and get a glimpse of the world of Buddhism. In the next article, I will introduce Goma fire ritual at Okunoin so I hope you'll be looking forward to it. It is becoming a comfortable season to go out, so enjoy autumn and have a relaxing time there!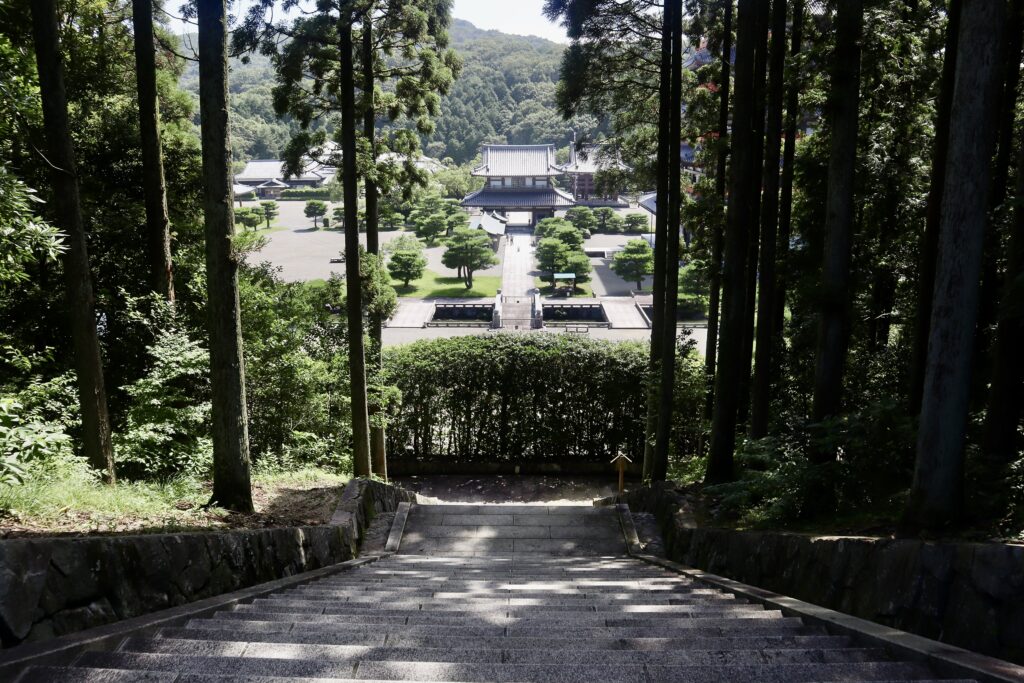 Information and Links
Official Website : http://www.okunoin-ren.jp/index.php
Open at 9am and Close at 5pm
Entrance fee : 200 yen
It takes about 15minutes by car from JR Tamana St. They don't have a public transportation to the temple so if you do not have a car, taking a taxi will be a good choice.