About a year ago, I first challenged myself to climb 3,333 stone steps in Misato Town. It was a big challenge for me but after completing it, I celebrated the great sense of achievement. At the same time, I made up my mind that I would never try that again(It was too much for me…).




In June 2020, I found myself that I was climbing stone steps again. This time only about 280 stone steps but still it was good exercise for me after staying at home period.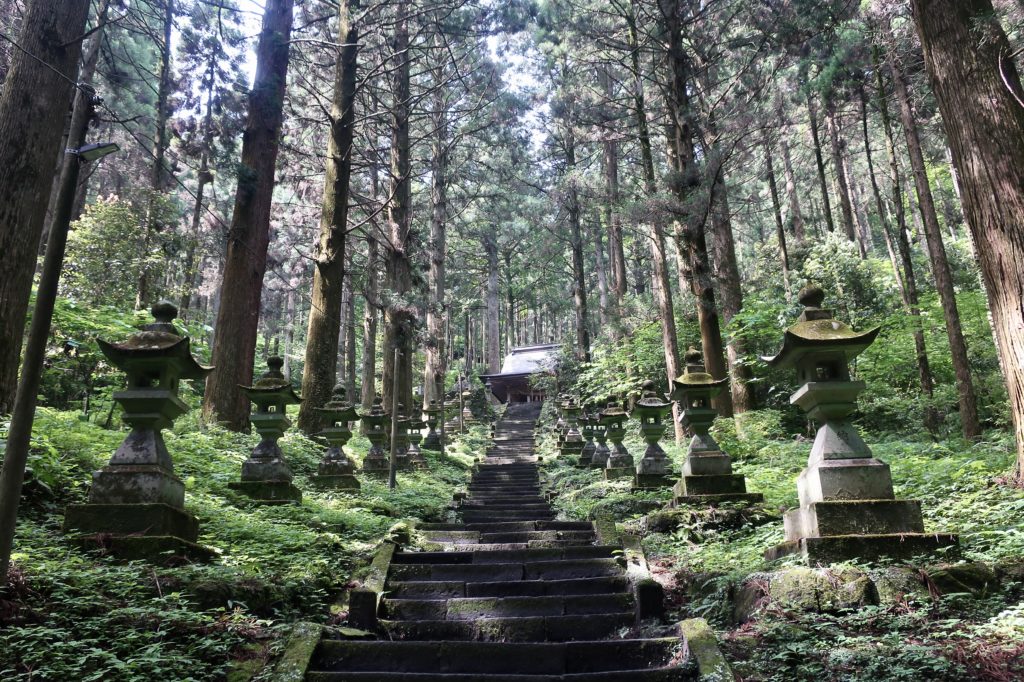 Today, I'd like to introduce you 上色見熊野座神社(Kamishikimi Kumanoimasu Shrine) in 高森町(Takamori Town) in Aso county. The name is long and complicated even for Japanese(I guess only locals and fans of this shrine can read it correctly.). If you can remember it, you should be proud of yourself!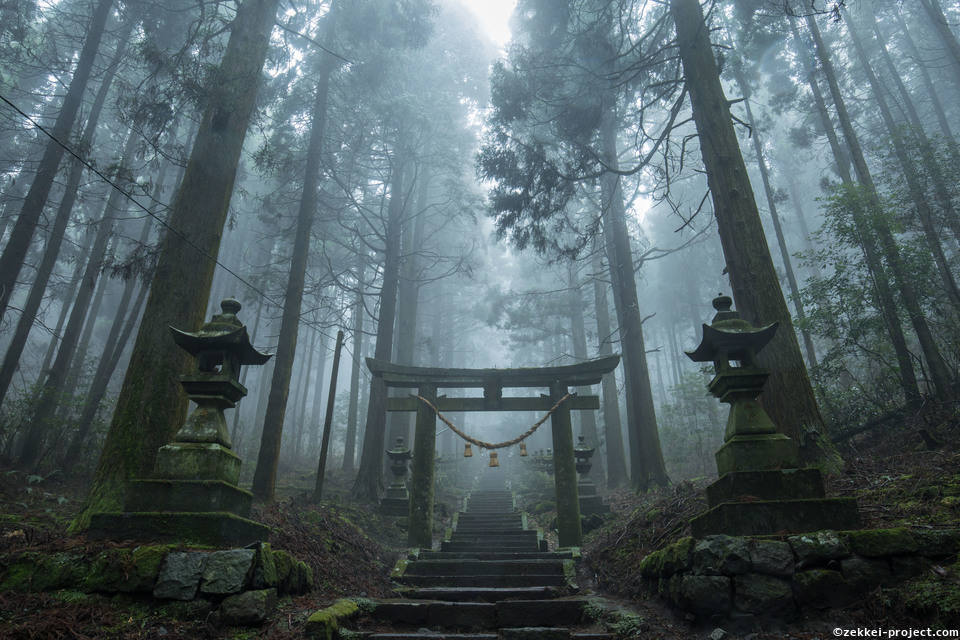 Kamishikimi Kumanoimasu Shrine has gone viral after some people posted their photos on SNS. 100 moss-covered stone lanterns, long-lasting stone steps and deep-in-forest atmosphere create this mystic sight and has attracted visitors around Japan. Also, it is acknowledged as a place which was depicted in one animation film, "蛍火の杜へ(Hotarubi no Mori e, Into the Forest of the Fireflies' Light)" illustrated by a Manga artist from Kumamoto.


I first visited Kamishikimi Kumanoimasu Shrine in January 2019 with my friends. After the regulation was eased in June 2020, I drove to Takamori Town to refresh and visit the shrine again. Because it was weekday morning, the visitors were only me and an elderly man who also brought his camera trying to capture the mystic scenery.


Let's get to know about Kamishikimi Kumamoimasu Shrine and what stories it has to offer.


Kamishikimi Kumanoimasu Shrine(上色見熊野座神社) in Takamori Town(高森町)
Learn about Takamori Town(高森町)
First, let's learn about 高森町(Takamori Town).




Kamishikimi Kumanoimasu Shrine is located in Takamori Town, Aso county. When it comes to Aso, people think of the grand Aso caldera and "Lying Buddha" which consists of five peaks of mountains in the caldera. Takamori Town locates in east-south part of Aso caldera.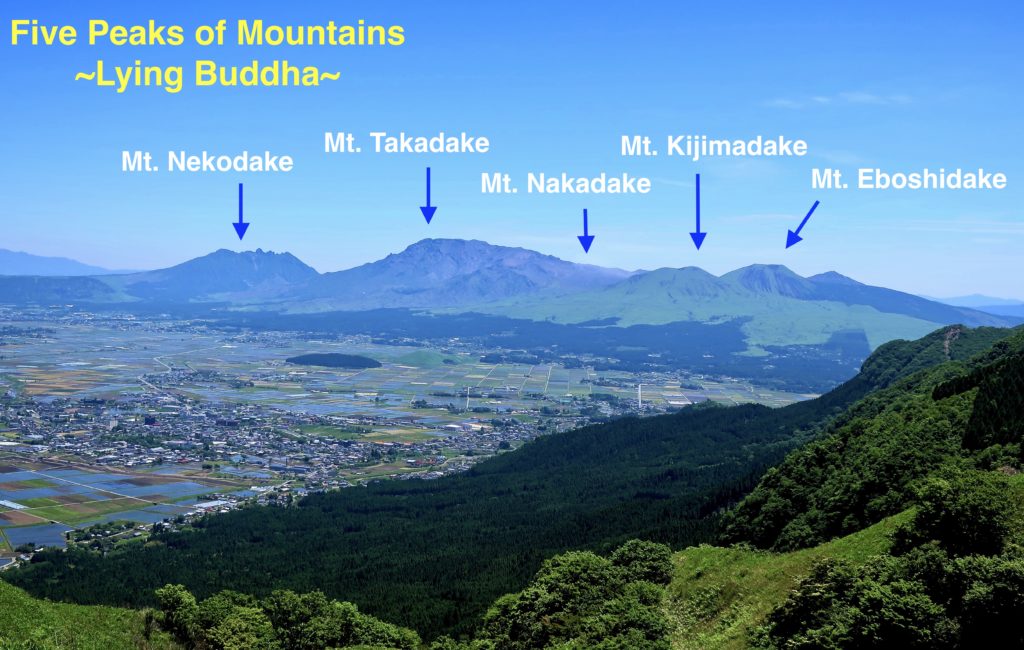 When you are driving in Takamori Town, you often see this spiky mountain closely. It is 根子岳(Mt. Nekodake) which is described as a face of Lying Buddha. The shape is unique and you can see the Lying Buddha the other way around from northern observatory such as 大観峰(Daikambo).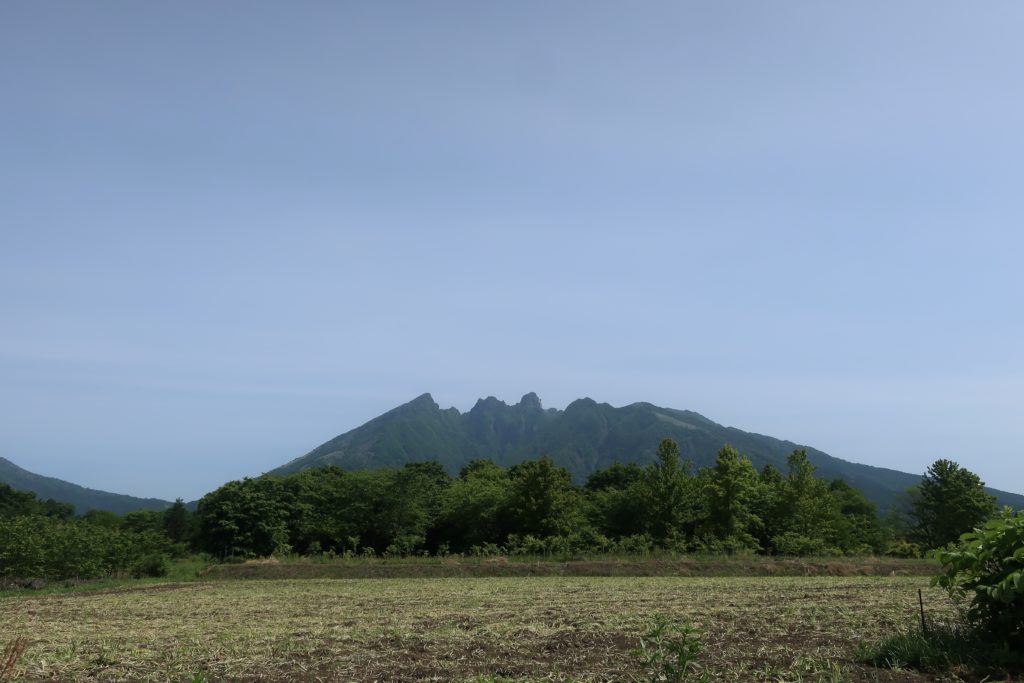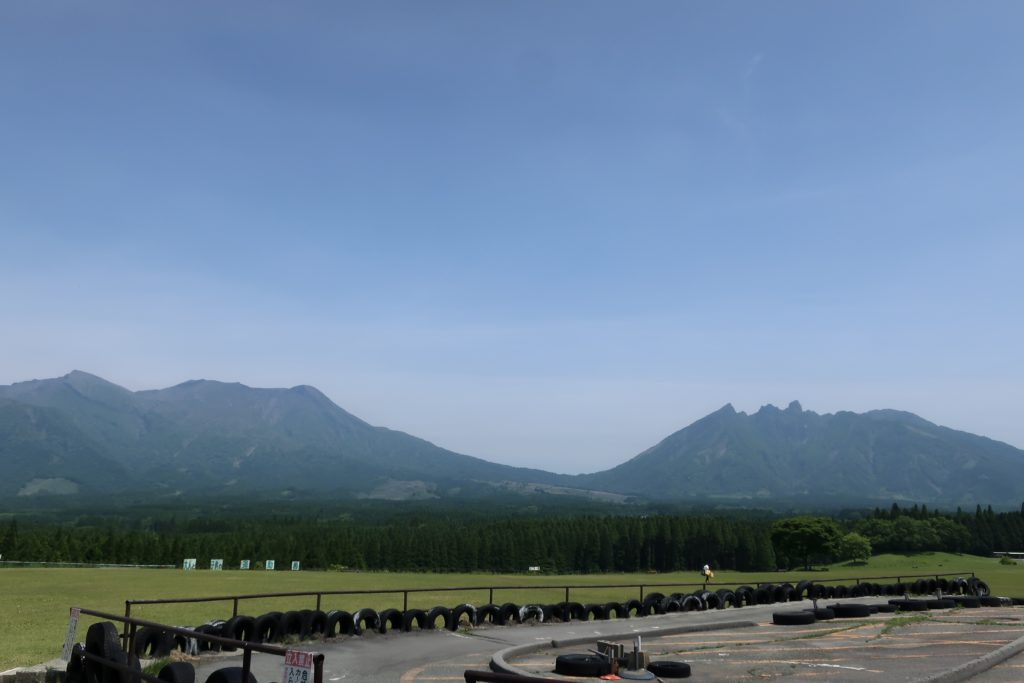 Thanks to the pristine nature, Takamori Town offers you lovely cottages and camping cites where you can enjoy nature to the fullest. Takamori Town is also blessed with good onsen. You can take onsen with the great view of Mt. Nekodake in front of you.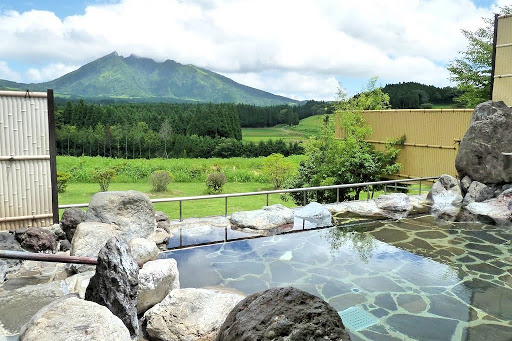 Then you can enjoy local cuisine 田楽(Dengaku), means skewered grilled tofu and vegetables coated with sweet miso. Because of the untouched nature, Takamori Town has been registered as one of 日本で最も美しい村(the Most Beautiful Villages in Japan).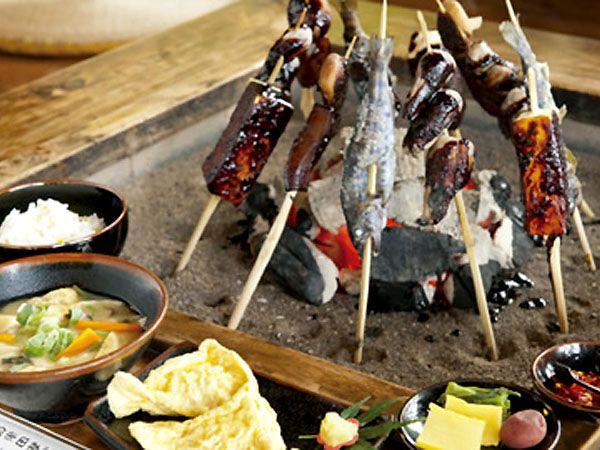 Kamishikimi Kumanoimasu Shrine(上色見熊野座神社) in Takamori Town(高森町)
History of Kamishikimi Kumanoimasu Shrine(上色見熊野座神社)
Kamishikimi Kumanoimasu Shrine was established long time ago(I couldn't find detailed information.).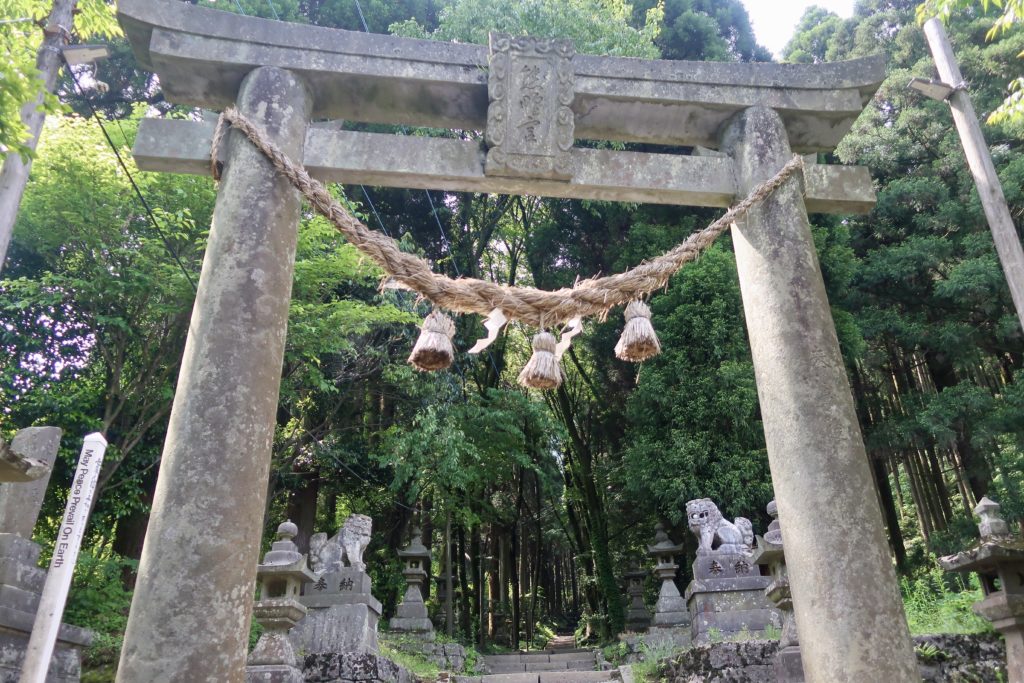 It is said that the shrine started to offer ritual service in 14th century. At that time, it started to get popular to worship mountains and mysterious rocks as a subject of faith because people found it something divine in them. I will explain later but there is a huge rock cave up to Kamishikimi Kumanoimasu Shrine. It is now highlighted as a power spot where we can feel the power of nature.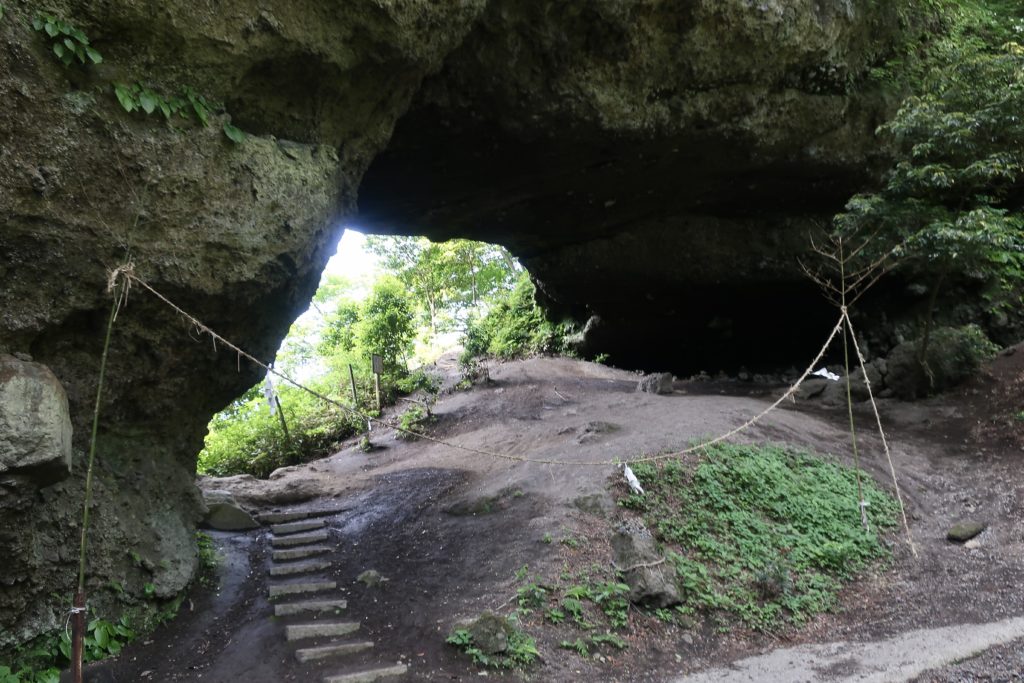 Original shrine was burned down by the flames of war in 16th century and present shrine was rebuilt in 18th century. It had worked as a guardian in southern Aso.


Entering an Another World, Mystic Kamishikimi Kumanoimasu Shrine(上色見熊野座神社)
Now, let's see how Kamishikimi Kumanoimasu Shrine has been attracting us.


There is a parking lot 100m away from the entrance of the shrine. From the parking lot, you can see the spiky Mt. Nekodake.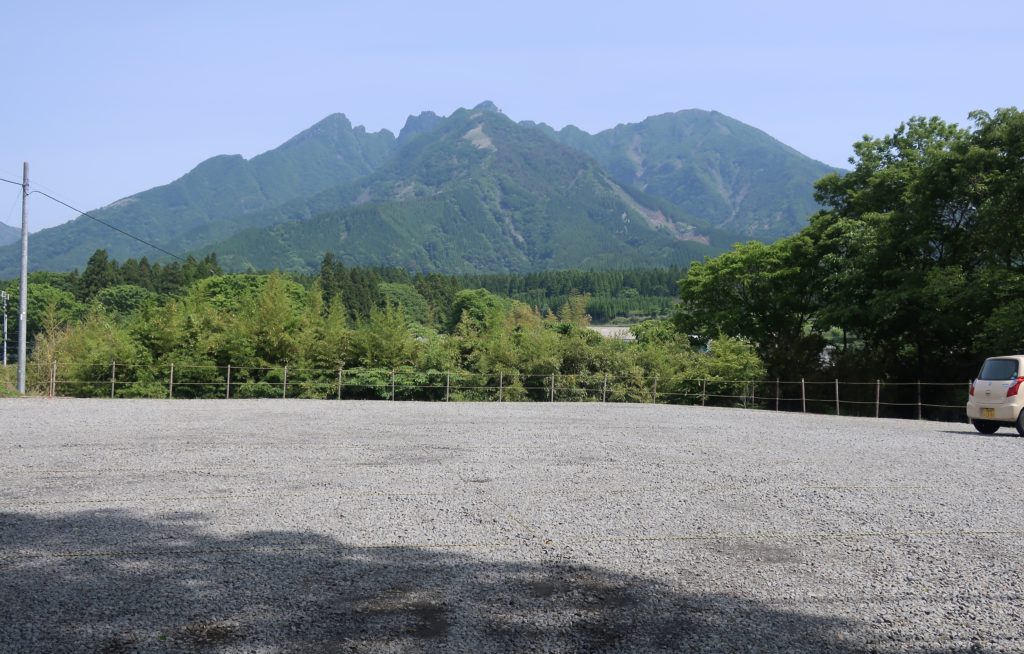 The entrance of the shrine is just in front of the postoffice.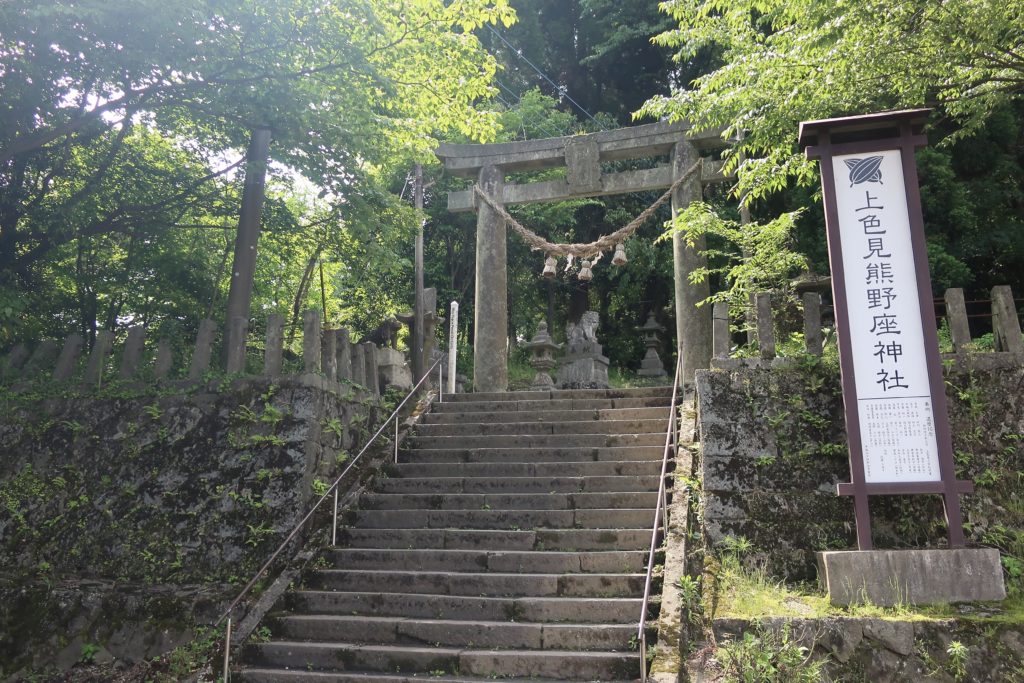 First, you will see the first Torii gate(There are two Tori gates there), which is believed to divide the world of gods and the world of human. From the Torii gate, the long 参道(Sando approach) extends to the worship hall.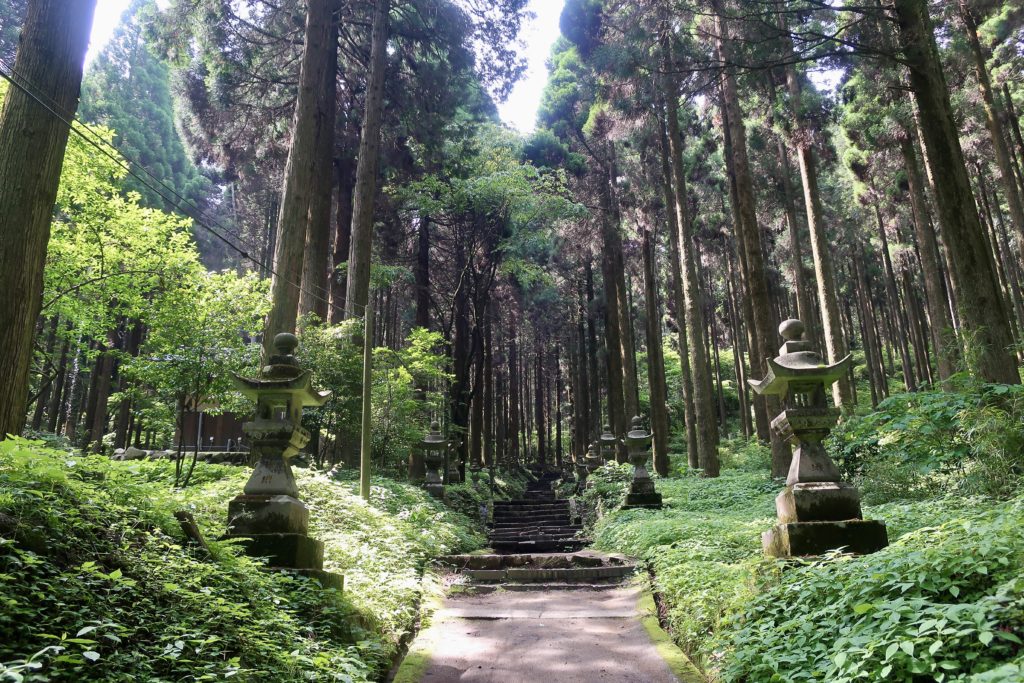 When it comes to Kamishikimi Kumanoimasu Shrine, this mystic and divine atmosphere has captured people's heart. Many people describe that it is like being in an another world.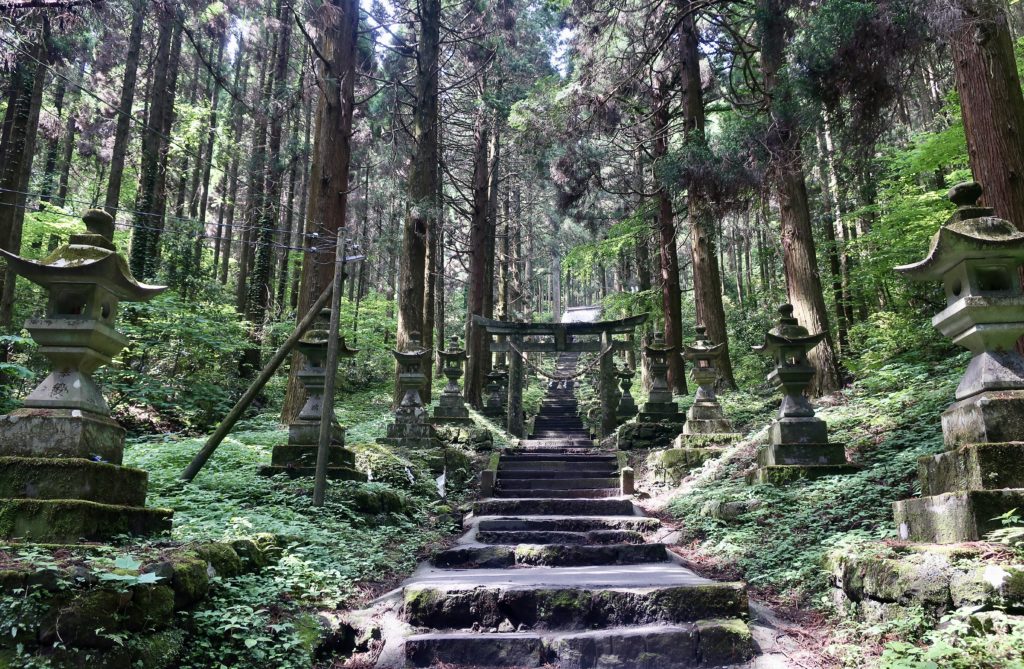 About 100 moss-covered stone lanterns are placed along the Sando approach.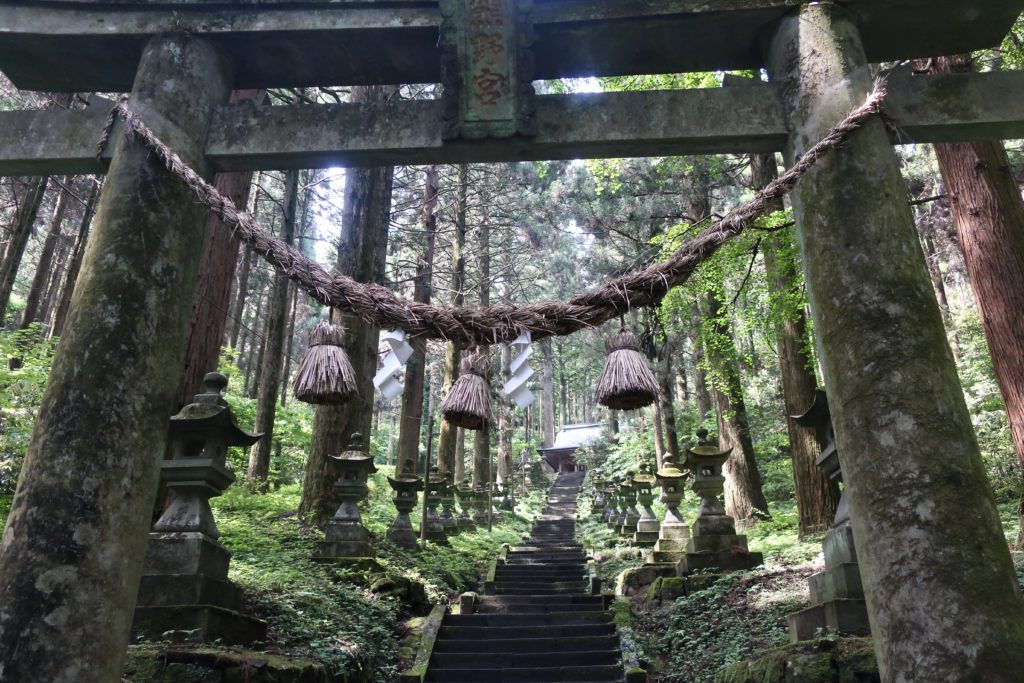 As I said earlier, there are about 280 of stone steps to the worship hall and the approach is almost 300m.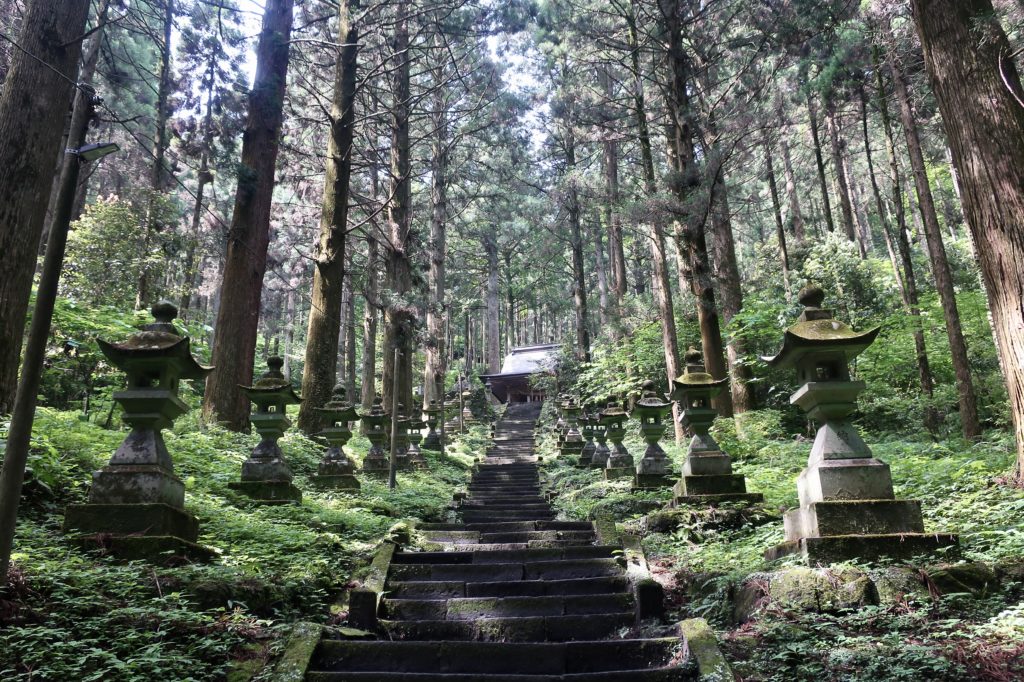 As you can see in the pictures, some steps has moss on them so especially after rain, it can be slippery. I recommend you to take your time to walk on steps and also wear comfortable shoes.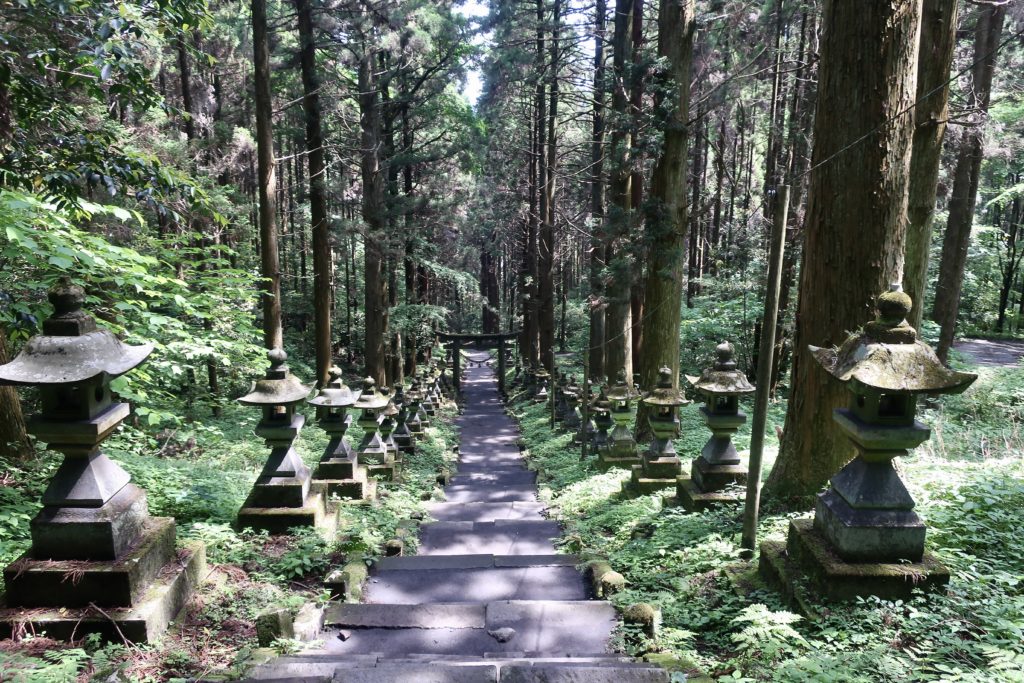 Illustrated in a famous animation film, "Hotarubi no Mori e, Into the Forest of the Fireflies' Light(蛍火の杜へ)"
Previously, only locals visited Kamishikimi Kumanoimasu Shrine but suddenly it went viral after it was depicted in one animation film, "蛍火の杜へ(Hotarubi no Mori e, Into the Forest of the Fireflies' Light)". It was illustrated by a Manga artist, 緑川ゆき(Yuki Midorikawa) who is from Kumamoto and famous for one of her masterpiece, "夏目友人帳(Natsume Yujin-cho)".




I heard that in the film, there is a scene that two main characters walk along this Sando approach. Her fans all around Japan visit Kamishikimi Kumanoimasu Shrine and try to live in the world illustrated in the film. Many people posted this mystic shrine on SNS and it has enchanted many people.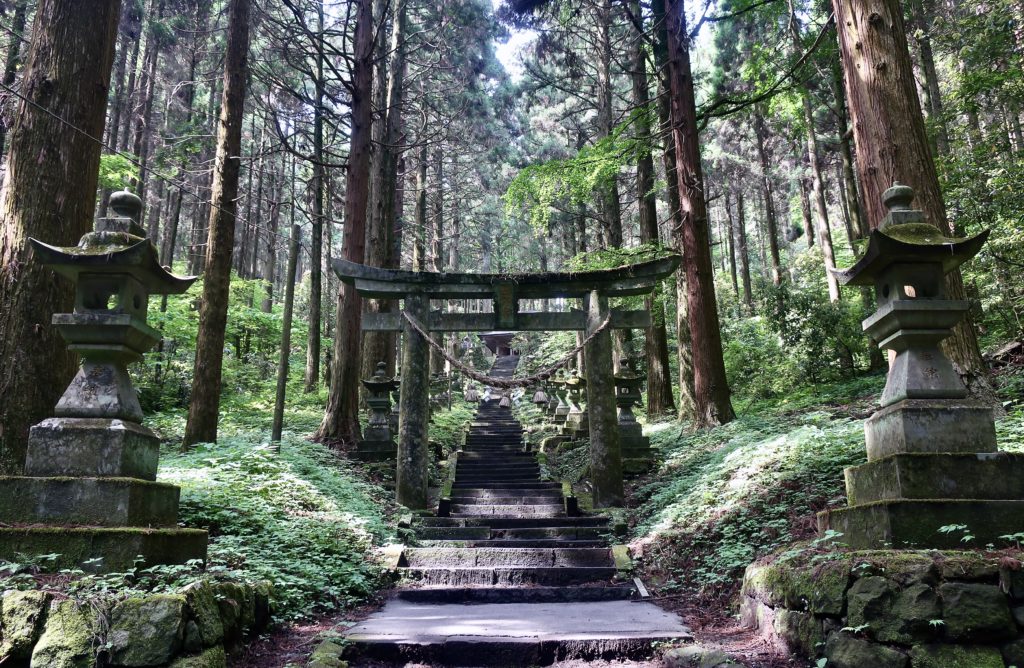 Sacred Nagi Tree which brings you good luck for match-making and success of business.
It is believed that Kamishikimi Kumanoimasu Shrine will bring you good luck with match-making and success of business.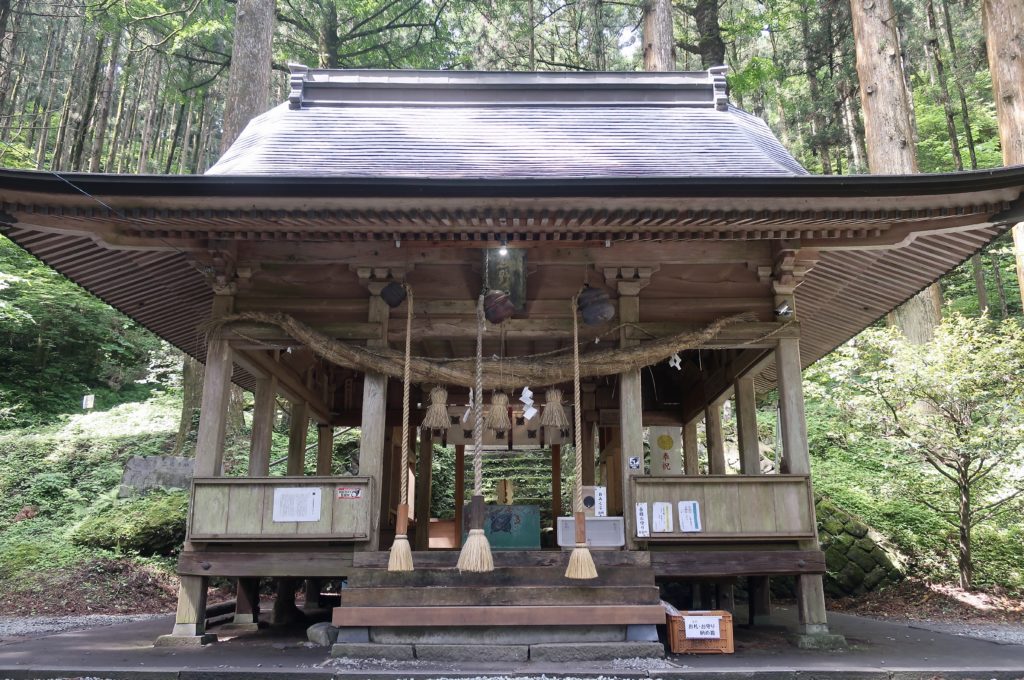 These idea came from "御神木(Goshimboku)" which means sacred tree in the shrine. Goshimboku can be one tree near main hall where gods are enshrined or sometimes whole forest surrounding a shrine. Every shrine has its Goshimboku and it stands with a shrine and protect it from evil.


Here in Kamishikimi Kumanoimasu Shrine, 梛(Nagi tree) is its Goshimboku. Scientific name is Nageia nagi. People believe Nagi tree will bring us good luck especially with match-making, success of business and warding off evil. I looked up why people think so. There are mainly two reasons.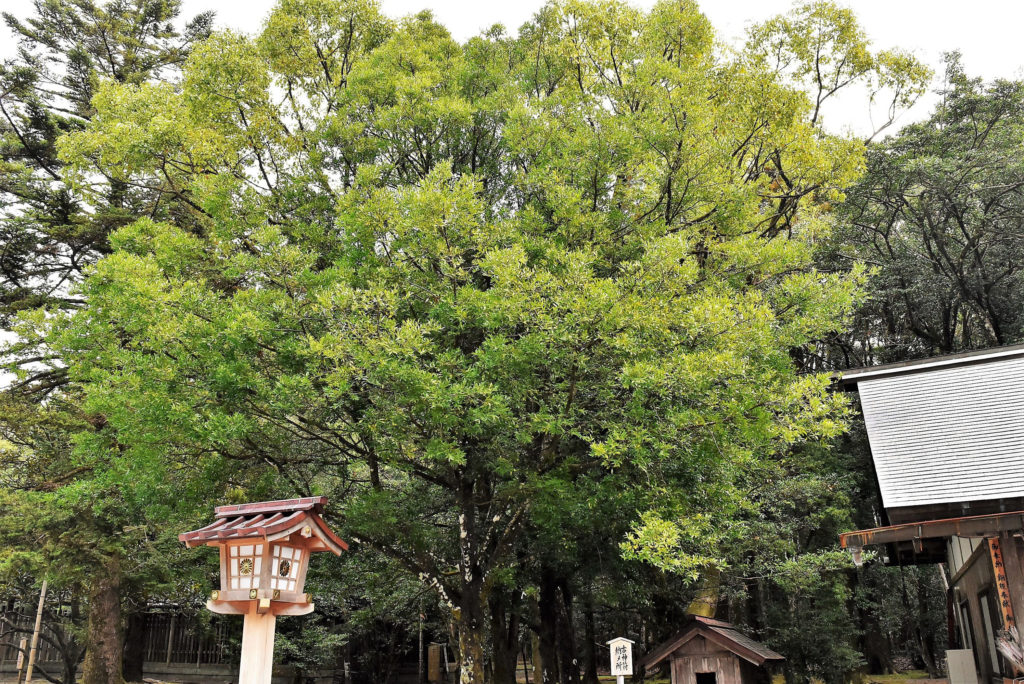 First, it comes from the structure of Nagi leaves. Leaves of Nagi don't have veins and you can just see fibers running vertically. Because of that, you cannot tear it horizontal easily and people found the image of being inseparable like good relationship with a partner, happy married life and even good relationship with business associates. I have heard that in the past, couples brought leaves of Nagi with them like a lucky charm. Also when people get married, parents gave a Nagi tree wishing for their ever-lasting love.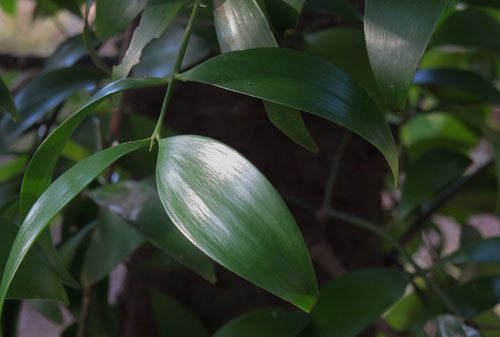 Second, the Chinese character for Nagi. Usually, we use "梛(Nagi)" for Nagi tree but in the past people played a word using another Chinese character with same sound "凪(Nagi)" which means no wind or the state of being calm or stable. Because of the image of the letter 凪(Nagi), people in the past expected that Nagi tree would keep away troubles and ward off evil. I heard that travelers used to bring Nagi leaves with them wishing for their safe trip.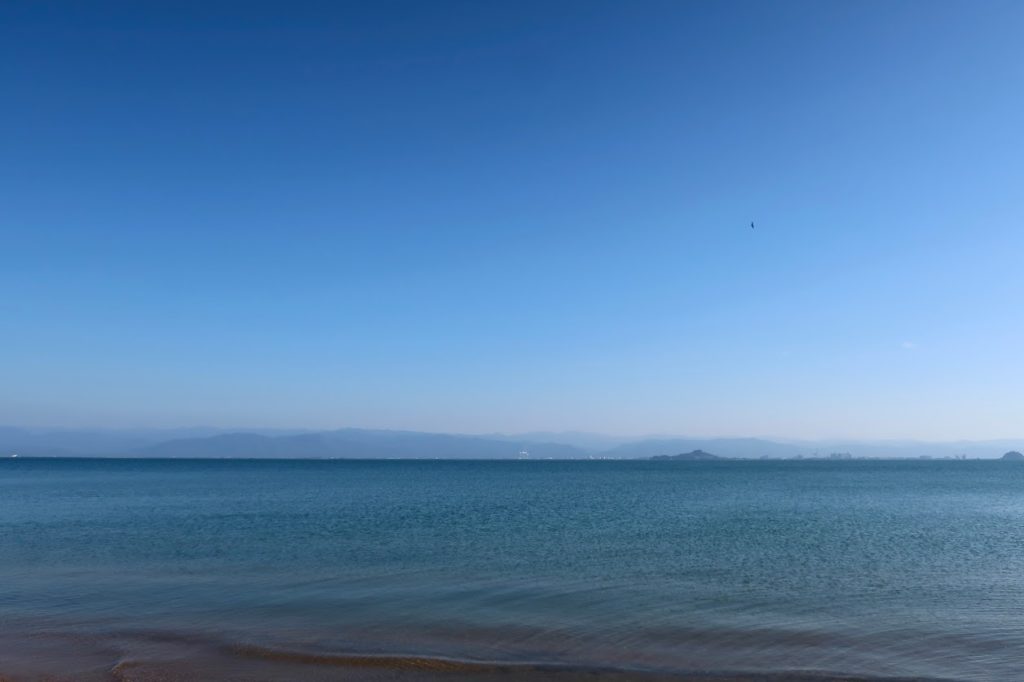 To be honest with you, I didn't know anything about Nagi tree at all so I didn't check it at Kamishikimi Kumanoimasu Shrine. I heard Nagi tree stands near the main hall so when you visit, please find it and share it with me!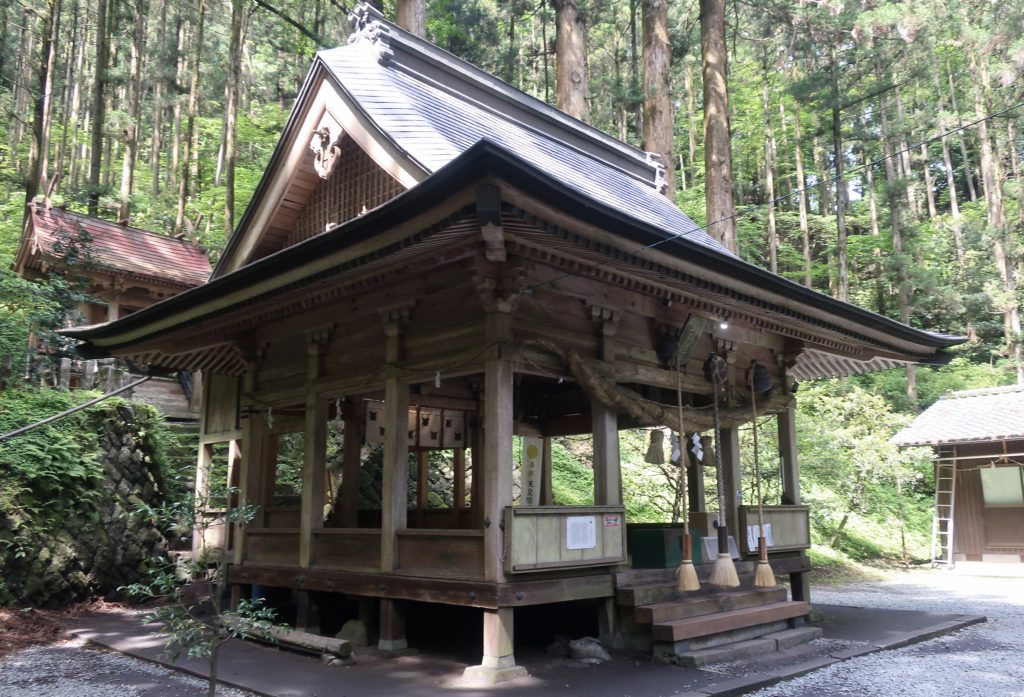 Power Spot, Ugeto-iwa Rock(穿戸岩) at Kamishikimi Kumanoimasu Shrine
Power Spot which will bring you good luck for success, Ugeto-iwa Rock(穿戸岩)
Near the worship hall, you will see a path stretching to above the shrine.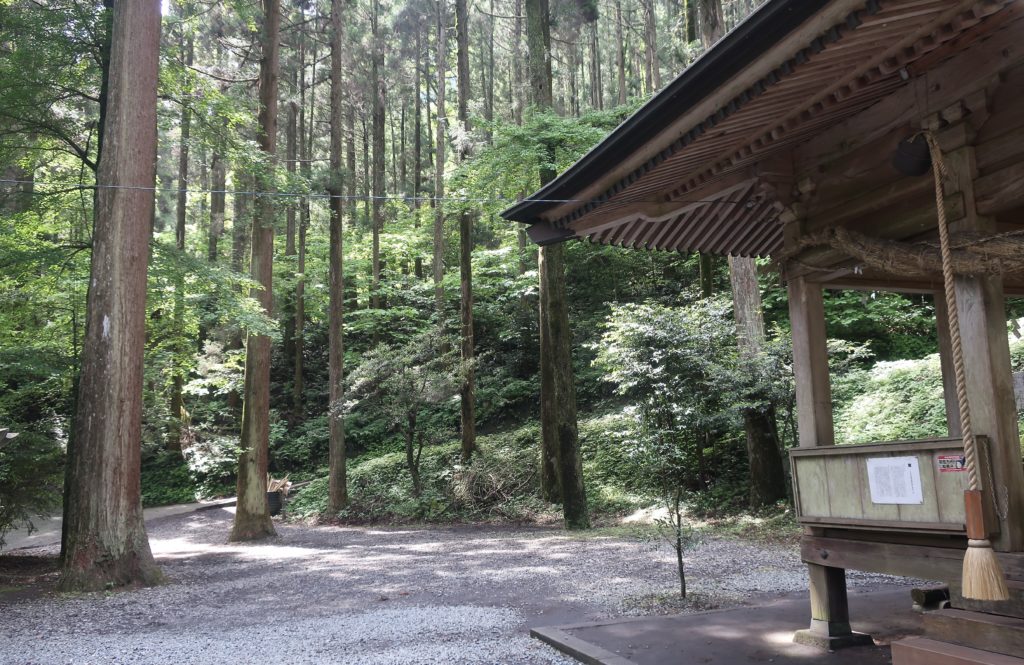 You can use these bamboo sticks for climbing.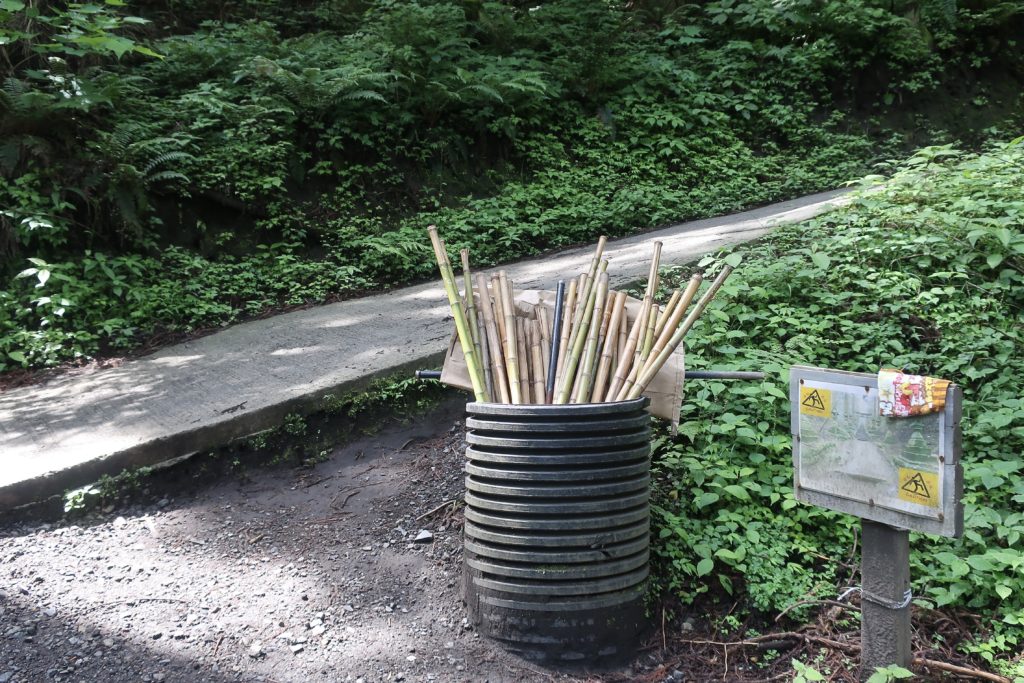 On the way, there was a point where a path separates. You can choose a shortcut with steep slope or a detour with gentle path.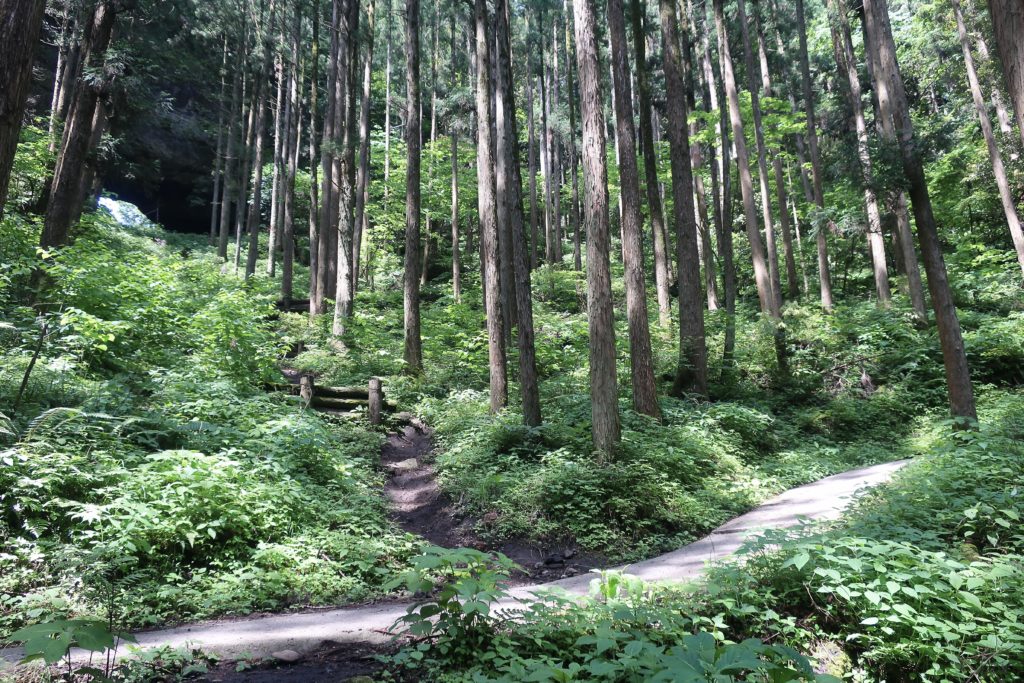 I took a shortcut because I couldn't wait to go to the top. Later I regretted not to take a bamboo stick because it rained on the previous day so it was slippery and difficult to climb. But as I saw the cave closely, I got excited.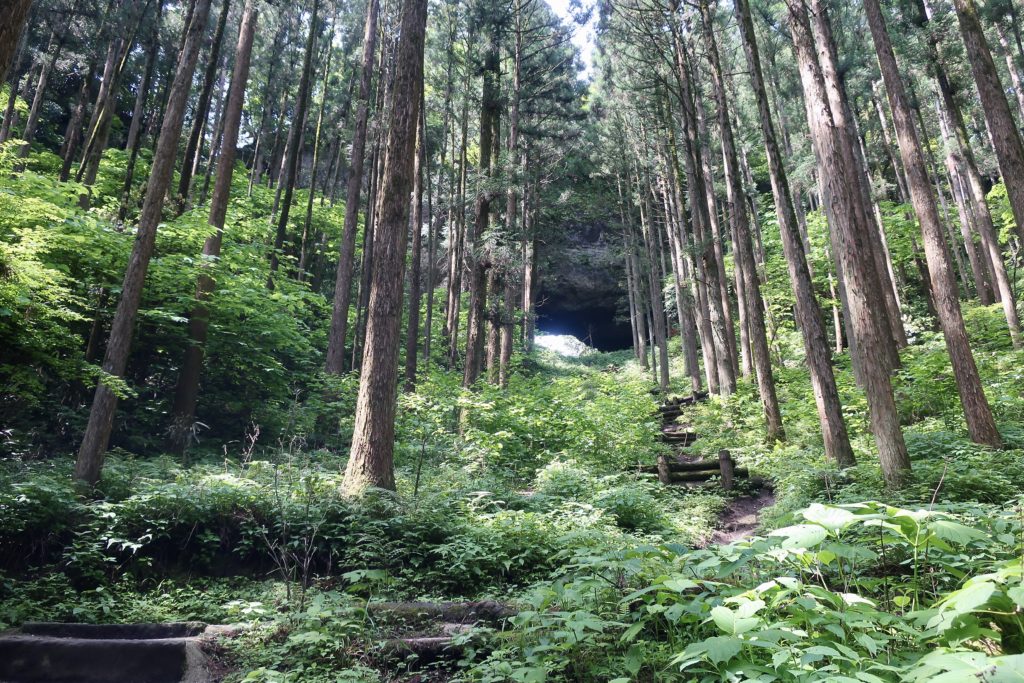 This huge rock is called "Ugeto-iwa(穿戸岩)" means Ugeto-iwa rock. The wind hole is about 10m long and wide.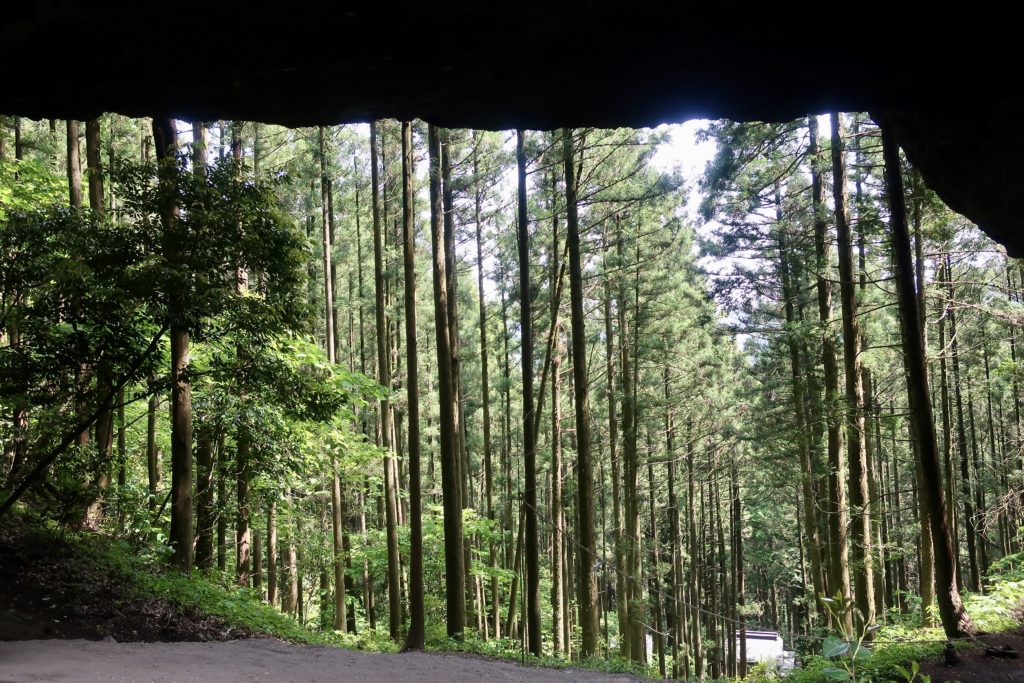 The view from the top is amazing(For your safety, you can't go forward passing through this warning sign.).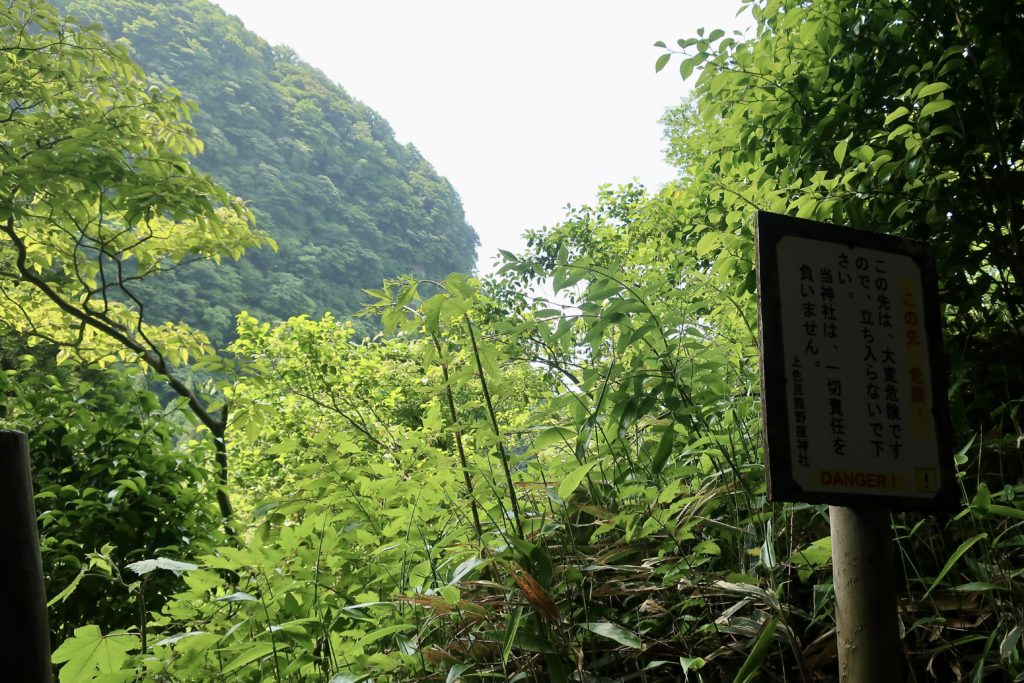 Many people visit this Ugeto-iwa rock admiring as a power spot. Also, Ugeto-iwa rock has a reputation for bringing you good luck for overcoming difficult goals and achieving something, symbolized by the wind hole which cuts through this huge solid stone.


The Legend of Ugeto-iwa Rock(穿戸岩)
When you see something unique and mysterious in nature, you will find interesting folk stories which locals have passed on generations. I'm going to share one about Ugeto-iwa rock.


In the past, there was the God of Aso who loved shooting a bow and always enjoyed practicing it from the top of Mt. Aso. Every time he shot a bow, he always made his follower, named Kihachi fetch it for him. After thousands of shooting, Kihachi got sick of it and one day he took a bow with his toe and threw it to the God. The God of Aso got furious by Kihachi's behavior and went after Kihachi. Kihachi fled desperately and found out this huge rock blocked his way. Kihachi made up his mind to kick the rock hard as much as he could and managed to make this hole and escaped from it.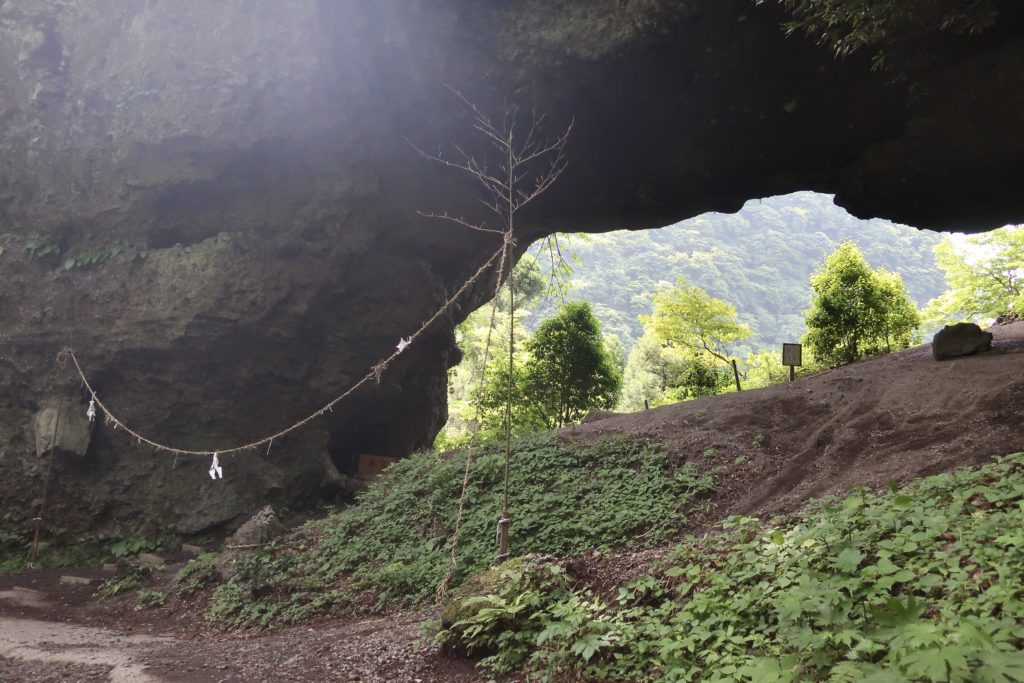 After that, this wind hole symbolizes that our hard work will be paid off and people visit wishing for their success of their business or passing important exams.


Find Sazare-ishi Rock(さざれ石), mass of rock after Kihachi kicked Ugeto-iwa Rock(穿戸岩)
So, when Kihachi kicked Ugeto-iwa rock and made the huge hole, where did the mass of rock go? Well, you can see it near the second Torii gate.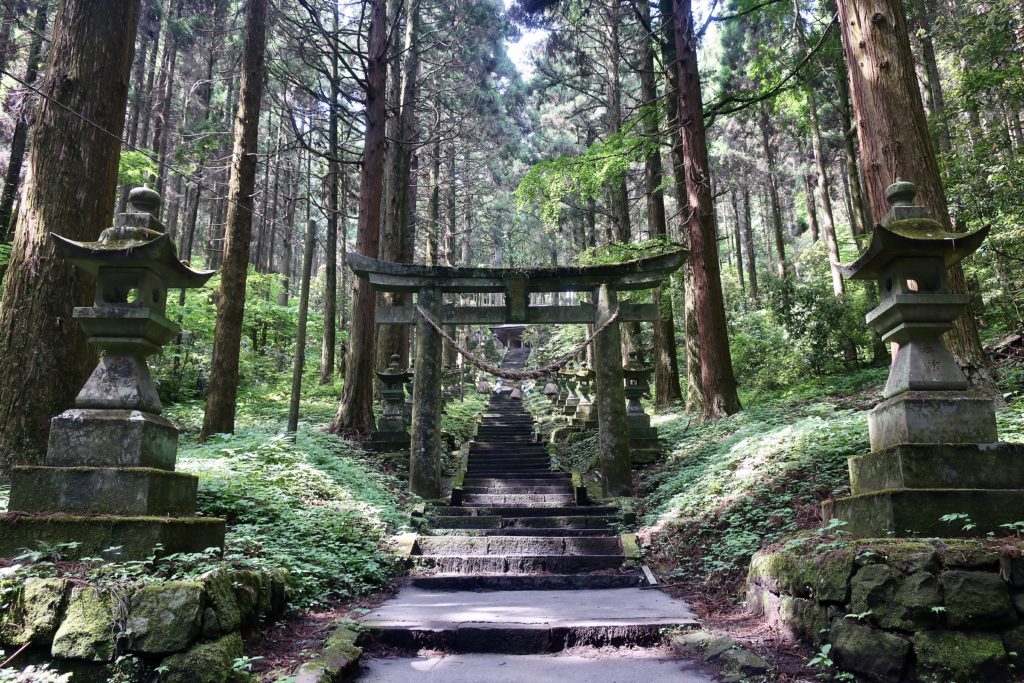 It is covered with moss so if you are immersed in the beautiful scenery, you will definitely miss it. This stone is placed near the left of the second Torii gate and sacred rope is wrapped around it. This rock is called さざれ石(Sazare-ishi, means gabbro) which is sang in Japanese anthem.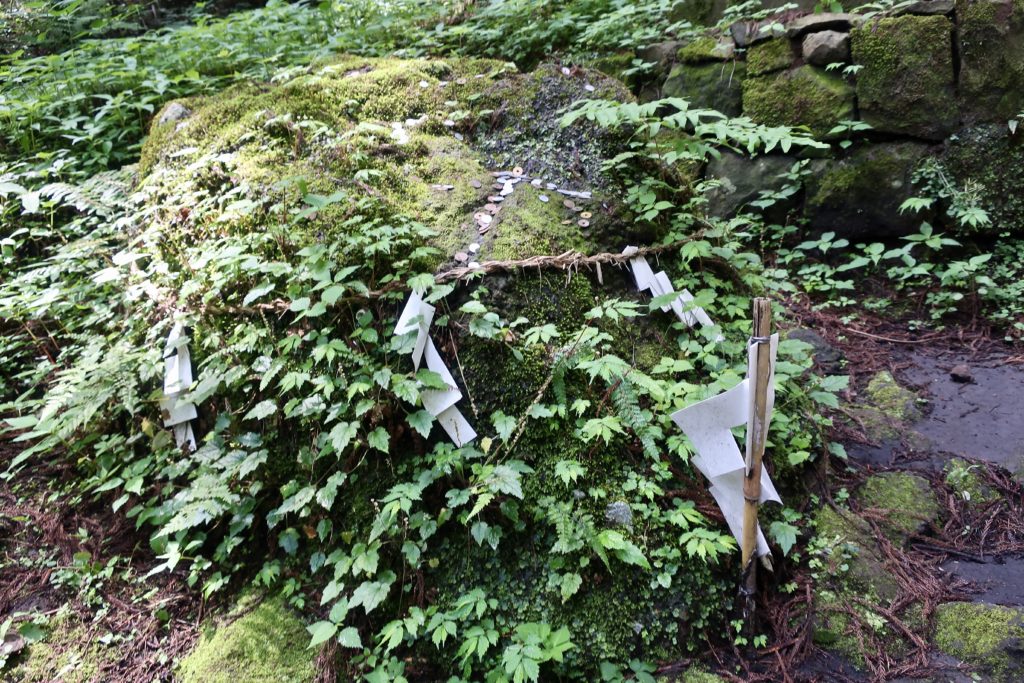 Try to find this Sazare-ishi rock and imagine how Kihachi was desperate escaping from the God of Aso!


Visit Kamishikimi Kumanoimasu Shrine and feel the power of nature!
When I was relaxing at Kamishikimi Kumanoimasu Shrine, I just thought I often visit shrines. I would say I'm not a shrine enthusiast but I just like being in the place because it's quite and peaceful. When you visit a shrine, you can see trees and forest which embraces shrine. These forest is called 鎮守の森(Chinju no Mori) which means forest protecting a shrine. I think thanks to the forest, I can feel being protected and peaceful just being there.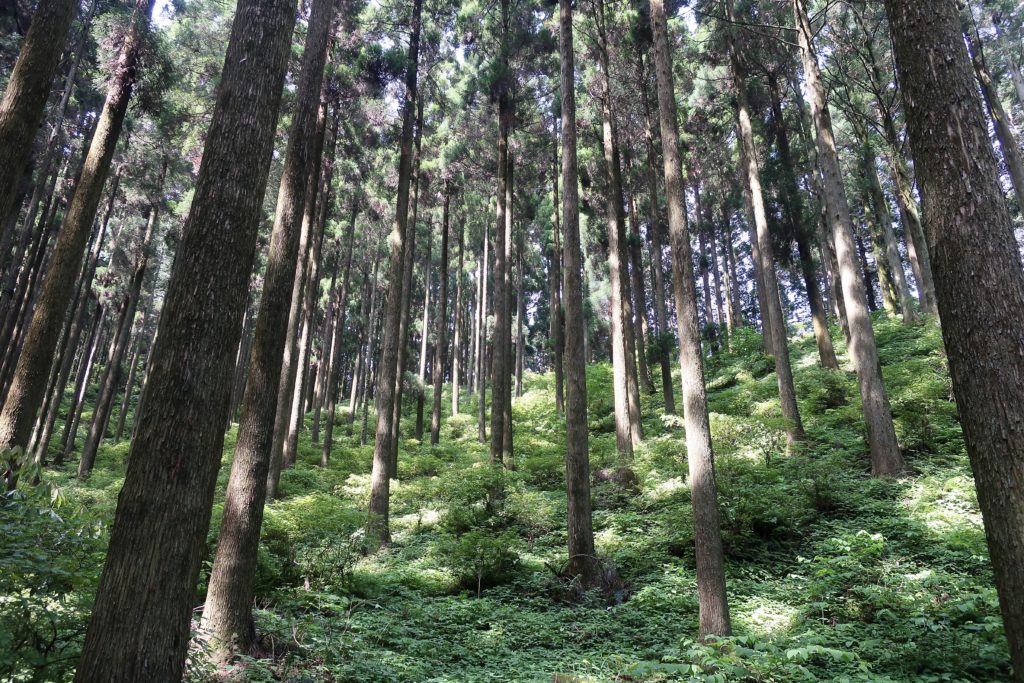 Visit Kamishikimi Kumanoimasu Shrine(Do you remember the name now?) if possible, during weekday or maybe early morning in weekends avoiding many people. Enjoy the feeling of entering an another world and be immersed in it!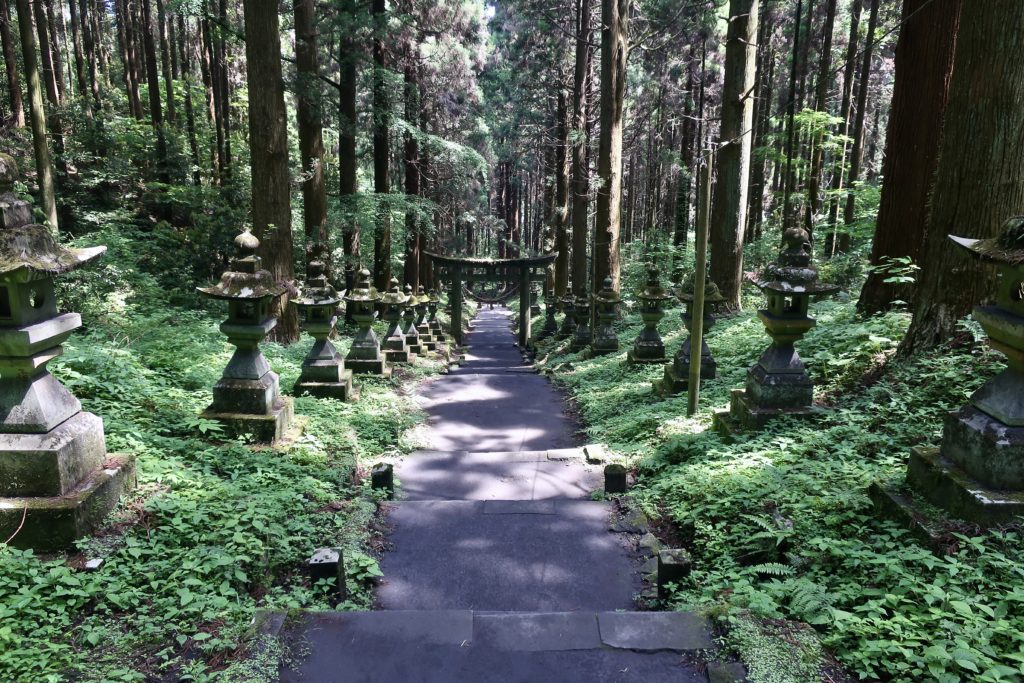 【Map】