Because of COVID-19, I have stayed at home during weekends and watched shows and plays online which are from the theaters in London. I'm so fascinated and moved by how human can create such a beautiful and creative works and how art enriches our minds and moves us.


Every time I go into nature, I am amazed how nature shows us great work of art which is divine and just so beautiful. Time and process how it was created is beyond our imagination and that attracts us more.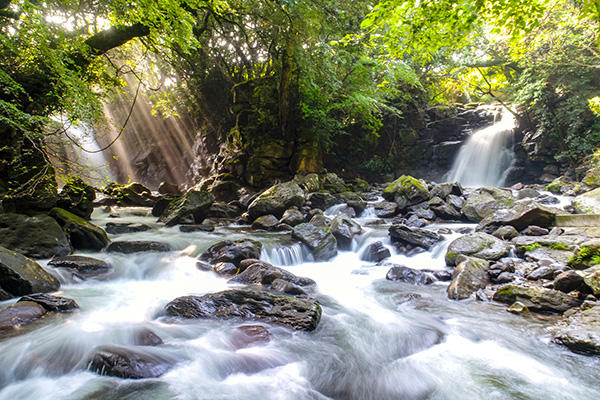 Today, I'd like to introduce you Meoto Waterfall(夫婦滝) in Minamioguni Town(南小国町). "Meoto" is translated as husband and wife and you will get to know why it is called so later. My friends and I visited the waterfall last April. I can't believe why I haven't introduced it yet.


Let's get to know about Meoto Waterfall and how amazing scenery it presents to us.


Meoto Waterfall(夫婦滝) in Minami-oguni Town(南小国町)
Learn about Minamioguni Town(南小国町)
First, let's learn a little bit about Minamioguni Town.
Minamioguni Town locates in Aso county which is northern part of Kumamoto Prefecture. It locates on the foot of the outer rim of Aso caldera and there is a water source of 筑後川(Chikugo River) which flows to Kumamoto, Oita, Fukuoka and Saga Prefecture and runs into Ariake Sea.




Minamioguni Town is on plateau so even in summer it's cool and it snows a lot in winter. Almost 84% of Minamioguni Town is forest and field. Thanks to the rich natural environment, Minamioguni Town is blessed with harvest.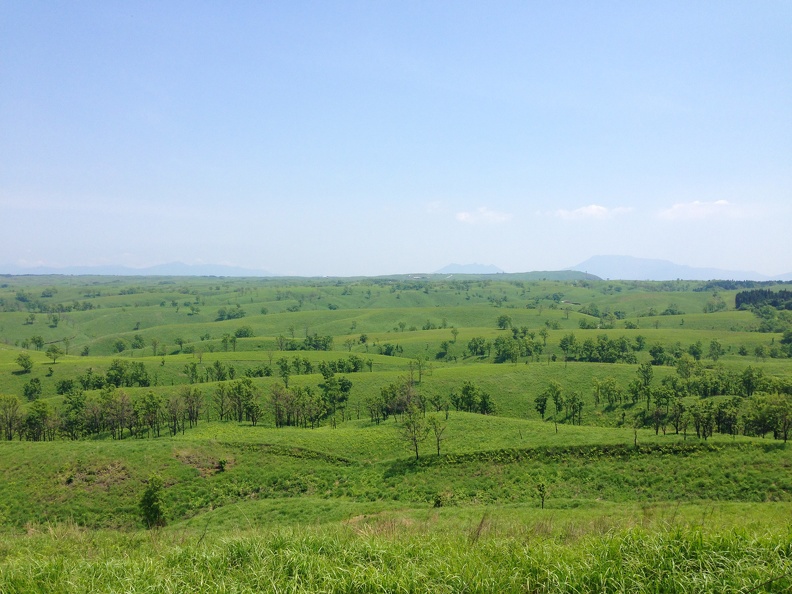 Because of the beautiful untouched nature, Minamioguni Town has been registered as one of 日本で最も美しい村(the most beautiful villages in Japan).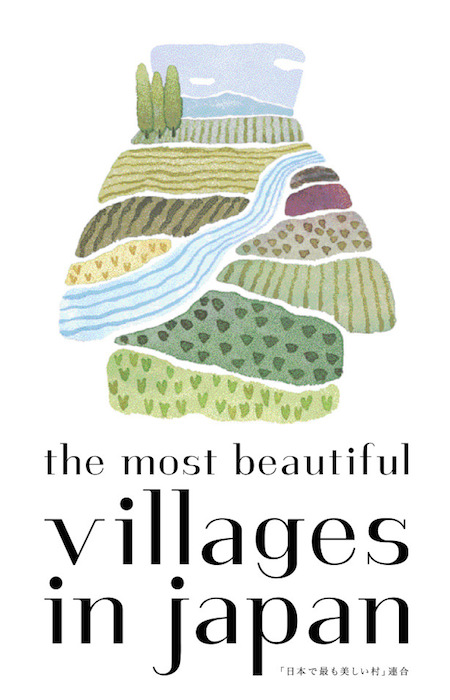 The nature shows us amazing scenery in each season and whenever you visit Minamioguni Town, you will be entertained by it.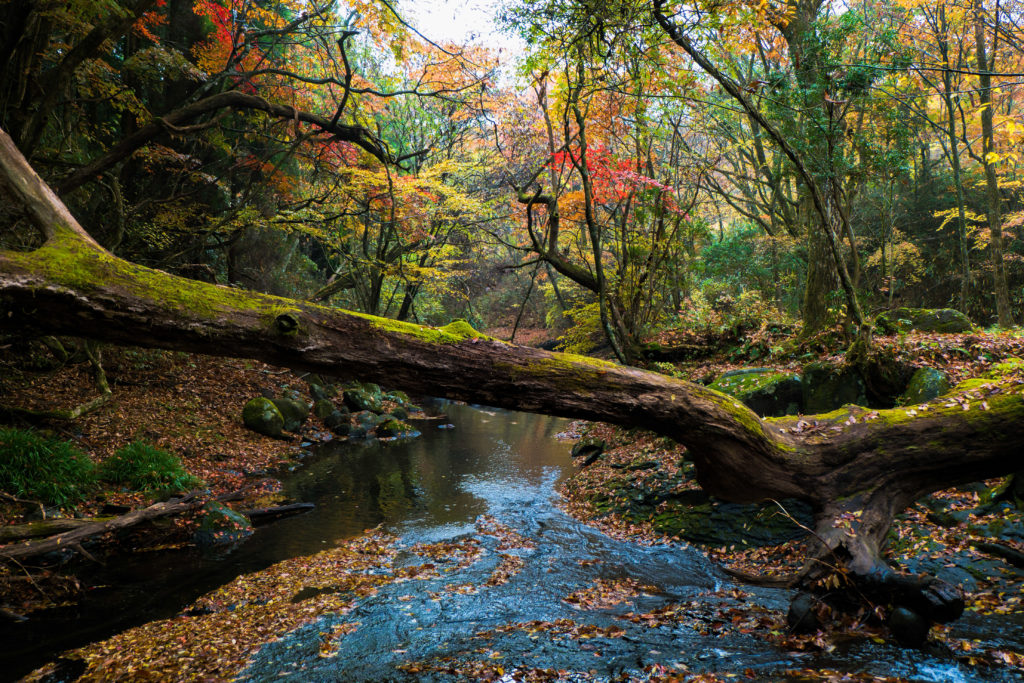 Minamioguni Town is also blessed with good onsen(hot spring). There is a small onsen area, called 黒川温泉(Kurokawa Onsen). Lovely shops stand along the streets and create nice atmosphere. You can enjoy taking a walk wearing yukata(casual kimono) and forget the hustle and bustle life in the city.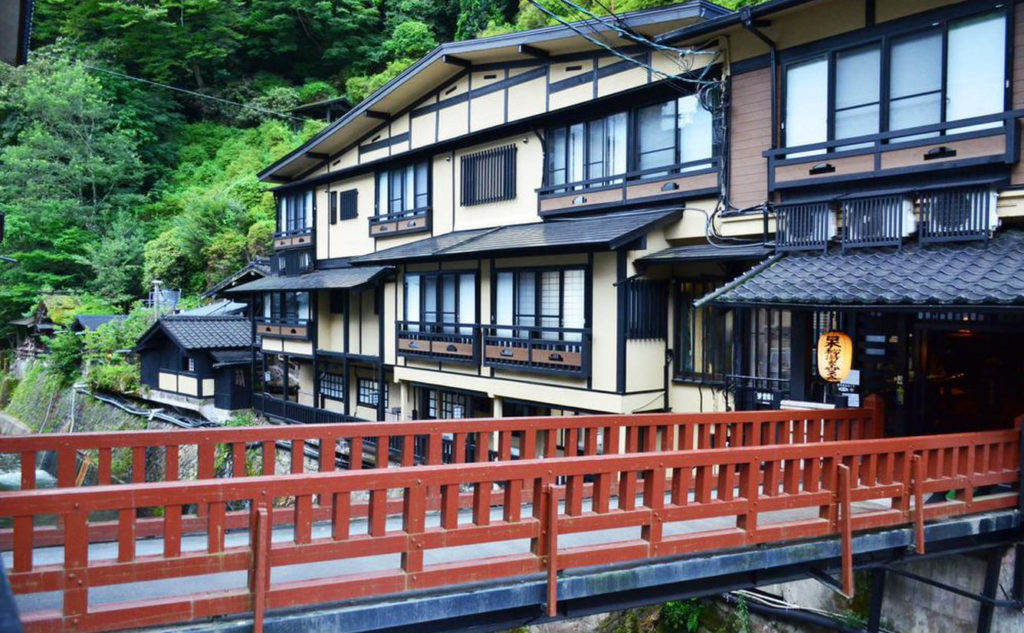 Meoto Waterfall(夫婦滝) in Minamioguni Town(南小国町)
Why is it called "Meoto(Husband and WIfe)" Waterfall?
The reason people call the waterfall as Meoto(husband and wife) is that there are two waterfalls in one place.




The left one is called 男滝(Otoko-daki, means male waterfall) and the right one is called 女滝(Onna-daki, means female waterfall). Male waterfall is about 15m high and female waterfall is about 12m high. They are collectively called Meoto Waterfall.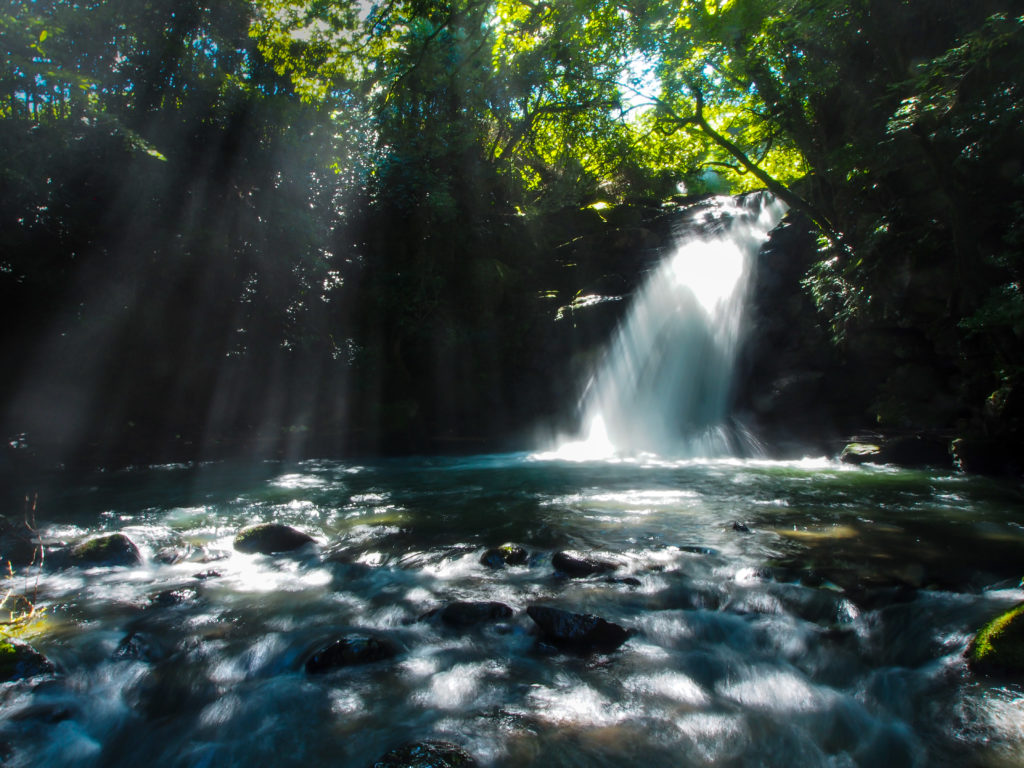 The unique thing about Meoto waterfall is that it stands at the place where two rivers confluence which is the only place in Japan. 田の原川(Tanoharu River) flows and reaches to Male Waterfall and 小田川(Oda River) flows and reaches to Female Waterfall. Two rivers meet and become one Tanoharu River which then flows to Ariake Sea in the end. Two stranger rivers meet, become one and moves forward together. People described it as husband and wife and this Meoto Waterfall became famous for good luck for everlasting love and also for matchmaking.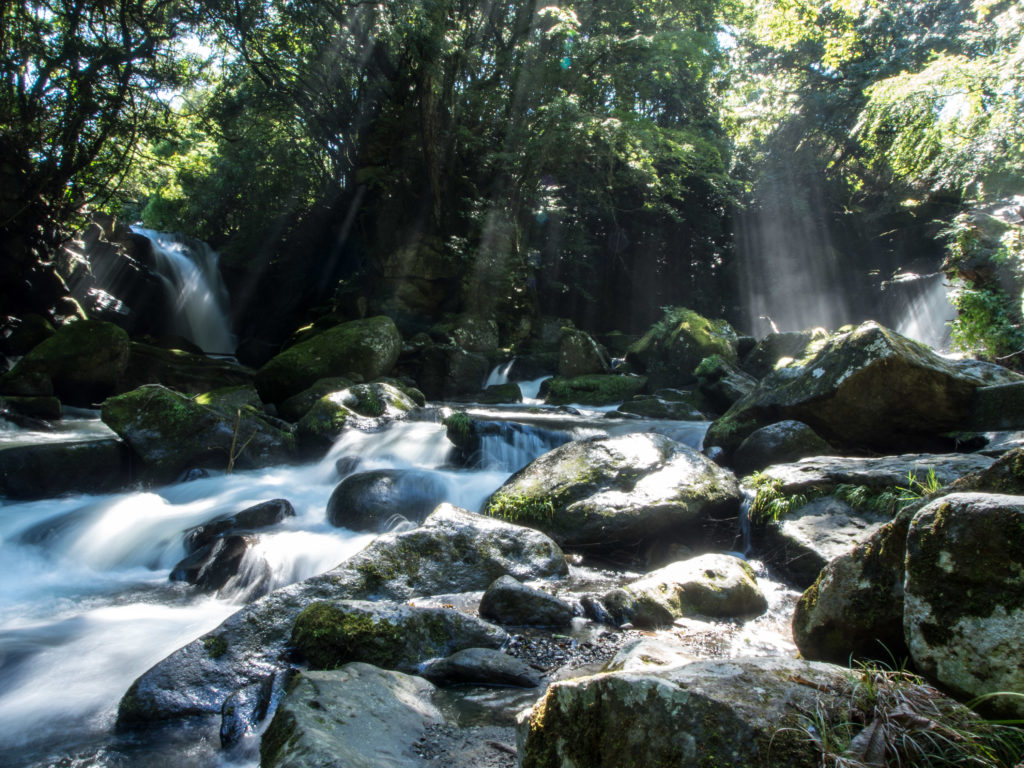 In Japan, most of the time women change their last name upon marriage. Oda river meets Tanoharu River and becomes Tanoharu River so I guess that's why people named the left waterfall as Male Waterfall?


Another story of Meoto Waterfall(夫婦滝)
I just explained why it is called Husband and Wife Waterfall by geographical aspect. I have heard another story which is more romantic.


Once upon a time, there was a monster snake in the area. It used to cause many troubles to locals and they had been frighted all the time.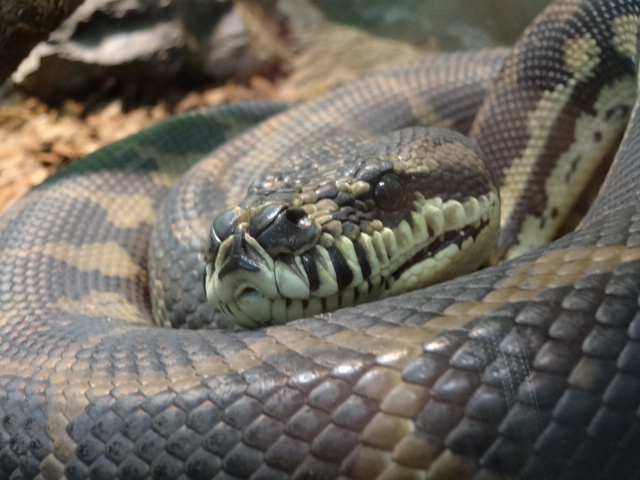 One day, this girl called お里(Osato) went into the mountain to take wild vegetable. Unfortunately, she came across the giant snake and he took her away. 太郎(Taro), who was the strongest and most powerful young man in the village, stood up for helping Osato and asked for help from the husband and wife dragons which lived in Tanoharu River. Taro and the couple dragons challenged the monster snake fighting day and night for three days. Finally, they succeeded to beat the snake and Taro rescued Osato.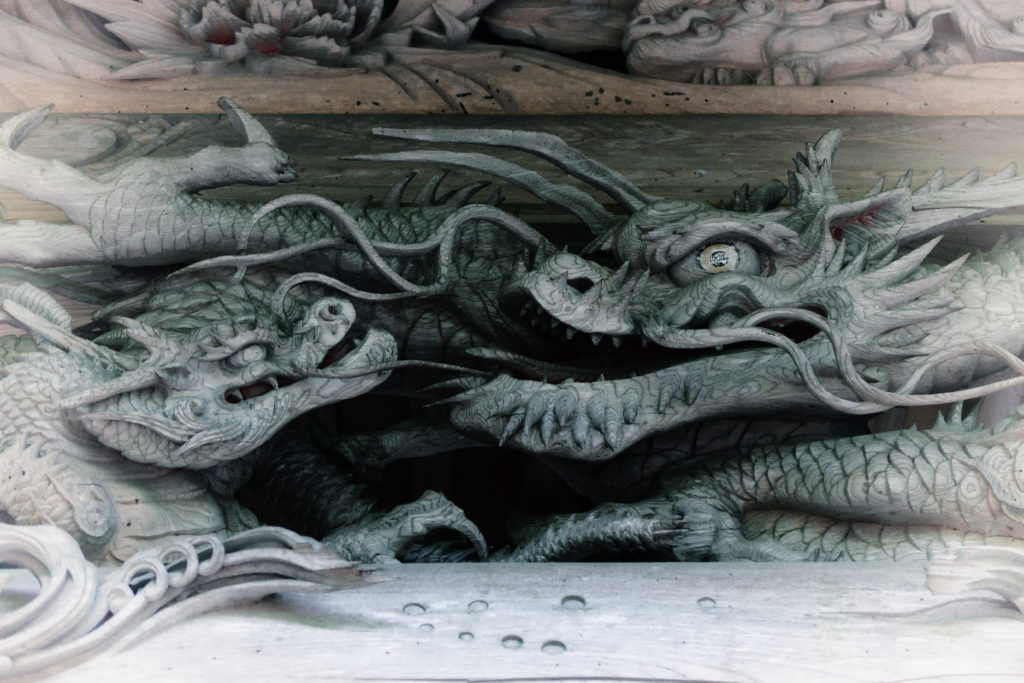 Osato fell in love with Taro who was brave and challenging. Taro also started to have feeling for Osato who was always sweet and thoughtful. But they were too shy to ask each other out. The couple dragons couldn't just stand by seeing them so they set up Taro and Osato. In the end the young couple got married at the place where the two rivers confluence and they lived happily ever after. Later on, people started to call the waterfall as Meoto Waterfall.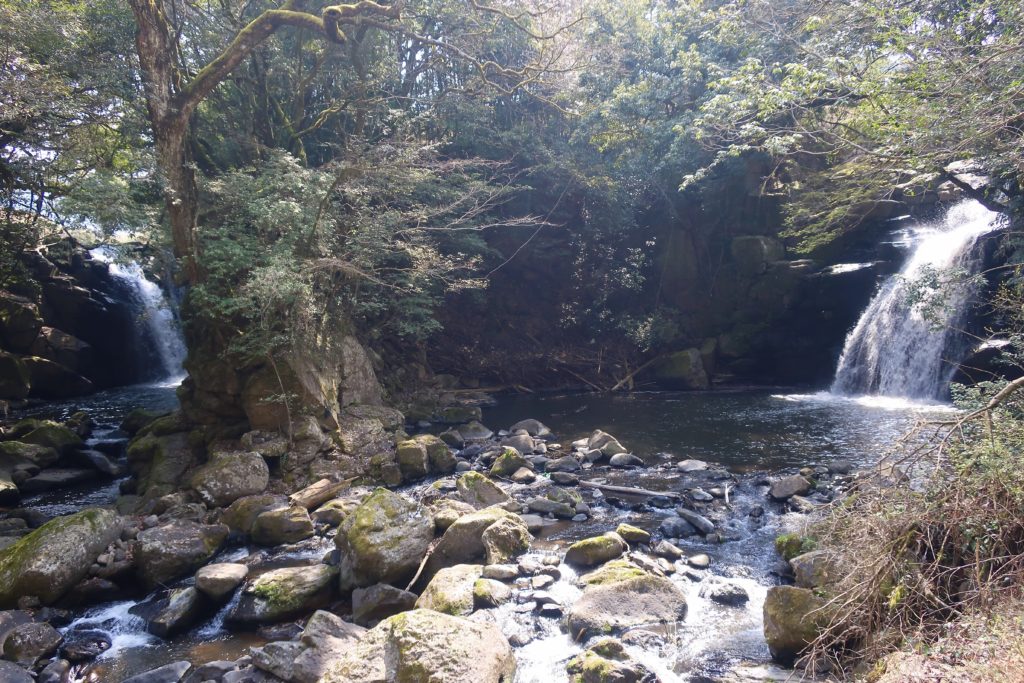 Always folk tale is more romantic, isn't it?


※ I just wondered that there are many stories between waterfall and dragons(I have introduced Shiraito Waterfall in Nishihara Village and they have one story about dragon.). In Chinese character, we use "滝(taki)" for waterfall. This letter consists of two parts which are the left one means water(水) and the right one means dragon(竜). From long time ago, people have had spiritual image to waterfalls so previously monks secluded themselves near waterfalls and practiced their religion. Waterfall is definitely a Mother Nature so people have seen it as something sacred and mysterious and naturally it was reflected to folk tales.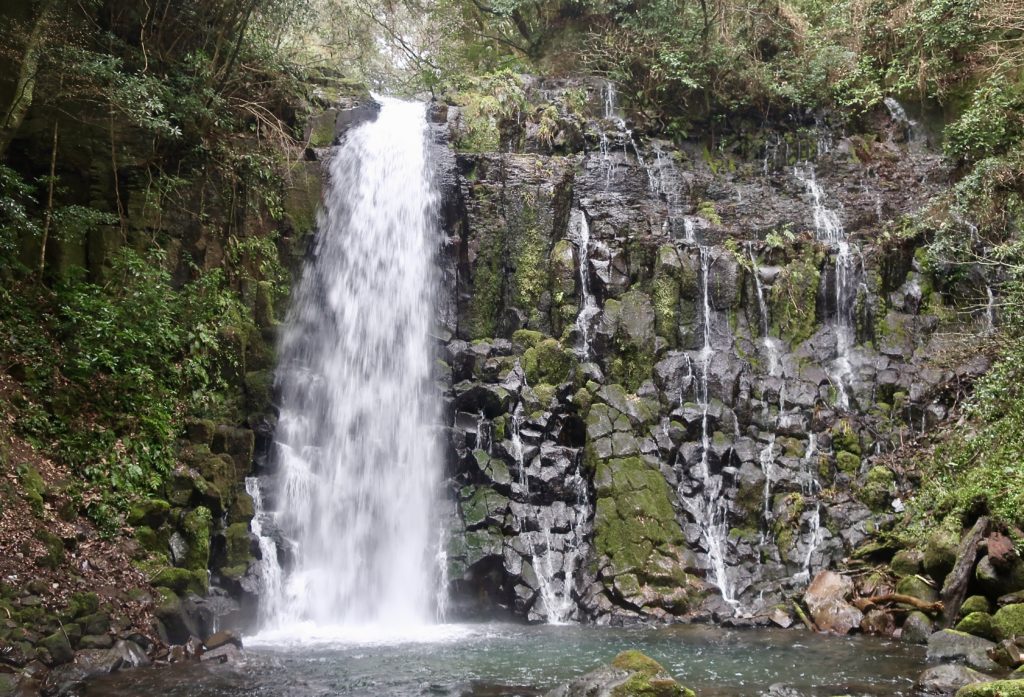 Divine beams of light and Meoto Waterfall, amazing work of art!
Meoto Waterfall is famous for the scenery which two beautiful waterfall and beams of light create. It has been famous among photographers but lately it started to become popular after some people shared the beautiful pictures on some SNS.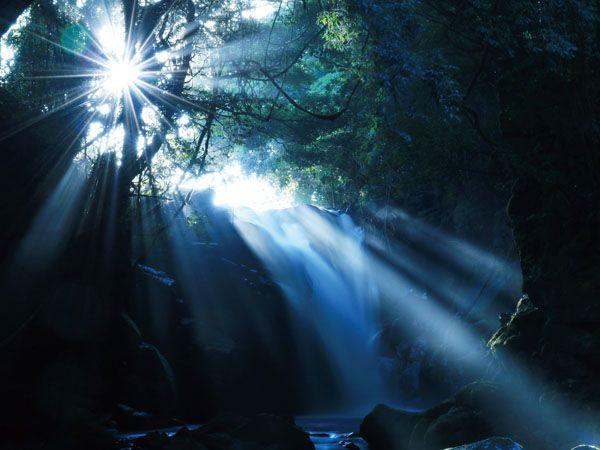 It looks like shower of light when you see beams of light come from trees and foliage. It's divine and no wonder people have been enchanted by it.


If you want to take photos of beams of light, you should visit there in the early morning. It also depends on season and wether condition but if you are lucky you will come across the amazing scenery in front of you. I'm sure it's worth getting up early.
Lovely Souvenir Shop ~Write down your wishes on Ema(絵馬)!~
There is a lovely souvenir shop and cafe in between the parking lot and the waterfall. They sell local products and food.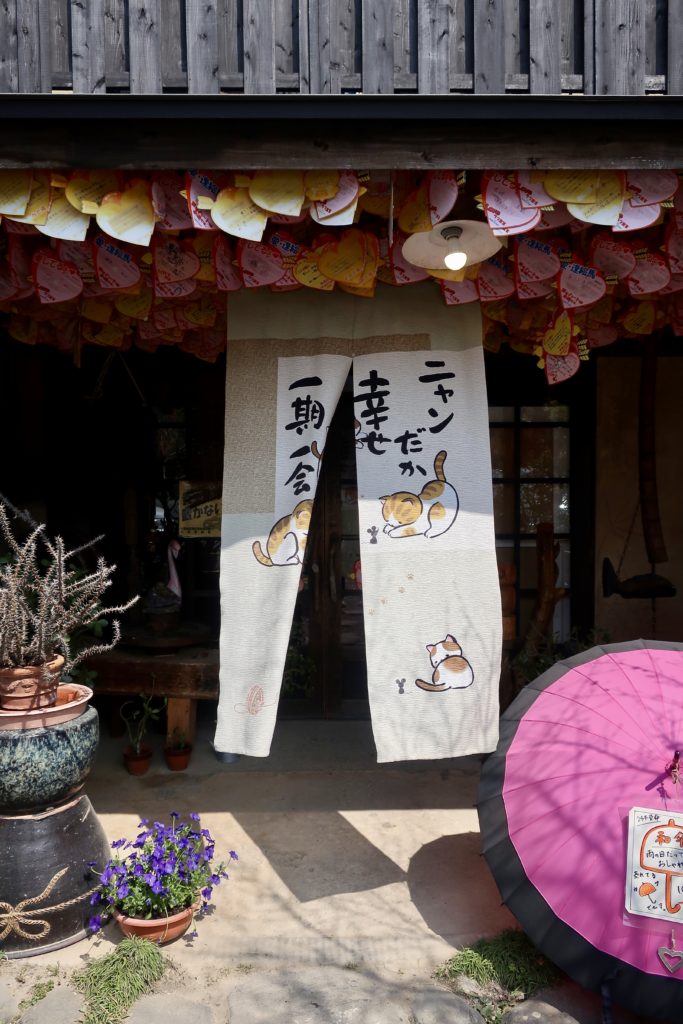 What attracts you most must be this heart shaped papers hang from the ceiling. It's called 絵馬(Ema) and people write their wishes on it(You can buy one at the shop with a couple of hundreds yen.). Because many people visit there for good luck for love, couples write their names on it and wishes for everlasting love. If you are single now, you can write your name and your loved one's name on it secretly and wish it will come true!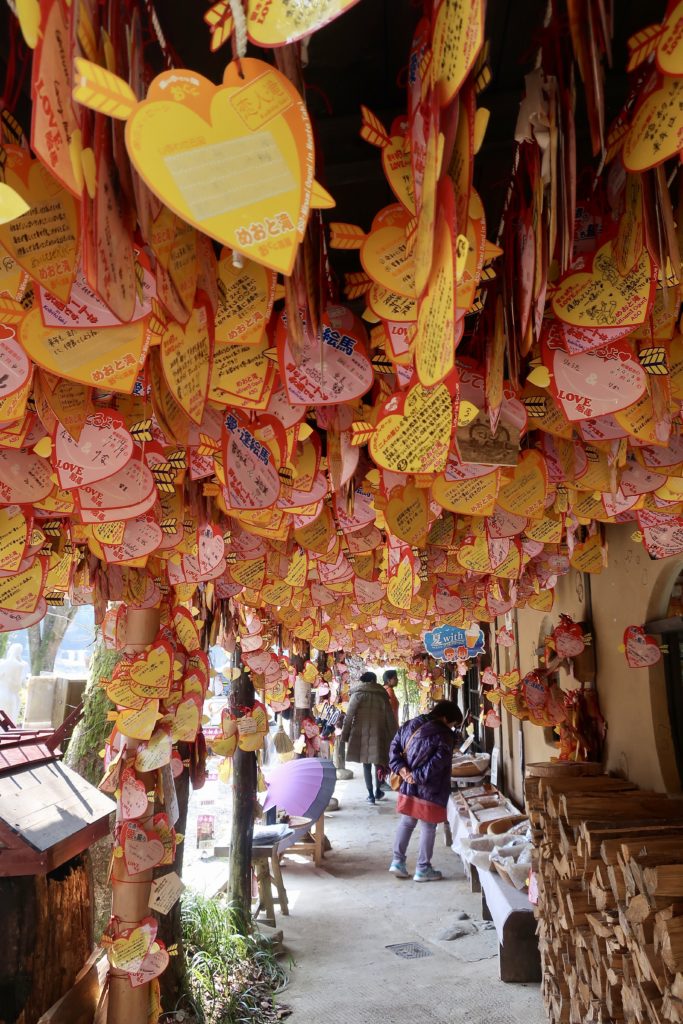 You can also play with these photo props and take the best photo!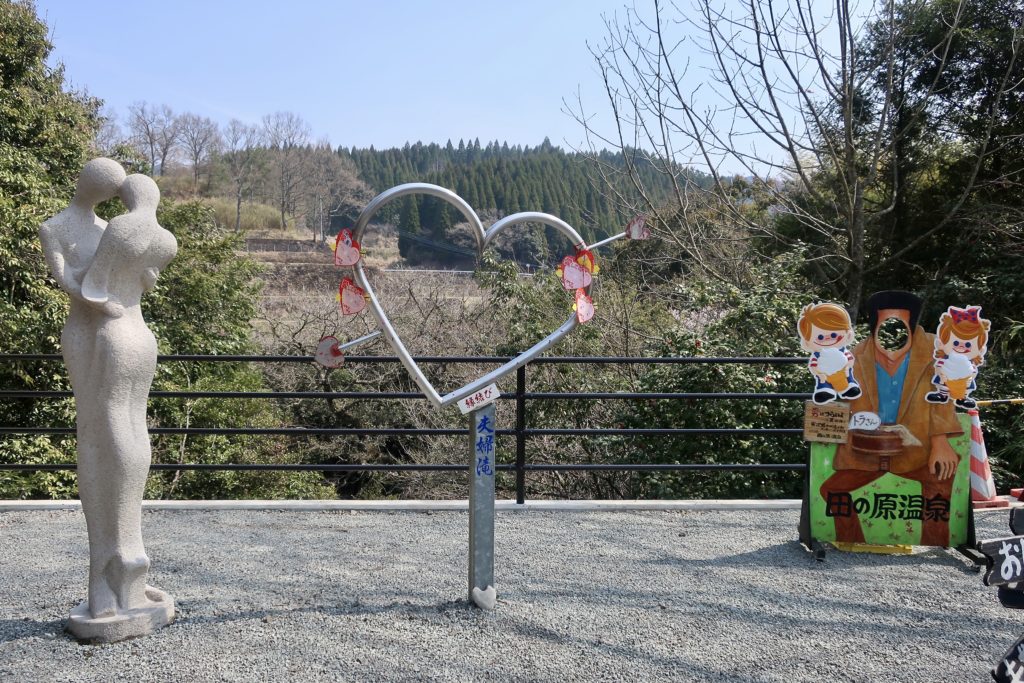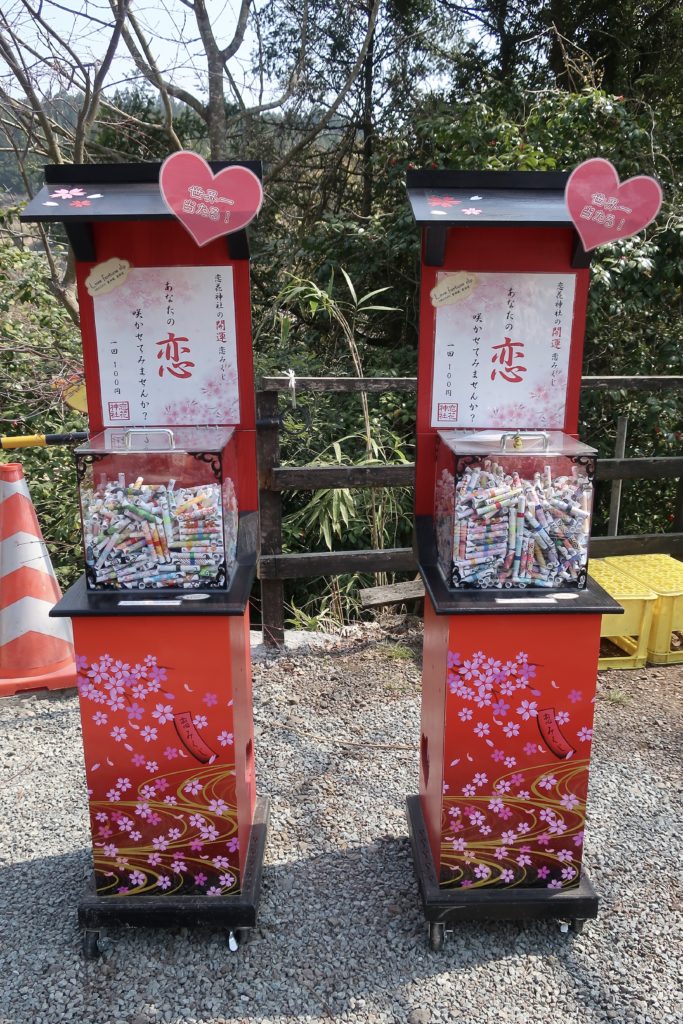 Link of souvenir shop
http://youmore-minamioguni.com/detail/etc-ja/1691


What else can we enjoy near Meoto Waterfall?
Kurokawa Onsen(黒川温泉) in Minamioguni Town(南小国町)
As I explained, Kurokawa onsen is famous for the good onsen(hot spring). There is a system called "入湯手形(Nyuto Tegata)". Buy a wooden plate onsen pass and you can visit three different onsen in the area. It's popular and people enjoy comparing the different texture of water and different atmosphere each onsen place presents. In winter, bamboo lanterns are decorated above the river and you will see dream-like atmosphere. It takes only 5 minutes from Meoto Waterfall so when you arrange a trip around Minamioguni Town, don't miss Kurokawa Onsen, too.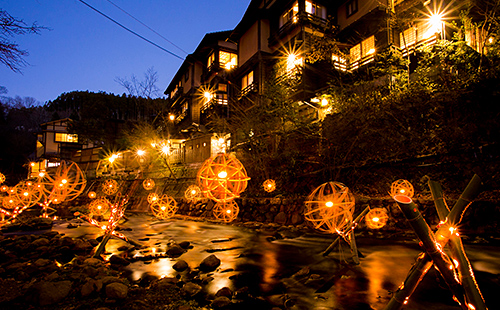 Nabegataki Waterfall in Oguni Town(小国町)
If you are a waterfall enthusiast, you should also visit Nabegataki Waterfall. This curtain look waterfall has fascinated many people around Japan. What's interesting about Nabegataki Waterfall is that you can go backside of the waterfall. It's very refreshing and you will see different view of it. Nabegataki Waterfall stands in Oguni Town which is a neighbor town of Minamioguni Town. It takes about 20 minutes from Meoto Waterfall and I'm sure it's worth to visit. Check the article below and get to know more about Nabegataki Waterfall!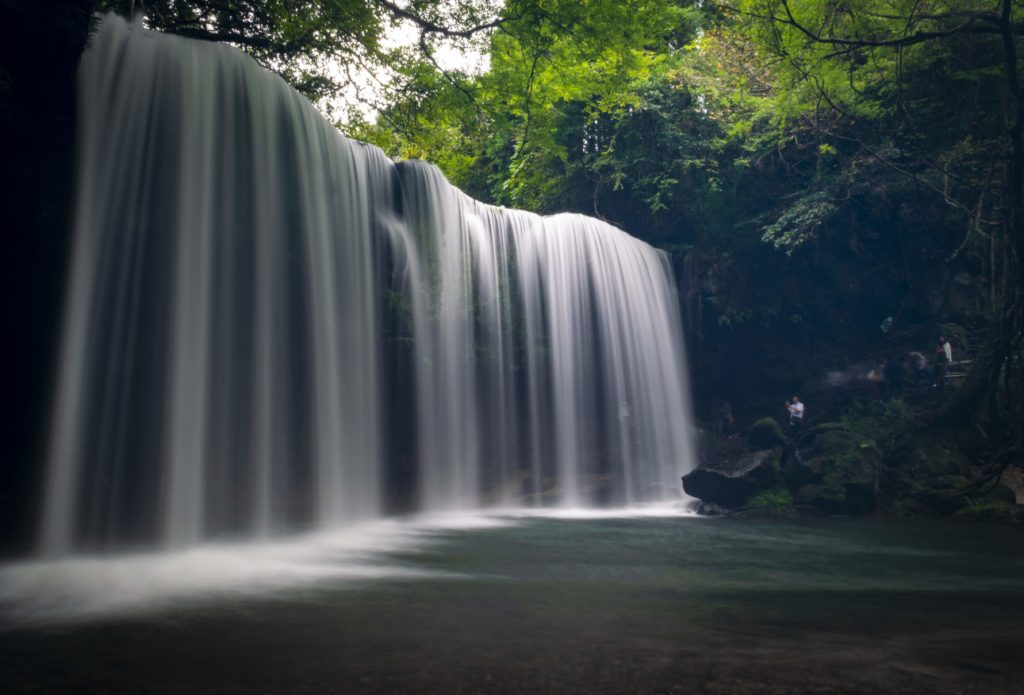 Visit Meotodaki Waterfall(夫婦滝) and enjoy the work of art that nature presents to us!
After restrictions of economic activities, we have seen how nature recovers and flourishes without us. This is such a difficult situation for all of us but we should rethink how we should live with nature.
I wish to visit Meoto Waterfall and be amazed by its great work of art again.
For now, please take care and stay safe.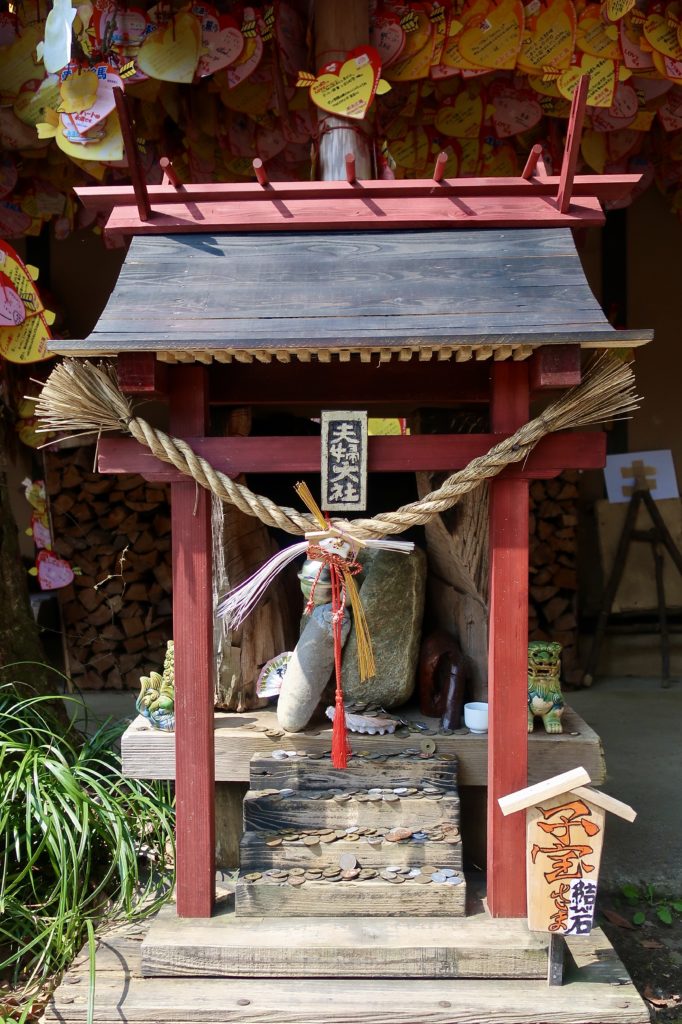 Map