After spending some time at Kuradake, we moved to Kikuchi keikoku which is the main attraction for that day.
When you go to Kikuchi keikoku by car, please enter 'Kikuchi keikoku kan(きくち渓谷館)' into the car navigation. Because if you enter 'Kikuchi keikoku(菊池渓谷)' , the navigation won't show the right place as it means somewhere inner part of Kikuchi keikoku.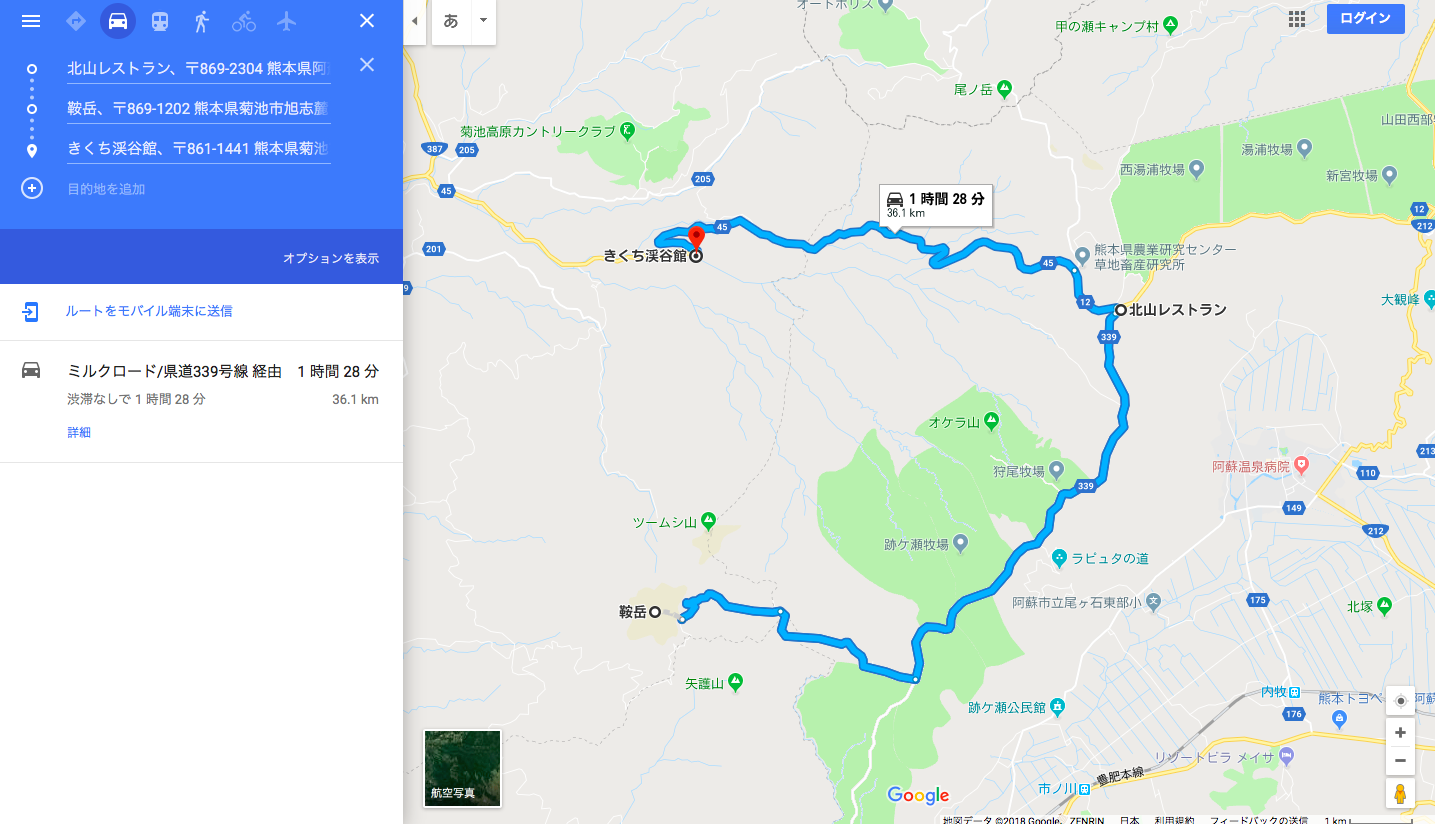 On the way to Kikuchi keikoku, we passed through Aso area.
Since it was such a beautiful day, we saw many people enjoying driving and motorcycle riding.
We dropped by Nishiyunouraenchi Kitayama tenbousho(西湯浦園地 北山展望所).
There is a restaurant so it's a good place to take rest after a long drive.
The good thing about there is the magnificent view.
From there, we can see the range of mountains which seem like buddha is lying.
From Kuradake, we couldn't see the shape clearly but this is the great place to capture it.
After about 20 more minutes drive, we arrived at Kikuchi keikoku.
Let me explain a little bit about Kikuchi keikoku.
Kikuchi keikoku is the gorge in a water source and it lies between Kikuchi city and Aso city.
It is famous for the great scenery and we can enjoy the season change.
All the places is surrounded by broad-leaf wild forest. 
It hasn't been developed much so we can see the wild nature there.
The summer in Kumamoto is super hot and humid so people often visit there craving for the cooler mountain retreat.
On April 14th and 16th in 2016, magnitude 6.5 and 7.3 earthquakes hit Kumamoto region.
These caused severe damages to all around Kumamoto and Kikuchi keikoku wasn't the exception. 
After all the restoration in Kikuchi keikoku, it could finally reopen at the end of March in 2018.
There are some parking areas and if the nearest one is full, the person there will show you other ones.
Luckily, we could park the car at the nearest one so we headed to Kikuchi keikoku kan.
In the official website, it says that they offer free drinking water at the entrance of Daiichi chushajo(第一駐車場) 
so if you have an empty bottle, you can get some clean drinking water for free. 
We were so starving after climbing and playing outside so decided to have lunch first.
In Kikuchi keikoku kan, there are a restaurant and a souvenir shop. 
It's famous for yamame(やまめ or 山女魚 which is kind of trout). 
Yamame is wild fish and live in gorge which has clear water. 
They were selling grilled yamame outside and also we can eat some at the restaurant.
Some tables and chairs are placed towards the windows so we can enjoy the nice view while eating.
My friends ordered yamame teishoku and I ordered hamburg teishoku.
They also have desserts and drinks so it's a nice place to relax.
After having nice lunch, we entered Kikuchi keikoku. 
The entrance fee is 100 yen per person and this money is used to maintain natural environment there.
I'm so sure that everyone is fascinated by the stunning gorge.
Water is so clean and the view  is picturesque.
My friends are so good at taking photos and were enjoying doing it with their tripods.
I was just sitting on the rock relaxing and thinking when was the last time to forget about everything and just relax.
It was too cold to paddle my feet over 3 seconds in the water!
One of my friend is a yoga instructor and was enjoying yoga there.
Since we had such a wonderful time, we didn't realize that we spent over 3 hours!
We decided to come there in each season.
If you want to get out of the concrete jungle and forget about hustle and bustle of life, Kikuchi keikoku is the best place to visit.
【Information and links】
Nishiyunouraenchi Kitayama tenbousho(西湯浦園地 北山展望所)
Address : 1452-885, Nishiyunoura, Aso-city, Kumamoto-prefecture
Kikuchi keikoku
Kikuchi keikoku kan(きくち渓谷館 ) 
Address : 5026, Hara,  Kikuchi-city, Kumamoto-prefecture(菊池市原5026)