Hello, world!
This is my first article.
I'm going to introduce 菊池市(Kikuchi-city) today.
Kikuchi-city is located in the north part of Kumamoto.
Kikuchi has great quality of water source and thanks to it, Kikuchi is famous for agriculture.
Such as, rice, tea leaves, Asian pears, melons, burdock(we call 'gobou' in Japanese.
You may not be familiar with this vegetable but this is a great source of fiber) etc. Also, it's well-known for livestock farming.
They have good Ekome beef, Kyokushi beef and other meat and dairy products.
In terms of attractions, they have the great "菊池渓谷(Kikuchi keikoku, means Kikuchi gorge)" which is a beautiful gorge and one of the best water in Japan.
Also there is 菊池温泉(Kikuchi onsen, means Kikuchi hot spring) which is one of the top 100 hot spring in Japan etc.
Even with these delicious foods and beautiful nature, unfortunately, Kikuchi is sometimes considered to be a 'boring' city.
This time, me and my friends will prove that it's totally wrong.
Our 1 day trip plan was like this.
1. Climbing 鞍岳(Kuradake, means Mt.Kura-dake).
2. Visiting 菊池渓谷(Kikuchi keikoku, means Kikuchi gorge)
3. Taking 足湯 (Ashiyu, means hot spring for feet) and Eating delicious softy.
4. Admiring 蛍(hotaru, means fireflies)
Let me introduce you about 鞍岳(Mt.Kura-dake) first.
Kuradake is 1118m high mountain.
When it's sunny, we can see the great panoramic view from there, from Kumamoto city to Aso and even Kuju range which is located in Oita prefecture.
There are parking area near the top and it takes about 20 minutes from there to the top.
If you want to enjoy climbing more, you can climb from the bottom and it takes about 3-4 hours.
Me and my friends left Kumamoto city around 9:30 and headed to Kuradake.
It was a beautiful morning and we were so excited and energetic from the very beginning.
I heard it's better to head to Shiki no sato(四季の里) which is just next to Kuradake.
If we take the road through Odu(大津), we will go the long way around.
So the road which shows in the map below is a shortcut.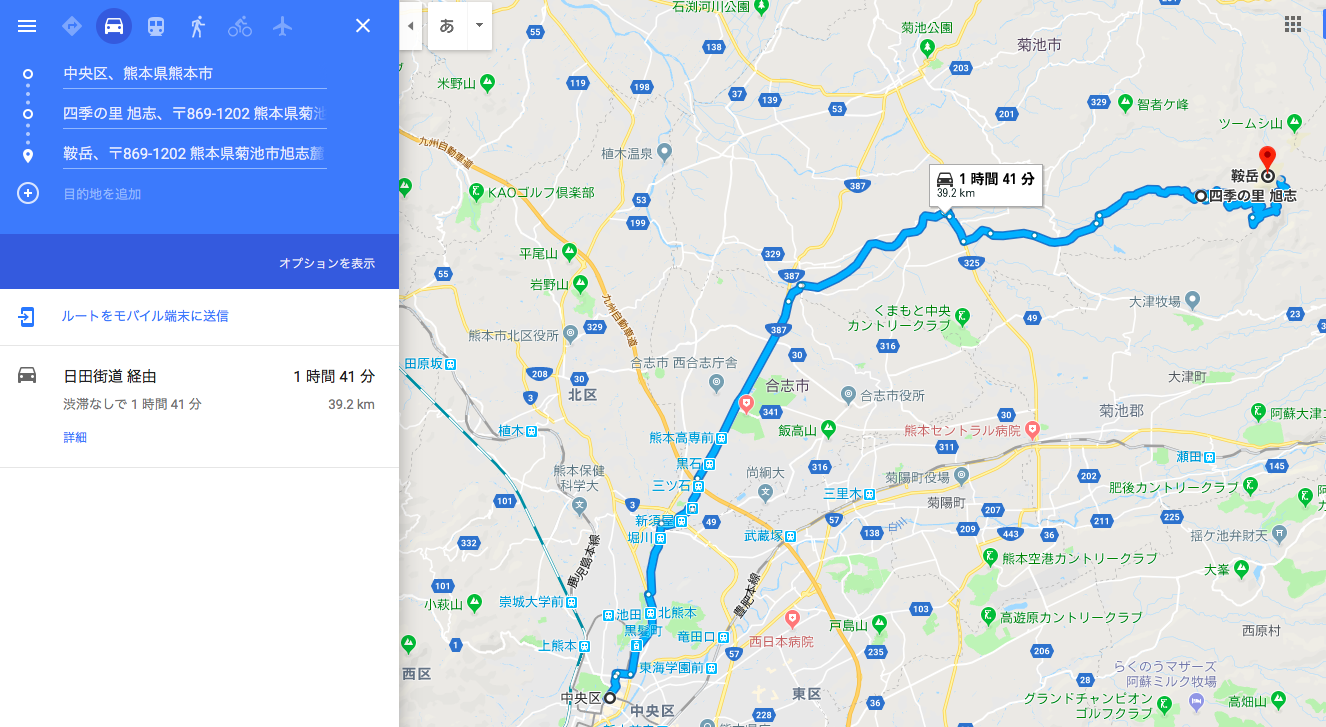 I didn't know how to enter the direction to Kuradake in the car navigation at first.
I recommend you to enter 'Shiki no sato(四季の里)'.
Once we got there, we found the signs to Kuradake so just followed them.
On the way to the parking, we opened every window and enjoyed the nice breeze.
Greens are everywhere and the one of the best drive I've ever had.
First, we drove up to the parking near the top of Kuradake(names 'Daiichi chushajo(第一駐車場)').
The parking is at the 1000m high.
From the parking to the top, it's about 700m and took us about 20 minutes on foot.
This is the photo of Daiichi chushajo which is just the opposite of the entrance.
You'll see this sign at the entrance.
Now, let's enjoy climbing!
We met a nice man at the parking and he recommended us not to walk on the logs.
There are two paths in parallel, one with logs for each step and the other without logs.
Because it rained heavily at the previous day, it was a little slippery.
I realized that I should buy nice climbing shoes not converse ones…
On the way to the top, all the trees created beautiful environment.
My friend expressed it as 'Totoro no mori (トトロの森)' which is from one of the Ghibli movie.
I felt that I'm so relaxed and releasing all the stress in busy life.
We also found this round shaped lights swaying by the wind.
The other friend found and called them 'Tamago(たまご)' which means eggs in Japanese.
I guess these relaxing environment sharpen our intuition to notice something we tend to miss in daily lives.
When you find this sign, you're almost at the top!
After 20 minutes walk, we finally arrived at the top.
The view was breathtaking.
The sky was so clear and we could see panoramic view from Kumamoto city to Aso.
It was so windy but it brought us refreshing moment.
When we arrived at the top, there were about 10 people there, taking photos and sitting and enjoying talking.
The good thing about Kuradake is it's not crowded.
I heard that if I go to Mt.Fuji or any other famous mountains, I'll see lots of people and can't really relax.
If you want to avoid crowd of people and enjoy the therapeutic walk, Kuradake is the perfect place to go.
You'll see this sign at the exit(same place as entrance).
It says 'good job and thank you for coming. Have a safe trip back home'.
At Shiki no sato, they have restaurant and hot spring so you can visit there and relax after climbing Kuradake.
Also, there are camping site and small zoo so it's a good choice for family too.
Actually I saw a 2 year-old girl at Kuradake and she was climbing with her parents.
I'm sure it'll be her great memory and so are the parents'.
Here is a link, address and telephone number of Shiki no sato.
Unfortunately they don't have English website but to get some ideas, I hope they'll be useful.
Shiki no sato(四季の里)
Address : 2934-10, Kyokushi fumoto, Kikuchi-city, Kumamoto-prefesture