Why did you want to climb Mt. Everest?
– Because it's there.

This is the famous question and answer between the journalist and the British climber, George Mallory.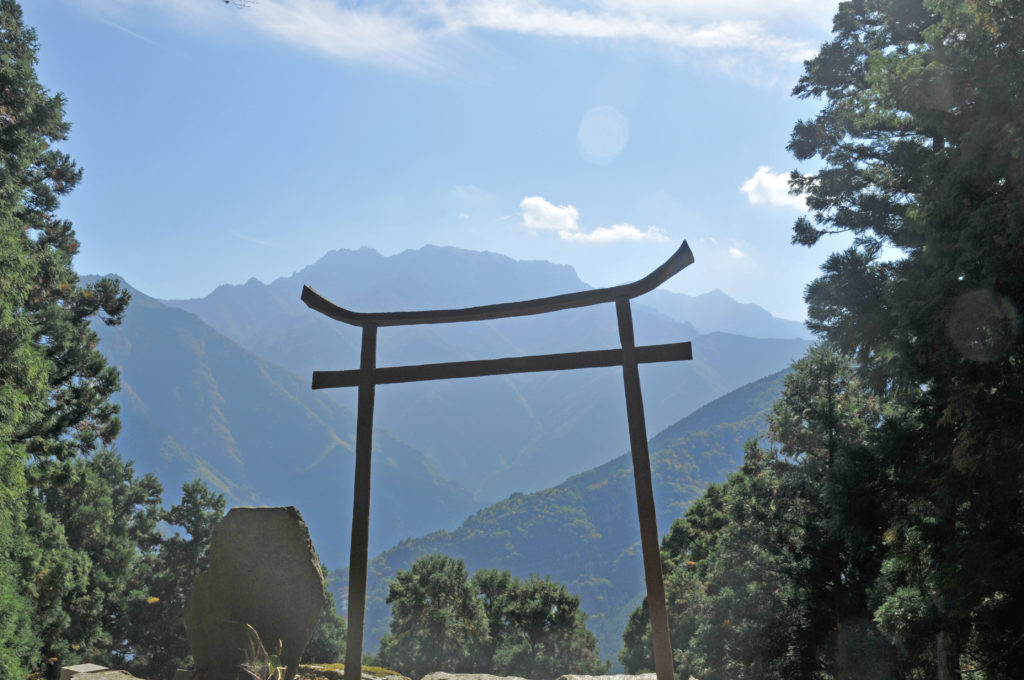 The relationship between human and mountains has always been close. For example in Japan, people in the past used to climb mountains to approach to and worship gods because we believe gods live in everywhere in nature due to the idea of 神道(Shintoism).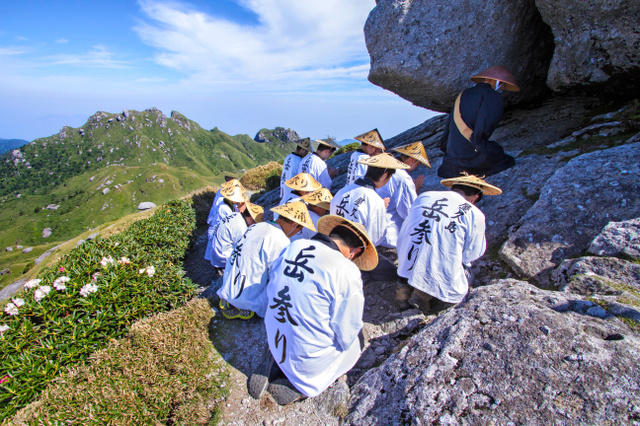 I heard that in 7th to 8th century, nobles enjoyed climbing for having a date. We can read their poems of love which were sang up to mountains.


In this day and age, the meaning of climbing has changed a little. A few years ago, the word "山ガール(Yama-girls)" became a buzzword in Japan. "Yama-girls" means girls or women who love climbing mountains and wear fashionable mountain clothings. So some people enjoy climbing for entertainment and style.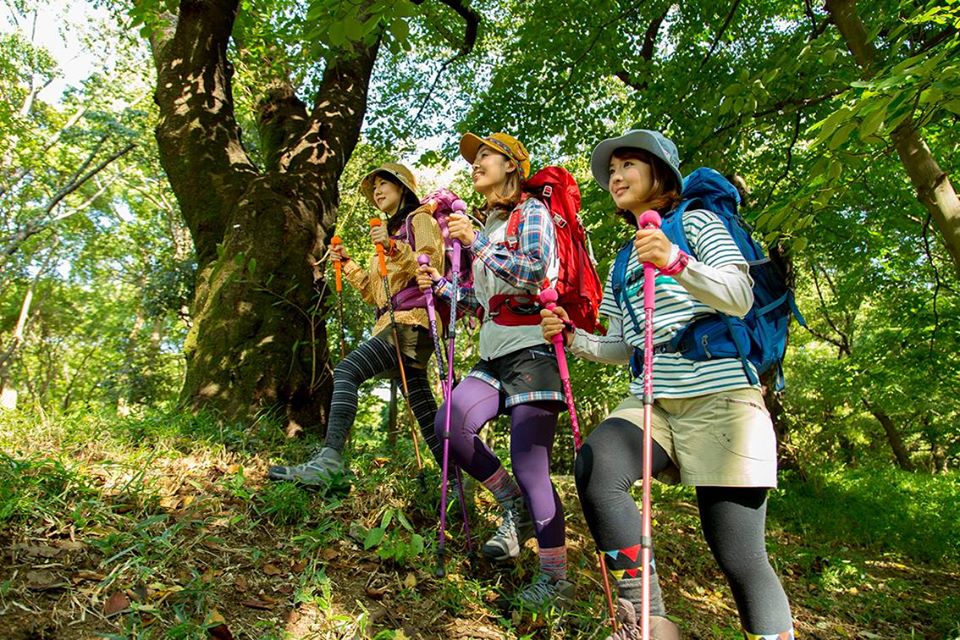 The first mountain I climbed was Mt. Kura-dake in Kikuchi city in 2018. Actually, it was my first article here!
→ https://untappedkumamoto.com/nature/38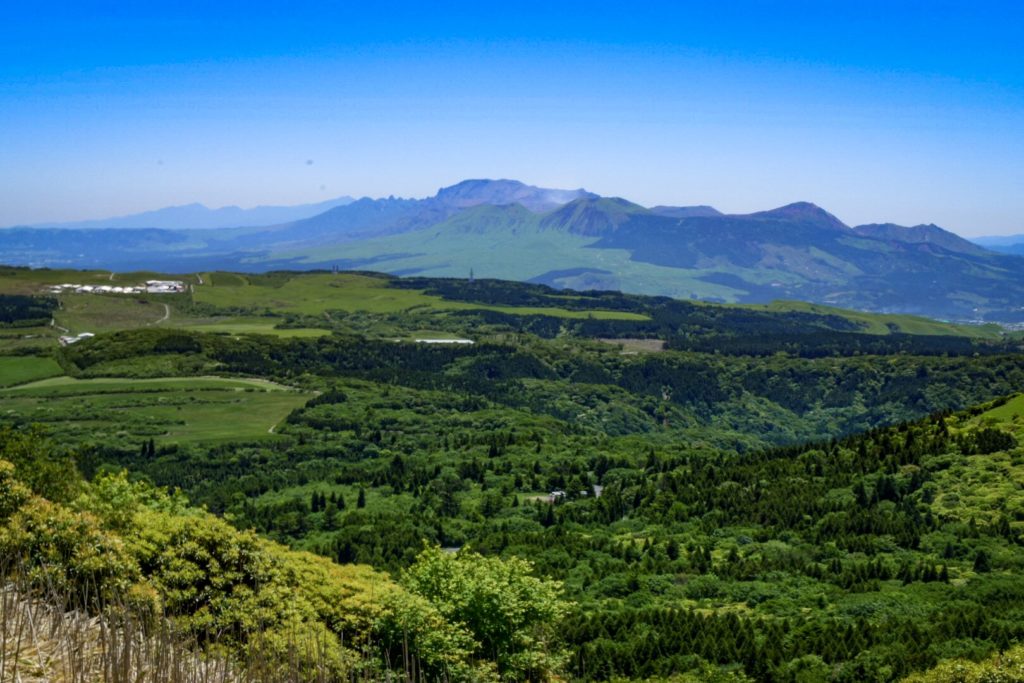 I guess it wasn't a real climbing because my friends and I parked the car near the top and hiked just for 30 minutes but the view at the top was just so amazing and unforgettable.


Today, I'd like to share with you Mt. Taromaru(太郎丸岳) and Mt. Jiromaru(次郎丸岳) in Kamiamakusa city(上天草市). Both mountains are classified as lower mountains but it is achievable to climb both. Let's see how it was to climb both mountains and what is waiting onto the top.


Mt. Jiromaru(次郎丸岳) and Mt. Taromaru(太郎丸岳) in Kamiamakusa city(上天草市), Kumamoto
What's famous in Kamiamakusa city(上天草市)?
First, let's learn a little bit about Kamiamakusa city(上天草市).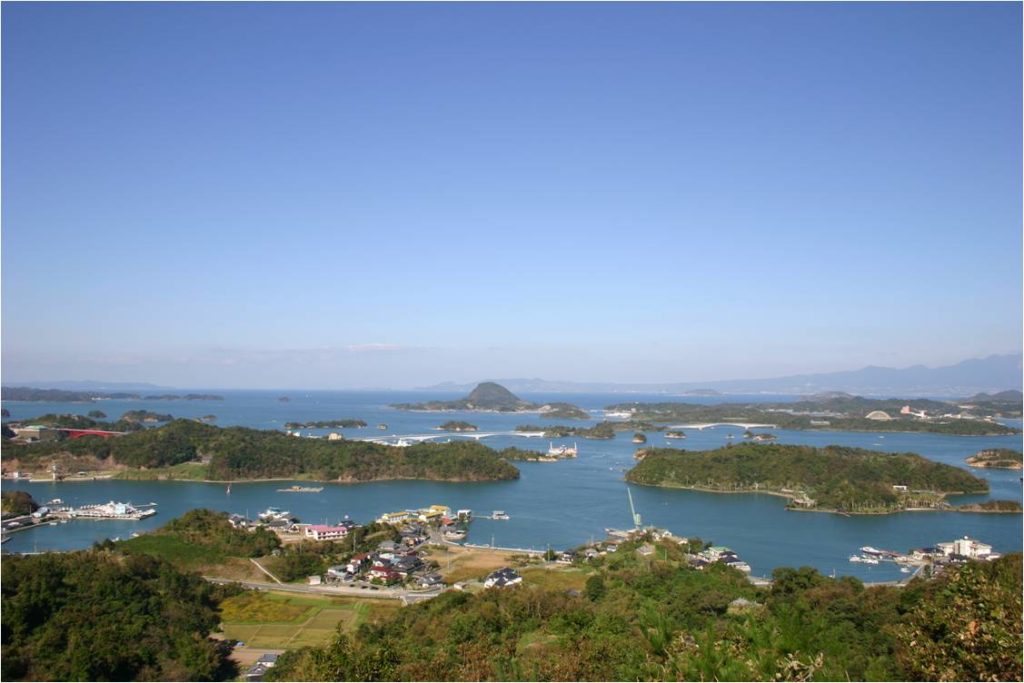 Kamiamakusa city locates in the eastern parts of Amakusa islands. The attractive part of Amakusa is that you can see both seas and mountains all together. Also, there are many small islands on the sea which makes the scenery more pretty.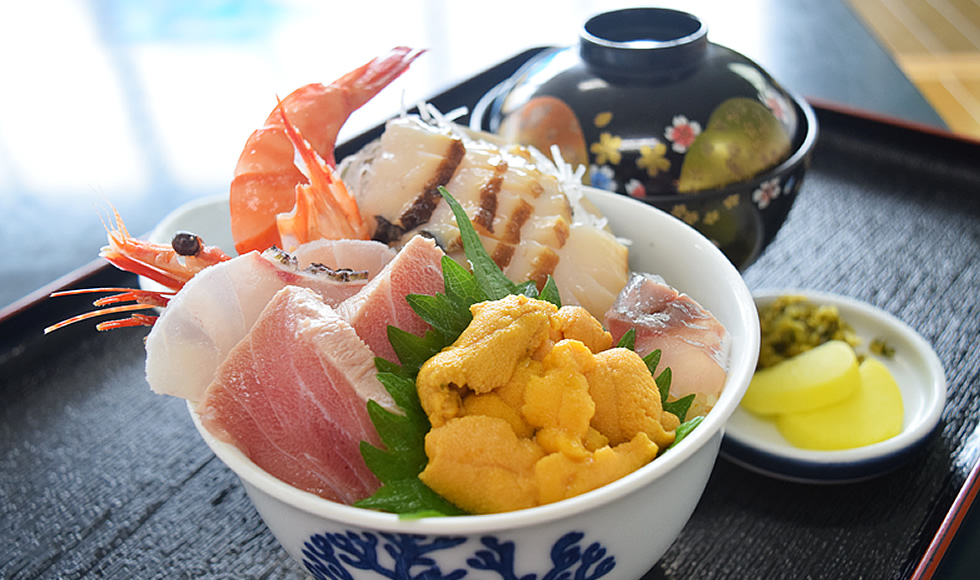 Except for the lovely scenery, Kamiamakusa is famous for fresh seafood. Kamiamakusa is a fishing town which is surrounded by Shimabara Bay and Yatsushiro Sea. They get good quality of red snapper, prawns, octopus, conger eel, etc. There are many seafood restaurants which offer you lovely 寿司(sushi), 刺身丼(Sashimi-don, means seasoned sashimi rice bowl), 天ぷら(tempura), etc.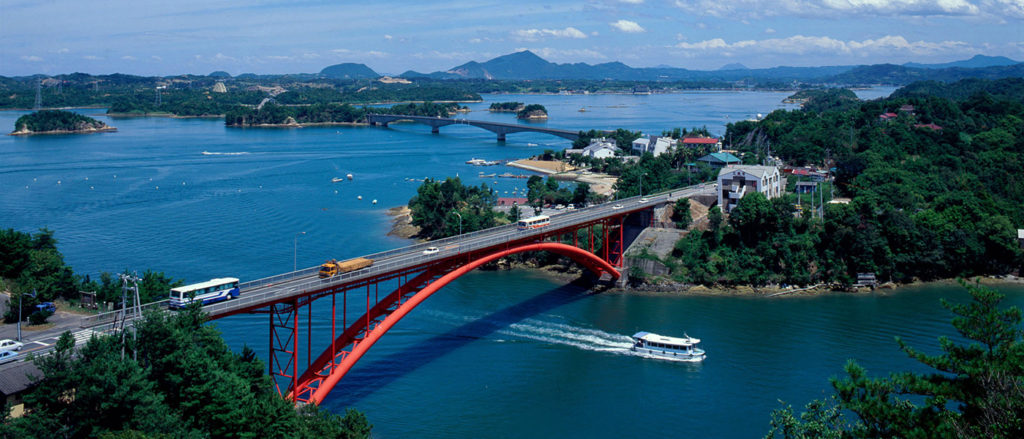 Also, you can see pearl farming and this scenery symbolizes Amakusa area. There is a road called パールライン(Pearl Line) which connects main islands in Amakusa. Perl Line is considered to be the Best 100 scenic roads in Japan and from Oyano-town to Matsushima-town in Kamiamakusa, you will drive across several bridges and see open panoramic scenery.


Climbing Mt. Taromaru(太郎丸岳) and Mt. Jiromaru(次郎丸岳).
Mt. Jiromaru and Mt. Taromaru locate in Kamiamakusa city. Both mountains are acknowledged as one of the best 100 mountains in Kyushu and loved by many climbers. The hight of both mountains are rather lower but it is said that these mountains are for intermediate to advanced climbers.(Actually,I knew it later…)
Story about two-brother mountains, Mt. Taromaru(太郎丸岳) and Mt.Jiromaru(次郎丸岳).
The name "Jiro" and "Taro" are popular Japanese name for men(they sound a little old-fashioned, though). There is an interesting story about both mountains.


Once upon a time, these were two brother-mountains which were very close and got along very well. The elder brother was Mt. Taromaru and the younger one was Mt. Jiromaru and Mt. Taromaru was taller than his younger brother.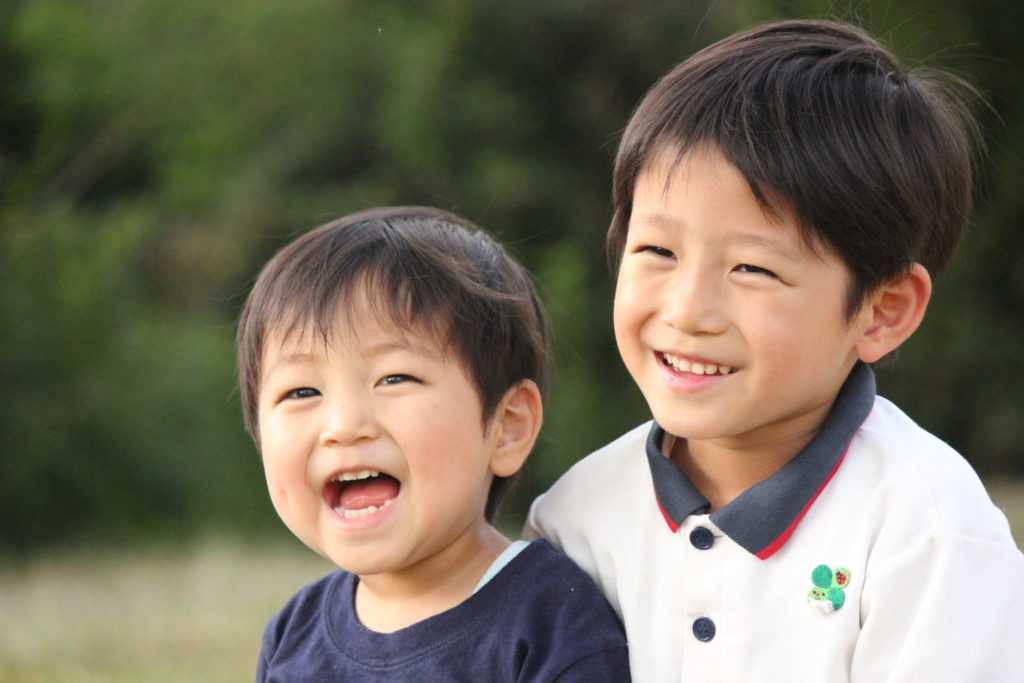 One day, Mt. Taromaru excitedly said to his younger brother that "Mt. Jiromaru, today we have another stunning sunset, don't we?". Mt. Jiromaru went, "You are lucky, brother. You can see that beautiful sunset everyday. I haven't seen because you are always taller than me.". Then the elder brother said "Why haven't you tell me so? Ok, let's change our positions.". As Mt. Taromaru started to move, his peak broke down a little and in the end it became shorter than his younger brother. Since then, Mt. Jiromaru can see the beautiful sunset everyday and appreciates his elder brother. Now, Mt.Taromaru is 281m high and Mt. Jiromaru is 397m high.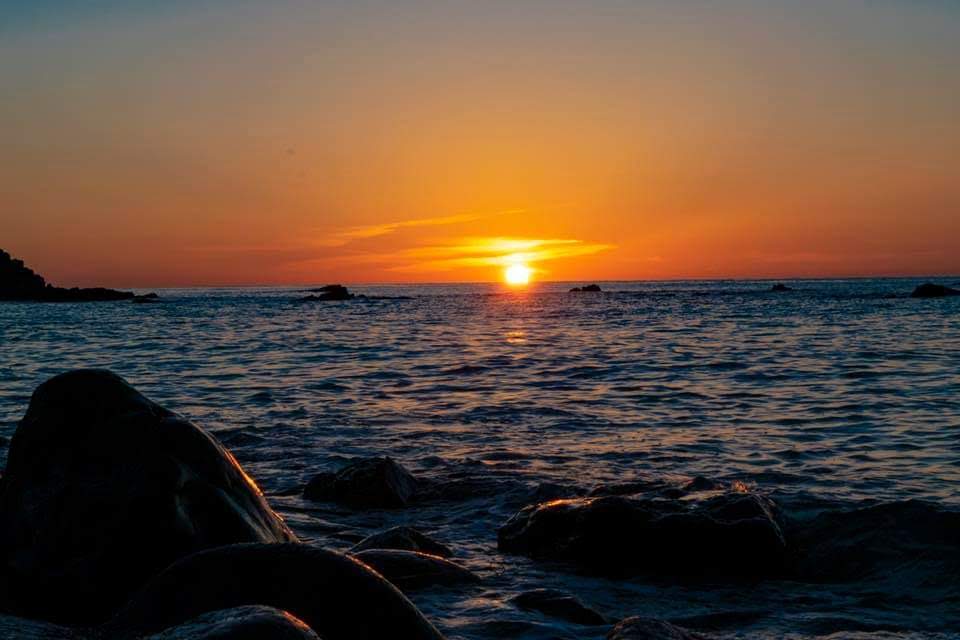 Mt. Jiromaru(次郎丸岳) ~ Real Breathtaking Experience, Roar on Lion Rock(ライオン岩)!~
Now, let's see how our climbing was one by one.


My friend and I are still early birds so we left Kumamoto City at 6am and arrived at the parking lot before 8am.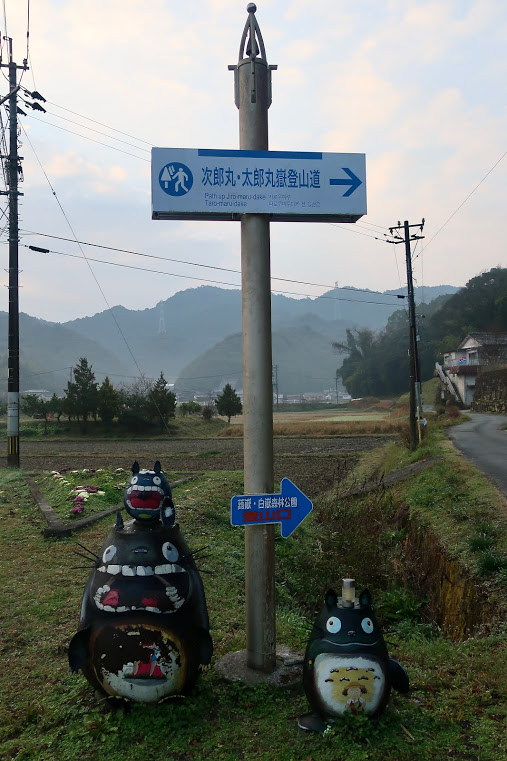 Just in front of the parking space, you will see these cute Totoros. It's free to park there. After changing shoes, we started climbing at 8am.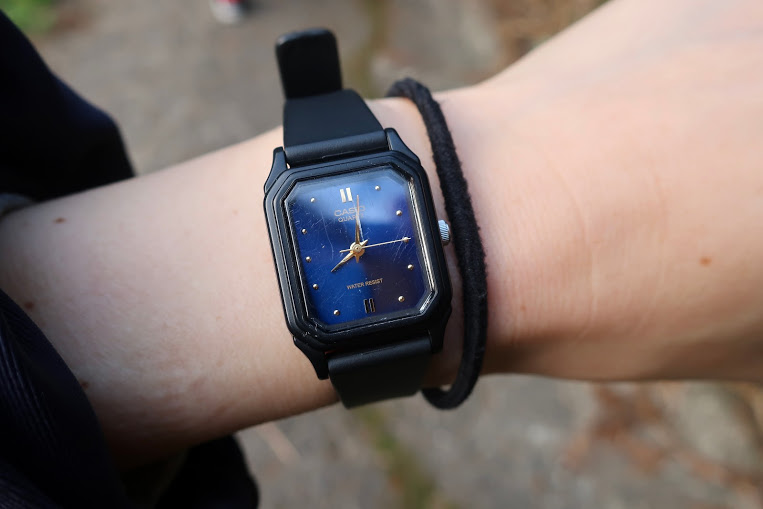 From the starting point, we walked through residential area. At some points, you will see these handmade dolls and boards to show which way to go so just follow them.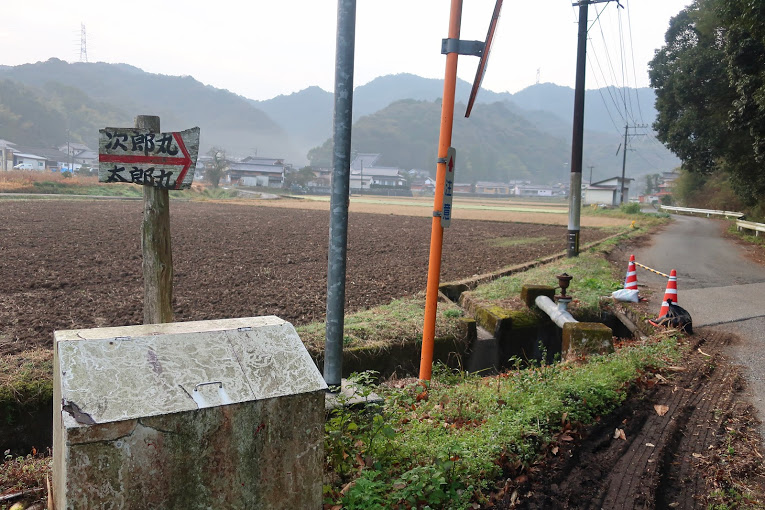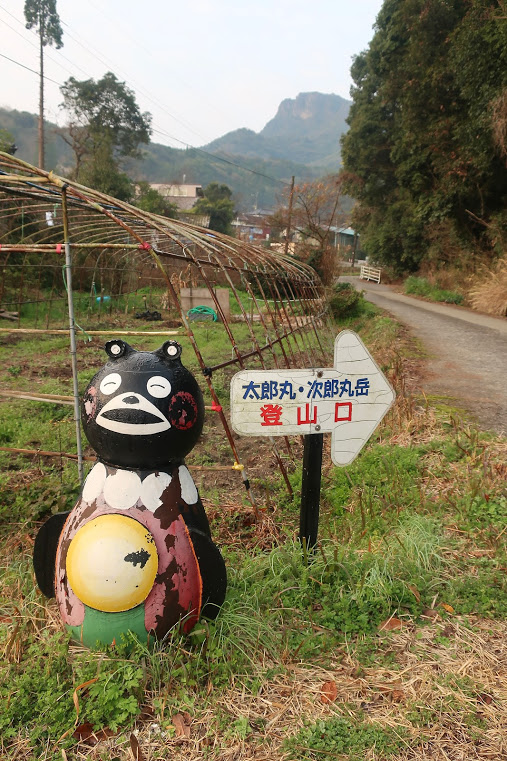 It was February 2nd and unusually warmer. The temperature sometimes went up to 15 degrees! Many spring flowers such as 梅(Ume, means plum blossom) had misunderstood spring had come and bloomed already.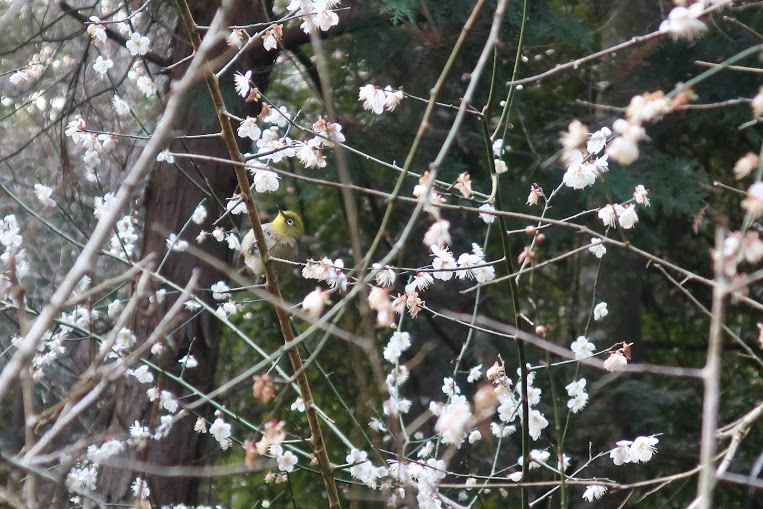 めじろ(Mejiro, means White-eye bird) came to plum blossoms and drank nectar of flowers.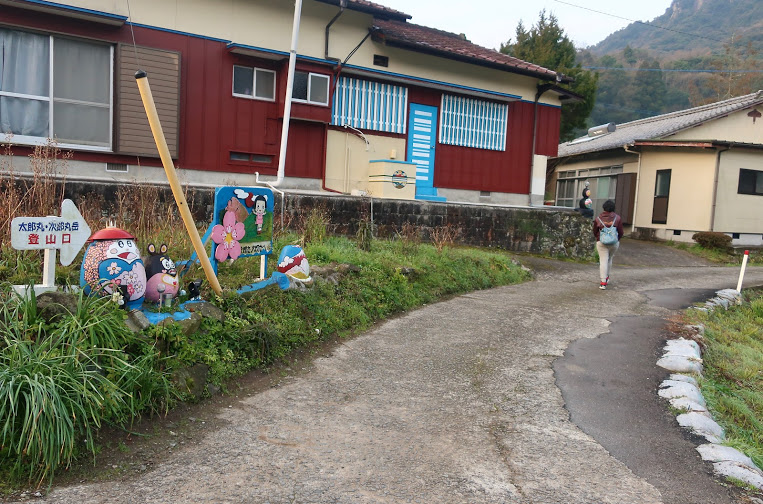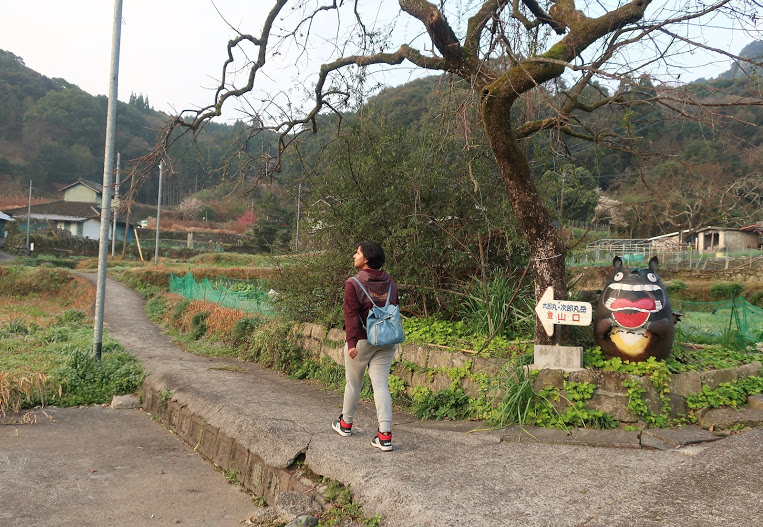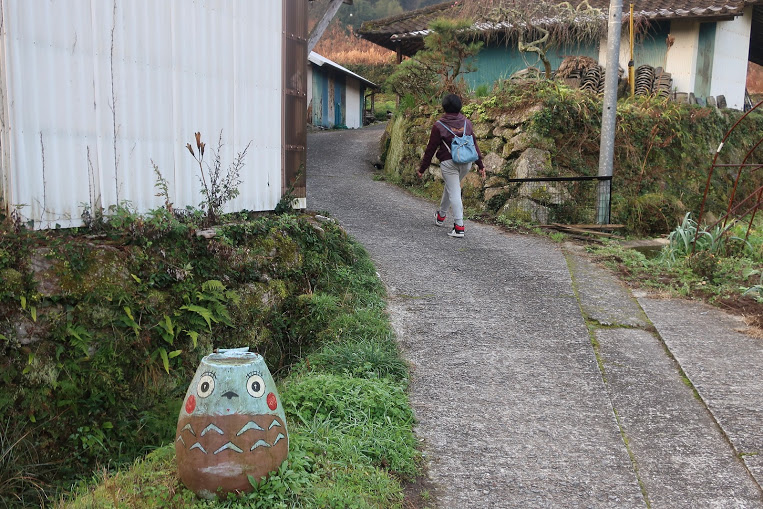 Before climbing Mt. Jiromaru and Mt. Taromaru, we asked some people who have already climbed these mountains and they said it's not difficult to climb them. It's rather easy. So we judged it would be so easy like hiking.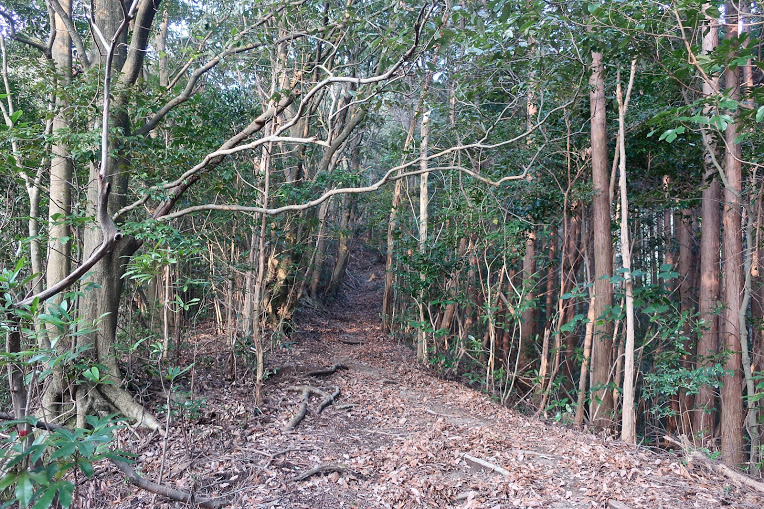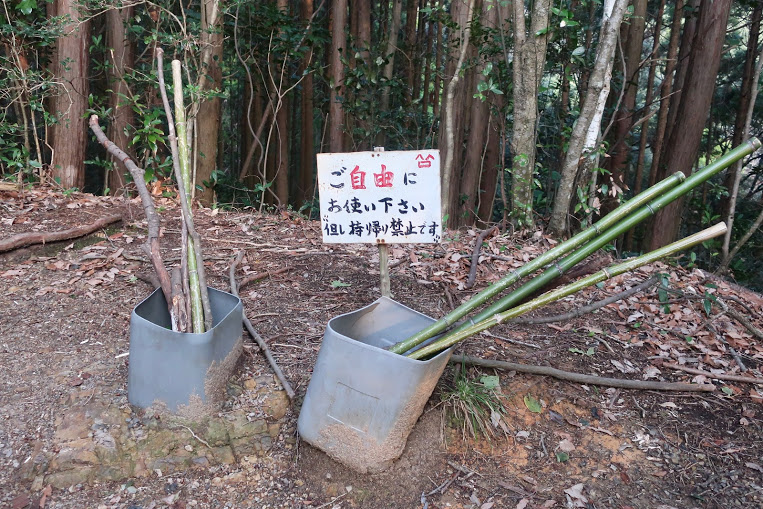 After walking for a while, we found these bamboo sticks. We always wanted to have climbing sticks so we borrowed one each. It really worked afterwards so if you don't have yours, take one here. The sign says after using it, please take it back there.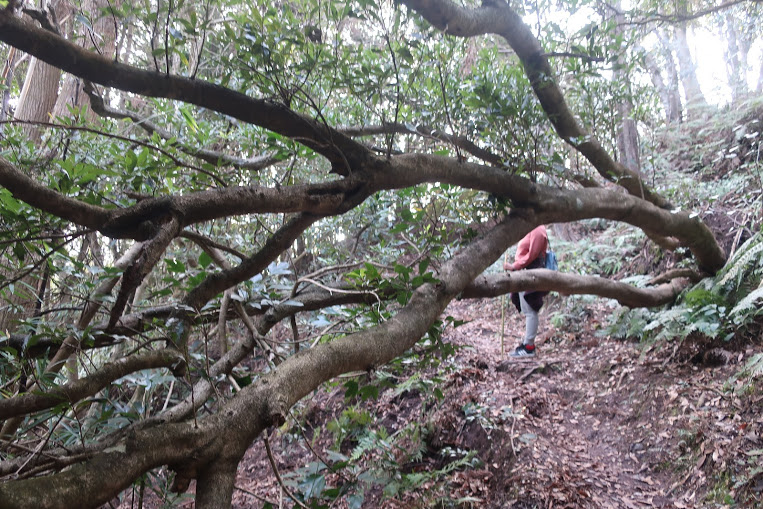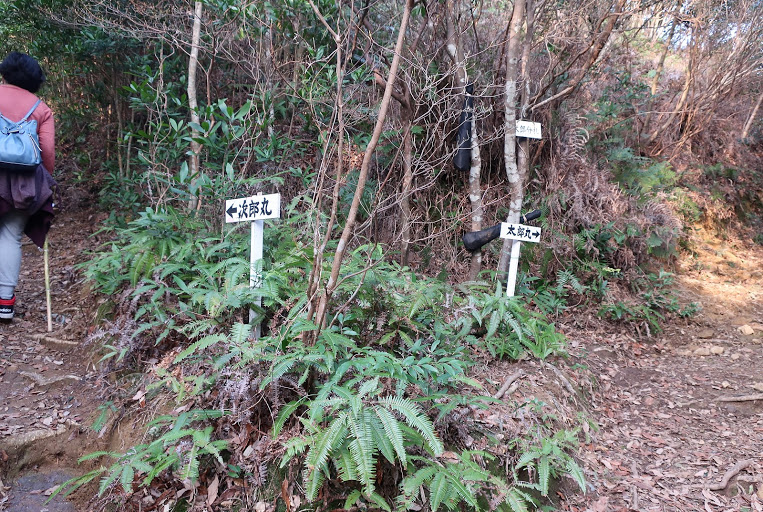 ⬆️ This is the branch point between Mt. Jiromaru and Mt. Taromaru. From the starting point to this branch point, it took about 30 minutes. My friend heard that it would be more difficult to climb Mt. Jiromaru so we had decided to go to Mt. Jiromaru first.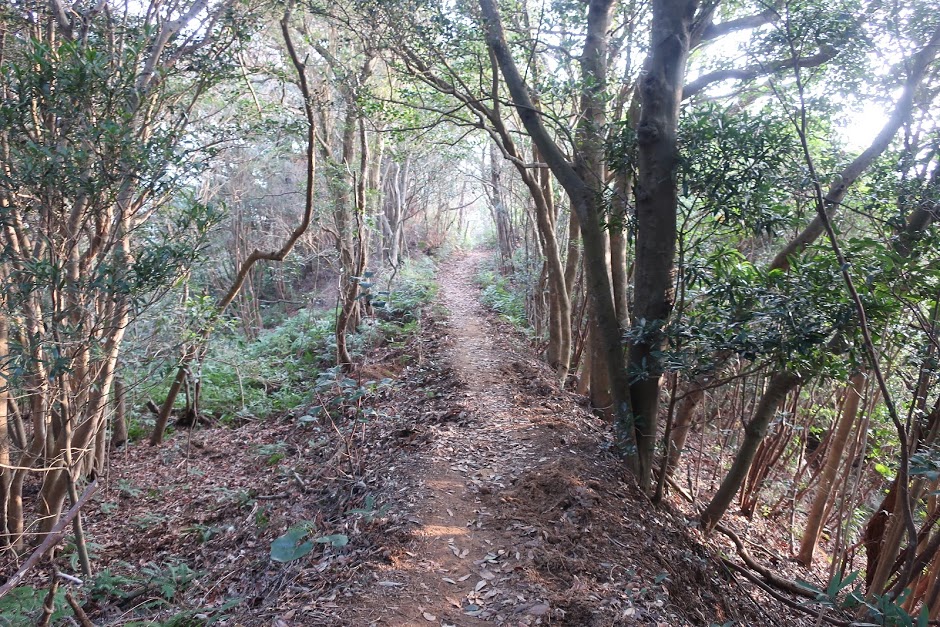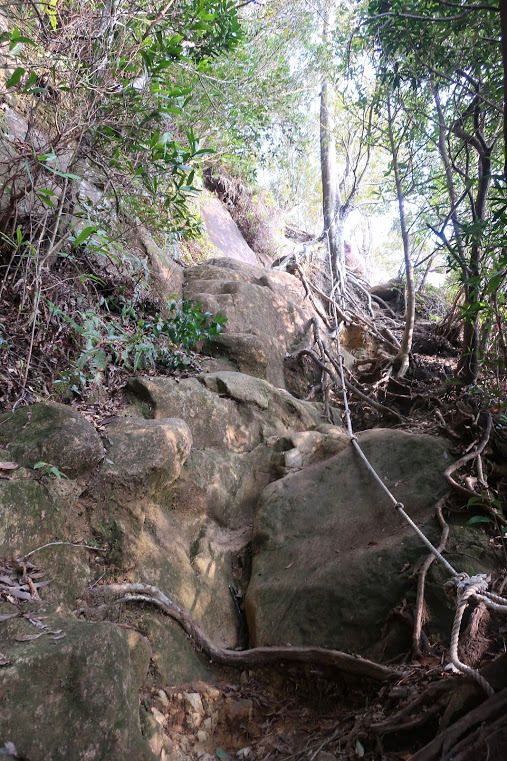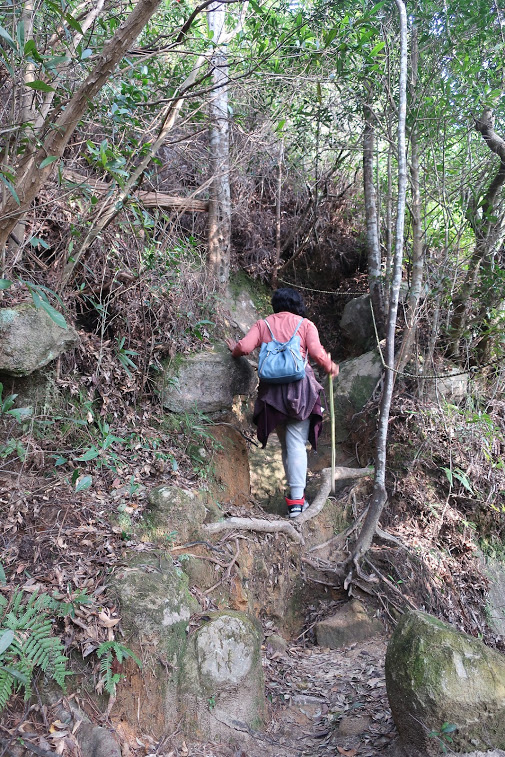 As we moved forward, we faced some difficult points with many rocks. It turned out to be unexpected rock climbing! There are ropes so just grab it and move forward.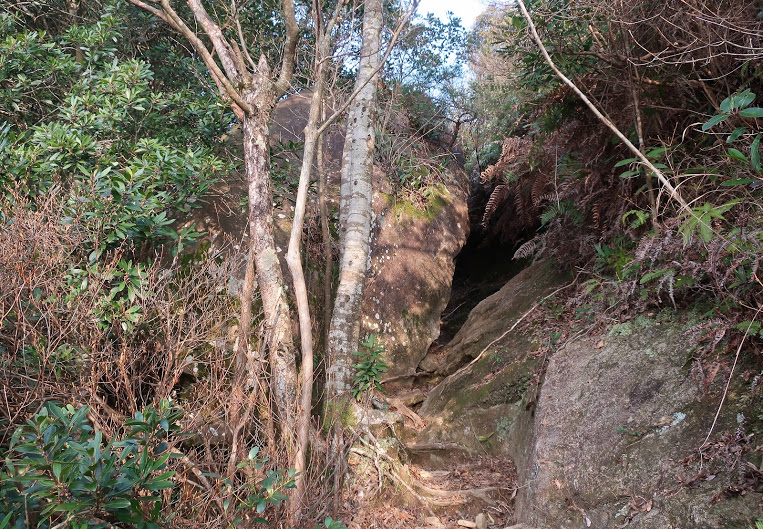 You should go through these gaps! I often got stuck because of my big backpack….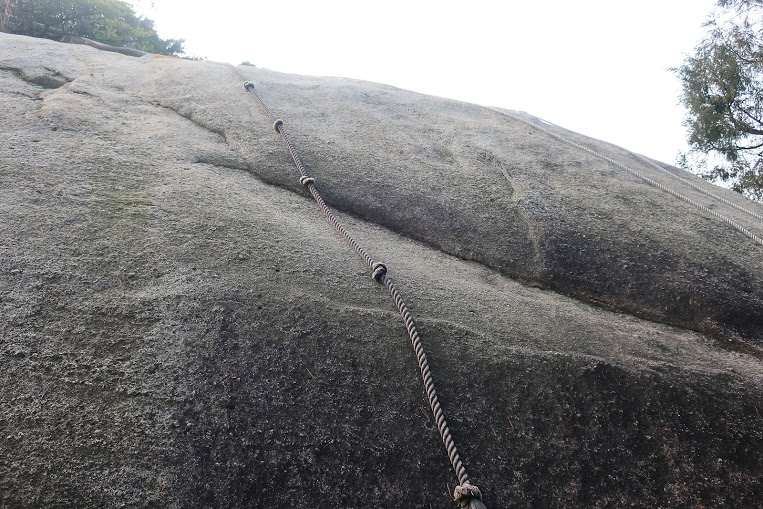 Just before the top, you will see this last boss, an enormous rock(It's too big to capture the whole rock in a picture!)!! I'm sure you will be confused. Even though I had heard about the rock, when I saw it, I just couldn't help but laughing because it exceeded my expectation so much! What you can do is to grab a rope and just climb up! To be honest, it wasn't difficult as it looks. It's rather easy than other rock parts!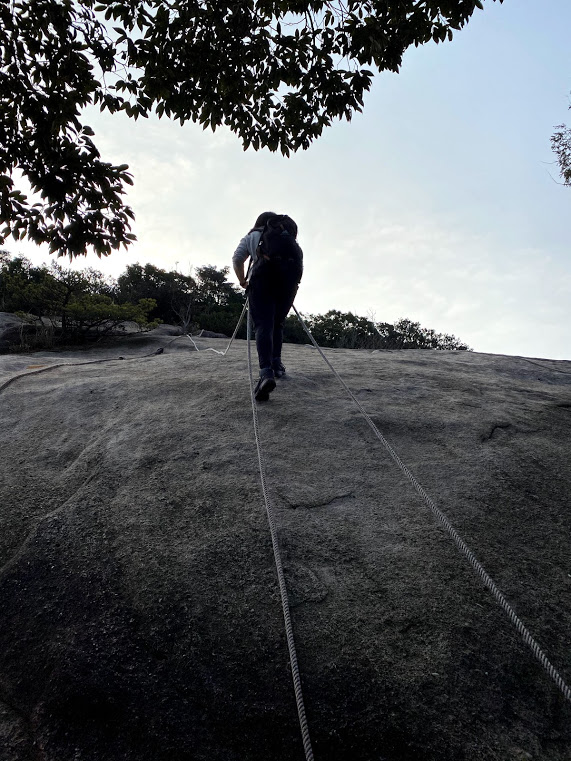 The scenery from the top of the rock is so panoramic!




Unfortunately, it wasn't that clear on that day but still, we could see the ocean, small islands and mountains, which is the symbolic view of Amakusa.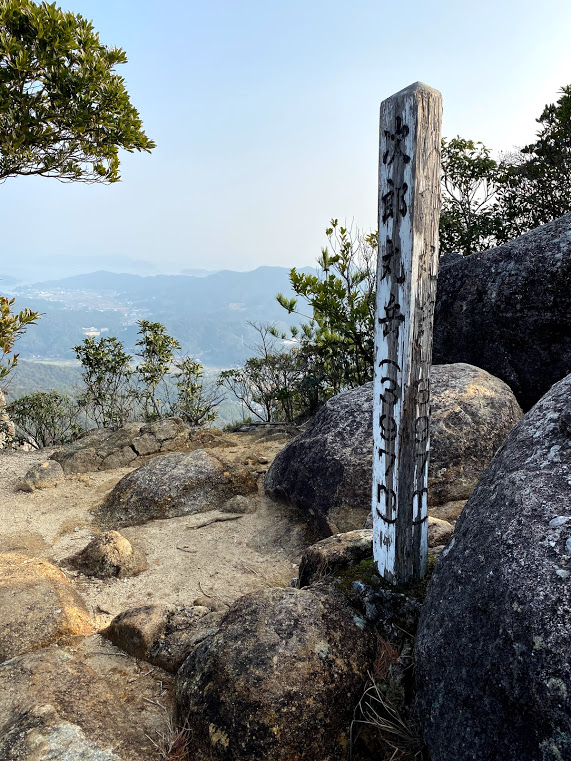 After a while, you will reach to the top of Mt. Jiromaru. I was shocked to know that the hight of Mt. Jiromaru is just 397m!! Because of all the rocks and steepness, we felt it was much higher or I should say we wished it was higher so that we could have more sense of achievement….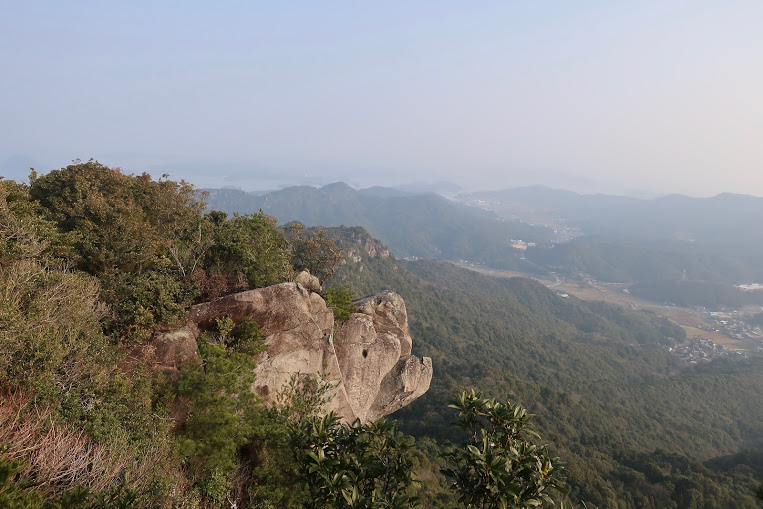 What is the most famous about Mt. Jiromaru is this "ライオン岩(Lion Rock)".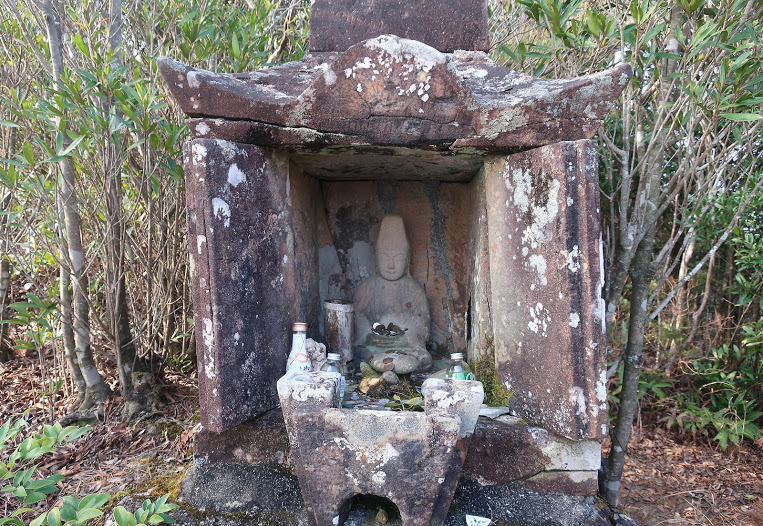 Near the top of Mt. Jiromaru, you will see this お地蔵さん(Jizo statue). Go through the small path of left side of Jizo statue and you will see this Lion Rock.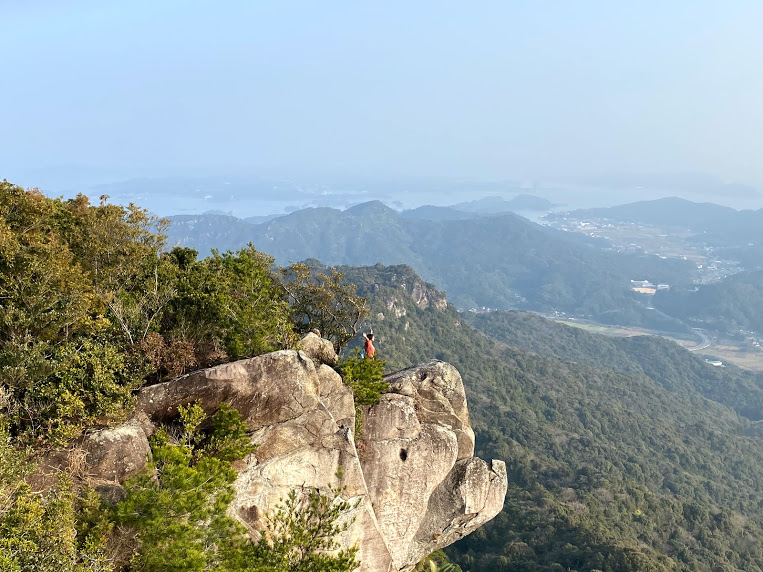 If you climb with someone else, what you can do is you stand on Lion Rock and the other take picture from the top of the mountain. This is very photogenic. When you see this photo for the first time, I'm sure you will think "Oh no, it's so dangerous! But actually, the Lion rock is not that narrow and if you don't go to the very edge, and of course if you take very good care, it will be fine. (My friend posted the photo on Facebook and she'd got so many comments saying "あぶない😱!(Dangerous!)")


I'm not that afraid of hight but when I stood on Lion Rock and looked down, my feet trembled a little.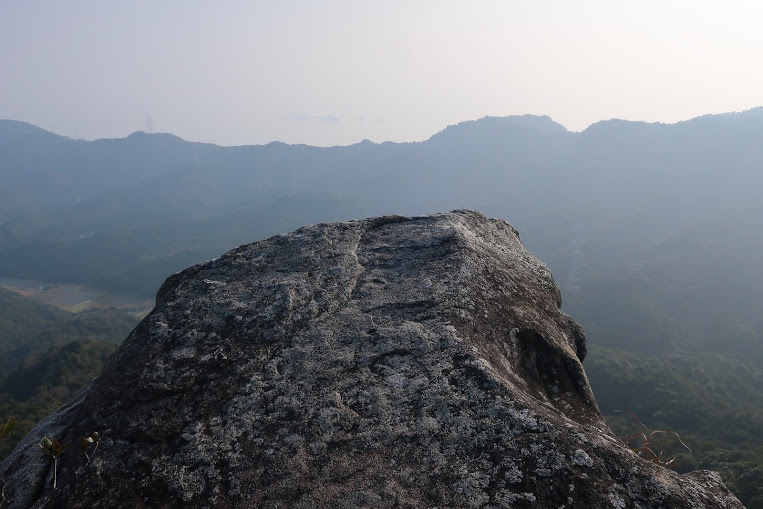 On the way to the top, we met an elderly couple. They said they came from Fukuoka and often go climbing together. Isn't it so nice to be together and share joy and excitement after we get older? We should be healthy both mentally and physically if we want to be like them. Especially, the husband was so friendly. He talked to us all the time and made us laugh all the time. Meeting and interacting with new people is another pleasure of climbing.


Mt. Taromaru(太郎丸岳)~ It's not a piece of a cake!! Another challenging rock climbing!~
After taking some rest at Mt. Jiromaru, we headed to the branch point.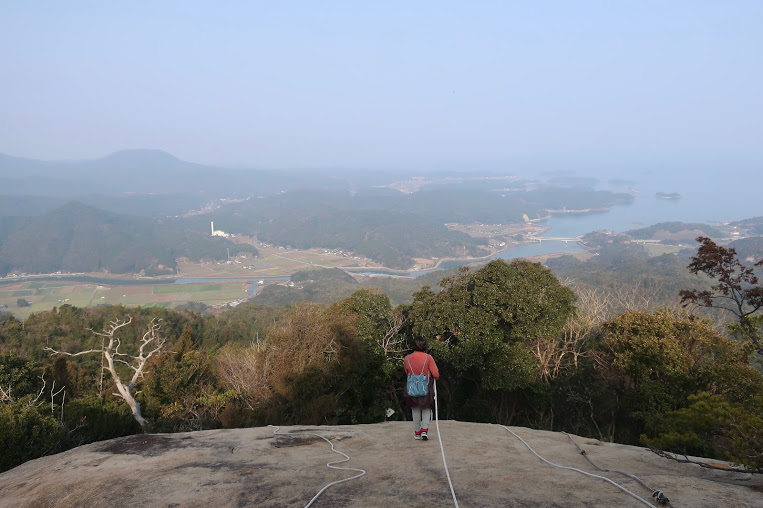 We were worried how to go down all the rocks we climbed but thanks to the ropes and the bamboo stick, we could manage them. For this huge rock, just grab a rope and go down like her!


We came back to the branch point. We had already climbed the difficult one and Mt. Taromaru is smaller than Mt. Jiromaru so we kind of expected that it would be just a piece of cake.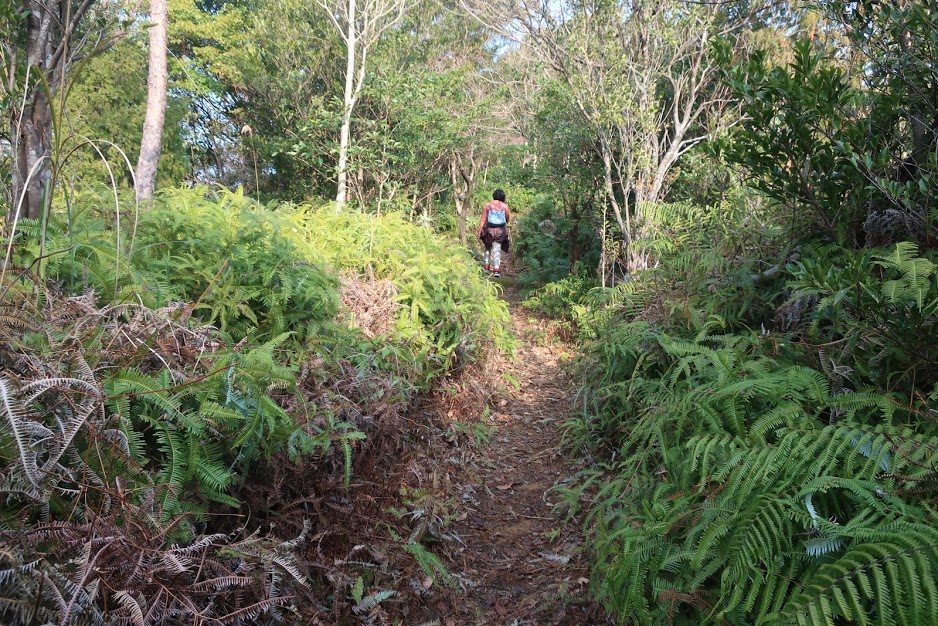 After the branch point, we walked along the path to Mt. Taromaru and it was easy to walk. We walked flat path with many farn plants. But gradually, it had got rocky and steep. What made it more difficult was that there was no rope! You can't rely on ropes but only you. That was the time we appreciated the bamboo stick at most.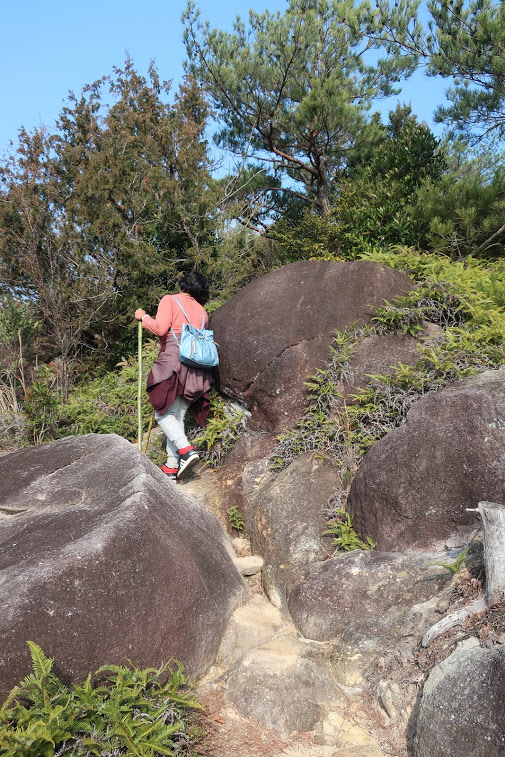 After a while, we again met the elderly couple on the way and we started to climbing together.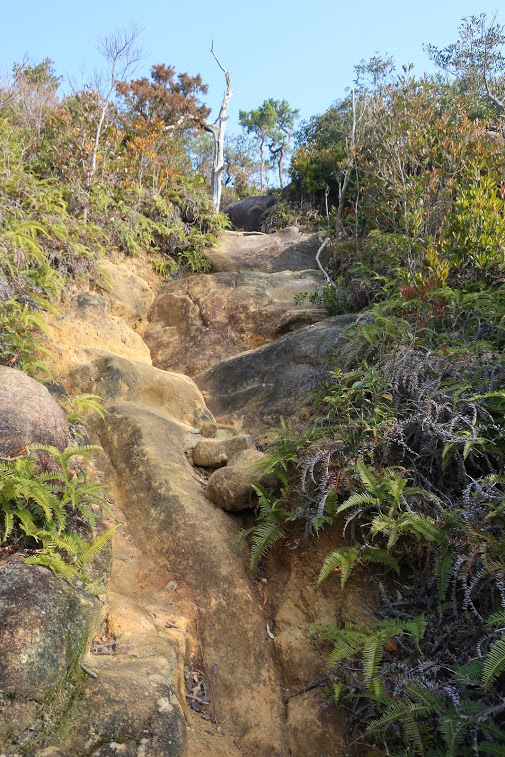 We reached to the top! Again, I was shocked to know that the hight of Mt. Taromaru is just 281m!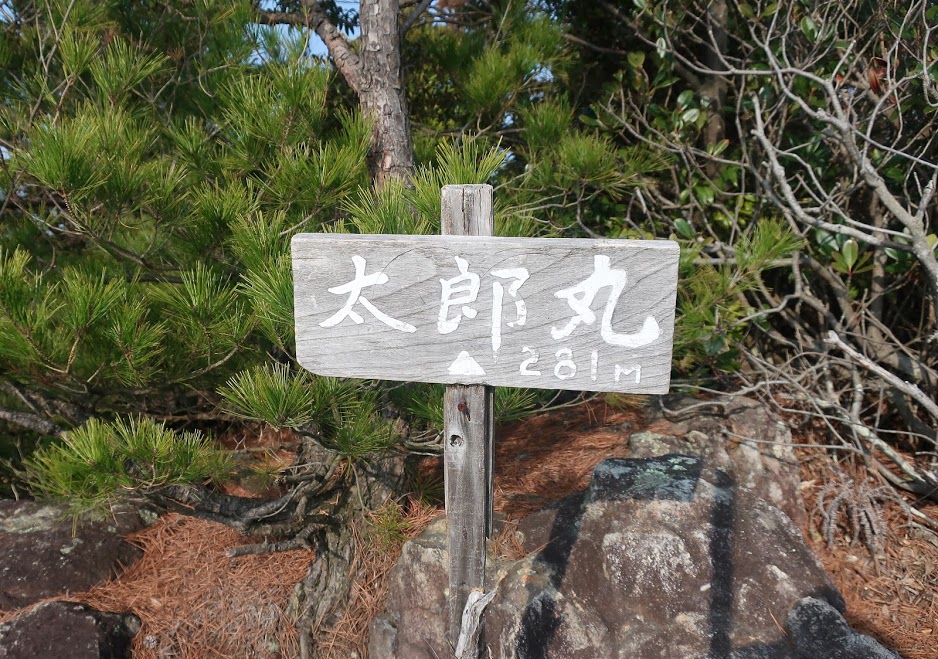 Actually, on the day we climbed, there was a trekking event organized by Kamiamakusa city, starting at 10am. When we arrived at the top of Mt. Taromaru, Kamiamakusa city workers had already arrived and waited participants. We all talked for a while and one of the city workers asked the elderly couple why they climb mountains. The wife replied "Only a person who climbs can understand.".
When I heard this, I learned that this is not about words, but something you feel by yourself. The noise, smell, the amount of sunlights and shadows, the weather, whom I am with, like everything that creates the moment is once-in-a-lifetime encounter that should be cherished. I witnessed something new every time I climb. It's a real treat in life and no need to explain it.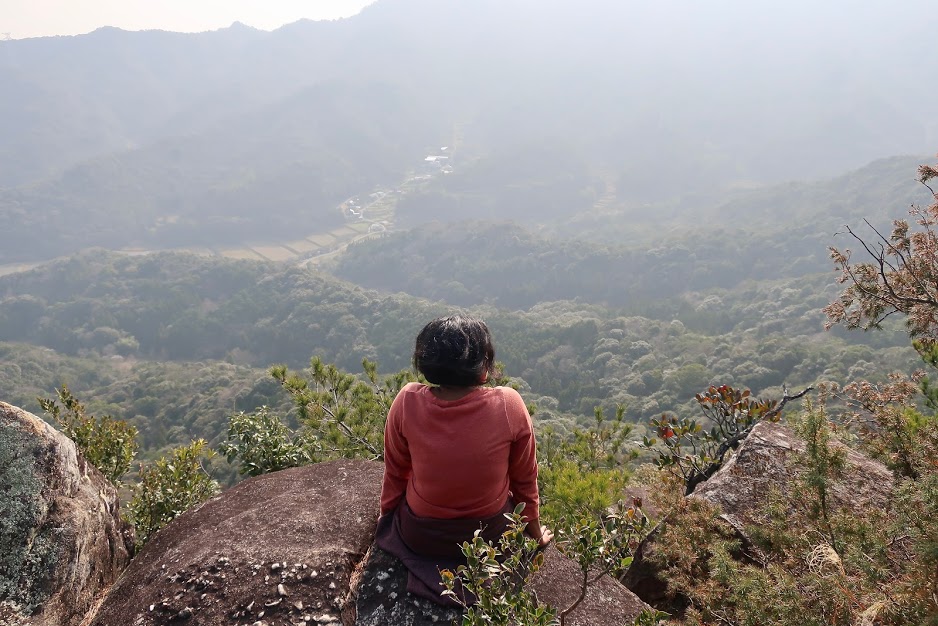 We came back to the parking lot at 11:30 so that means it took almost 3 and a half hours to going up and going down(plus, we spent talking on the top of the mountains for a while!).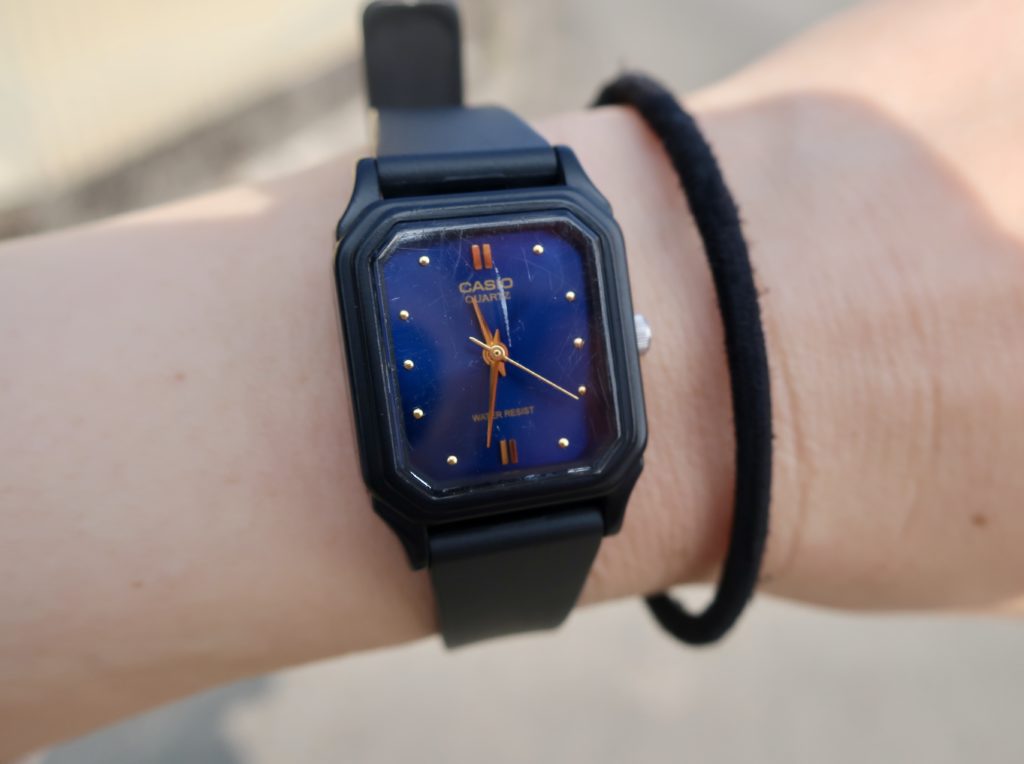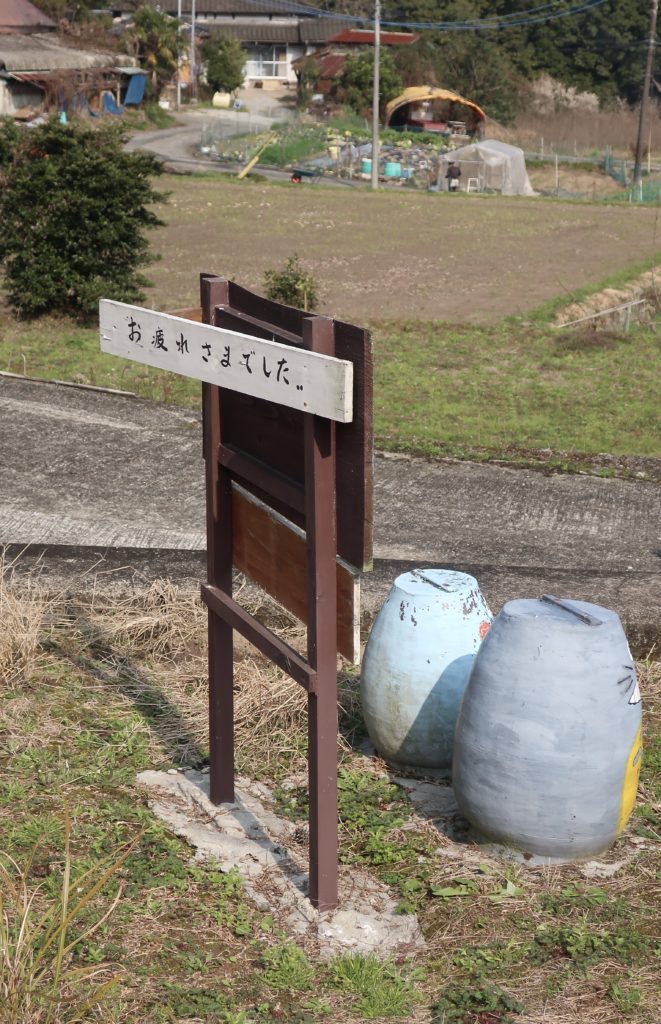 You will see this sign behind Totoros saying "お疲れさまでした(Otsukare-sama deshita)" which means good work.


We said goodbye to the lovely couple.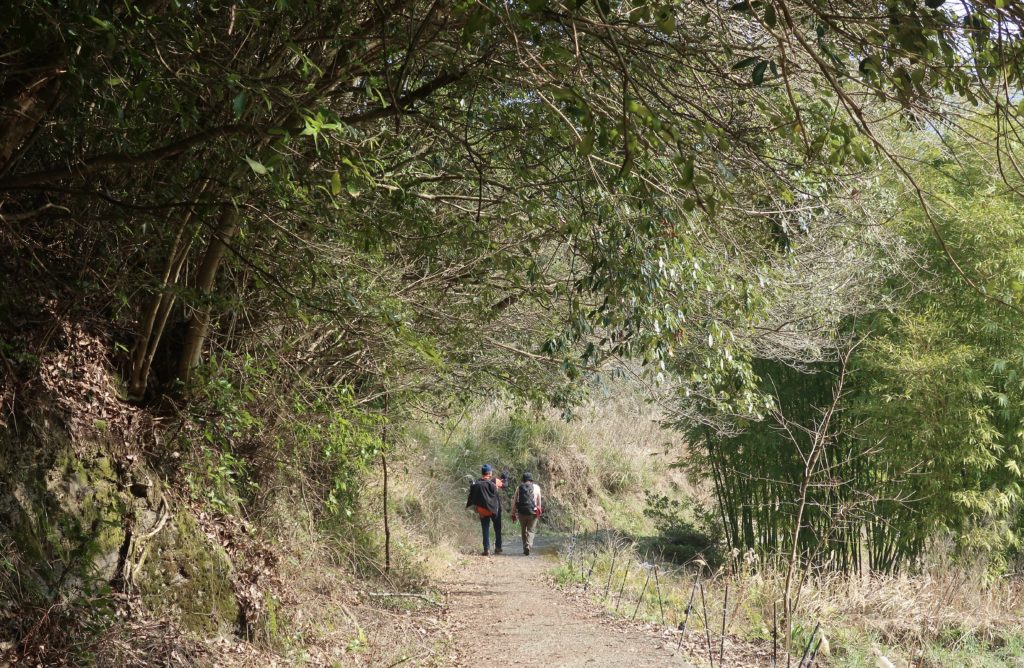 Climb Mt. Taromaru and Mt. Jiromaru and feel the great nature at most!
What is waiting for you after climbing is not only the sense of achievement but also the good onsen and fresh seafood.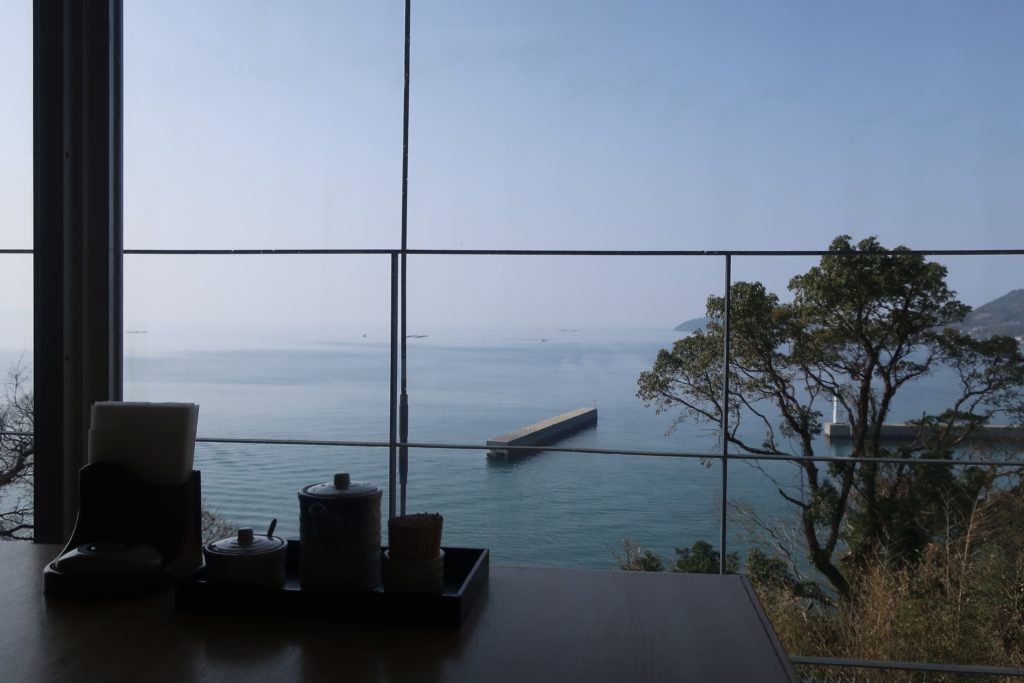 We visited "スパ・タラソ天草(Spa Thalasso Amakusa)" to have onsen with nice view and have lovely seafood lunch. I will share about Spa Thalasso Amakusa in the next article that is coming soon.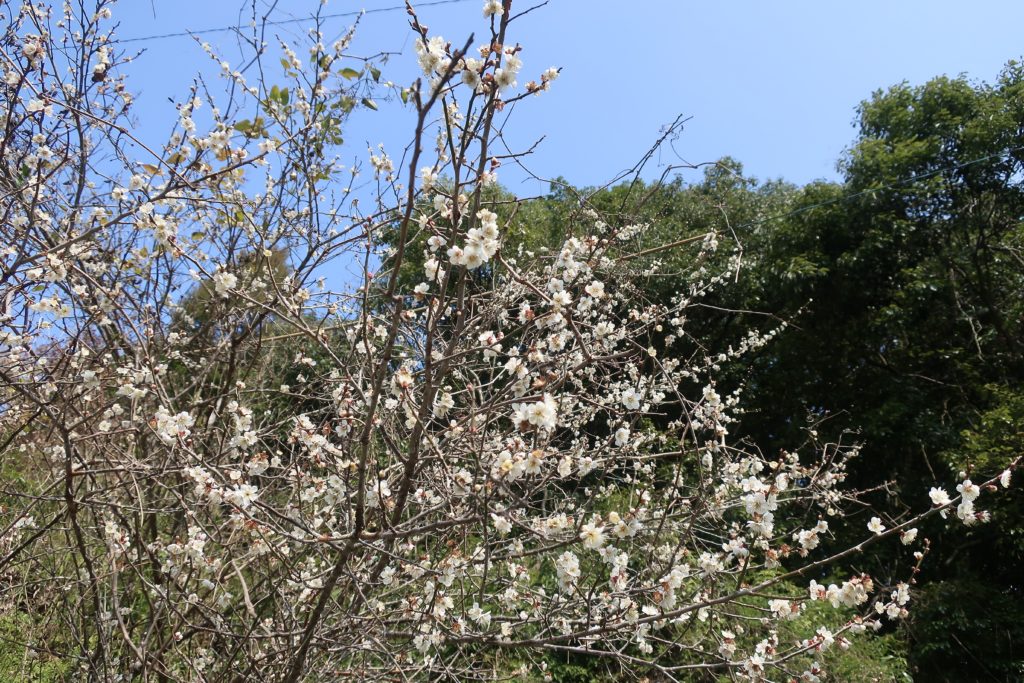 Spring is just around the corner and it will be a comfortable weather for climbing. Luckily, there are many mountains in Kumamoto, from the difficult ones to the easy ones. You can arrange climbing with onsen and lunch and it'll be a nice day trip or a half day trip. Climbing is a great way to feel and see the changes of seasons. Climb Mt. Taromaru and Mt. Jiromaru and cherish once-in-a-lifetime moment at most!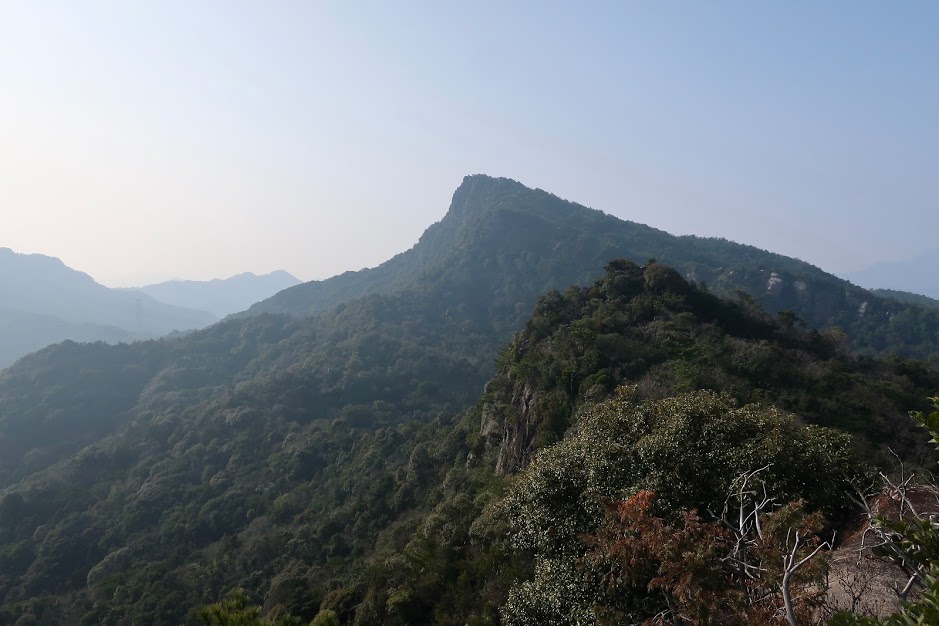 Information
Map of the starting point of climbing Mt. Taromaru and Mt. Jiromaru.