For the last couple of months, I had a very hectic life and I was totally stressed out about everything. Still, I tried to convince myself that because everything was my choice, I couldn't complain about anything but it was very difficult to cope with everything.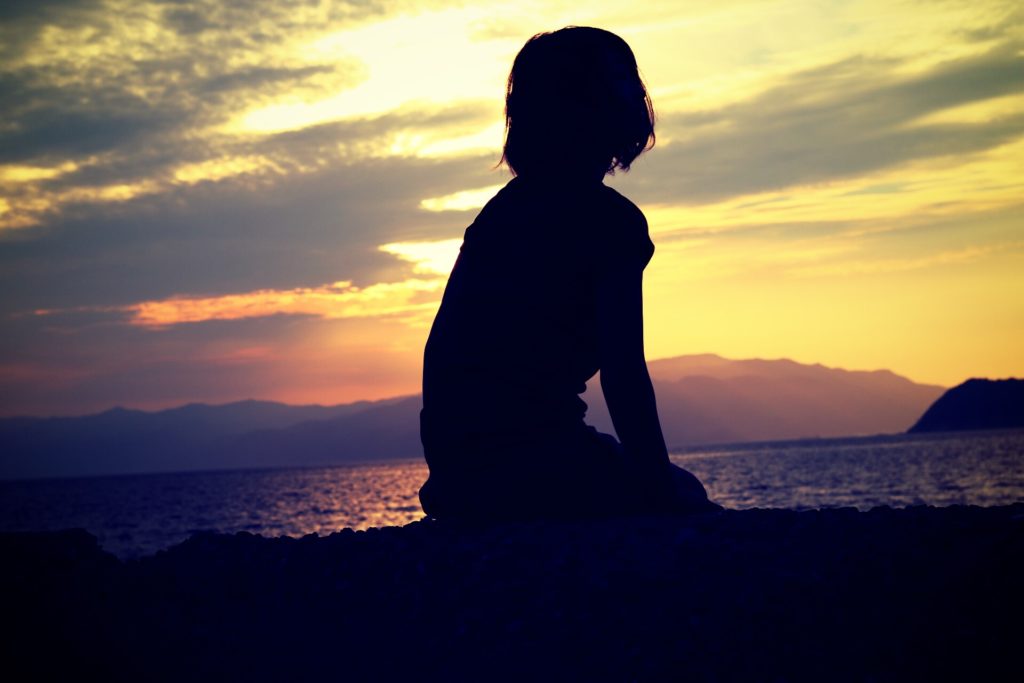 Once I watched one TED talk and the speaker was saying that we can't succeed at everything. we can't have it all. That actually saved me a lot to make myself realize that it's impossible to do everything perfectly. Now, I understand that we need time to be simply relaxed doing nothing. That helps me to organize my thought, too.


Today, I'm going to introduce "食卓mano(Shokutaku mano)" dedicating to you especially who always have many things on your plates and end up to be stressed out.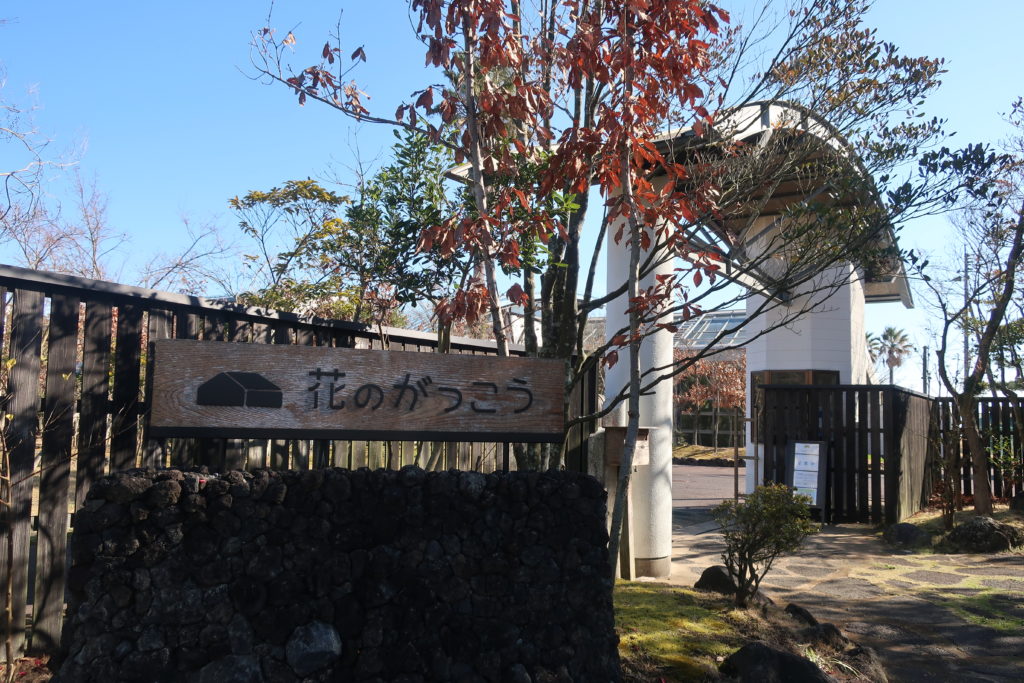 Shokutaku mano is a lovely restaurant which offers lovely dishes and relaxing time. It stands in the ground of 花のがっこう(Hana no Gakko, which literally translated to the School of Flowers) on 戸馳島(Tobase-jima, means Tobase island) in 宇城市(Uki city). I hope after reading this article, you will visit there and find peace in your mind.
Shokutaku mano(食卓mano) and hana no gakko(花のがっこう) on Tobase island(戸馳島) in Uki city(宇城市)
What is hana no gakko(花のがっこう)?
Hana no Gakko is on Tobase island in Uki city. Tobase island is on 八代海(Yatsushiro Sea) and is located in between Kumamoto City and Amakusa.




It's not well-know but Tobase island is famous for the vast amount of production of orchids. They ship almost 1.5million orchids a year that is the largest in Japan. Orchids are the symbol of Tobase island and people are proud of that.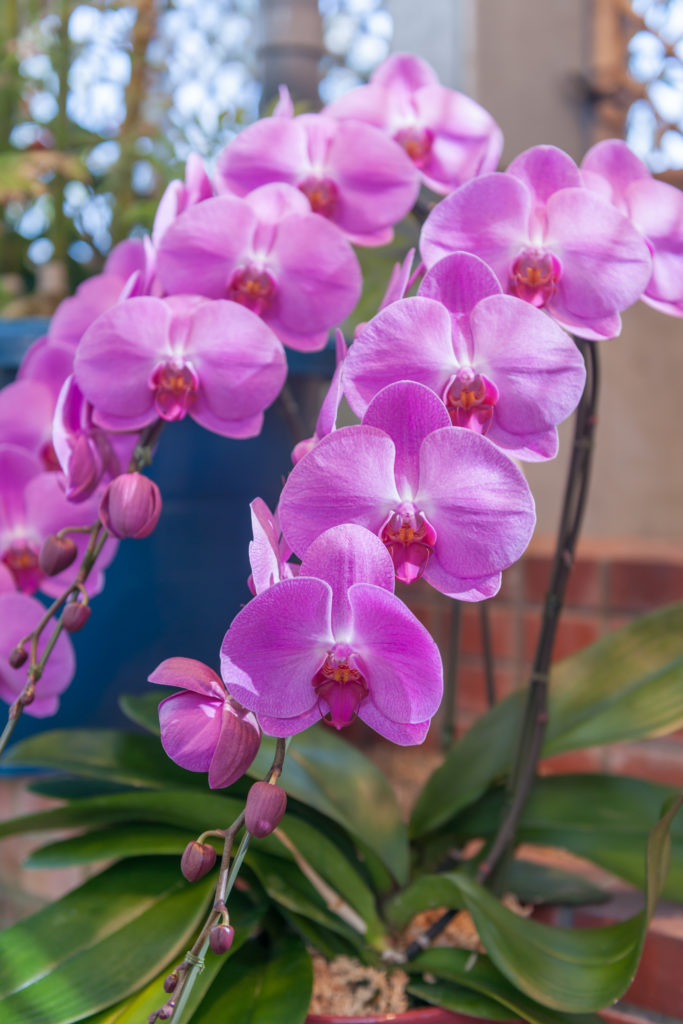 To promote orchids in Tobase, they had built Hana no Gakko to let people know about orchids and beautiful Tobase island.
What can we enjoy in Hana no gakko(花のがっこう)?
At Hana no Gakko, you can experience, feel and learn about plants and flowers. Anyone from adults to children can enjoy it.
Let's see what they have.
Green Style Shop PLANTA
As soon as you enter the building, you see many plants and flowers. Here, you can buy indoor plants which are decorated nicely. They are sold in a nice potteries and glasses. Nowadays, succulent plants are popular and people enjoy decorating them in pretty container with different kinds.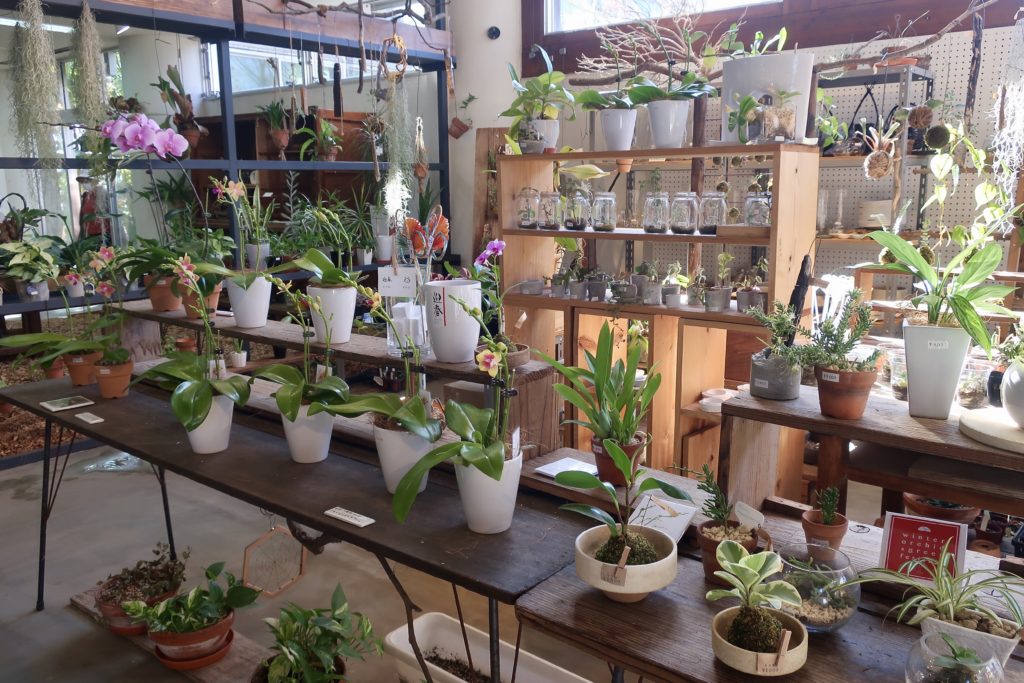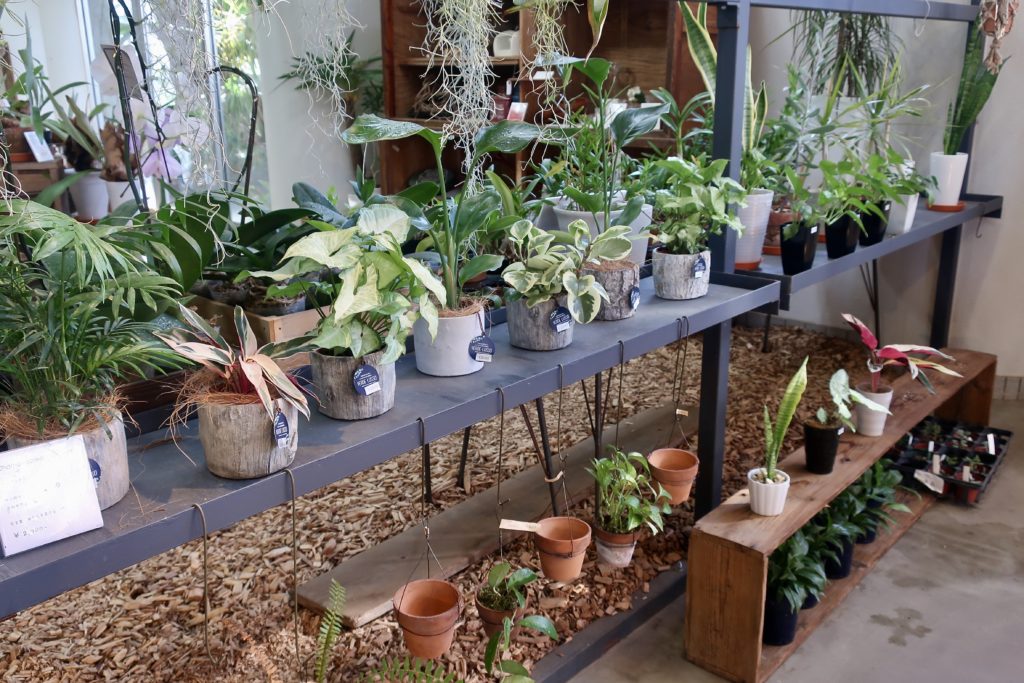 The shop staffs are kind and helpful so we can get many information of how to take care of plants.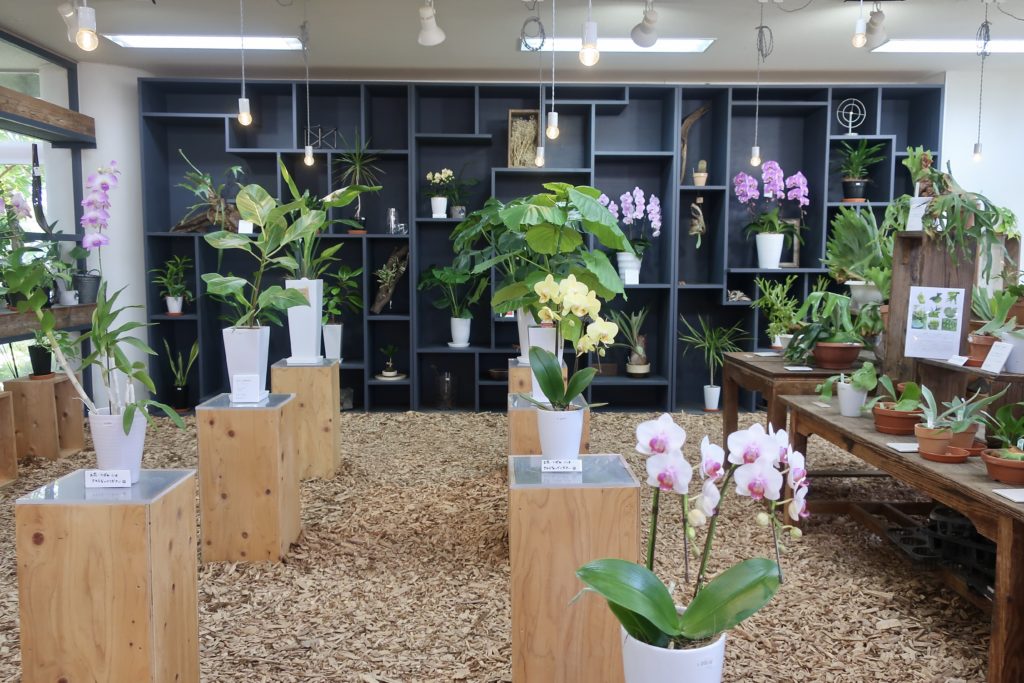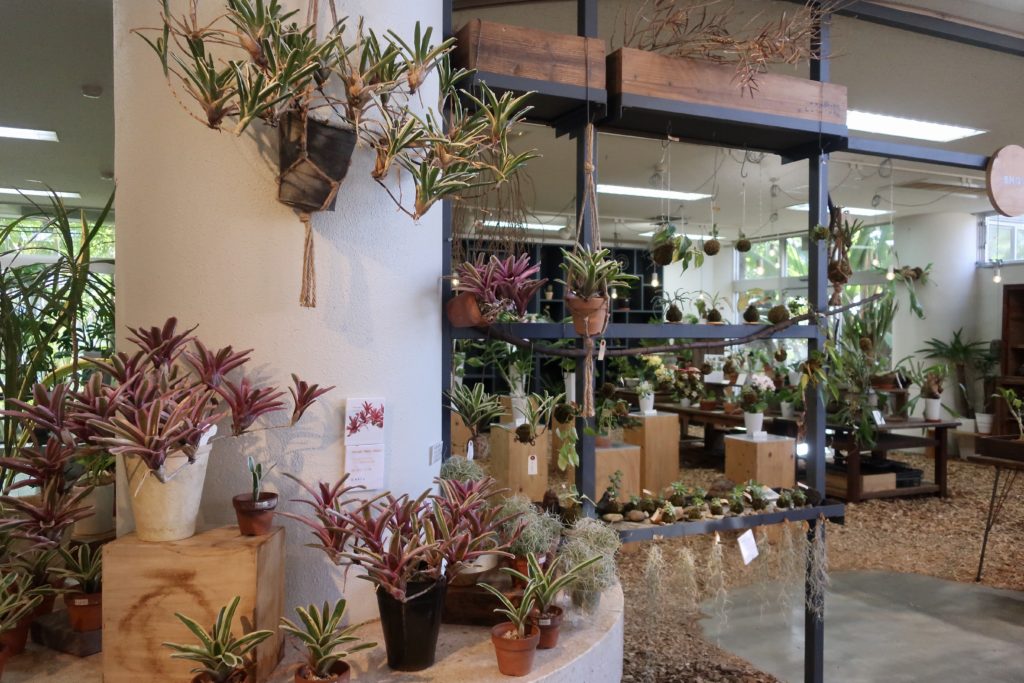 原生の森(Gensei no mori) : Greenhouse
There are a great variety of tropical plants in their greenhouse, called "原生の森(Gensei no mori, means Primeval Forest)".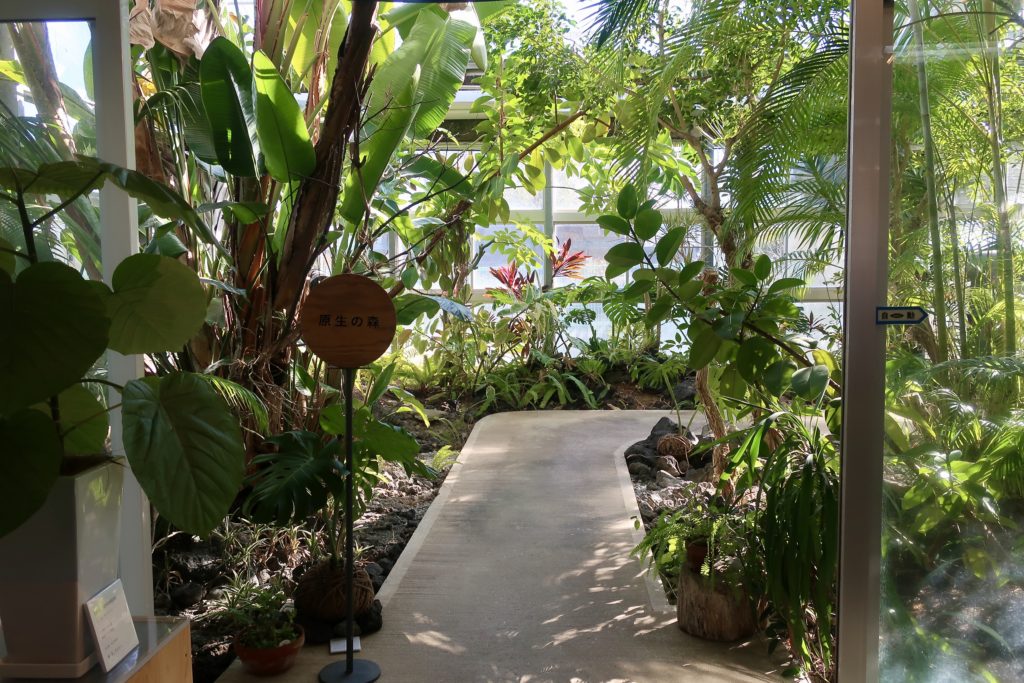 You can see banana plants, rubber trees, hibiscus, etc. I had no idea what kinds of trees there were but my Indian friend told me their names.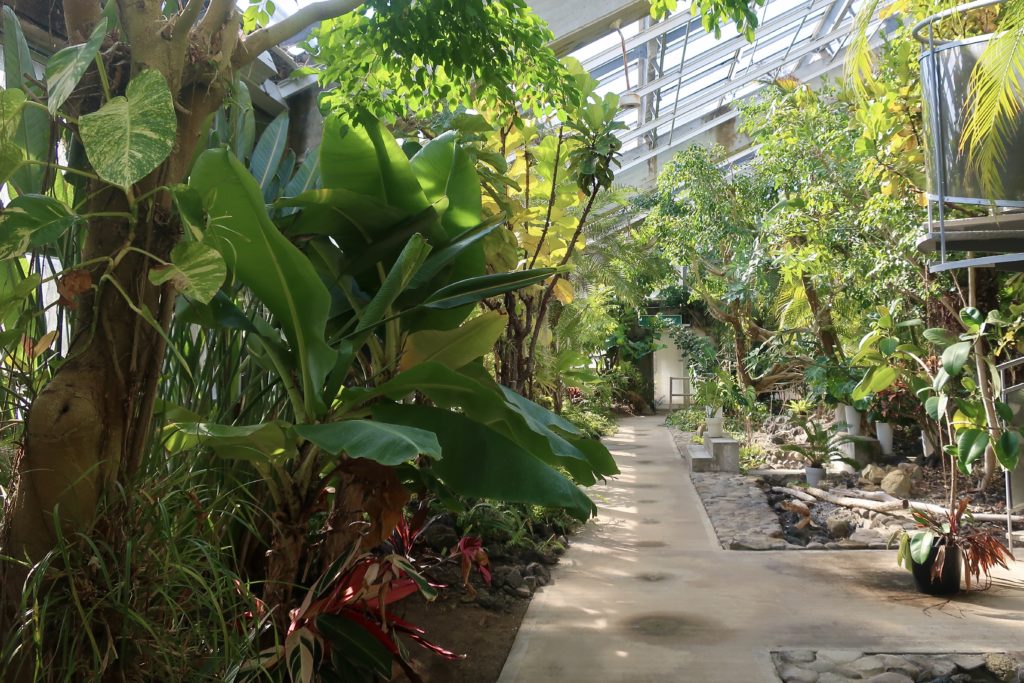 It's nice and bright and the lights through plants make these plants more attractive.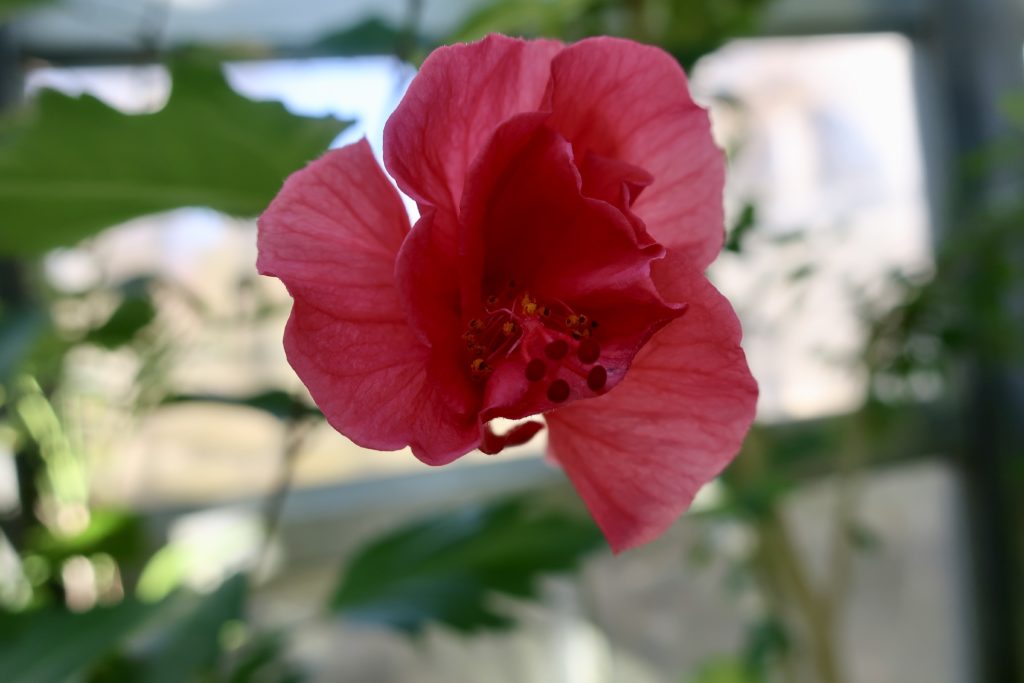 Small Reading space
In front of the shop, there is a small reading space.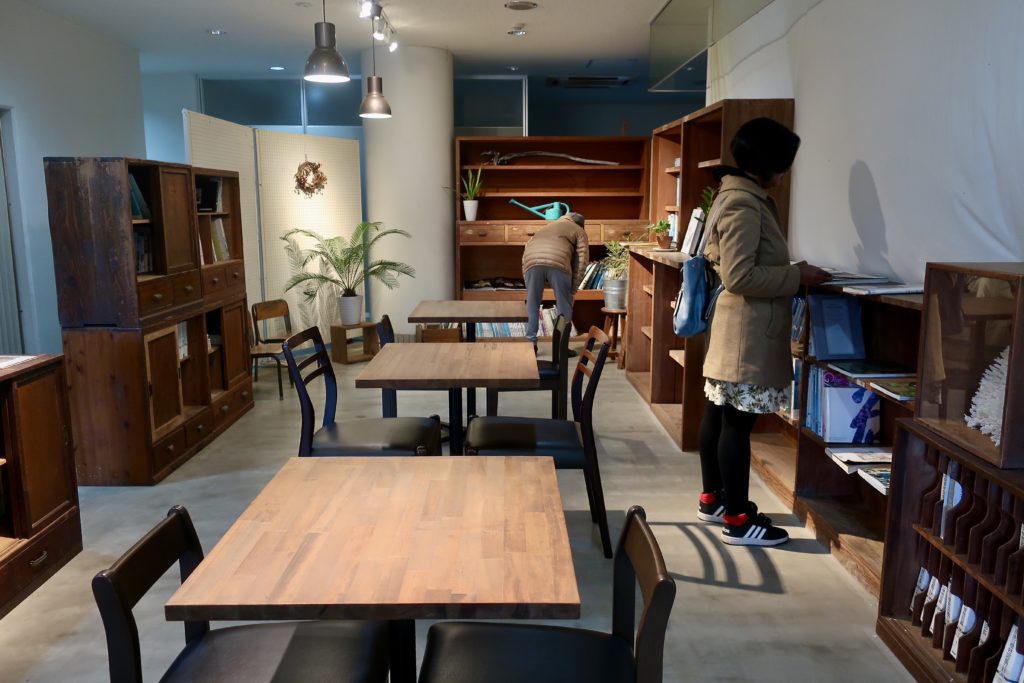 It's a free space and you can enjoy reading books, such as story books and encyclopedias of flowers and plants.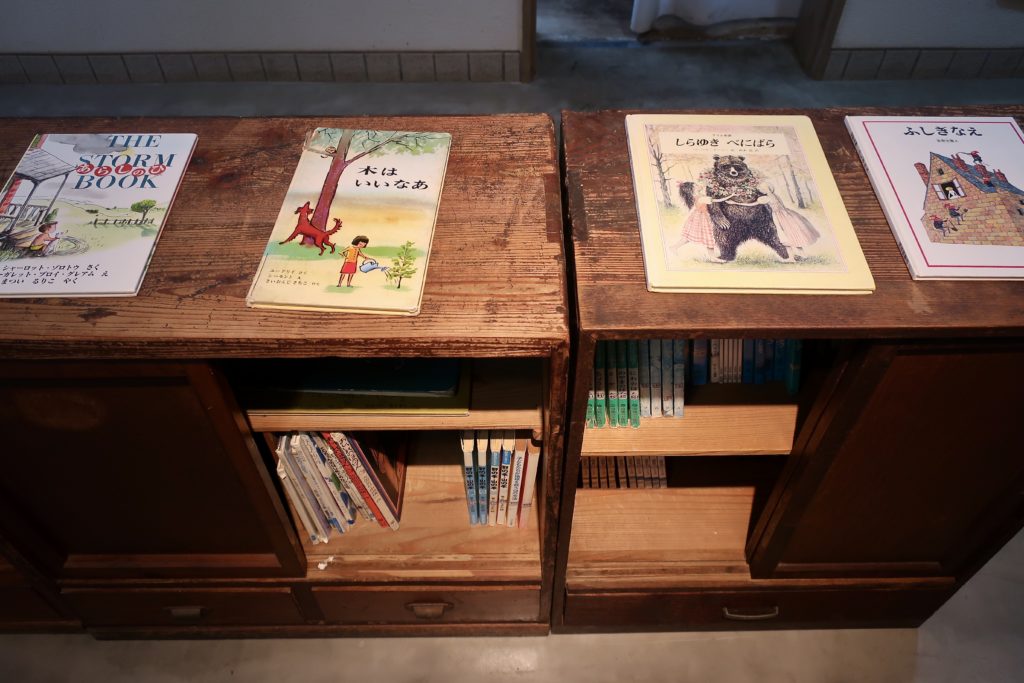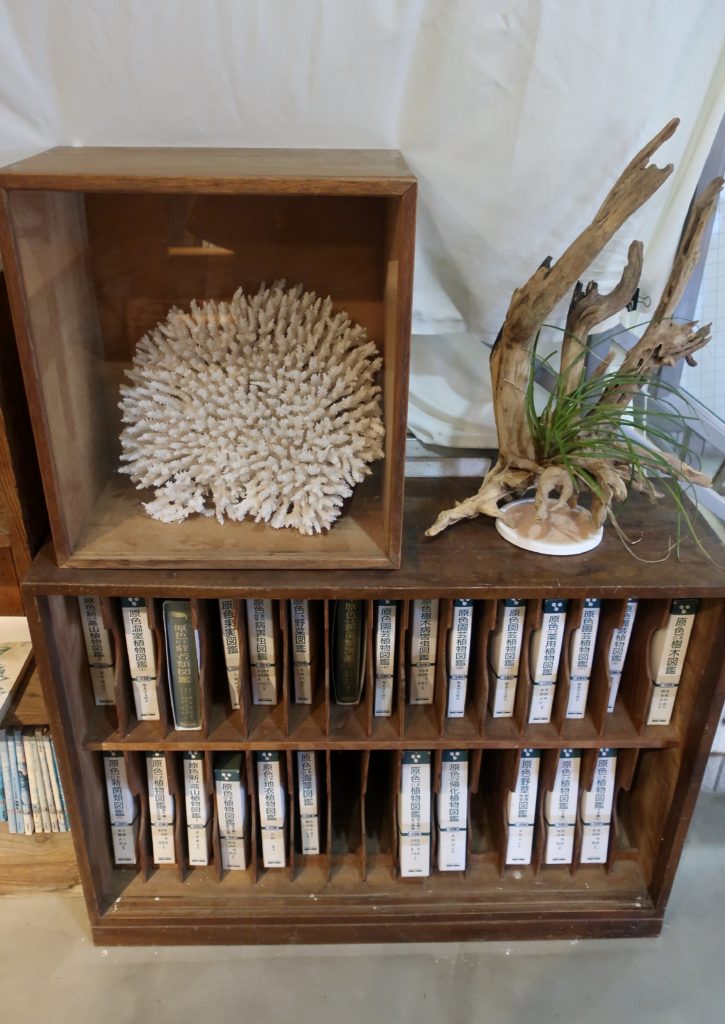 How was lunch at Shokutaku mano(食卓mano)?
Shokutaku mano is just next to the reading space.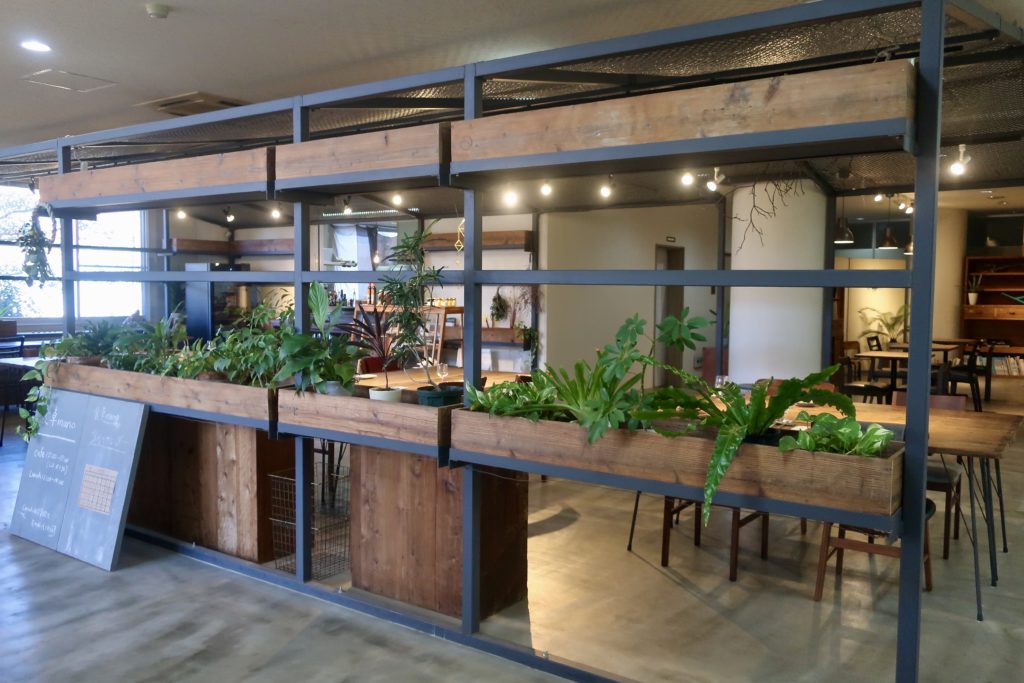 They open for lunch and cafe. Our main attraction of this trip was their lunch. One of my friends recommended me before and I felt like I could finally make it!(unfortunately, she couldn't join because of flu…).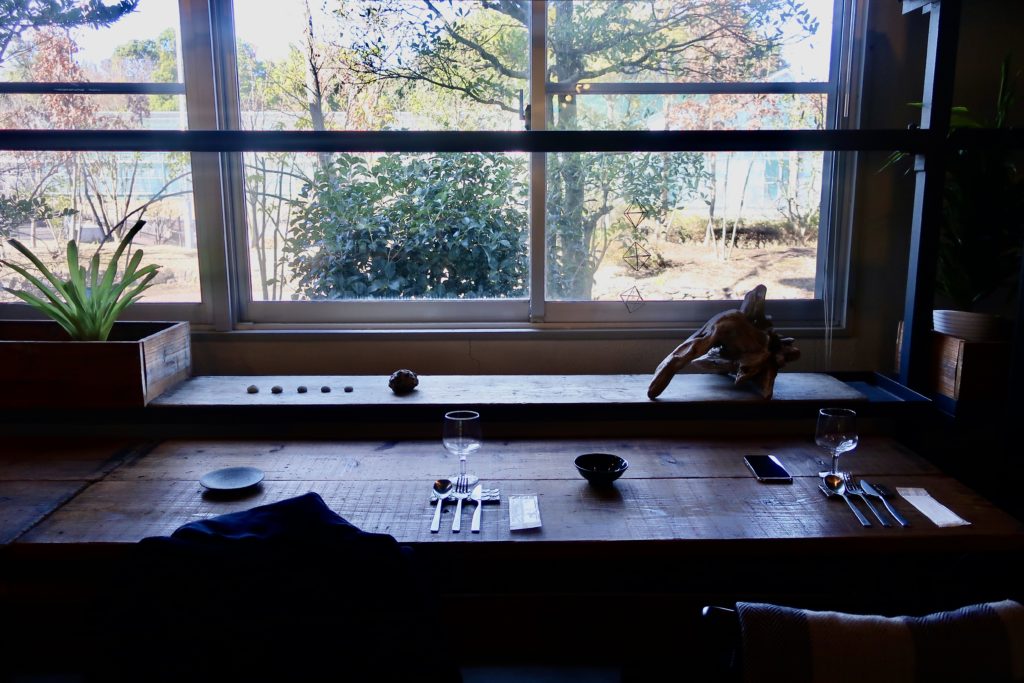 Shokutaku mano is a restaurant which offers dishes with selective local ingredients mainly from Uki and Uto area(Southern Kumamoto). Also, they give us wonderful time for enjoying meal. The word "mano" means "hands" in Italian and Spanish. Homely food with a personal touch can make people happy.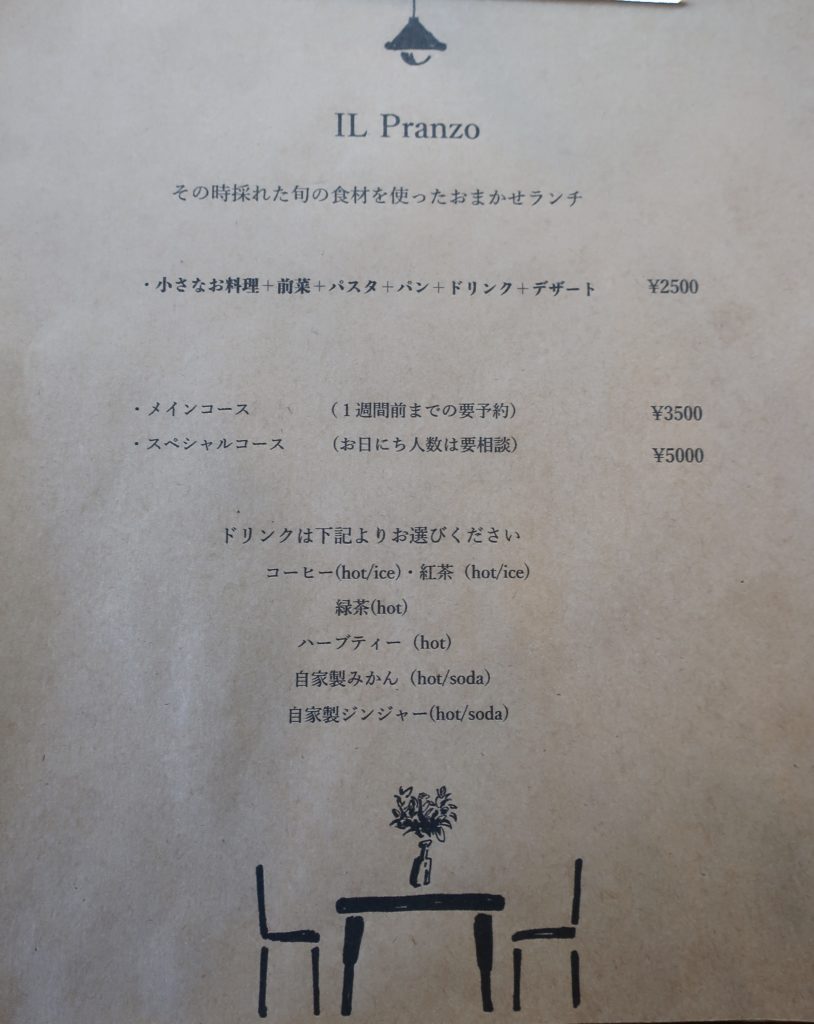 You'd better book in advance for lunch. There are three kinds of courses which are 2500yen, 3500yen and 5000yen. Basically, lunch is おまかせ(omakase, means chef's special) and they use the seasonal best ingredients. This time, we booked 2500 yen lunch course, which has today's dish, appetizer, pasta, bread, dessert and drink. We felt that in each dish was put chef's heart and soul.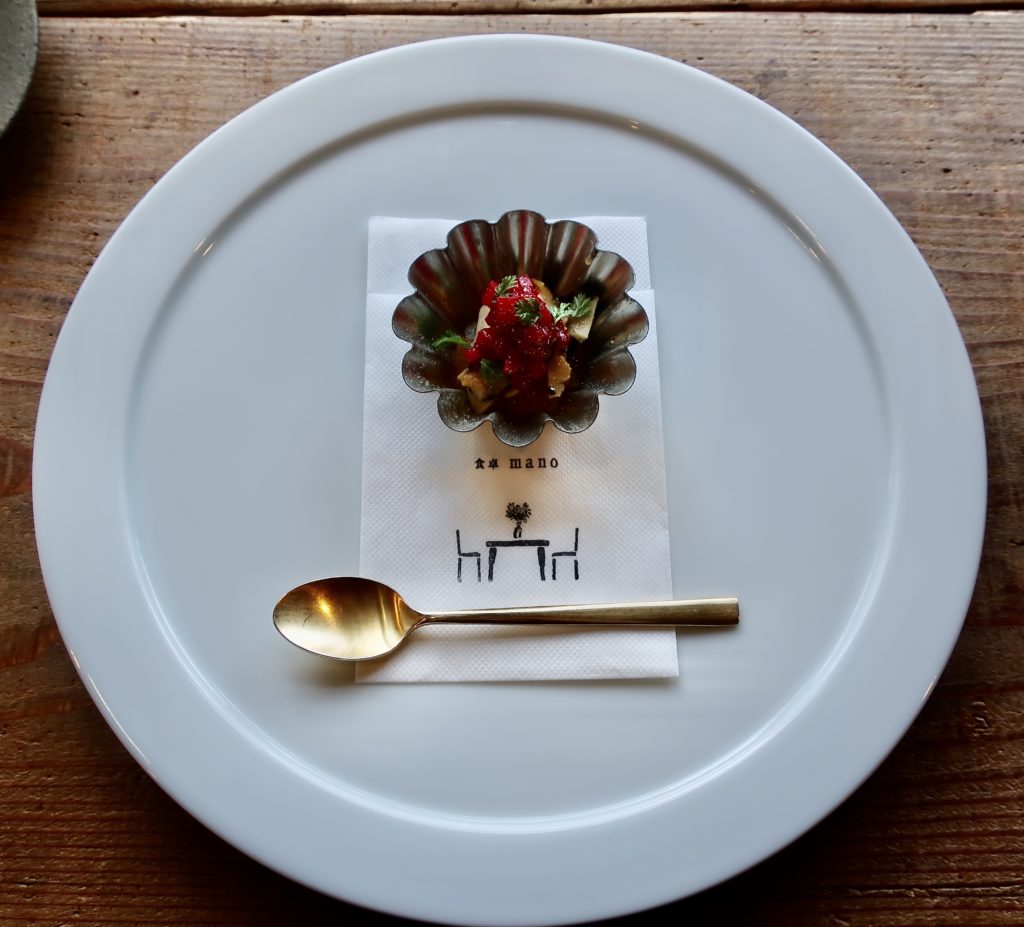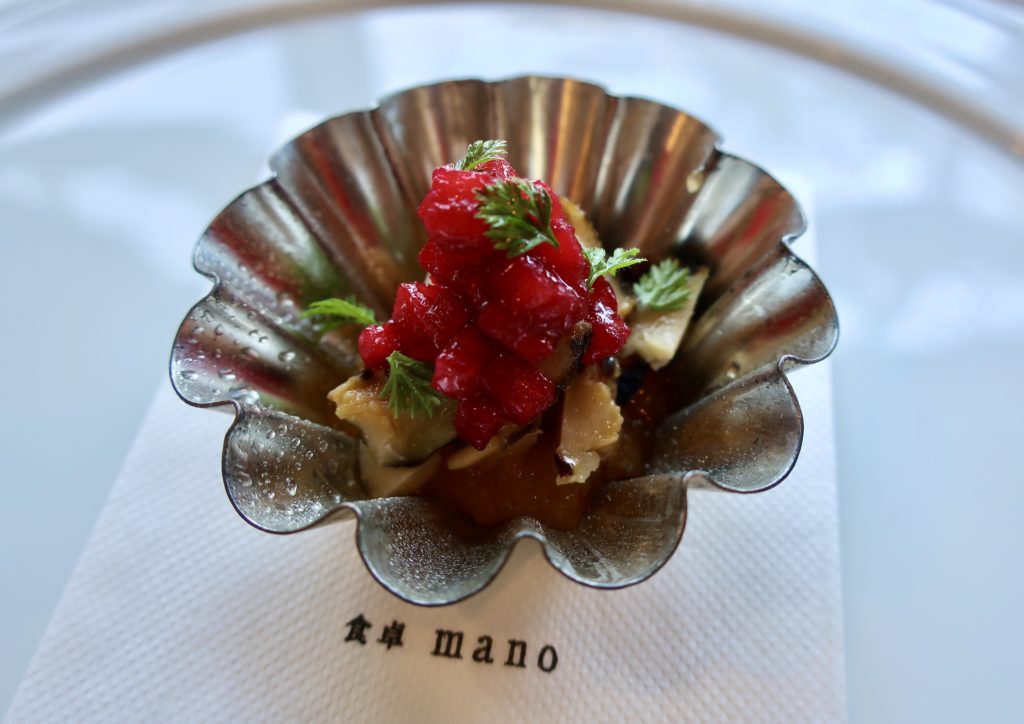 Today's dish; steamed shellfish with diced carrots simmered with beets and orange jelly on the bottom.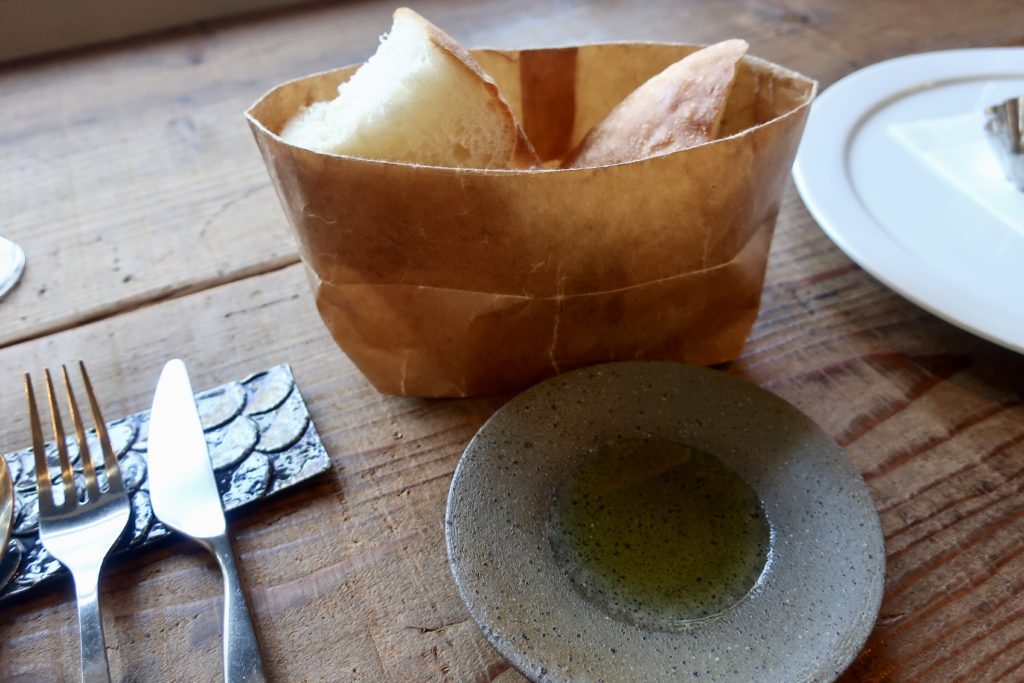 The handmade focaccia served with olive oil with a touch of orange. It was so tasty, crispy outside and moist inside! We had two pieces of focaccia each!


Green salad with a few sliced raw fish and grilled turnip. The chef came to our table and finished the dish by pouring the hot green sauce.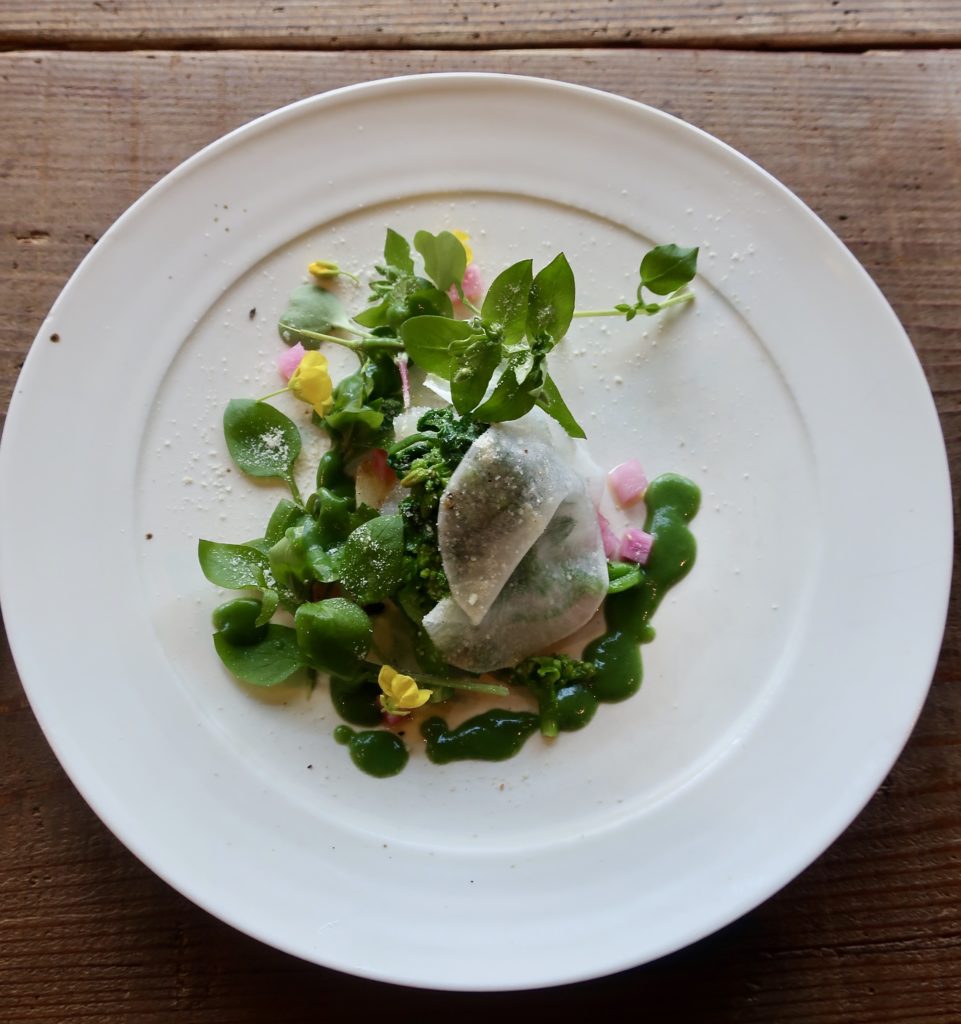 Handmade pasta with handmade dried mullet roe. I love the texture of pasta and the rich flavor!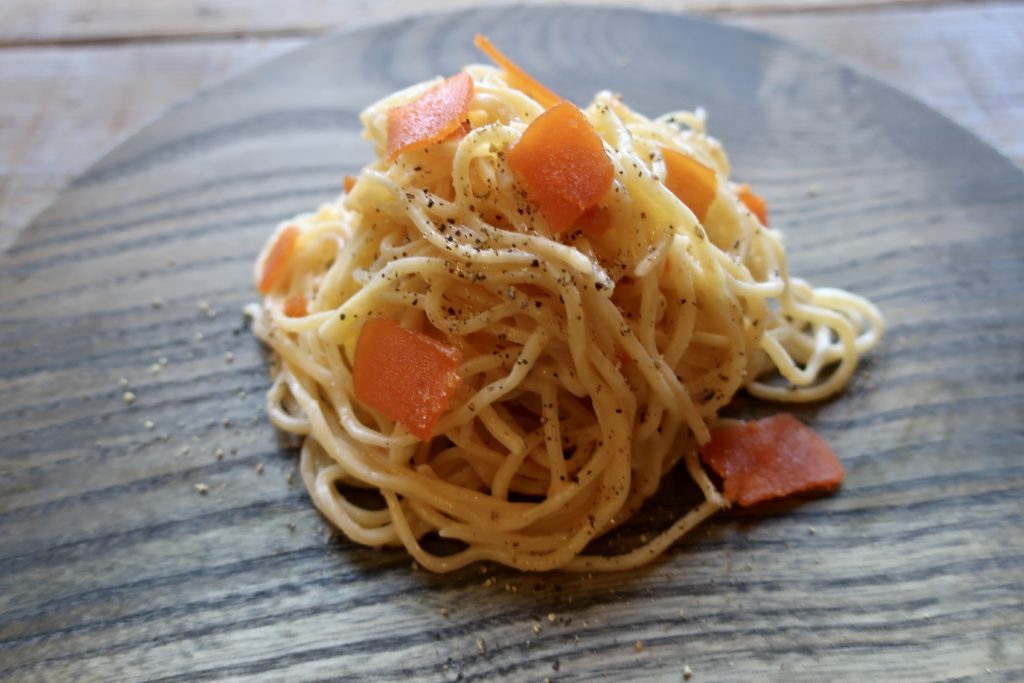 For dessert, We had this beautiful strawberry tart. This type of strawberry is grown mainly in Uki and Uto area and the round shape is unique and lovely! Uki and Uto area is famous for the great quality of fruits. The chef makes the most of them and gives us the wonderful work of art! We were so excited when each dish was served. It's too good to eat!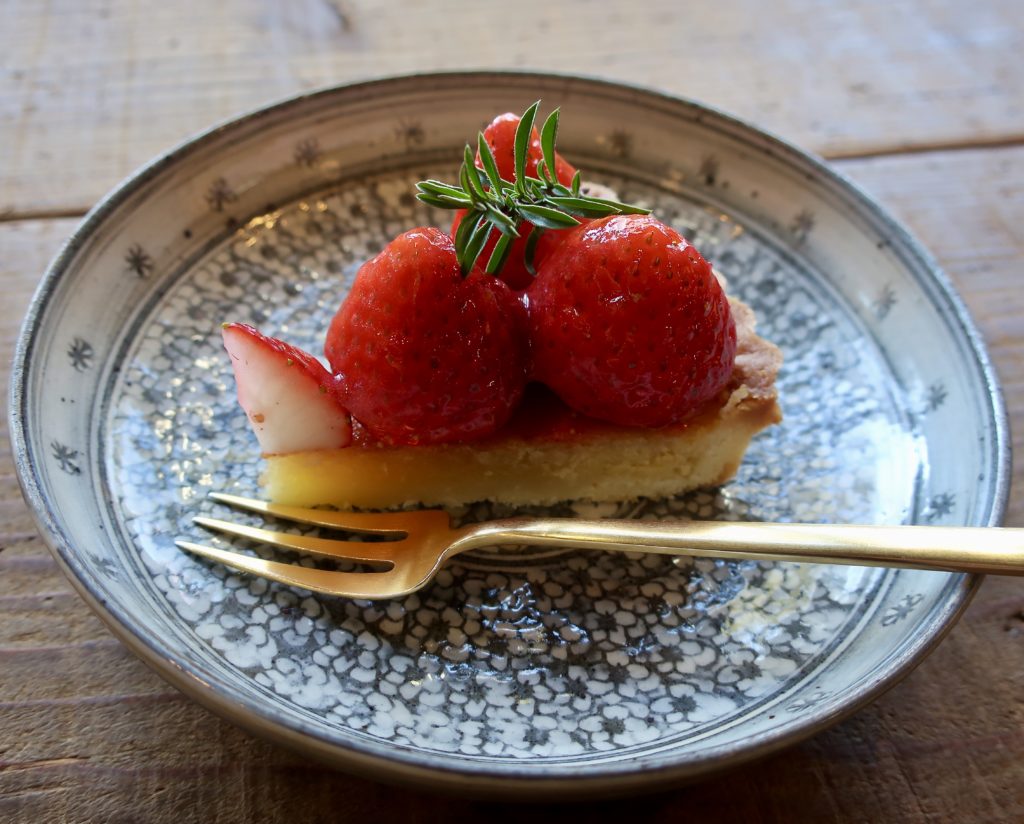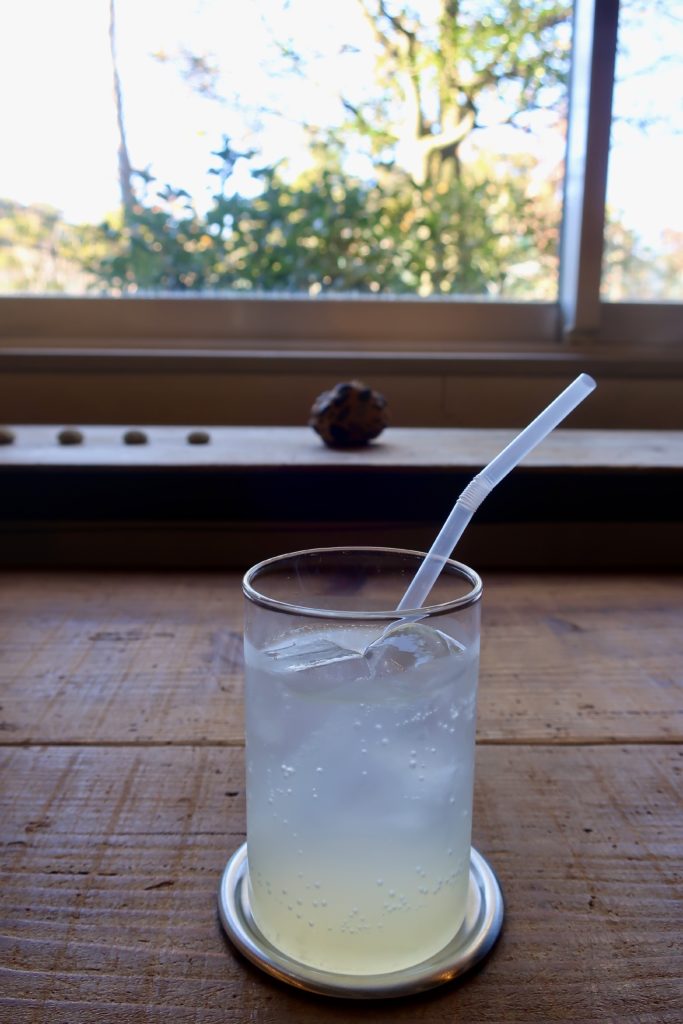 For drink, I ordered lemonade and my friend ordered coffee.
It was such a relaxing time to enjoy lunch!
What else can we enjoy near Hana no gakko(花のがっこう)?
There are several places around Hana no Gakkou. To unwind more, visit there, too!
Tobase Shrine(戸馳神社)
Just in front of the entrance of Hana no Gakkou, there is 戸馳神社(Tobase Jinja, means Tobase Shrine). It's famous for good luck for love and good relationship.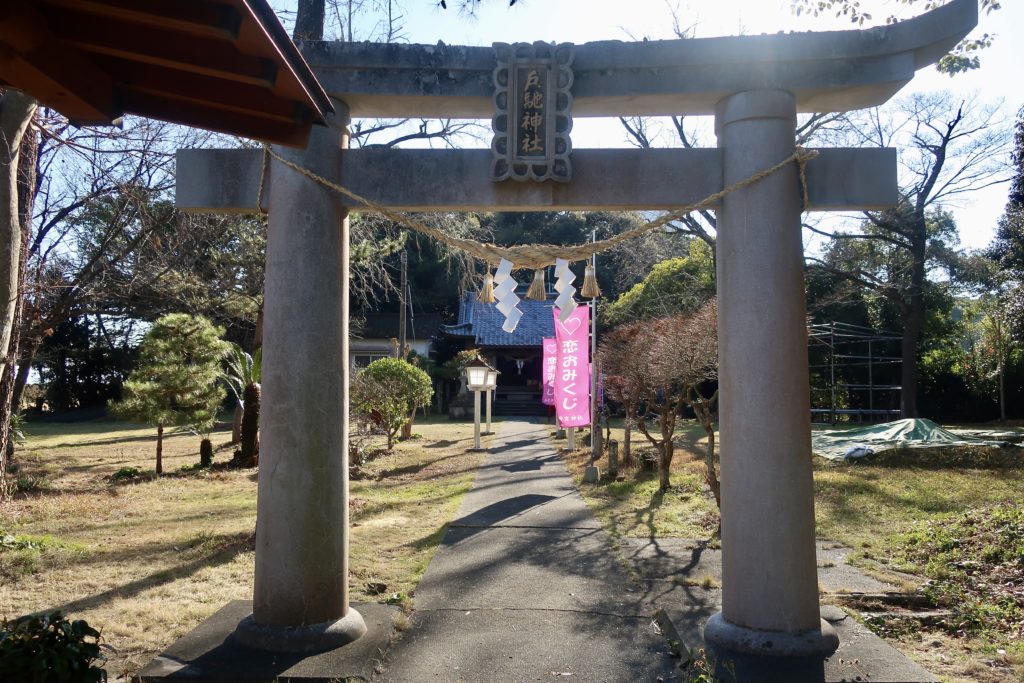 There is a gingko tree which is called "夫婦銀杏木(Husband and Wife Gingko Tree)". It used to be one gingko tree but it separated and became two. One of the bigger thick tree is male gingko and the other thin one is female and it stands close to the male one. People expressed "husband and wife" by its look.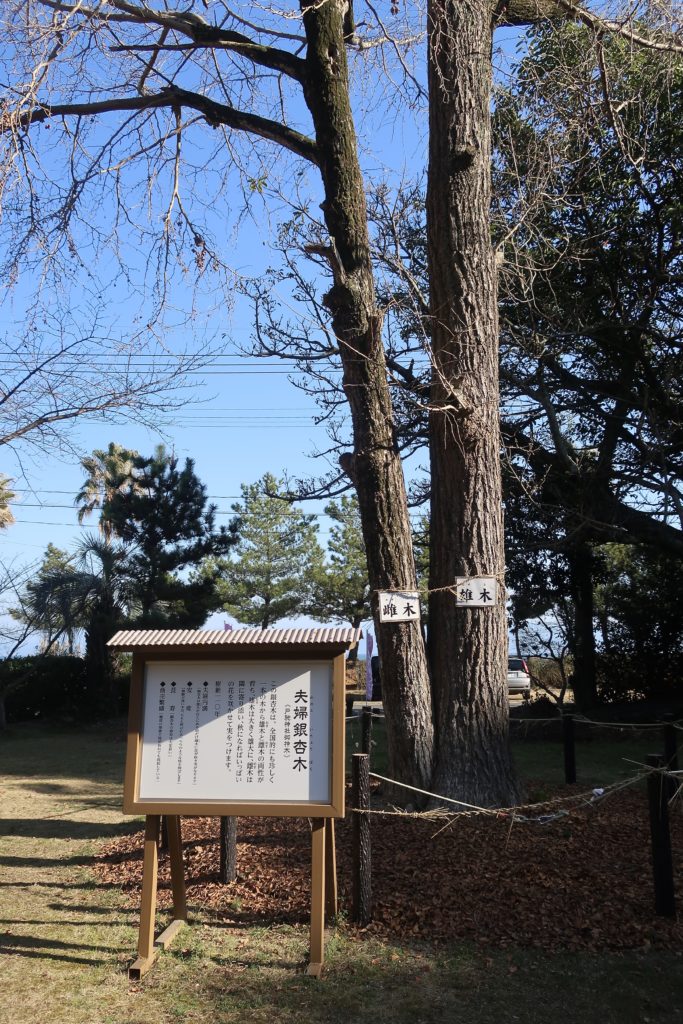 Because of the gingko tree, Tobase Shrine became famous for good luck for love. They made 恋みくじ(Koi mikuji, means fortunate slip for romance) and people enjoy drawing it. It's 100 yen for one fortunate slip.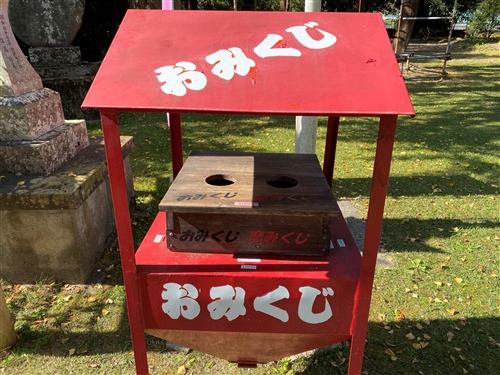 Of course we drew each. My friend got 大吉(Dai-kichi) means best luck and I got 中吉(Chu-kichi) means fair luck… . Will 2020 be good year for us?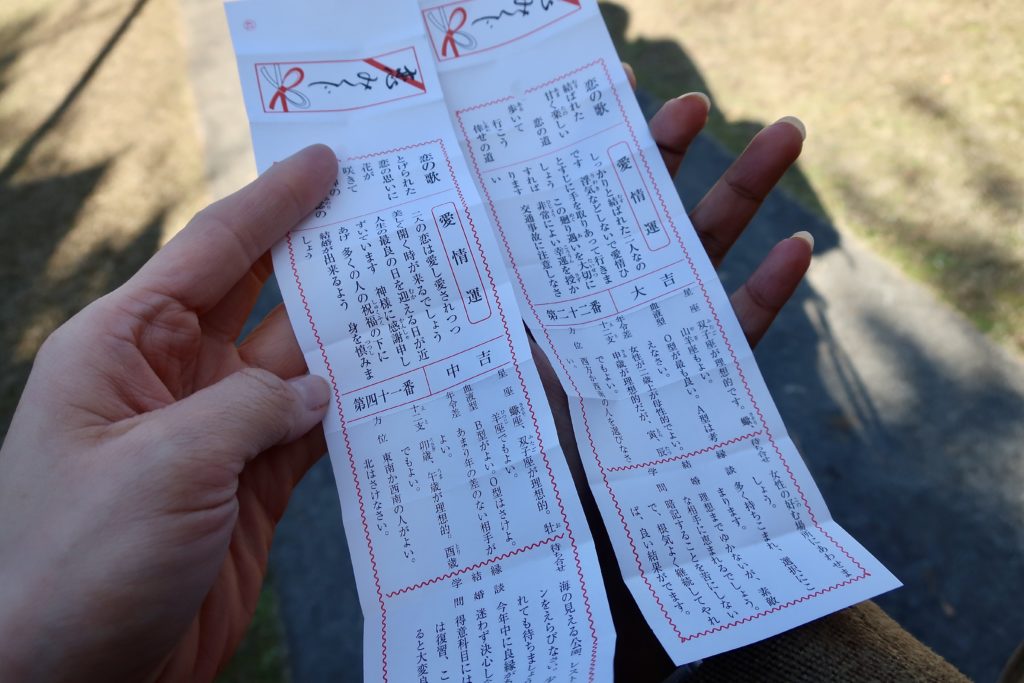 In Tobase Shrine, there are statues of 仁王像(Nio guardians). When you have some pain somewhere in your body, you touch the part and touch the same part of the guardian, it is said that the pain will be eased.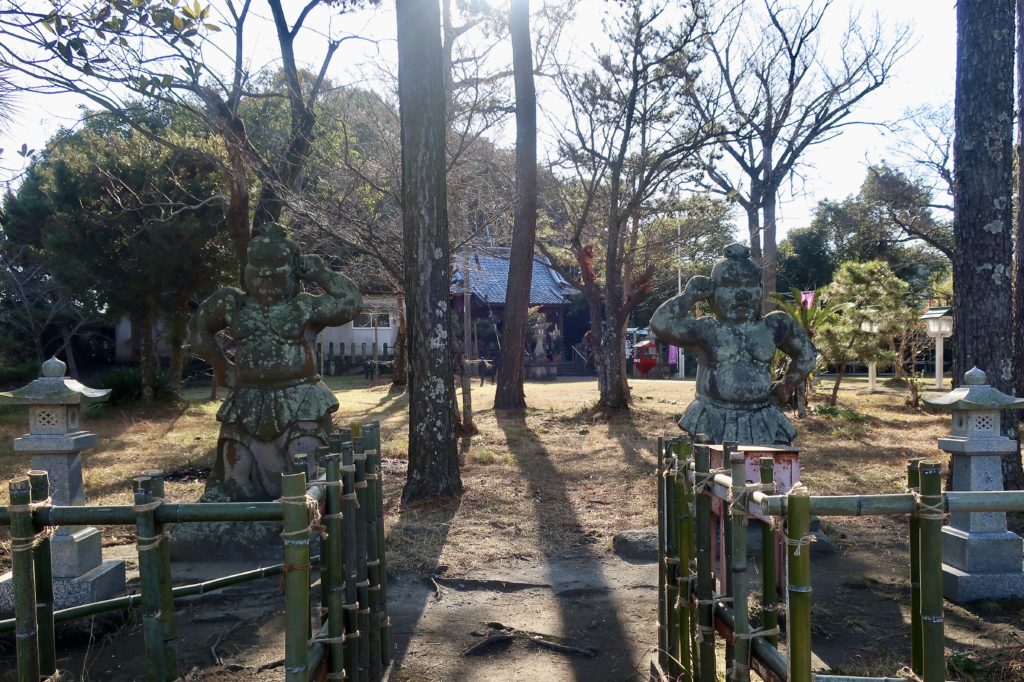 Wakamiya Beach (若宮海水浴場)
Just near Hana no gakkou, there is 若宮海水浴場(Wakamiya Kaisuiyokujo, means Wakamiya beach). It faces Yatsushiro Sea which is an inland sea. Gentle waves were lapping against the beach. I've heard that in summer many people visit to enjoy swimming. We visited at the beginning of January so there were only a few people just enjoying seeing the quiet sea and relaxing.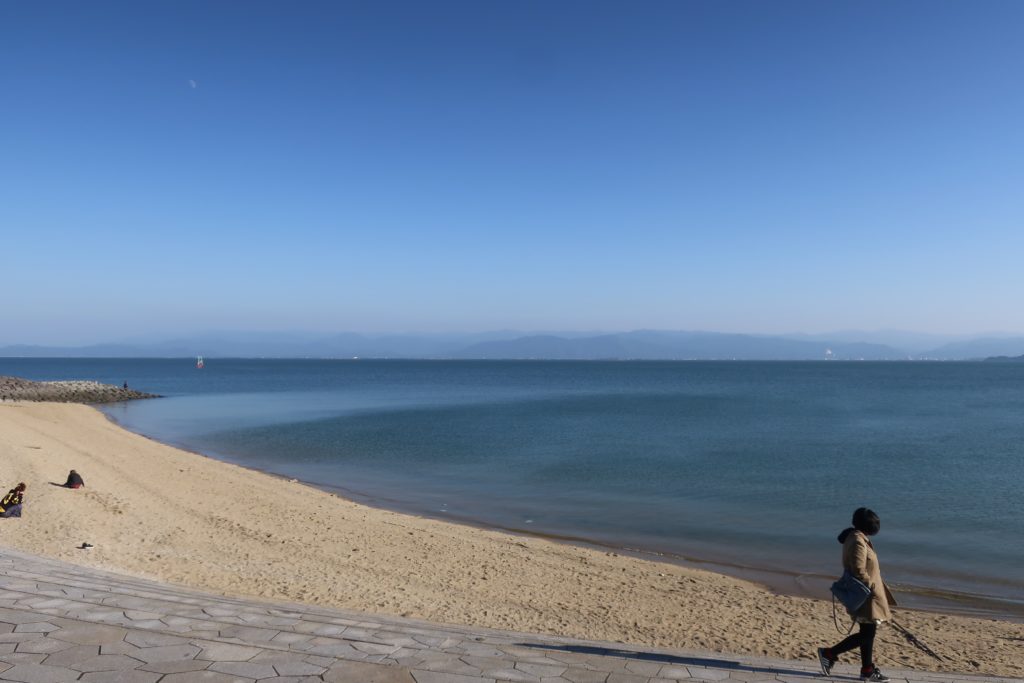 It was such an amazing time just to relax seeing the sea. That's a real treat in life.


Okoshiki Shore (御輿来海岸)
It's not in the ground of Tobase island but you can drop by on the way to Tobase island from Kumamoto-city(Or on the way to home). You can see the beautiful ripple marks which is definitely a Mother Nature.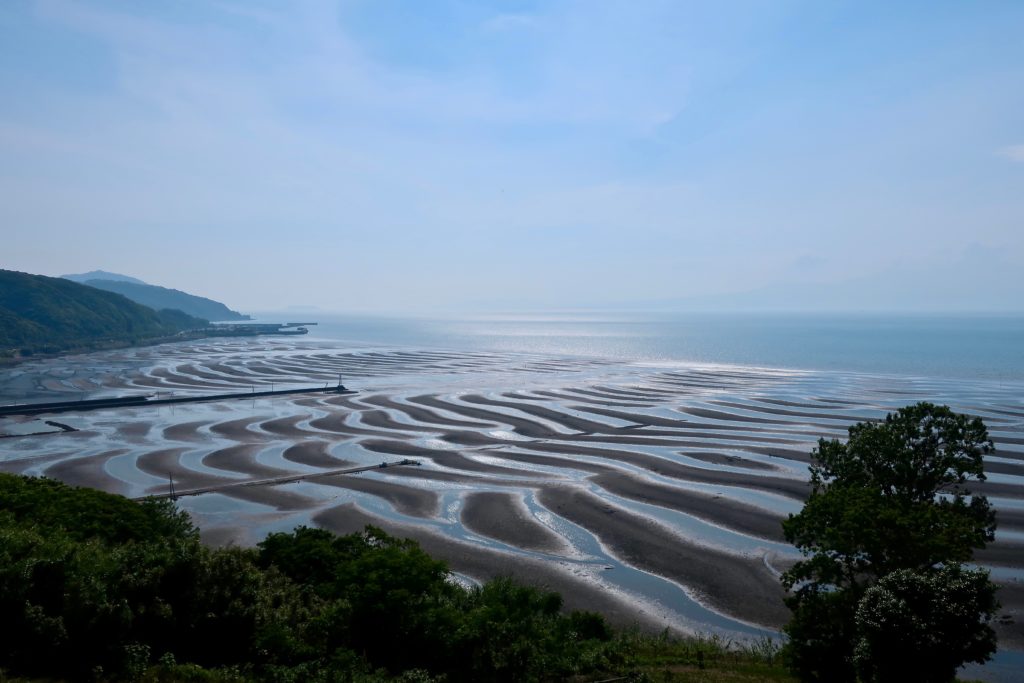 Check my previous article and check the time of low tide!
→ https://untappedkumamoto.com/nature/374


Visit Hana no Gakko and Shokutaku mano!
It's just at the beginning of the year and people are busy thinking about their new year's resolution(I'm one of them, though…). Either way, I will make myself busy but knowing how to destress really helps me to have good life. It can be spending time with good friends, eating something nice, going to cafe alone and reading a book, etc. I wish this area will also be your place to unwind.
Visit Hana no Gakko and enjoy lovely food at Shokutaku mano. You will be relaxed and get great peace in your mind!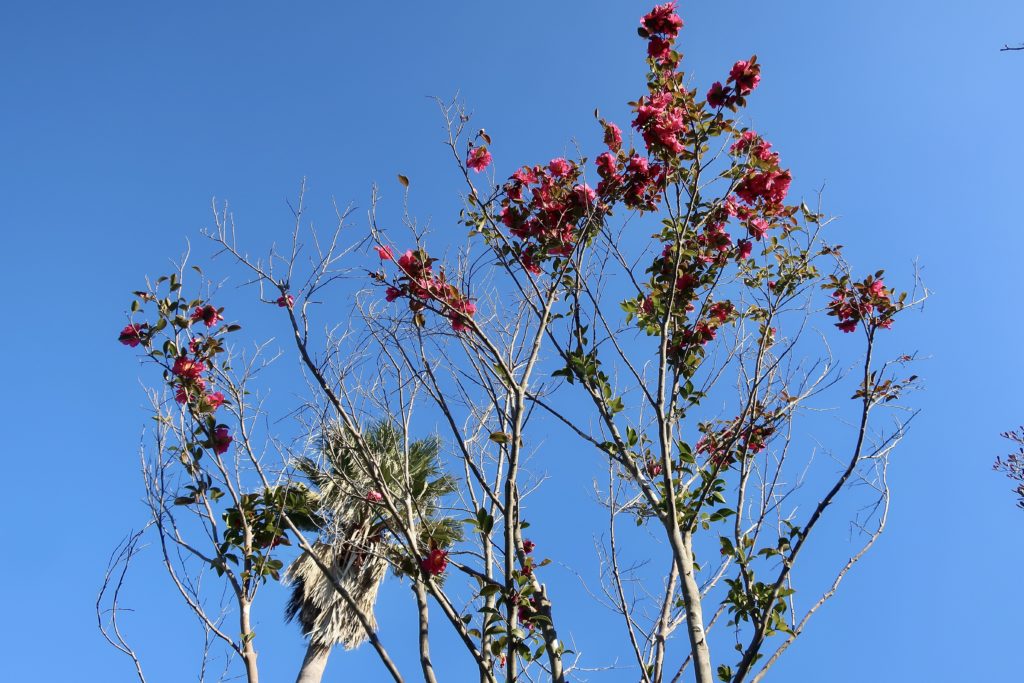 【Information and Links】
食卓mano(Shokutaku mano)
https://taku-mano.com

花のがっこう
http://www.hananogakkou.co.jp

MAP