After Kikuchi keikoku, we moved to the center of Kikuchi city.
We were planning to go to ashiyu (foot bath) at Kikuchi yume bijutsukan (菊池夢美術館 Kikuchi art museum) but unfortunately it was under construction and we can't visit there until the end of 2018.
There is Kikuchi jinja (菊池神社 Kikuchi shrine) near the museum.
We didn't go there but I heard that it's famous for the great view of sakura (さくら cherry blossom) in spring.
People gather around there and enjoy hanami which is a picnic admiring sakura.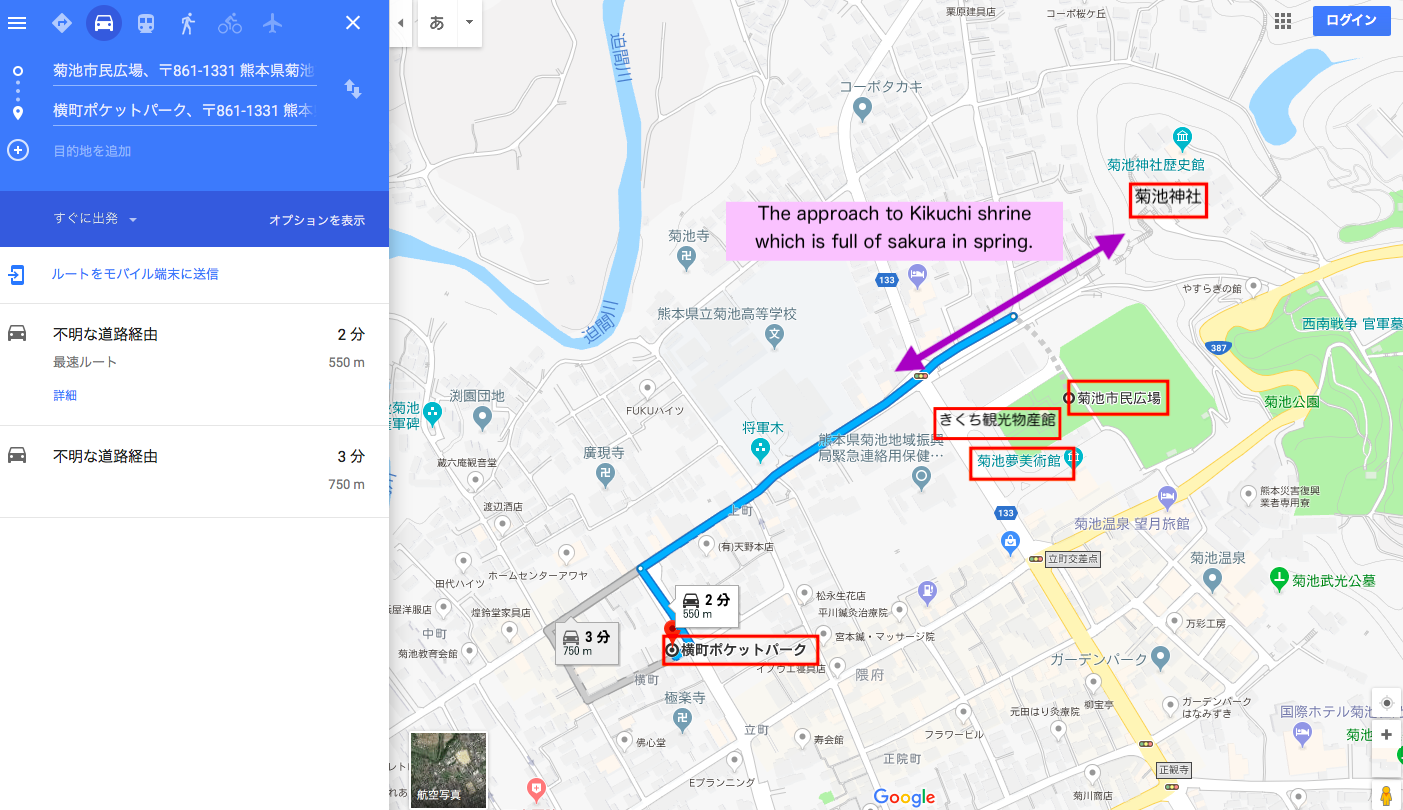 You'll see this statue in Kikuchi shimin hiroba (菊池市民広場 Kikuchi citizen square).
This statue is of Kikuchi Takemitsu (菊池武光) who was a samurai and fought against the Muromachi shogunate.
It was sculpted by a Japanese sculpture, Shinya Nakamura (中村晋也) whowas honoured by the Order of Culture.
It's a symbol of Kikuchi and one of the biggest equestrian statue in Japan. He is watching over the people and wishing their peace.
Kikuchi kankou bussan kan (きくち観光物産館 Kikuchi product promotion center) situated in front of Kikuchi yume bijutsukan and they sell freshly grown local vegetables, tea leaves, rice etc.
They also provide tourism information.
I asked one kind staff and he told about the other ashiyu which takes about 5 minutes by car from there.
The name of the ashiyu is Yokomachi pocket park (横町ポケットパーク). 
When we get there , there were 5 kids taking foot bath. 
On Kikuchi website, it says that it was built in 2012 purposing to provide a place for locals and tourists to interact with the cultures.
We were surprised because it just appeared in the center of the residential area!
The architecture is quite modern.
This is part of the project called 'Kumamoto artpolis' started in 1988.
The concept of this project is to pass on the legacy of good architectures to generations.
Like other cities around the world, there have been built similar concrete buildings mechanically through the process of modernization.
We are now living in the time seeking for not just material wealth but also mental wealth. Because of these changes, buildings are required to be attractively designed not just utilitarian.
All around Kumamoto, there are amazing architectures by this project, like schools, stations, halls, police stations, public lavatories, bridges etc.
After the earthquake in 2018, they have been working on the project called 'Minna no ie (みんなの家 Everyone's home)' which are community spaces in temporary housing areas and enable residents to feel involved with the community and prevent them from being isolated.
Here is the guide map of Kumamoto artpolis so if you're interested it this project, please check and visit as much as you can.
Kumamoto artpolis guide map
The water of natural hot spring contains minerals and it says you can expect recovery from neuralgic, muscle pain, joint pain etc.  
There is also public lavatory there. 
It's a good place to drop by and take rest after a long walk.
There is a parking place behind the architecture. On the wall, you can see dragon.
After revitalizing ourselves with the good ashiyu, we headed towards 'twin star (ついんスター)' which is an ice cream shop. 
Around the shop, there are some parking spaces.
You'll see this pretty cow sign.
The name of the mascot is LALA.
The place is nice and cozy.
Since there are so many kinds of ice cream and combinations, we found it so difficult to decide one.
This ice cream is called 'Geijutsu aisu(芸術アイス Artistic ice cream)' which is the speciality here.
I ordered chocolate ice cream and vanilla softy.
The vanilla softy was so great and tasted the nice milky flavor.
The chocolate ice cream is also smooth and rich.
I'm a chocolate lover so I enjoyed it the most.
Since this shop is very popular, some menus can be sold out sometimes.
People kept coming to the place, which means this place is famous and has good reputations.
The softy looks unique but so beautiful. Too appealing to eyes to eat!
Kikuchi shimin hiroba (菊池市民広場)
Address : 1298-1, Waifu, Kikuchi-city, Kumamoto-prefecture (熊本県菊池市隈府1298−1)
Kikuchi kankou bussan kan (きくち観光物産館)
Address : 1273-1, Waifu, Kikuchi-city, Kumamoto-prefecture(熊本県菊池市隈府1273-1)
Yokomachi pocket park (横町ポケットパーク)
Address : 167-17, Waifu, Kikuchi-city, Kumamoto-prefecture(熊本県菊池市隈府167-17)
※ There is another ashiyu near Yokomachi pocket park.
This one is also part of Kumamoto artpolis. If you have time, please visit there and relax!
Kiriake pocket part (切明ポケットパーク)
Address : 495-1, Waifu, Kikuchi-city, Kumamoto-prefecture(熊本県菊池市隈府495-1)
Twin Star (ついんスター)
Address : 1584-4, Kyokushi fumoto, Kikuchi-city, Kumamoto-prefecture(熊本県菊池市旭志麓1584-4)