After eating the artistic softy, we were wondering where to see hotaru(蛍 fireflies).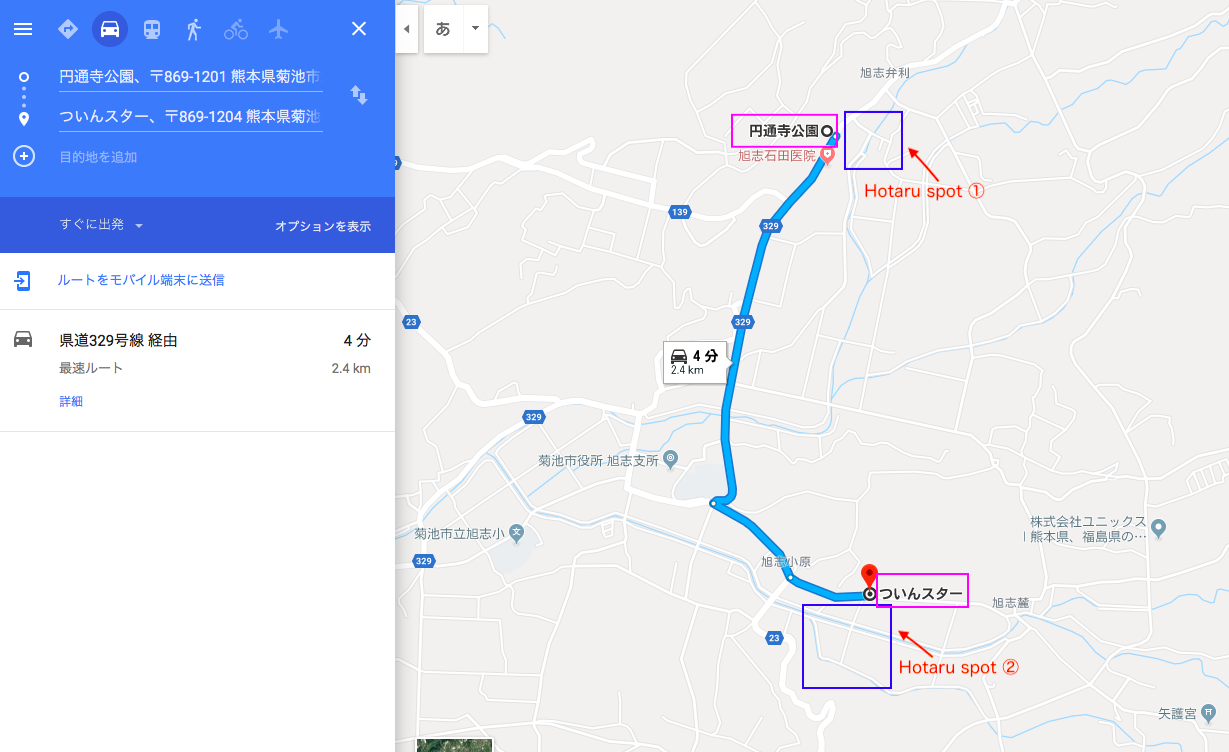 Before this trip, I asked my hair dresser who lives in Kikuchi (he recommended me Kuradake, too) where to see hotaru and he recommended me to go to the bridge near Entsuji kouen (Hotaru spot①).
I also checked the website of Kikuchi and it says there is another spot (Hotaru spot②).
Then I asked the shop staff in twin star and she said that the spot② which is near the shop is quite popular and many people come to see hotaru at this time of the year.
Also she said it would be a good choice to visit spot① since it's not crowded and is untapped which attracted me a lot.
It was around 6 pm at that time and there were already a lot of people who were ready to take photos with their tripods at the spot② 
So we decided to go to spot① first and come back ② later.
You'll see this torii-gate in front of the parking.
I parked my car in parking area in from of Entsuji park and walked toward the bridge.
There were just me and 2 of my friends at that time which actually made me worried if we could admire hotaru that day.
We spent time talking and talking and then I noticed that the hair dresser walked towards me.
I didn't expect to see him there so I was very surprised.
Actually he lives near and saw me from his car so came and dropped by to say hi.
He said that we might not be able to see hotaru that night as it was very windy that day and he could see just a few on the previous day.
We got a little desperate but just waited and tried to find hotaru.
After 7 pm, my friend found one and gradually a lot of hotaru showed up!
They were so beautiful and we were just fascinated by the mystical moment. 
The locals were gathering around the bridge and enjoying hotaru and interacting with neighbors.
That looked so good since it's a little difficult to see these kinds of scenery if people live in a city.
We tried to take photos but unfortunately, we couldn't take good ones(also one of my friend's camera battery run out!).
We moved to spot② and found so many people who were taking photos but honestly there were not many hotaru there.
I am not sure how it will be next year but I totally recommend you to visit spot① so that you can see many hotaru and avoid the crowds of people.
The period when we can see hotaru is quite limited which is from the end of May to the beginning of June.
We had made up our mind that we'll master how to use our camera more and will go back there next year.
※ My friend went to Edu-ko(江津湖 edu-lake) after that and succeed to take a wonderful photo!
I'm already looking forward to visiting Kikuchi to see hotaru and share with you amazing photos next year.
【Information and Links】
Address: 100, Kyokushi benri, Kikuchi-city, Kumamoto-prefecture(熊本県菊池市旭志弁利100)