Me and my friend went to this Chinese style tea house which was like a secret hideaway.
The name of the place is '茶坊  玉蘭(Sabou Gyokuran)'.
We can enjoy the exotic aromatic tea and lunch which include several kinds of savory dishes.
We arrived there around 11:30 and at that time there were no one but us.
It was serene and peaceful and it gave us time to focus on the sound of rain fall.
I usually don't like rainy days but after seeing beautiful vivid greenary from the window, I have started to like it.
There are some tables beside the windows so you can enjoy the great view sitting on the comfortable chair.
We ordered 油淋鶏(Yu Lin Chi : Chinese Fried Chicken with fragrant sauce) for our lunch.
This lunch included one kind of tea so we chose different one for each so that we can try different kinds of tea together.
First, the tea was served with the pot, the small pitcher and cups.
I chose 碧螺春(ピー ルー チュン : Biluochun) which is green tea and my friend chose 茘枝紅茶(ライチこうちゃ : lychee tea) which is tea flavored with lychee.
The first  brew was already served in the cups.
As soon as I had a sip, I felt detoxed and relaxed.
The owner said that after we enjoy the first brew, we can pour hot water and enjoy it again for 6-7 more times.
After a while, 油淋鶏 was served. We were surprised because we didn't expect to have so many kinds of accompaniment with the main dish.
It's not oily and is so crispy outside and moist inside and refreshing with this sour and sweet sauce.
The soup was subtle and flavorful.
There are chewy dumplings, too.
I especially loved this steamed bread. It's so moist and fluffy. 
I enjoyed it as it is. Since it's simple, it goes with anything on this plate.
Gradually, a lot of people came and all seats were full.
They looked so relaxed and having good time with their companions.
After eating everything on the plate, the dessert was served which was 杏仁豆腐(Annin tofu : almond jelly).
The texture was soft an gelatinous.
It was served with sweet sauce and we enjoyed it, too.
Unfortunately, we had to leave early but we made up our mind to come back soon and take time to enjoy talking and relaxing.
It is an ideal place to get away from our busy life and take time to relax.
※  There is a parking lot near the restaurant.
The roads are narrow and winding a little so if you have a big car, it's better to park somewhere near and walk to 玉蘭.
This is the map of the parking lot and 玉蘭.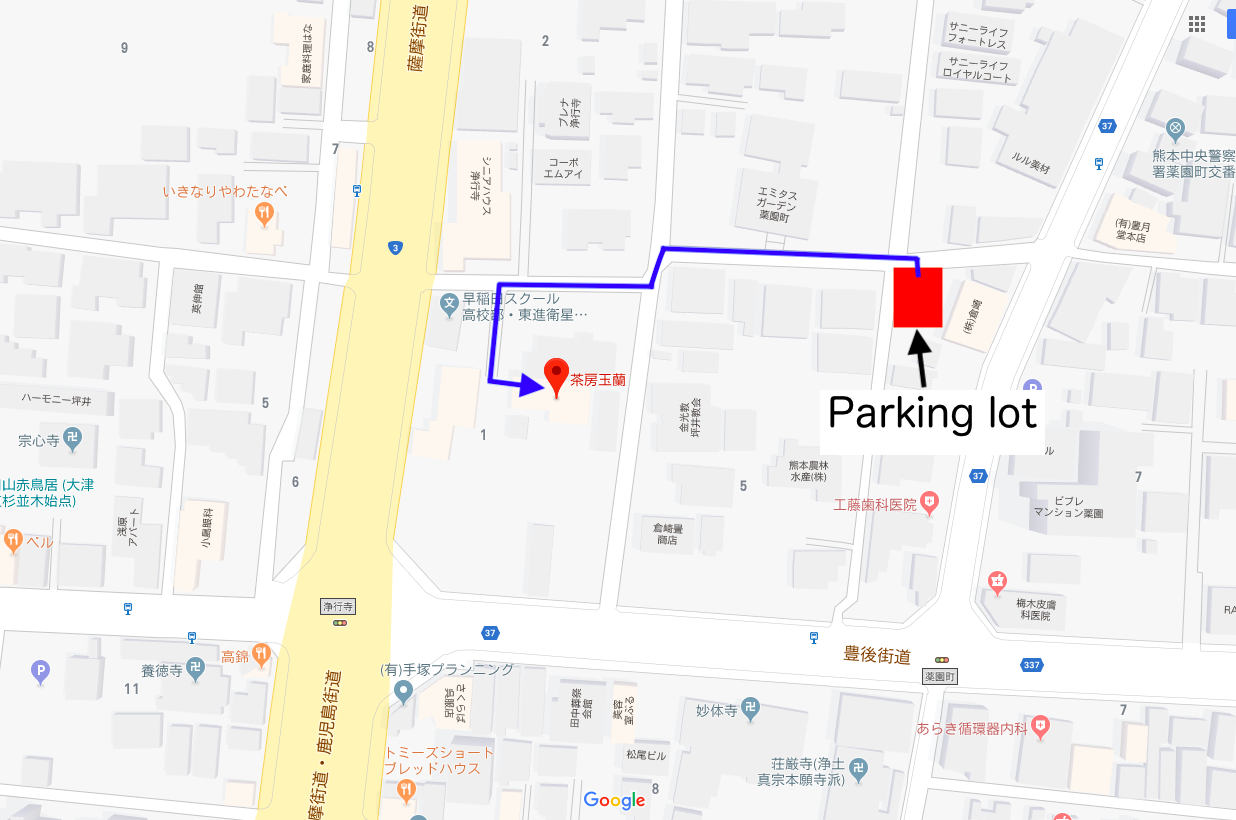 Address : 1-9, Yakuen-cho, Chuo-ku, Kumamoto-city, Kumamoto-prefecture