My friend and I visited Yamaga to join this amazing festival, called 山鹿灯籠浪漫百華百彩(Yamaga Tourou Roman Hyakka Hyakusai). 
I've wanted to join it for months so I was very excited to finally be there.
After reading the article and see all the photos below, I'm sure you will also want to join it.
Yamaga Tourou Roman Hyakka Hyakusai Festival(山鹿灯籠浪漫百華百彩) in Yamaga Kumamoto
History of Hyakka Hyakusai Festival.
This Hyakka Hyakusai festival is held on Fridays and Saturdays in February every year and started in 2003.
When they started to plan Hyakka Hyakusai , they decided to use paper umbrellas as the main attraction.
Yamaga used to be famous for making paper umbrellas and one of the biggest production in Japan.
All around the venues and streets, beautiful umbrellas and lanterns were decorated.
You'll be surprised to see so many people who are holding their good cameras and stopping by each step to take the best photo.
Once my Indian friend, who used to live in Tokyo, said that more people in countryside have good cameras than ones in cities.
This may be because people in big cities tend to have less time to enjoy their free time because of hustle and bustle life, whereas people in countryside enjoy wonderful nature and culture so they can't help but capturing invaluable moment.
Amazing works by volunteers.
Hyakka Hyakusai Festival is prepared mainly by volunteers.
Locals in Yamaga, people in the shopping street, students, city workers etc. who have will to vitalize Yamaga, get together and cooperate to let people notice how wonderful Yamaga is.
From December, they go to a mountain and cut down bamboos.
Cutting off bamboos in 3m length and preparing 5000 bamboos.
Until Hyakka Hyakusai Festival, people make and paint lanterns in such a freezing time.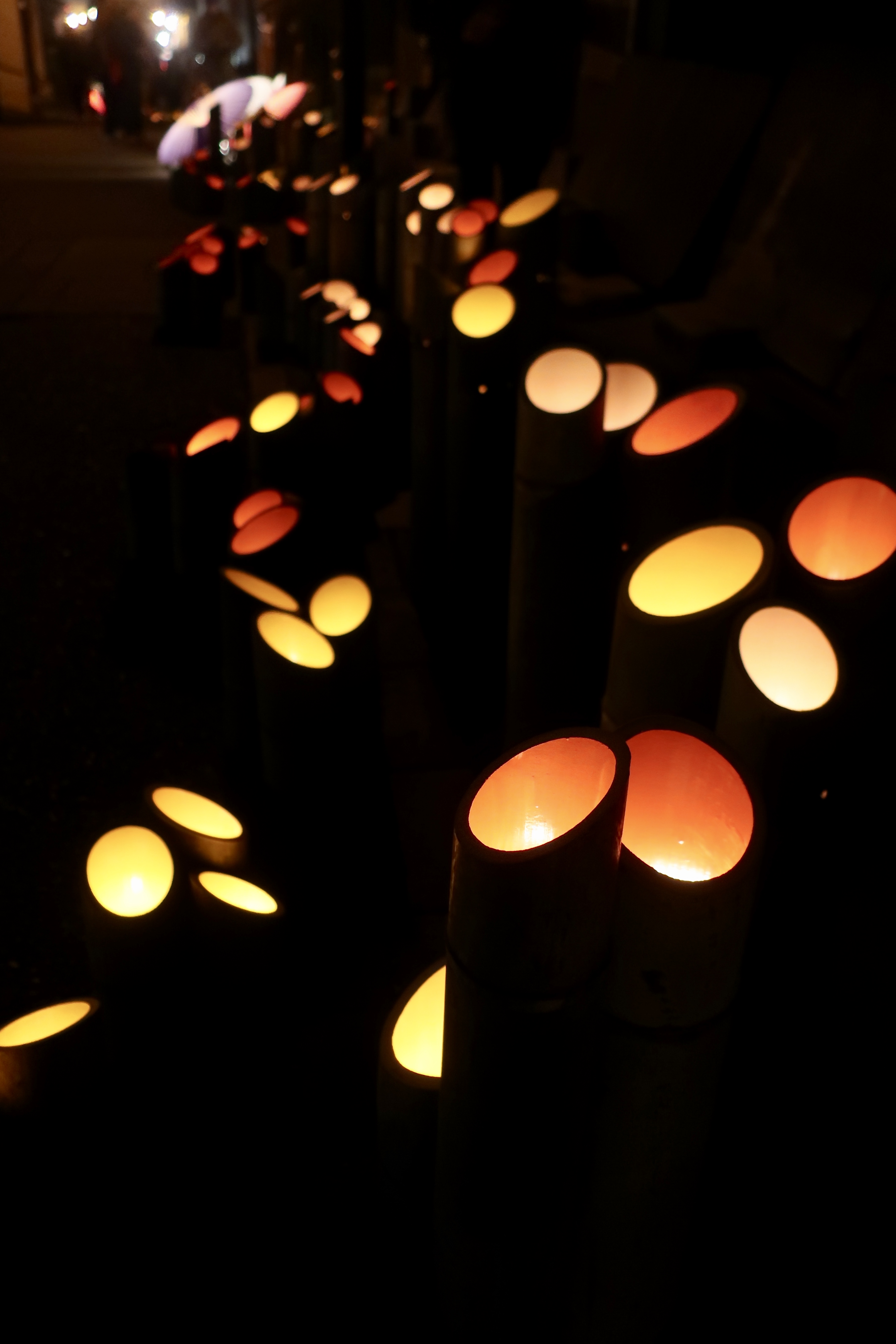 The 5000 lights express people's love for their hometown and their hospitality for you to visit Yamaga.
And you'll feel that as soon as you arrive there.
At Hyakka Hyakusai Festival, you can join local volunteers to light candles from 17:30.
Everyone can join so if you want, bring your grill lighter.
Special performance for Hyakka Hyakusai Festival at Yachiyo-za Theater in Yamaga Kumamoto.
From 6pm, in front of 八千代座(Yachiyo-za, means Yachiyo-za theater), they start to sell tickets for the performance, called "山鹿風情物語(Yamaga fuzei monogatari)".
A ticket costs 1000 yen and the good thing is it includes 400 yen coupon for food.
You can use the coupon at shops and restaurants in the shopping street.
We dropped by at a cafe and had ぜんざい(Zenzai, means hot sweet Azuki bean soup with rice cake).
There are many shops and stalls along the street.
It's freezing outside so it's really nice to have warm food or drinks and wait for the performance.
The show starts from 8:30 pm and it's for 70 minutes.
It's a special performance prepared for Hyakka Hyakusai Festival which consists of two parts which are 山鹿太鼓(Yamaga-daiko, means Yamaga drum)  and  山鹿灯籠踊り(Yamaga tourou odori, means Yamaga lantern dance).
Yamaga drum shows you the powerful performance and Yamaga lantern dance presents graceful and dream-like atmosphere.
You'll enjoy both powerfulness and sensitiveness in the performance.
As soon as you enter Yachiyo-za theater, you'll notice the amazing decoration.
On the ceiling, you notice there are many vivid paintings. They are advertisements in the past.
Yachiyo-za theater was built in 1910 as a local theater.
There used to have many kinds of performance and entertainment.
It was flourished when it was open and loved by locals.
Gradually, because of the diversity of entertainment, people wouldn't come and Yachiyo-za tended to be closed.
The building was getting old and Yachiyo-za suffered financial crisis.
Especially elderly people was very sad to see it being left behind because they knew how it was in its prime.
In 1986, the locals(mainly elderly people) started "瓦一枚運動(Kawara ichimai undou, means one roof tile campaign)" which is a campaign to ask for donation. 
They could collect some amount of money and used them to repair roofing tiles.
In 1990, one lady in Yamaga sent a letter to a famous Kabuki actor, 坂東玉三郎(Tamasaburou Bandou) and said she wanted Yachiyo-za to gain its prosperity again.
Bandou was touched by her letter and decided to have a performance at Yachiyo-za.
People were fascinated by his amazing performance in the traditional theater. 
It was a great success and gained a lot of attention from all around Japan.
Since then, Bando has his performance at Yachiyo-za every year.
Yachiyo-za is registered as an important property.
Join Hyakka Hyakusai Festival in Yamaga Kumamoto!
It was an amazing festival and I strongly recommend you to join it. 
Explore around the venue admiring the beauty of paper umbrellas and lanterns.
Have hot drinks and food and enjoy the special performance at Yachiyo-za. 
Lastly, take a bath at Sakura-yu hot spring near the main venue and relax.
Isn't it a perfect plan?
Hyakka Hyakusai festival is made by passion of the locals who want to share their amazing culture and take over it from generation to generation.
Hyakka Hyakusai festival is until 23rd February 2019.
Join it and enjoy amazing tradition which Yamaga is proud of!!
【Information and Links】
Official website of Hyakka Hyakusai Festival  http://yamaga100.com
八千代座(Yachiyo-za theater)
Official website  https://yamaga.site/?page_id=2
さくら湯(Sakura-yu hot spring)
Official website  https://yamaga.site/?page_id=1548