Have you been to any Christmas Market before?
I've heard that it started in Germany and now there are many around the world.
In Japan, it's getting popular these days.
For example in Fukuoka(nothern part of Kyushu), they started it in front of Hakata station 5 years ago and it's succeeded and became one of the most popular events in winter.
This year, we had the first Christmas Market in Kumamoto and my friend and I joined it.
I think you may think it's weird but in Japan, Christmas is considered to be a romantic event like Valentine's day.
Before Christmas, many magazines feature presents for boyfriends and girlfriends and recommended restaurants etc.
Of course for families, it's one of the important events and especially children look forward to it for a long time, wishing for presents which will be brought by Santa Claus.
Christmas Market Kumamoto was held in Hanabata park which is in downtown.
It was from 5th to 9th December and there had been so many people constantly.
There were many stands such as mulled wine, hot chocolates, pizza, sausages, craft beer, etc.
Also they were selling Christmas goods such as ornaments, dolls of Santa Claus, reindeers, cards, Stollen, ginger cookies etc.
They decorate Christmas trees using the bamboo lanterns which were used in Mizu-akari festival and Autumn colors illumination at Hosokawa residence.
※ Please check the both articles, too!
Autumn colors illumination at Hosokawa residence
They were very beautiful and created unique atmosphere.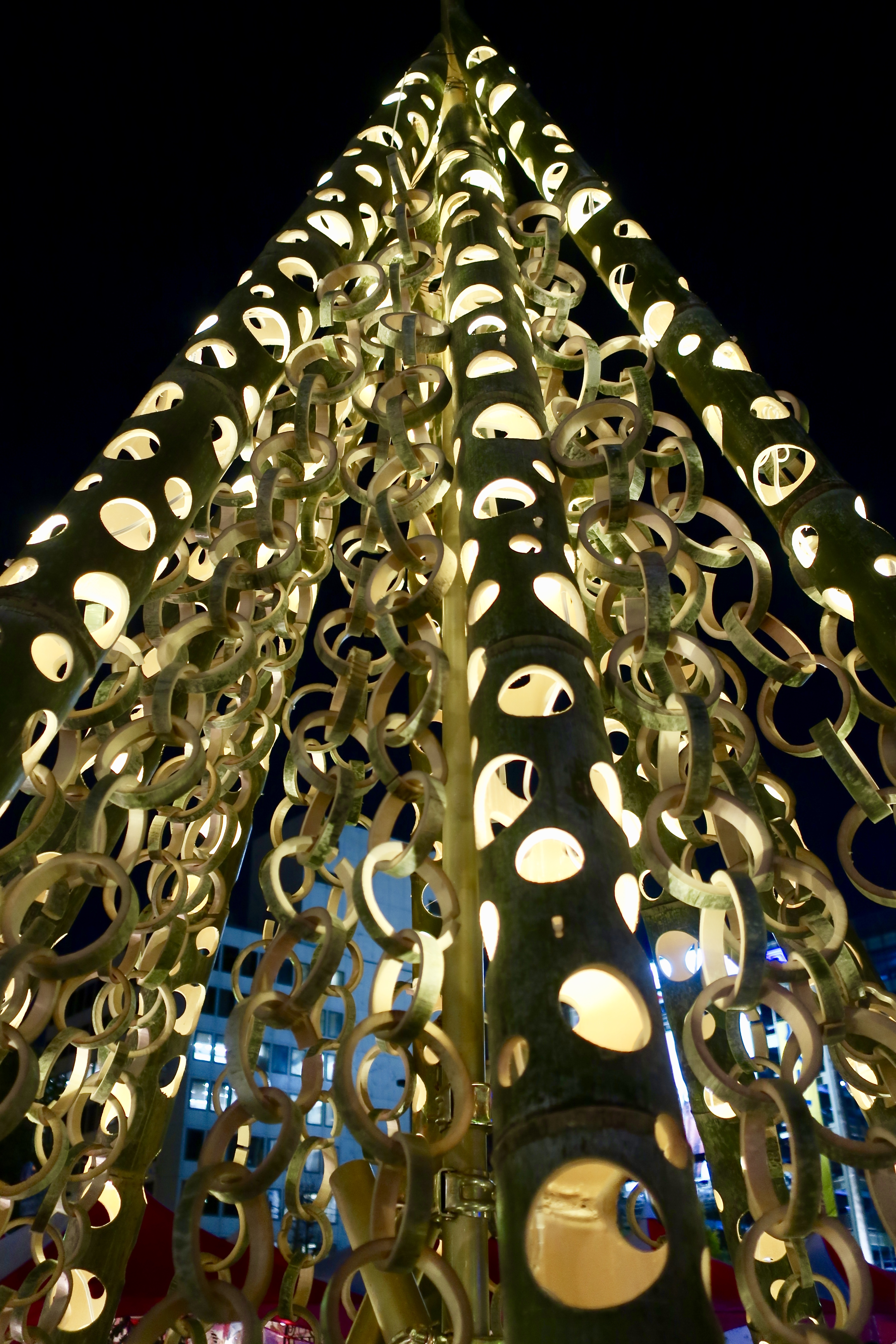 I think it's wonderful to use same resources to several events so that they can associate them and make people remind each event.   
About the mulled wine, they put キンカン(kinkan, means kumquat) which is a small citrus fruit and has a refreshing aroma. Here, it's famous for its throat lozenges and essential oil. 
Instead of using orange, they used kumquat which were grown in Kumamoto.
It was very cold that night so this mulled wine warmed people up and the beautiful aroma filled up the venue and create Christmasy atmosphere.
Also, the famous craft beer restaurant(KAEN) and pizza restaurant(Il Forno D'oro) in Kumamoto joined it and people seemed excited waiting in a long queue.
It was just a 5-days event but it surely was a great success.
I hope they will have it next year too, and more shops and restaurants in Kumamoto will join it to
make it more lively and exciting 
On this Christmas Season, may the Joy and Happiness spread like the lights of a Christmas Tree.
Marry Christmas to you all!