Today, I'm going to introduce to you this fun event, 'English Market'.
The interesting thing about this event is everyone who are joining it are supposed to speak ONLY English, not just the shop staffs but also customers.
The purpose of this event is to offer us an opportunity to speak English and expect people to interact each other enjoying speaking English.
It was the third time and was first held in November 2017.
This time, there were many shops, such as….
For activities;  yoga, Personal Color Analysis, fake tattoos, nail art, reading books, calligraphy performance, etc.
Also, there are some accessory shops, used book shops, stationary shops and there are always some music performance which create nice and lively atmosphere.
They say it's perfectly ok to make mistakes and moreover, making mistakes are much more fun because we can always learn from mistakes.
For many Japanese, we are afraid of making mistakes especially in front of others because we tend to worry too much what others think about us.
So we tend to seek for perfection and it makes us more difficult to speak English.
I'm taking an online English lesson almost everyday(these days I'm getting lazy…) and one teacher said that she was surprised to meet Japanese because we love talking and most of the time we are not that shy.
This is because there are only a teacher and a student in front of the screen and making mistakes is not scary there.
I joined the 2nd English Market which was held last April as an 'English helper'.
Since everyone should speak English, obviously some people need help.
There are 'English helpers' who can speak both English and Japanese and are strolling around the venue.
Every time people need help, these English helpers can help them or give some advice to communicate in English(not only for customers but also for shop staffs).
What I was surprised to join it last time was how much people want to speak English and seek for opportunities to use it in their daily lives.
Actually, I didn't need to help much because people could speak English and maybe it wasn't perfect but they are trying their best to communicate in English which is the most precious and important thing.
This time, they changed the venue to 早川倉庫(Hayakawa-souko, means Hayakawa storage) which is located between Kumamoto station and the centre of Kumamoto-city.
Hayakawa-souko provides the venue to many events, such as organic markets, music festivals, plays, exhibitions for arts, architecture etc.
It was built about 140 years ago as a sake brewery.
It's a wooden building and considered to be very rare to be preserved such a big wooden building and reused a lot.
They say that in this building, some parts are from the same wood which are used in Kumamoto castle and this fact makes it more historically valuable.
On 11th November, the third English market was held and I joined it(this time as a customer).
I joined with my friend and her adorable children, who are 6 and 4 years old and are learning English.
My friend said since they often hesitate to speak English, it would be a great opportunity for them to use English practically.
English Market opened at 10 am and we arrived at that time.
It wasn't that crowded but there were already many people.
As soon as we entered, we found this lovely Mexican stall and my friend bought them lemonade.
They bought a cup and served by themselves which was fun for them.
There was this bakery named 'NEVL' which is a cafe in Kengun(east part of Kumamoto-city).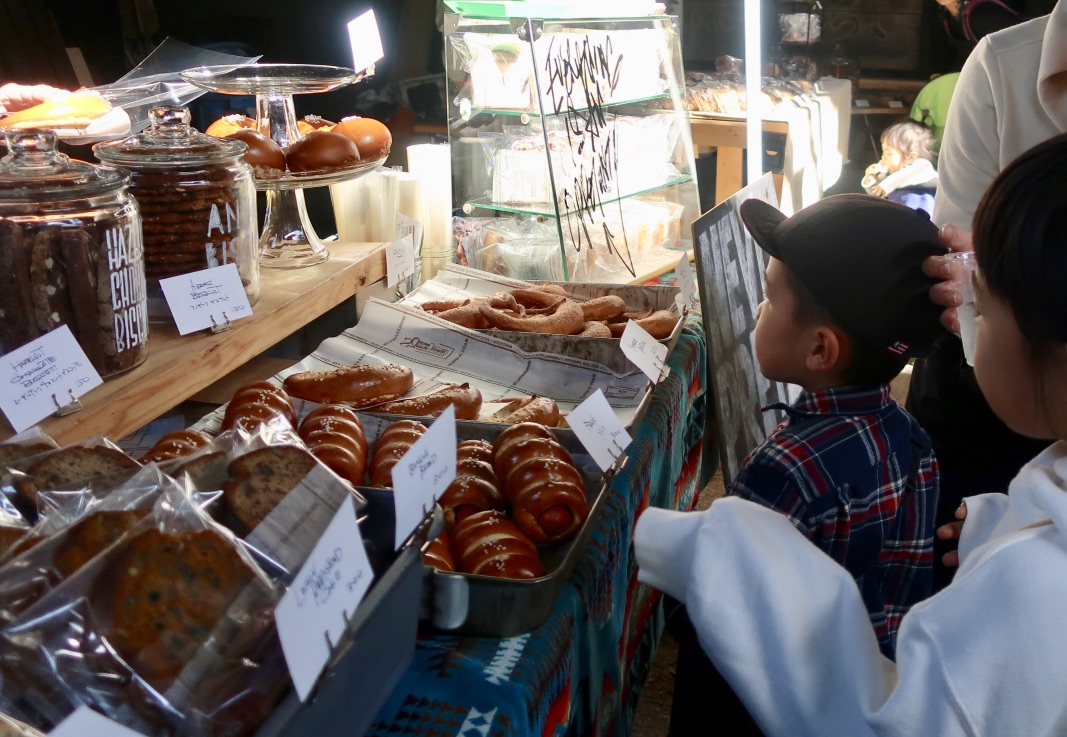 Here, the kids tried to order what they wanted in English. 
My friend had given small amount of money to them in advance and they kept it in a small pretty purse.
At first, the daughter looked so shy and hesitated to speak English in front of her mom but after seeing me ordering in English, she said 'I take this.' and succeeded to buy a cookie! 
The son also asked in English and bought a nice bread!
Some kids are walking around the venue and selling the pretty bouncy balls(we call them 'Super Ball' in Japanese).
You draw lots and there is a number on it and you'll get the ball of the number.
It's so nice to see them trying to communicate in English among each other.
My friend's son tried and won the first prize and got this beautiful ball!
This is a really nice 'NUT BUTTERS SHOP'(@nut_butters_shop).
There are peanut butter, almond butter, hazelnut butter, etc. and my favorite is Hazelnut choco butter.
The owner of the shop often join markets all around Kyushu and she is very nice and friendly! 
Before coming to English Market, my friend and I had decided to try Personal Color Analysis by "イロコトリ(Irokotori)".
It's a method of determining which color types will harmonize with you depending on your natural coloring, such as skin, hair and eyes.
In this method, there are 4 types(spring, summer, autumn and winter) of palette of colors and they observe which color type we'll belong to by placing specific colors of cloth next to your face.

If you know it properly, you can coordinate cloths and wear make-up which enhance your natural beauty.
This color analysis section was so popular but we could manage to book.
Kaori-san, who runs Irokotori and specializes in colors, tried different color of cloths and found which category my friend belongs to.
My friend said she tends to choose black, gray and white but the lady said she belongs to 'summer' type so my friend looks good on pastel colors, such as light blue, light pink and light green etc.
It was a good discovery for her and it'll be helpful to try new colors.
Around 30 shops and  workshops were there and the venue got lively and lively.
The concept of English market is very unique and the number of people who join it are increasing every time.
They announced that in the 1st one, about 200 people joined and in the 2nd, one about 500 people joined and this time, around 800 people joined it!!
I think the next English Market will be around 2019 spring.
I wish their futher success for the next one and more people will find joys of communicating in English.